Fast food restaurant project in Bronnitsy.
Dear partners!

FABRIKANT has successfully implemented another project of a fast food restaurant, this time in Bronnitsy near Moscow.
This project turned out to be very bright, graphic, with active contrasting elements. The design is based on three basic colors: deep black, milky white, light wood. And rich yellow tones add drive to the interior.
The dining group is represented by small tables with white HPL-coated tabletops on a metal base. Chairs of the same model are located between them, but in different shades it is deep brown, bright yellow and black and white. The design of the chairs is supported by mini benches in the same color scheme. The group is complemented by a multi-section light wood bench made of bent-glued plywood bent in 3 projections.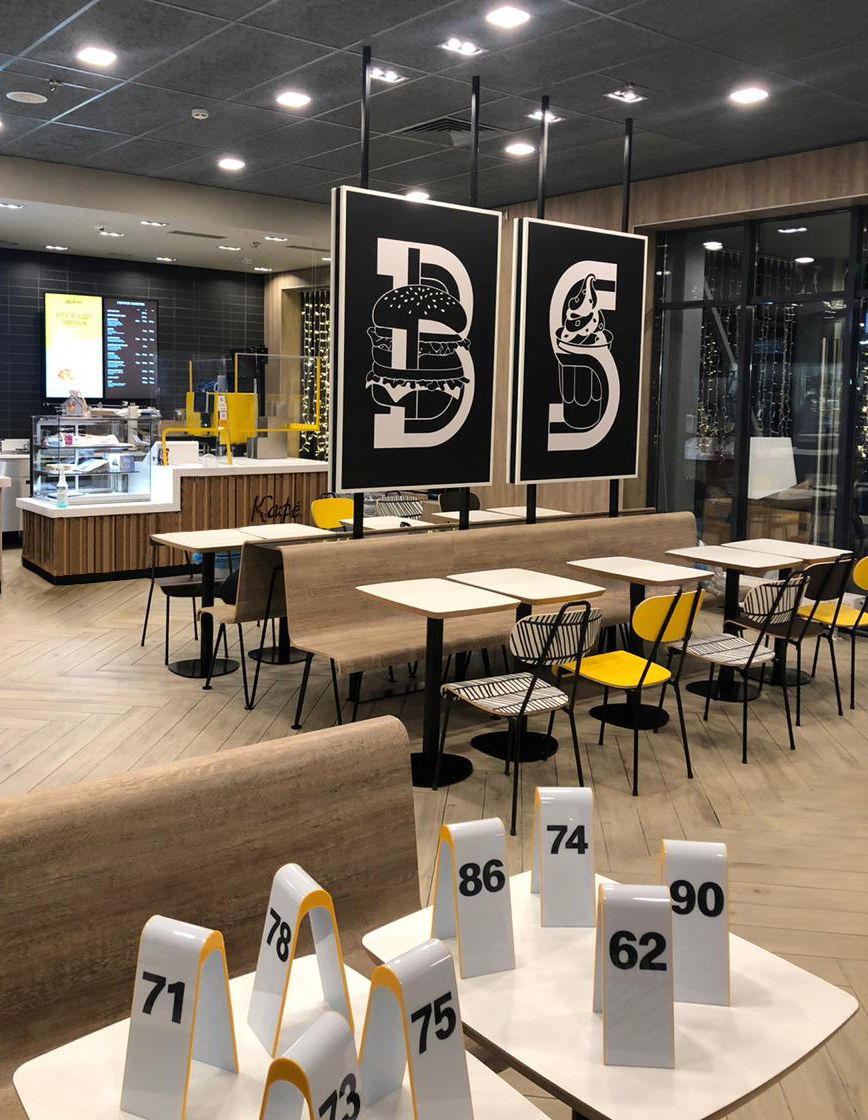 The dining area is also represented by a bar group in the form of a counter covered with HPL plastic and high round chairs with a comfortable footrest. The chrome-plated base of the bar stools echoes the fixtures in a shiny metal shade above the bar area.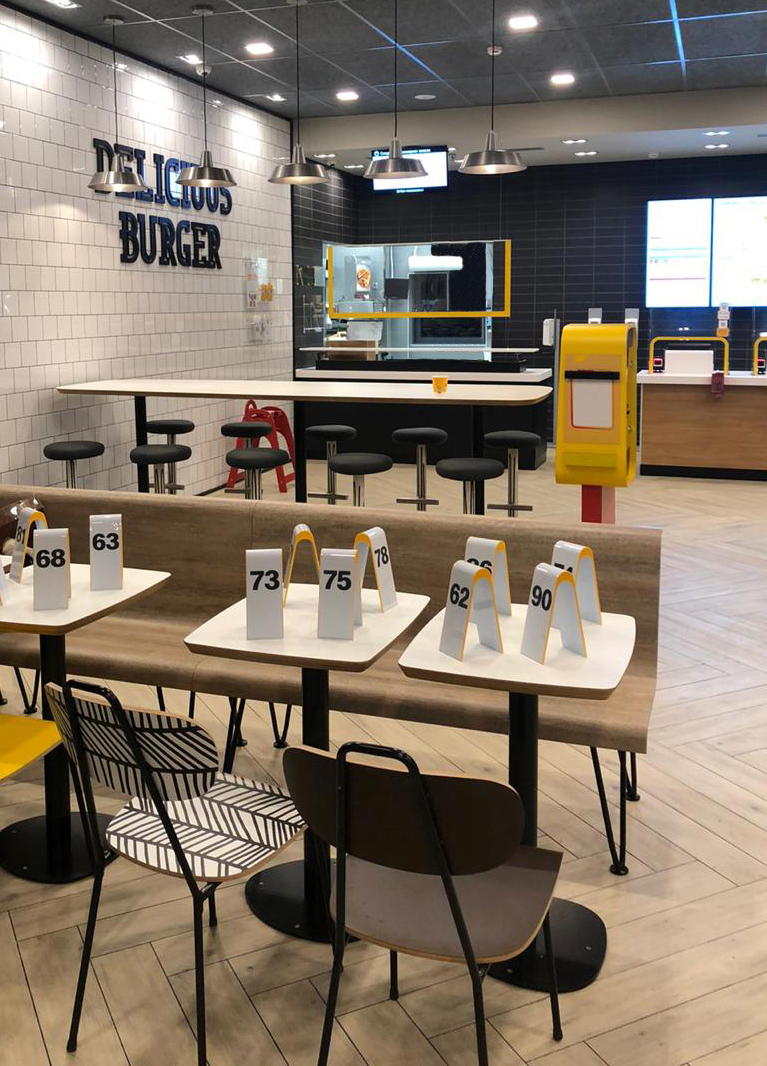 Special attention should be paid to the children's location with an original, multi-level design of the table, complemented by round soft chairs on a graphical leg.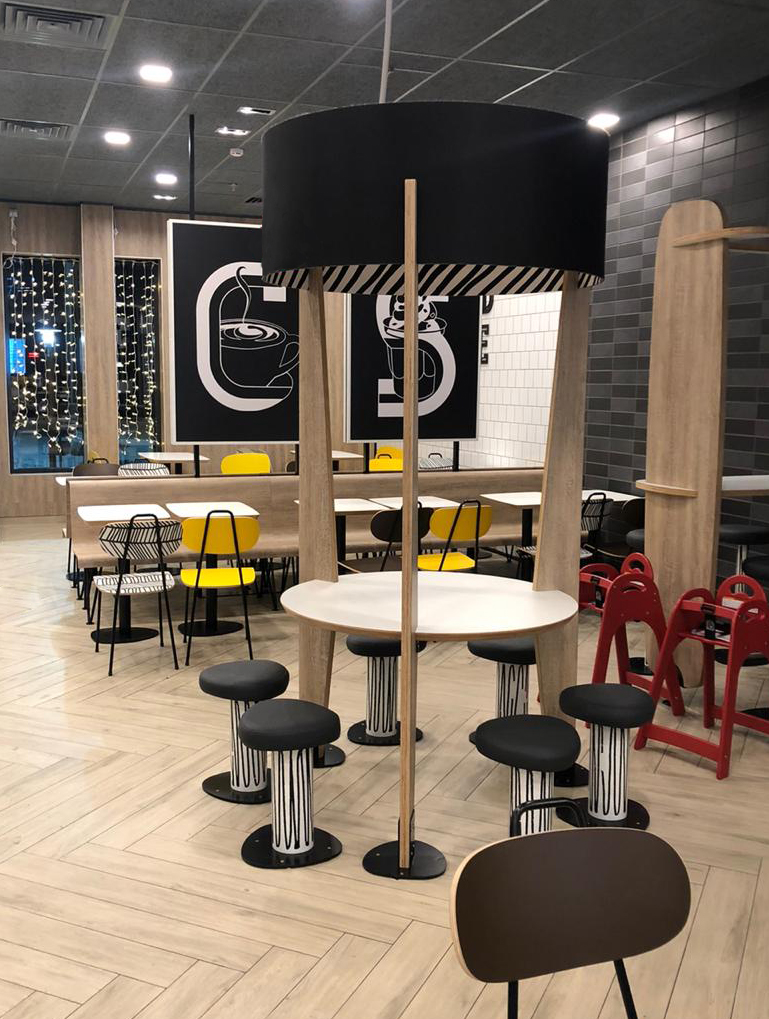 Another distinctive feature of this project is multifunctional panel-partitions with active graphics in the current lettering style.
All elements are made at the production of FABRIKANT. Turnkey installation was also carried out by our forces.
FABRIKANT: project implementation from drawing to installation!

HAPPY NEW 2021 YEAR!
DEAR PARTNERS!

Seeing off this year, we all hope that next year will be better and happier. May the coming year of the Bull be like this for all of us. After all, the bull is a strong animal, going ahead without noticing obstacles.

Let perseverance in achieving goals help us overcome any obstacles on the way to the dream and new achievements! Let health will be strong, the will — inflexible, happiness is unconditional, and the energy has over the edge! Have a good and successful year!

FABRIKANT TEAM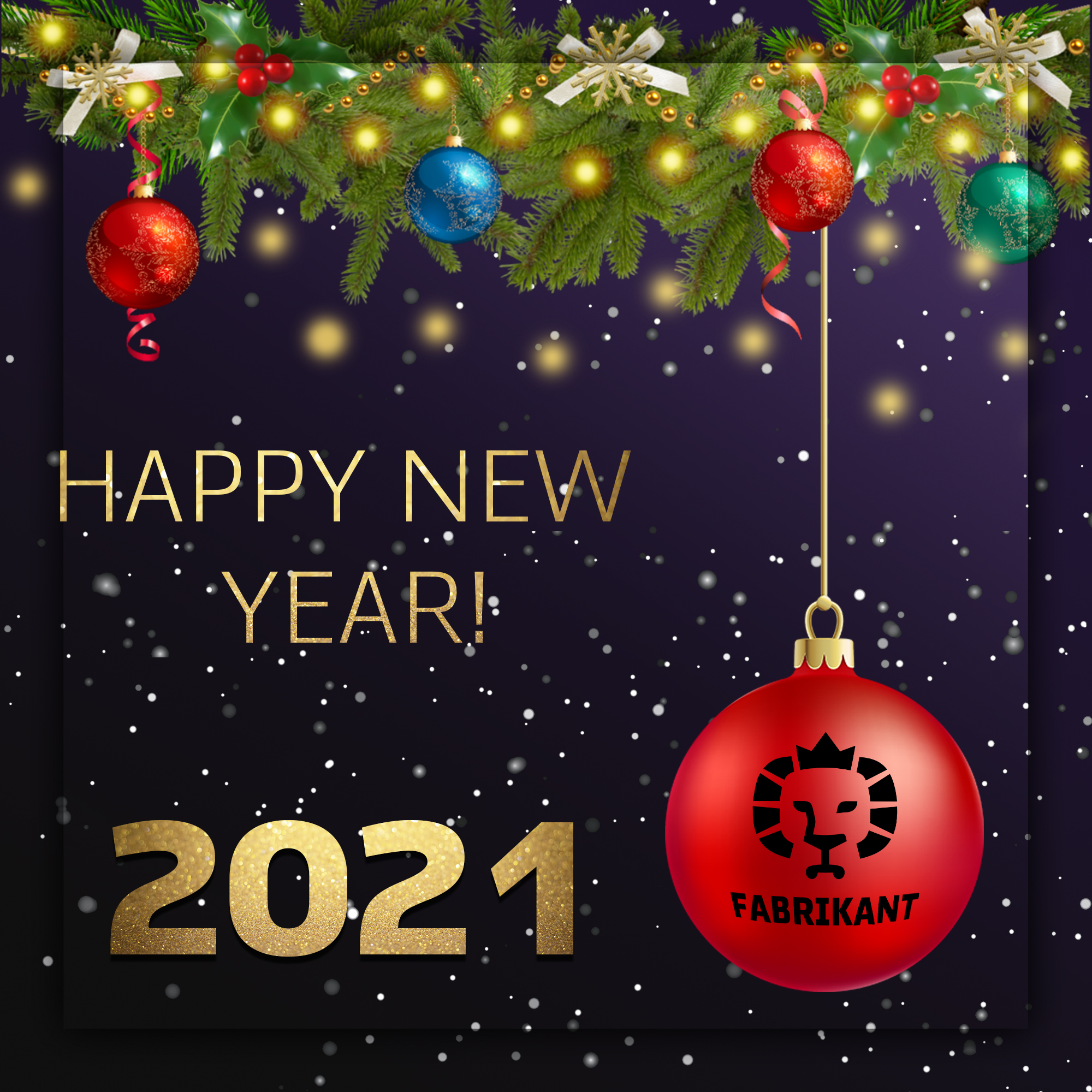 The new project for the Northern capital.
Dear partners!
We present another newly implemented project of a fast food restaurant for the Northern capital. This project turned out to be laconic in St. Petersburg: light wood, black metal, dotted bright accents. FABRIKANT managed to maintain the corporate identity of the customer's brand without overloading it with details.
The tone in the interior is set by tables made of solid light wood on a strong metal base, painted in a restrained matte tone "black moire". They are echoed by bar stools with seats in the form of a sawn tree on a powerful metal frame of deep black color. Bright accents are set by red mini-tables on the graphite-colored floor. Unobtrusively dilute the interior of wood and metal chairs made of durable molded plastic. Black wall-mounted sofas in artificial leather create a cozy lounge-location. Even the various shaped lamps are designed in a General matte-black color scheme.
The result: another cozy restaurant in the current loft-style appeared in St. Petersburg thanks to the efforts of our company.
If your business needs a stylish renovation in the shortest possible time and in a "turnkey" format, please contact the corporate sales Department of FABRIKANT by phone 8-800-250-40-60.
FABRIKANT - individual projects in 1 month!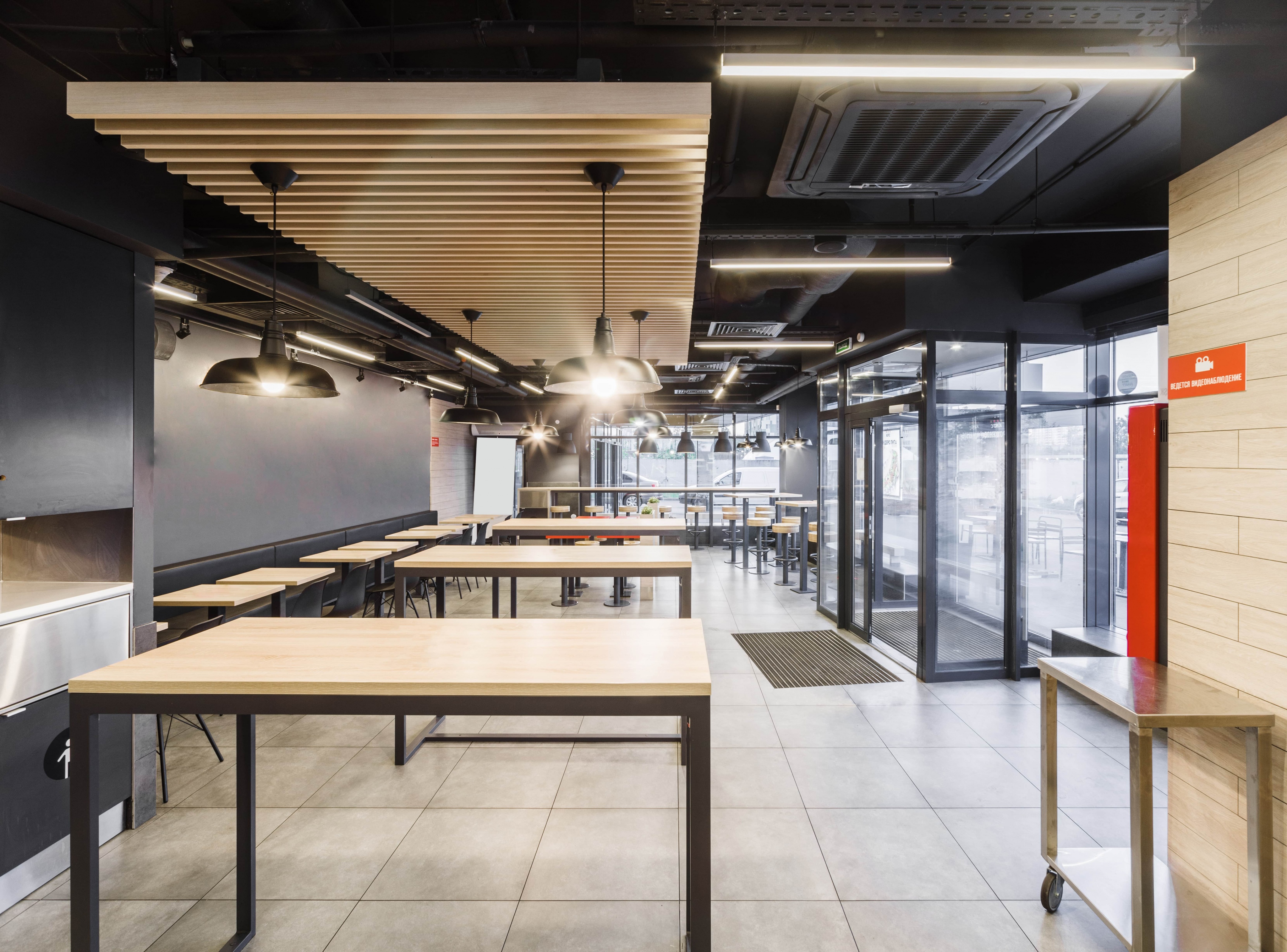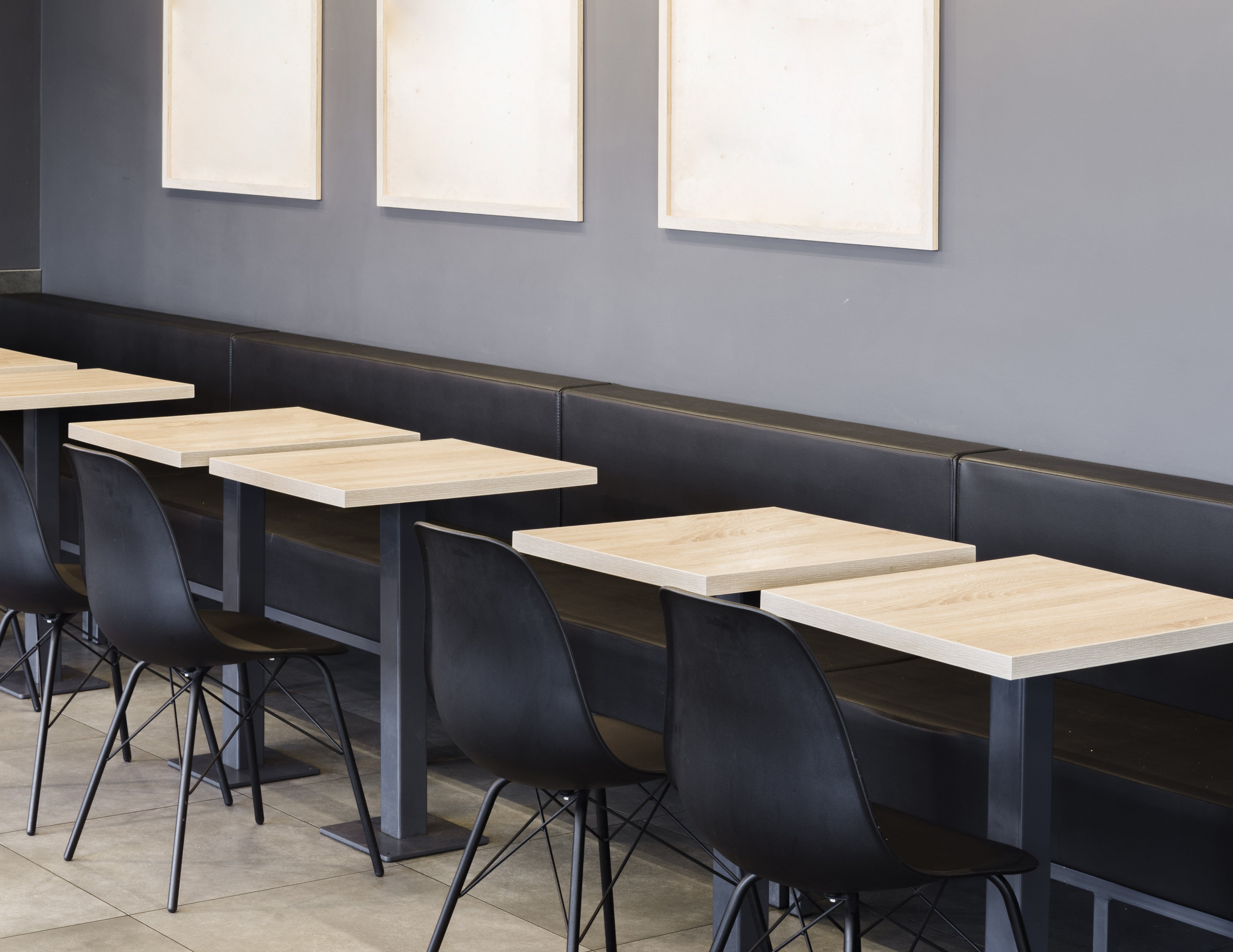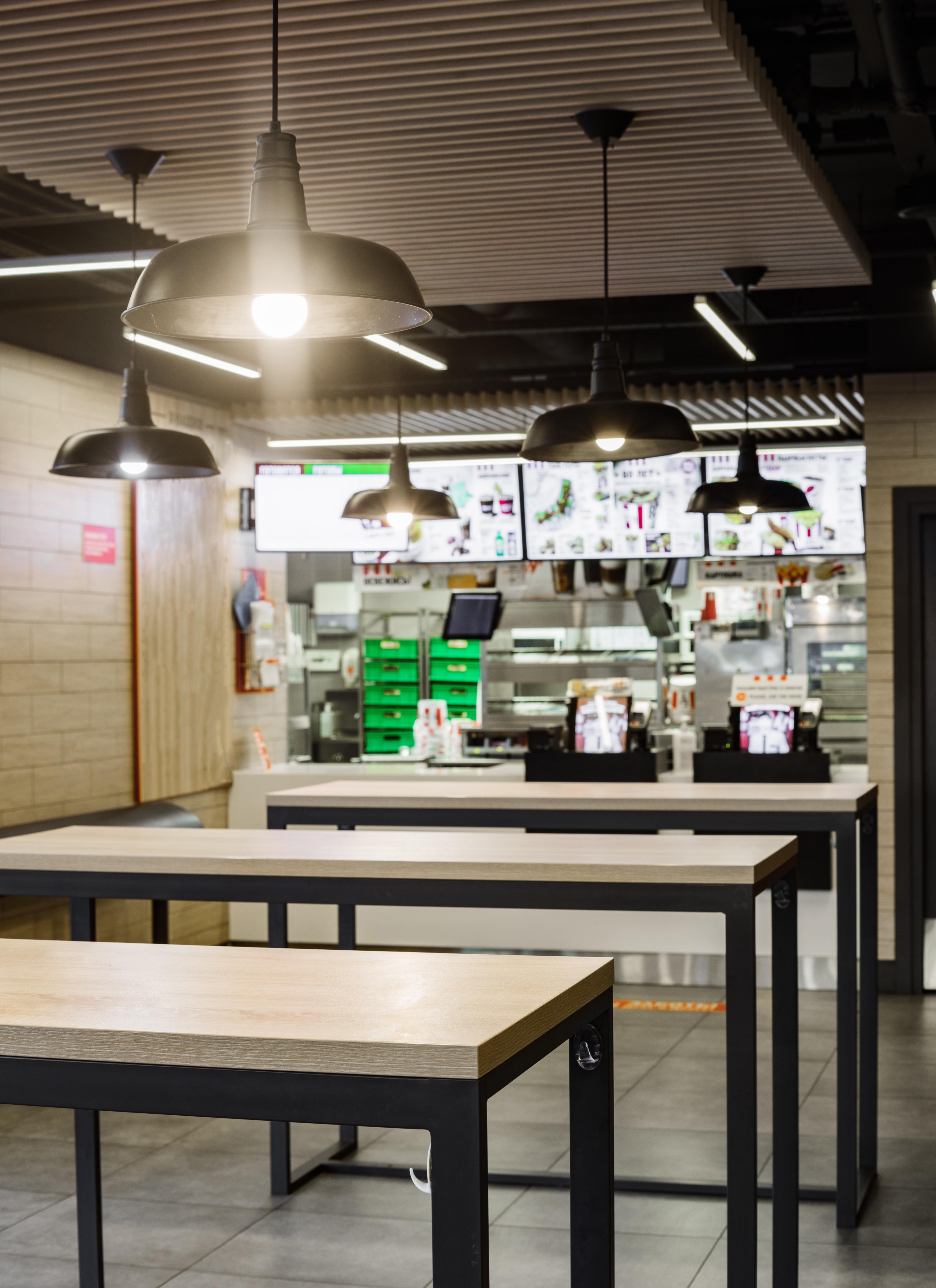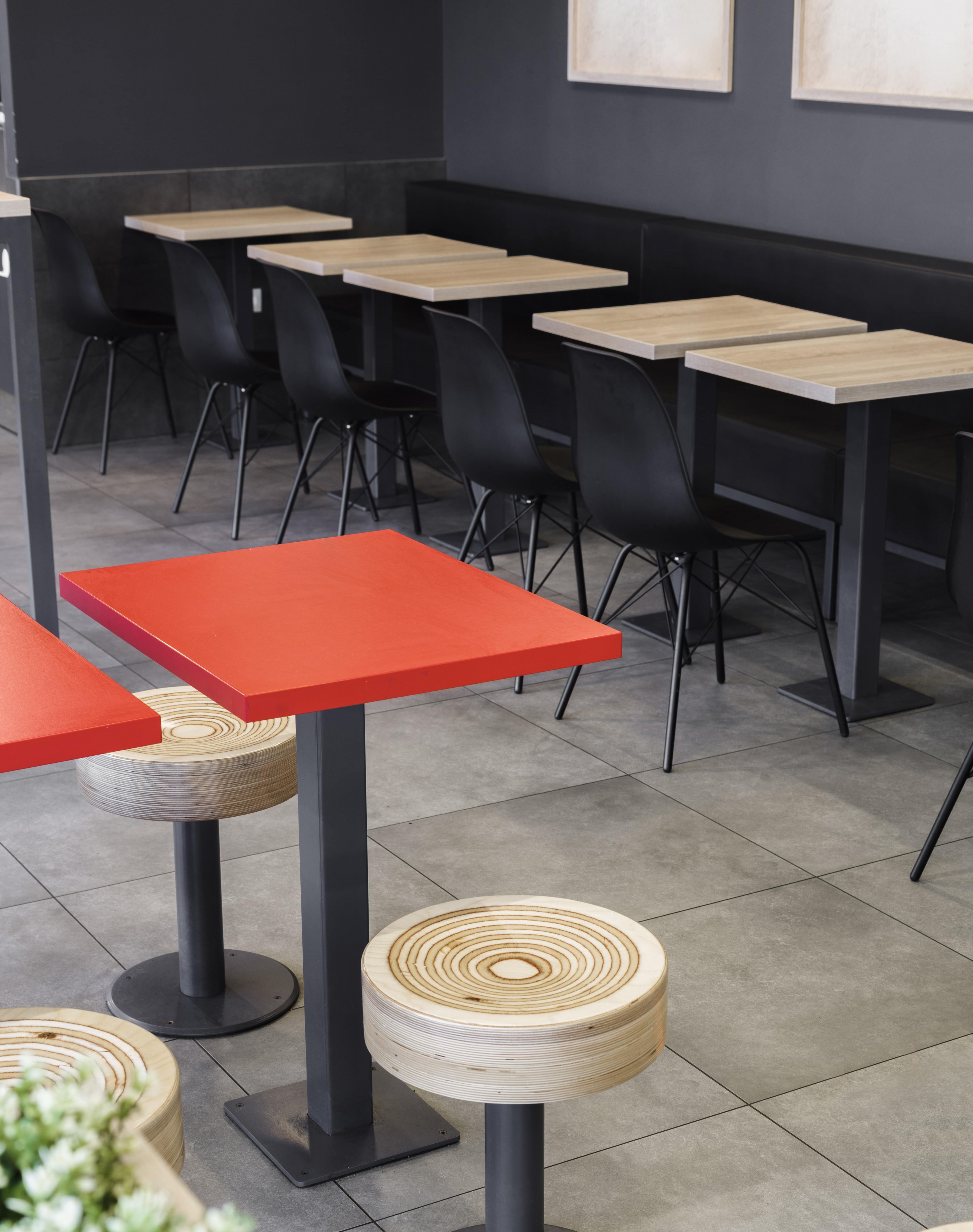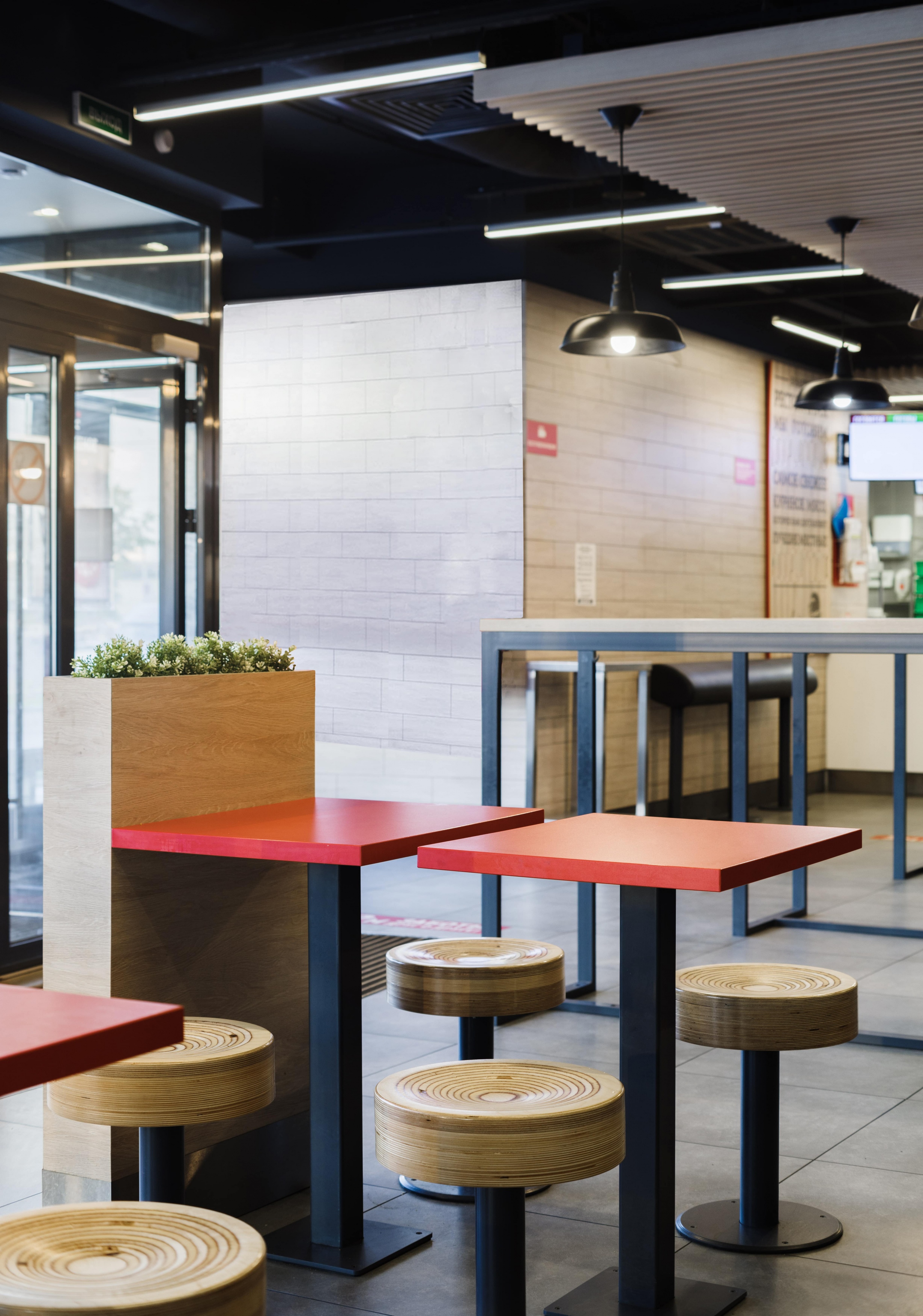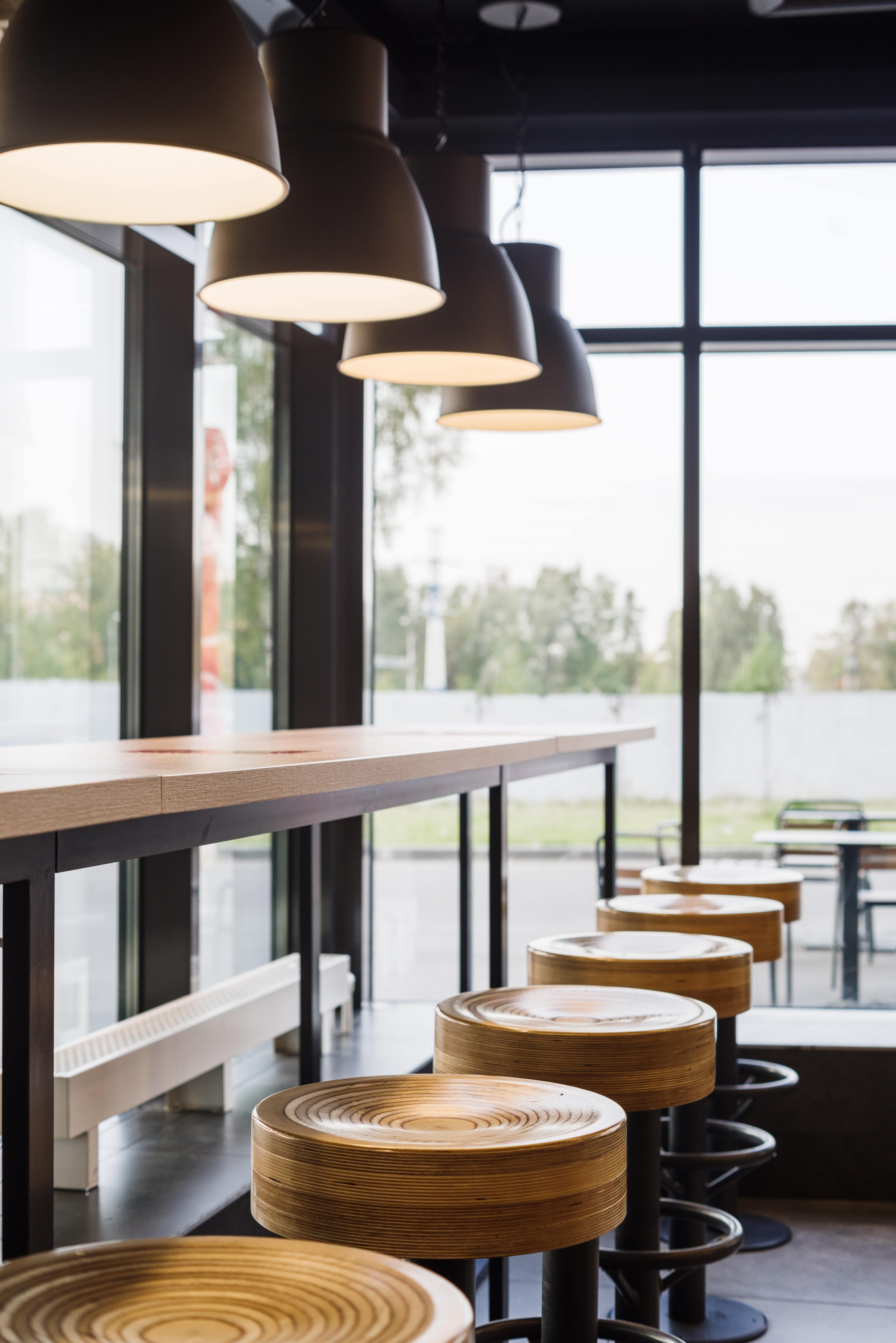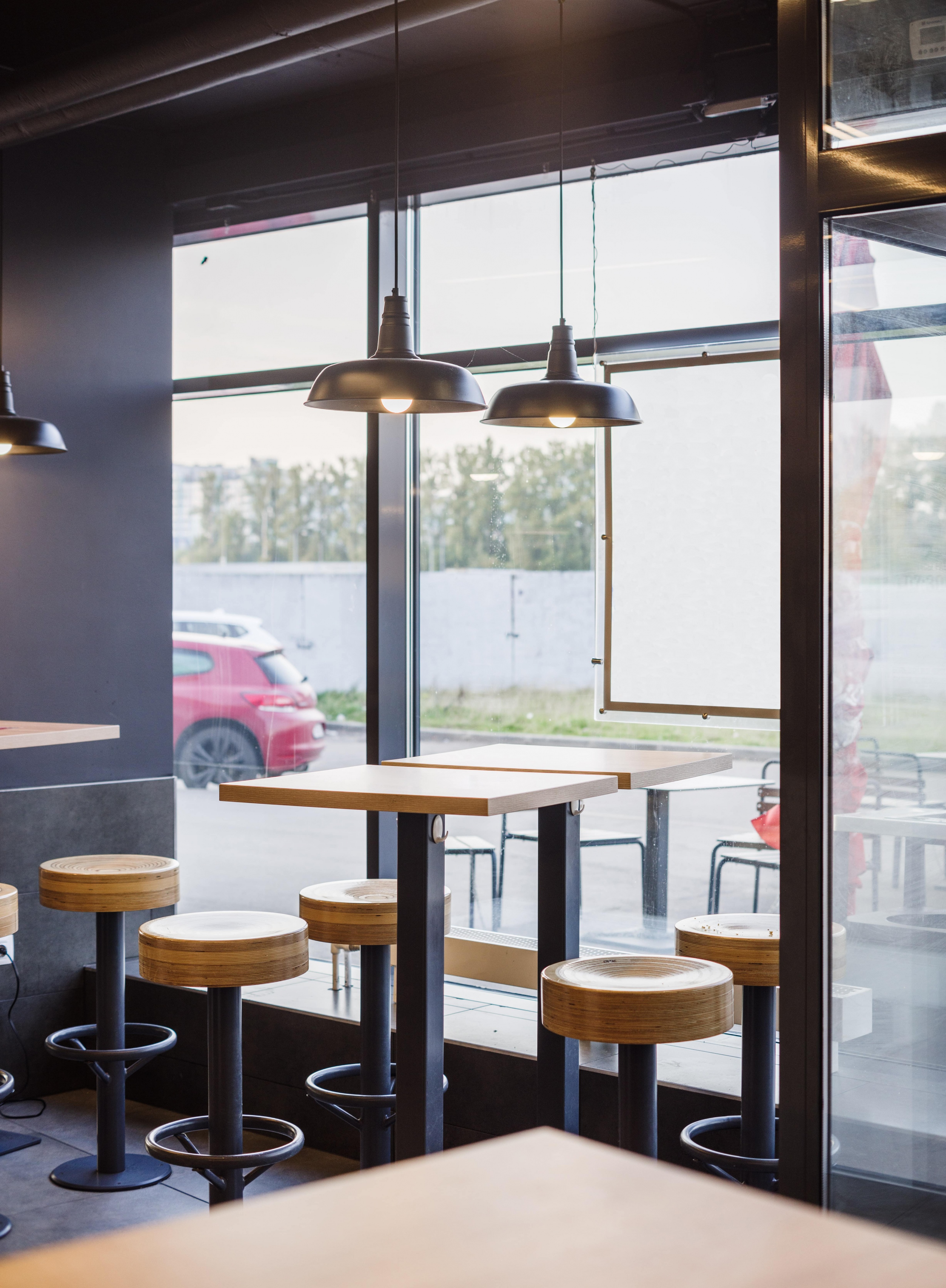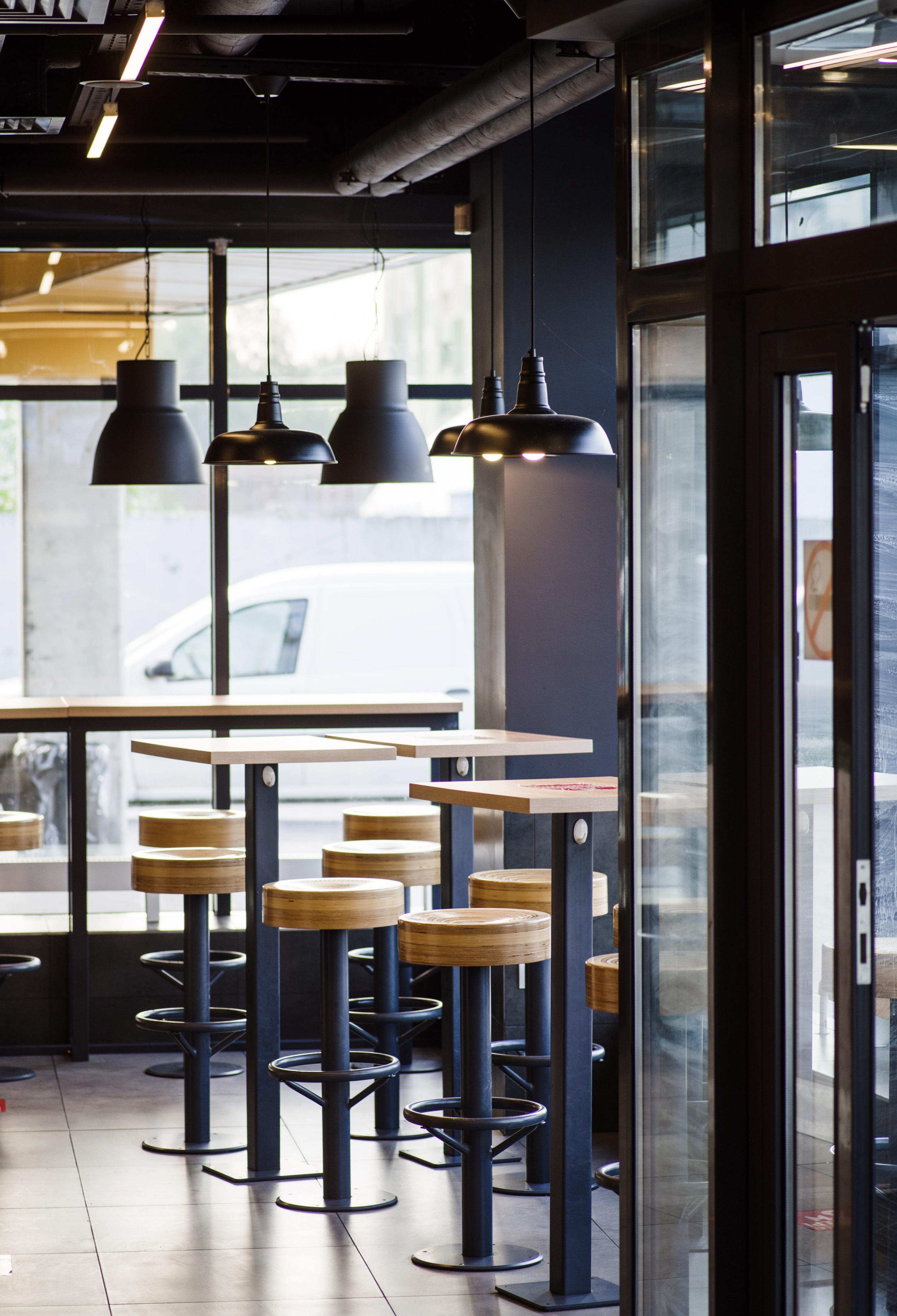 New project of a catering restaurant in St. Petersburg.
On the eve of the New Year, FABRIKANT has completed another project of a catering restaurant. This time in the very heart of the cultural capital - in St. Petersburg, on Bolshaya Morskaya.
The title of the cultural capital obliges, therefore, it was decided to fit even the project of a fast food restaurant into the melancholic atmosphere of St. Petersburg, while not forgetting about practicality.
Laconic partitions of muted tones "copper" and "graphite" zone the room and create a feeling of comfort.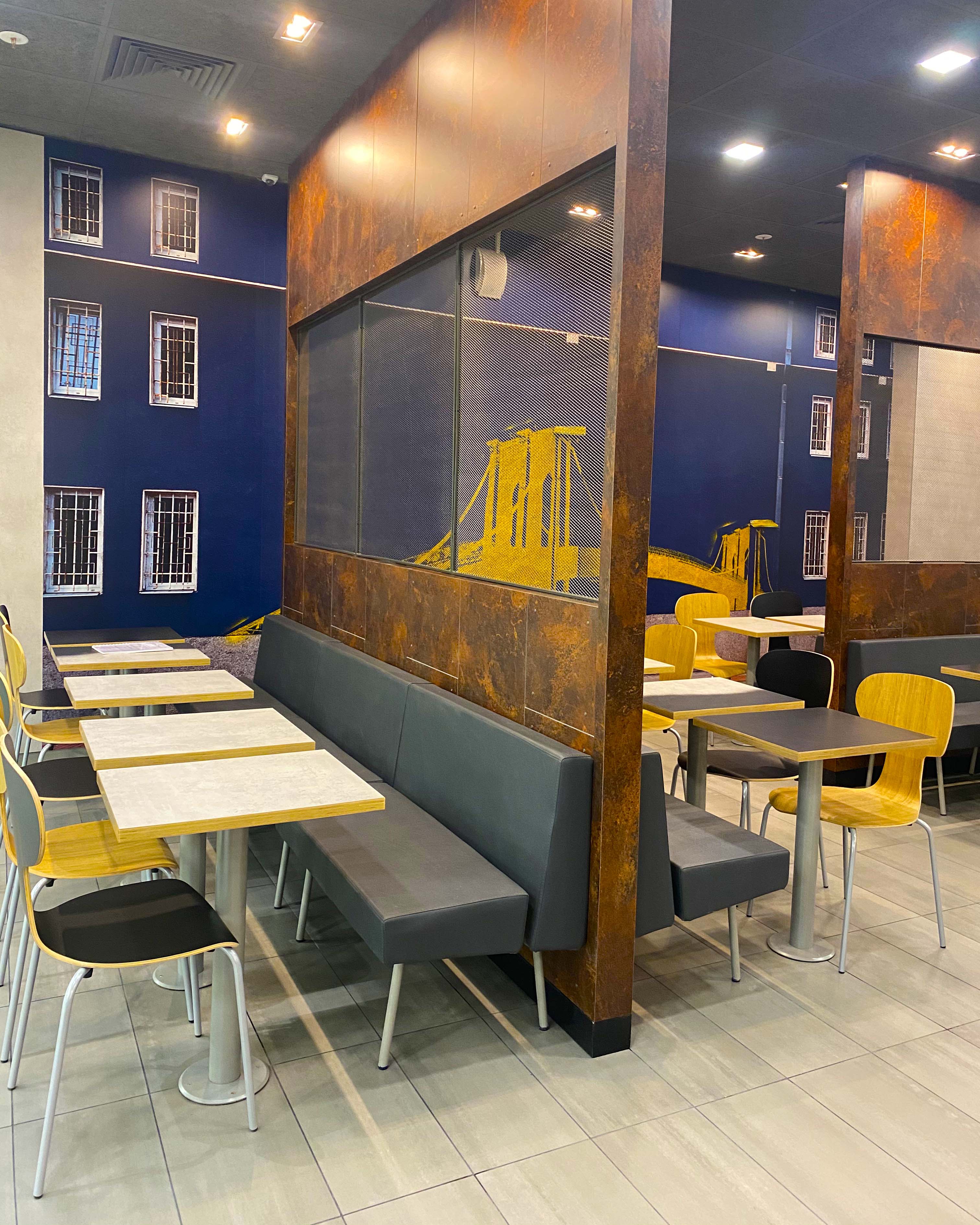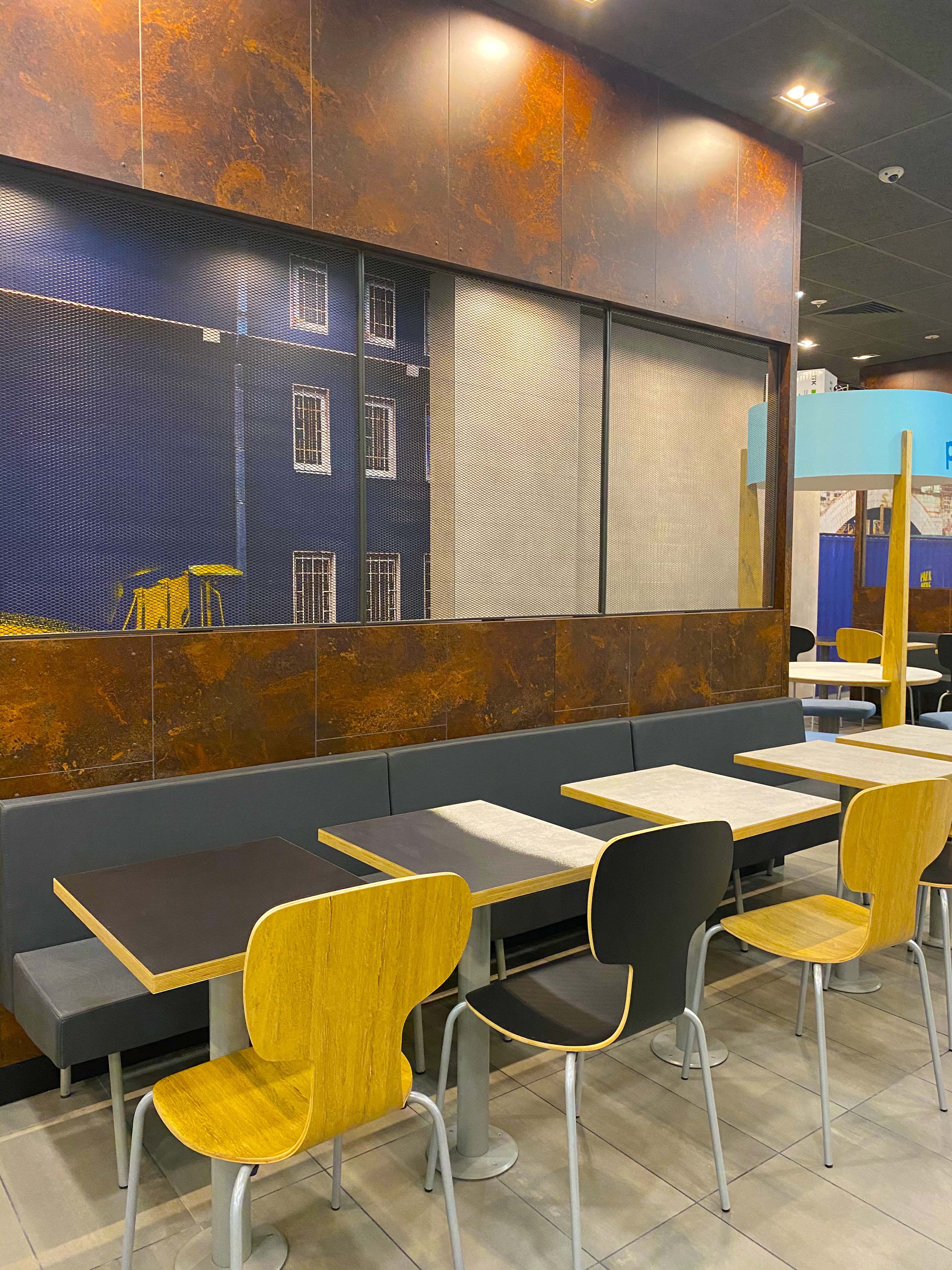 Brutal wooden tables on a reinforced metal frame are specially designed for locations with high traffic, and the center of St. Petersburg is famous for the abundance of tourists.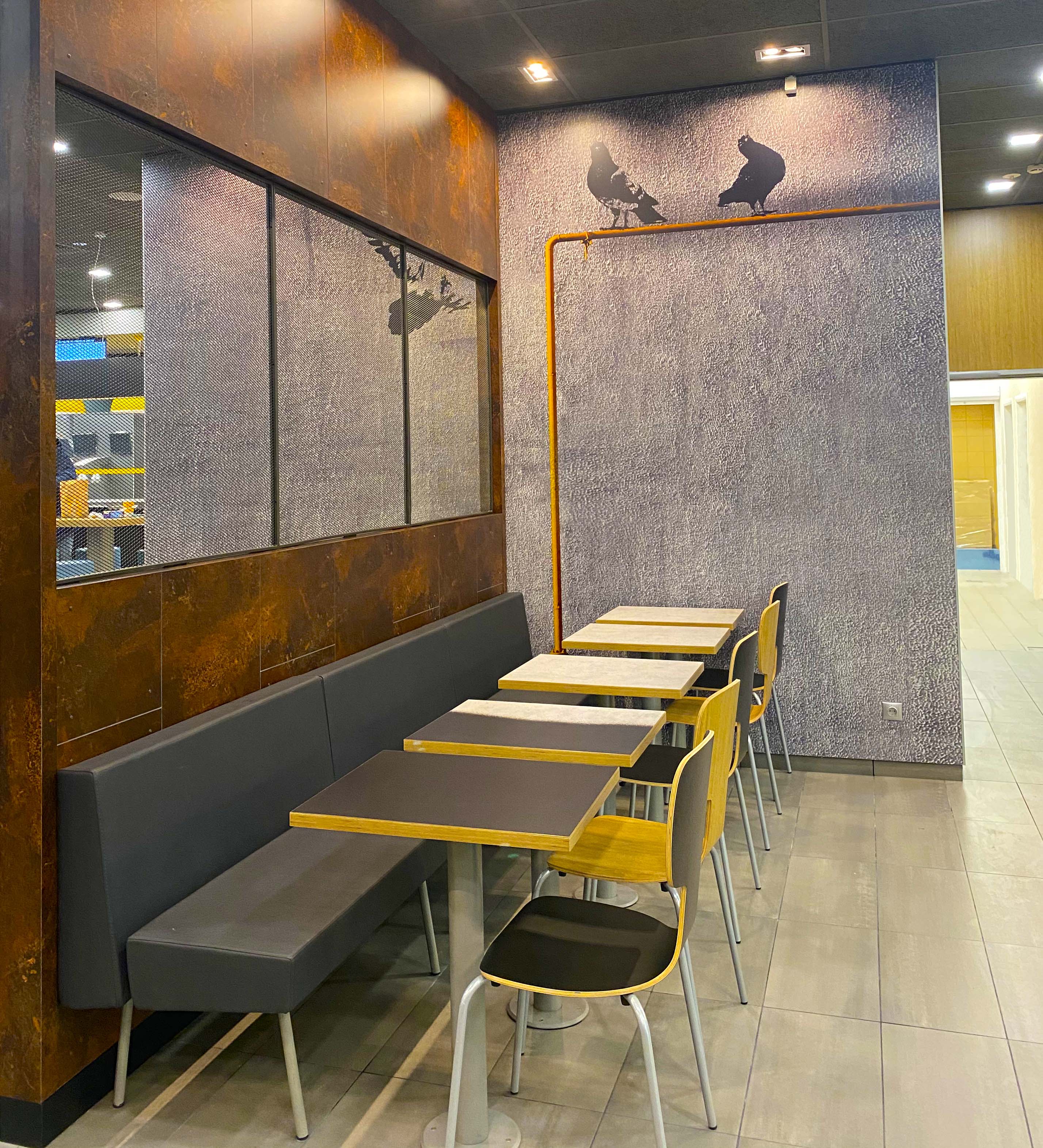 Monumental bar stools on a stable base will withstand a large flow of visitors.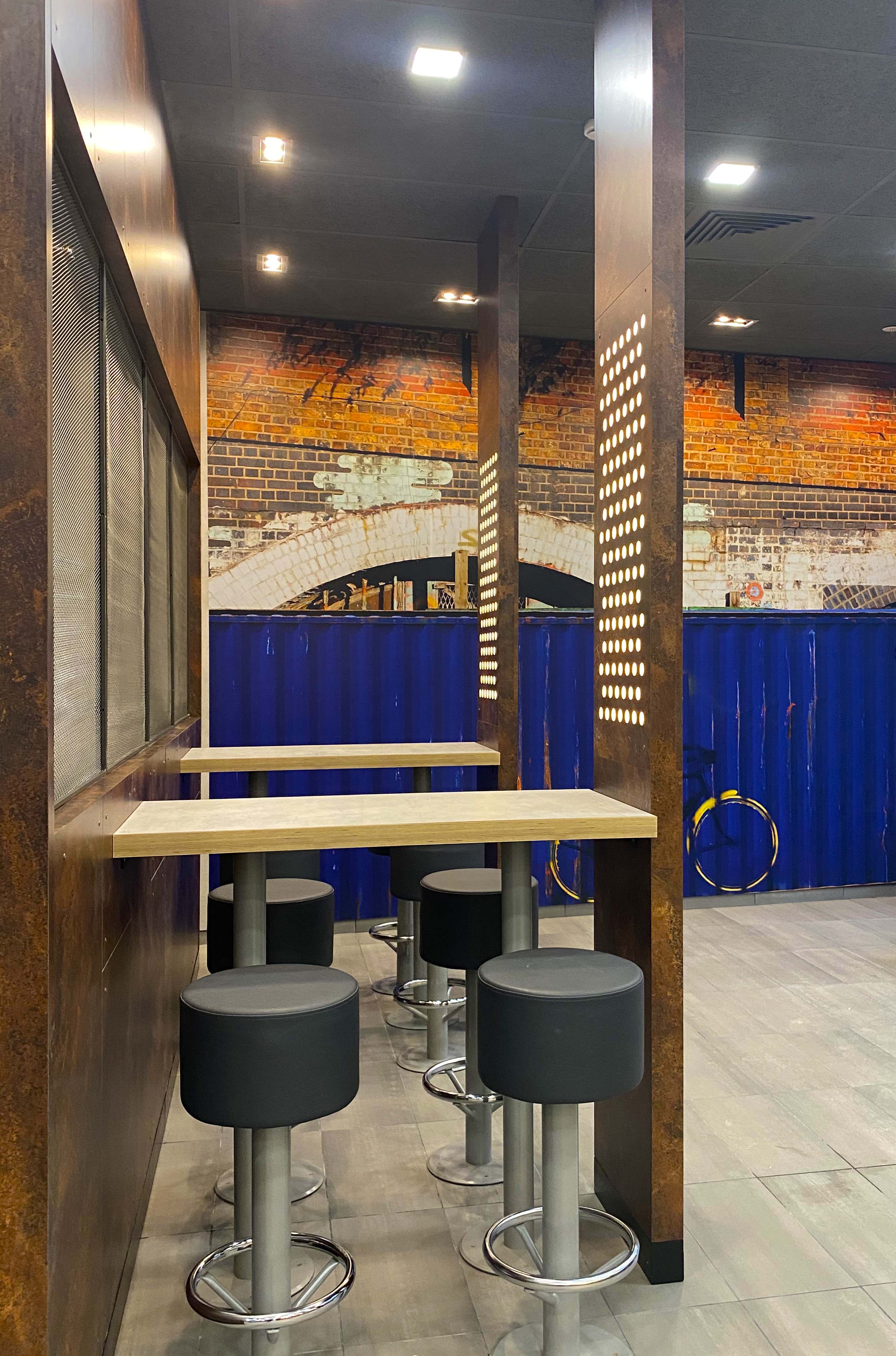 The seemingly weightless plastic chairs are framed by a sturdy metal frame, which guarantees a long service life under high loads.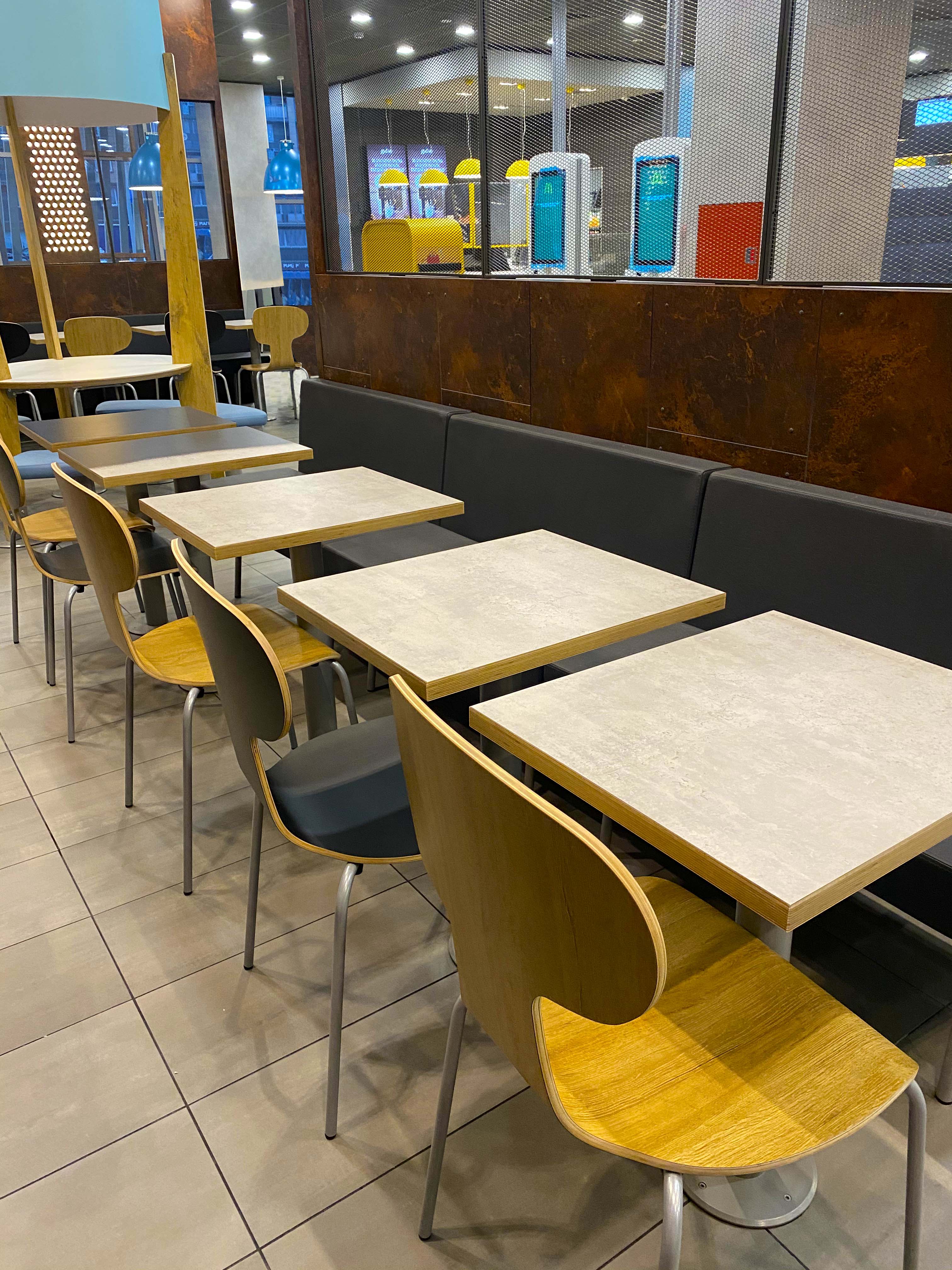 The minimalist sofas in matte faux leather, painted in soft black and gray shades, form a cozy dining area.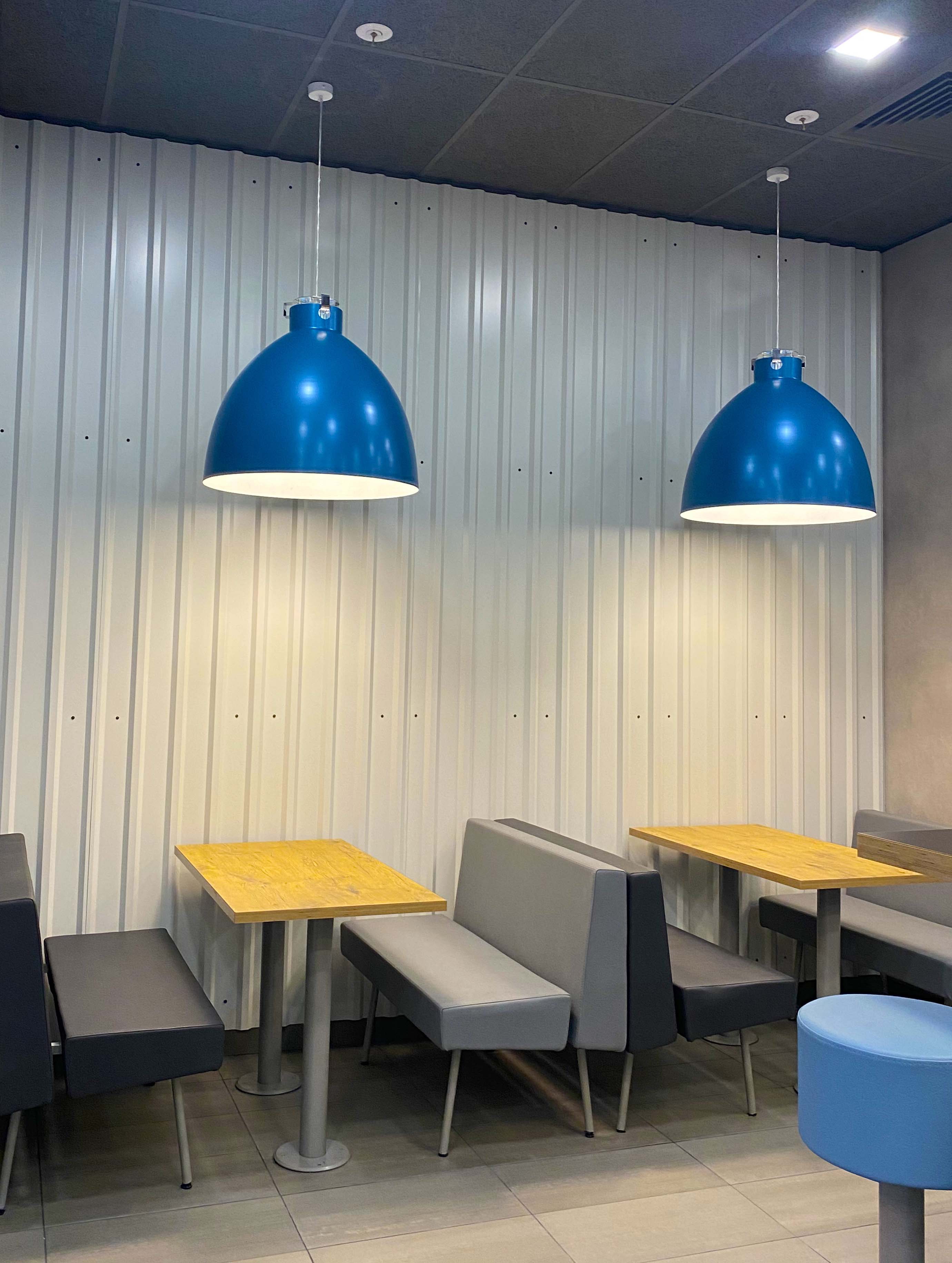 The lighting solution is realized in the form of original lamps in contrasting colors: discreet blue and bright yellow.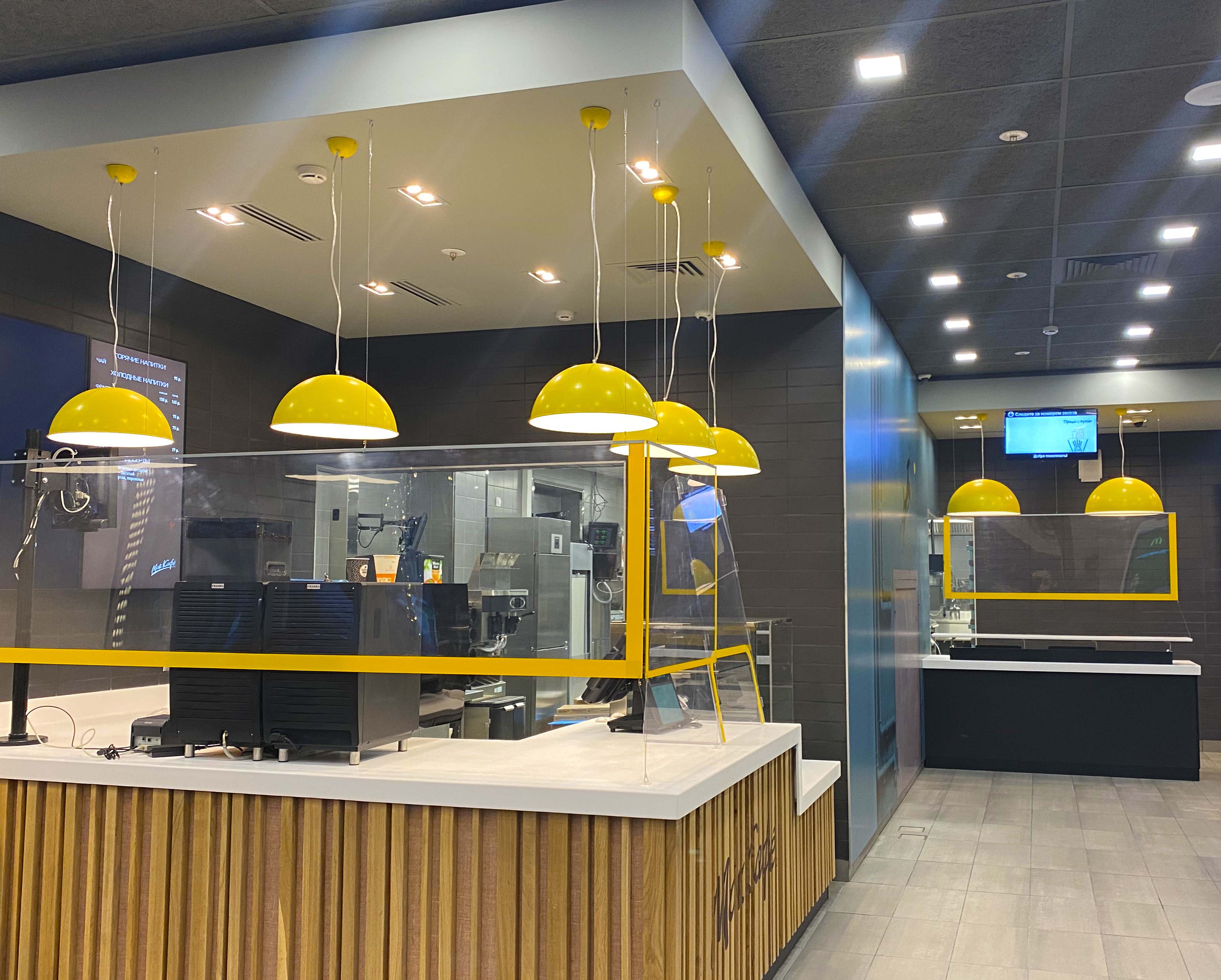 The unique character of the northern capital is supported by graffiti in the form of pigeons and bridges of St. Petersburg.
To summarize, this project turned out to be very consistent in St. Petersburg. At the same time, it is precisely the laconic design and calm shades that create a special atmosphere of a cozy space in the very center of a big city.
FABRIKANT - individual projects in 1 month!
New projects of public catering restaurants from group of companies FABRIKANT.
Dear partners!
We are proud to present you new projects of public catering restaurants - a favorite area of creative efforts of group of companies FABRIKANT. Our company has a huge experience in equipping locations of this kind: from pretentious art spaces to inexpensive chain restaurants.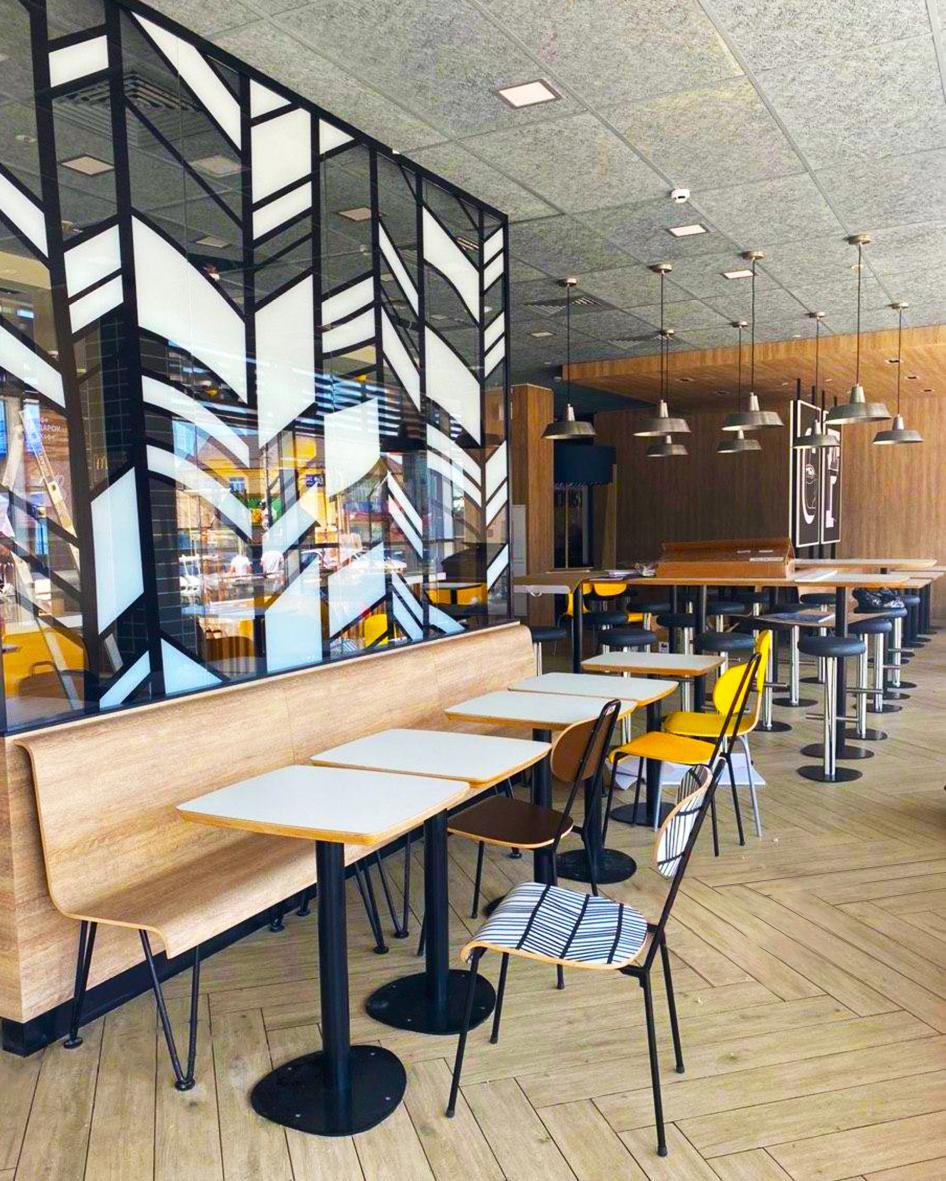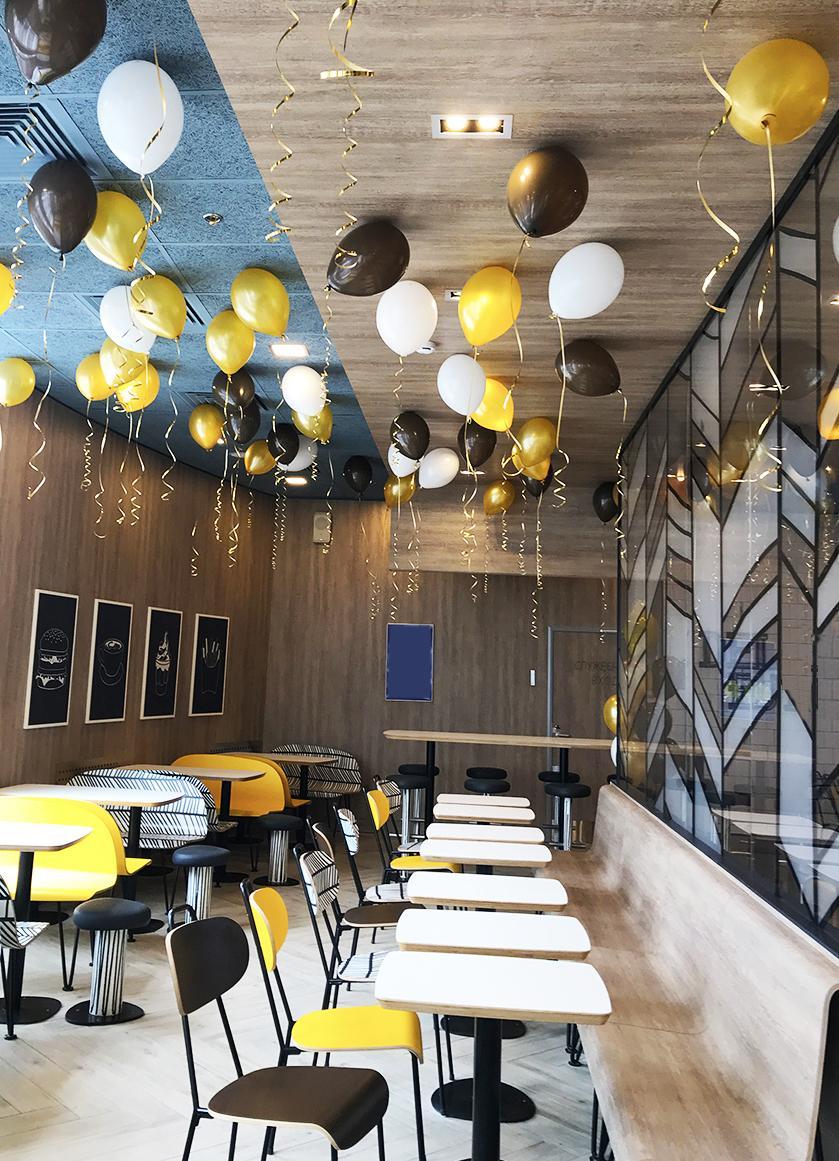 At the same time, despite the differences in styles and target audience, absolutely all catering facilities have one thing in common – the maximum comfort that restaurateurs strive to create for guests.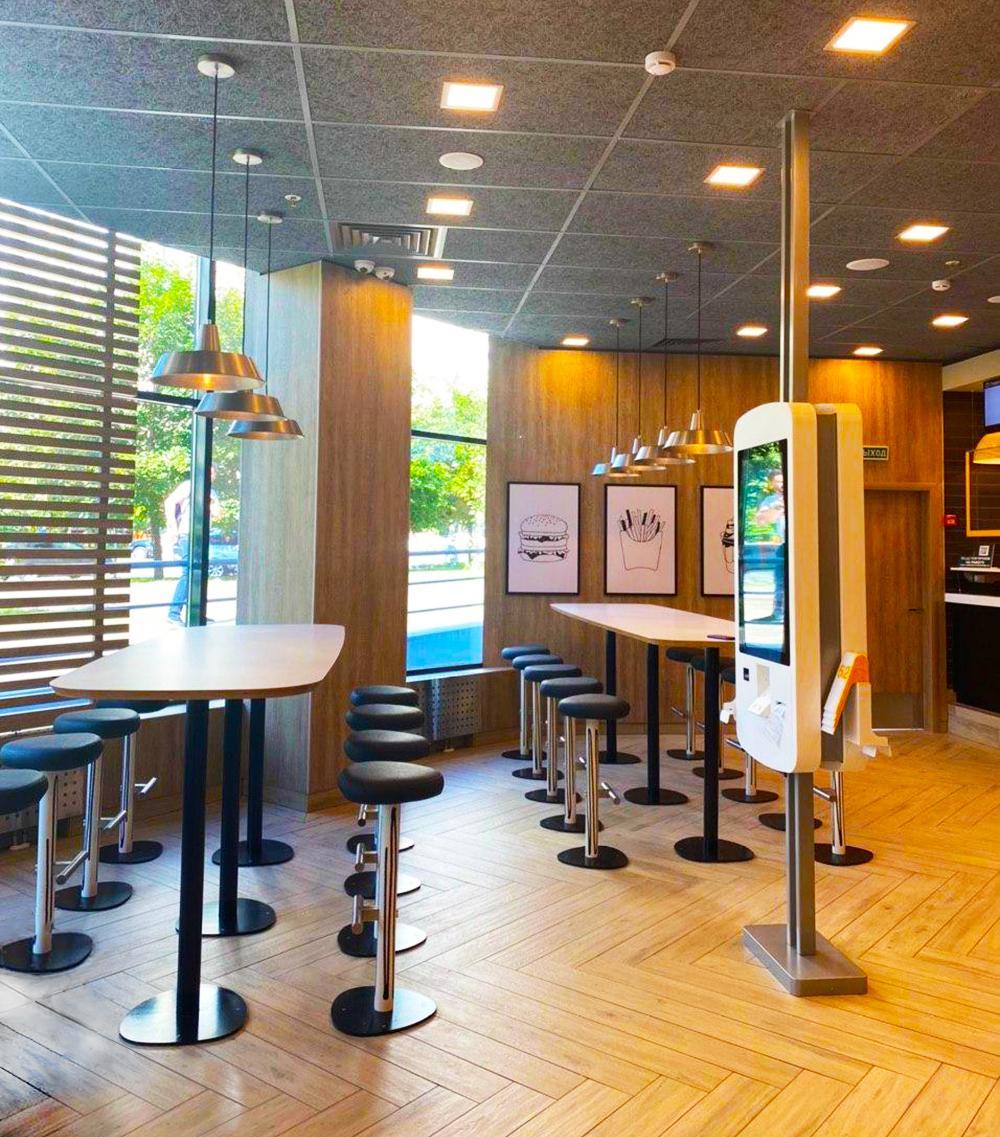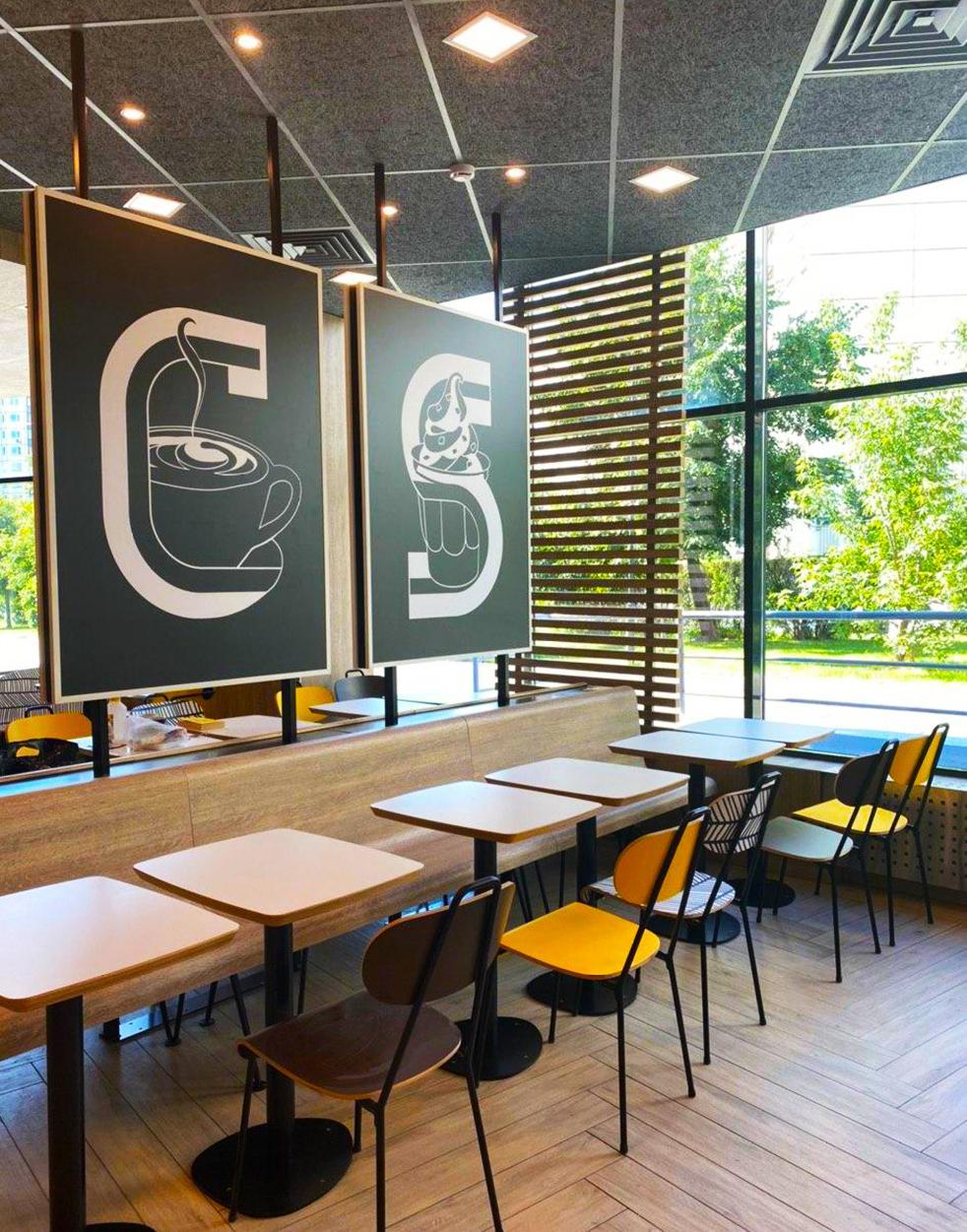 To solve this problem, when working on each project, group of companies FABRIKANT takes into account the standards for organizing public spaces, the ergonomics of the human body, and the psychology of perception of colors and materials.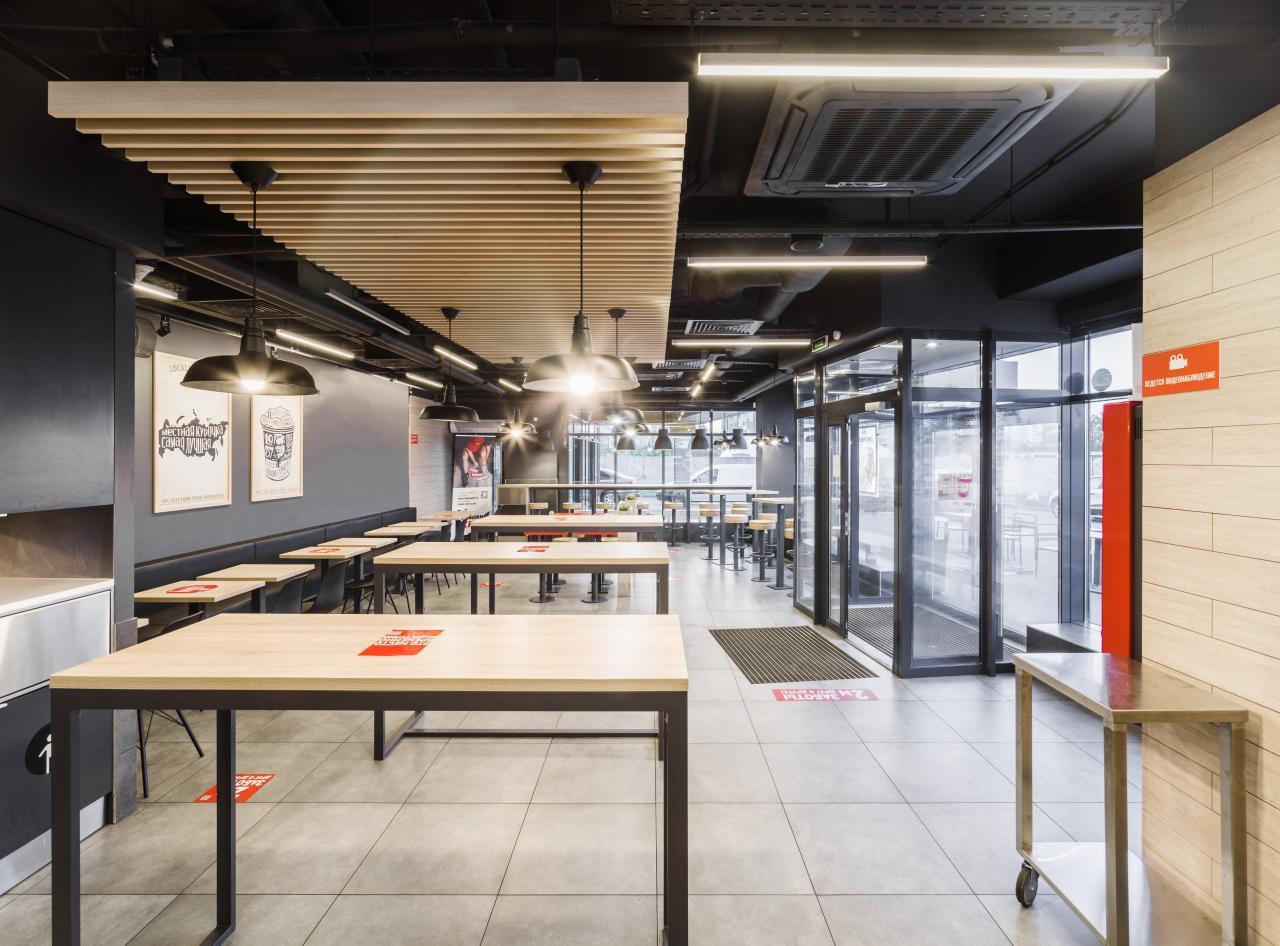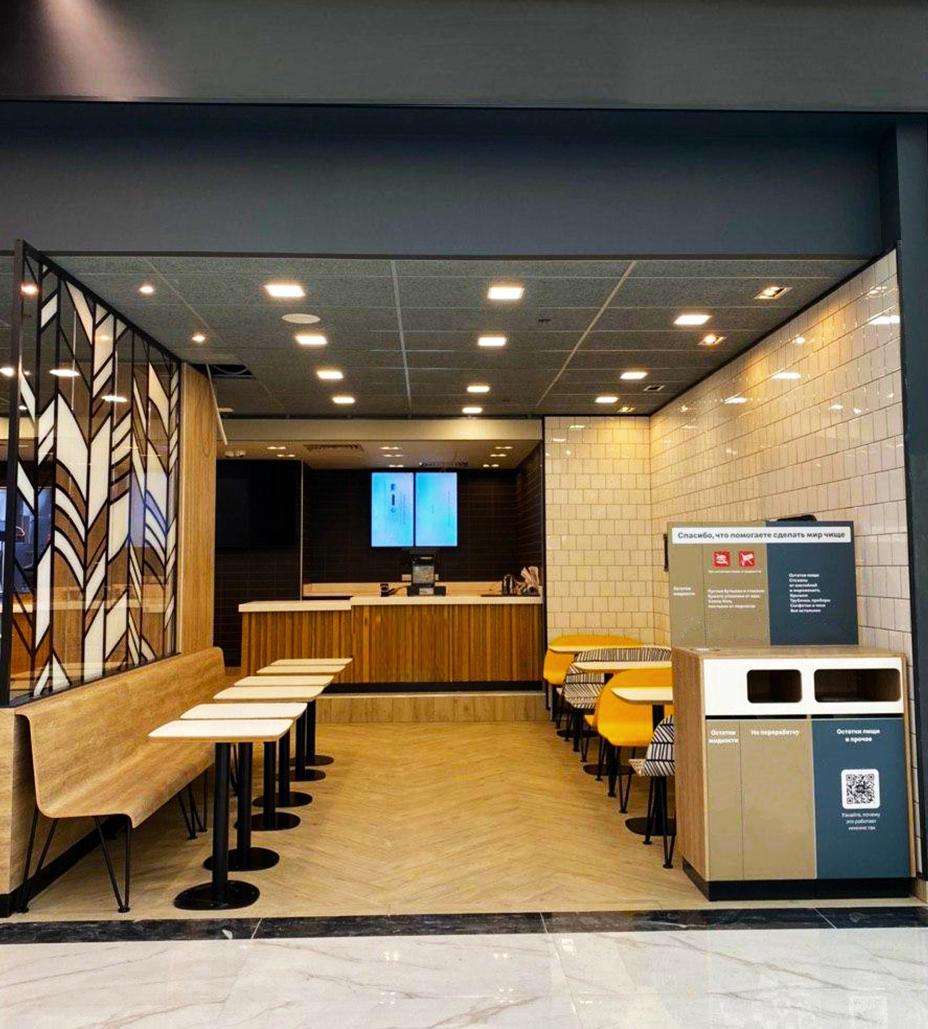 And for business owners, our company will always recommend the best materials: resistant to wear, practical in care, designed for continuous use and meeting all sanitary requirements.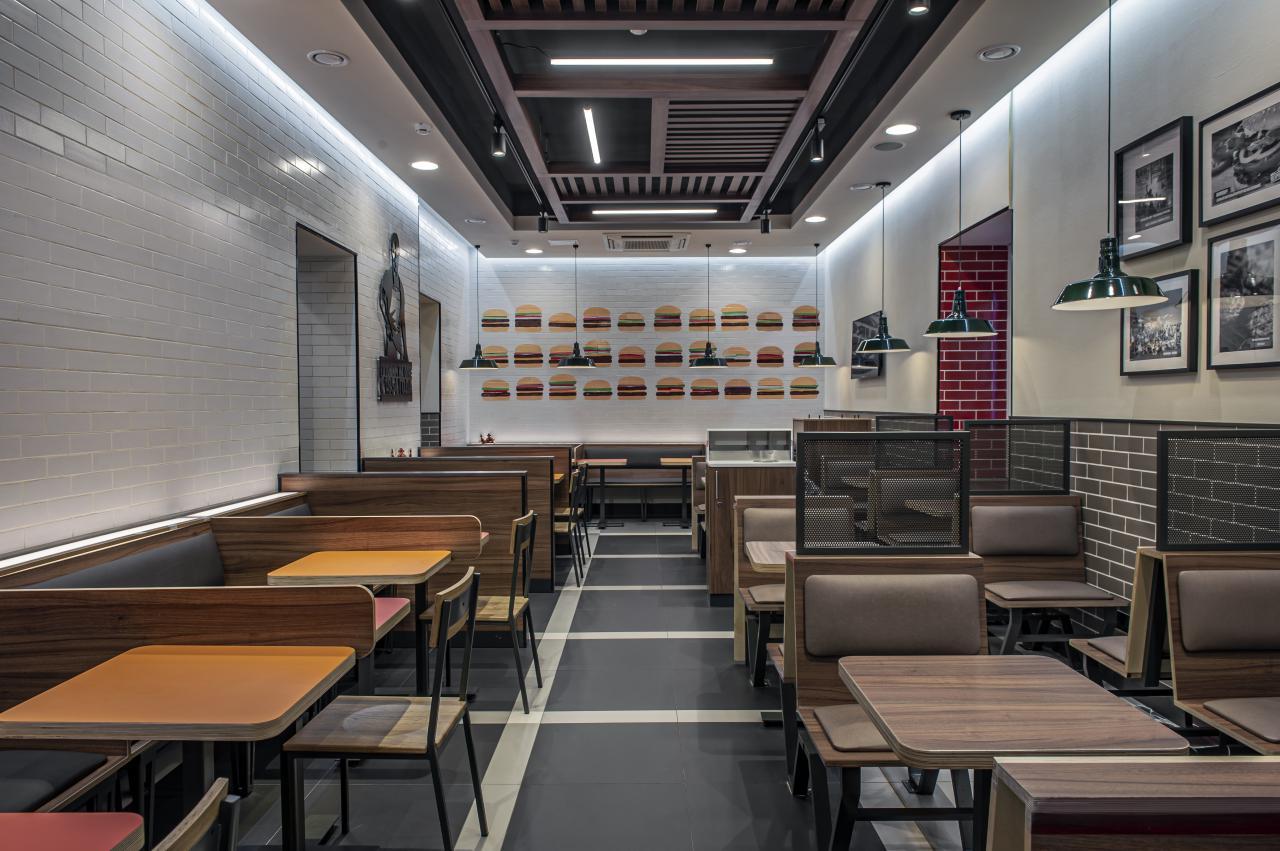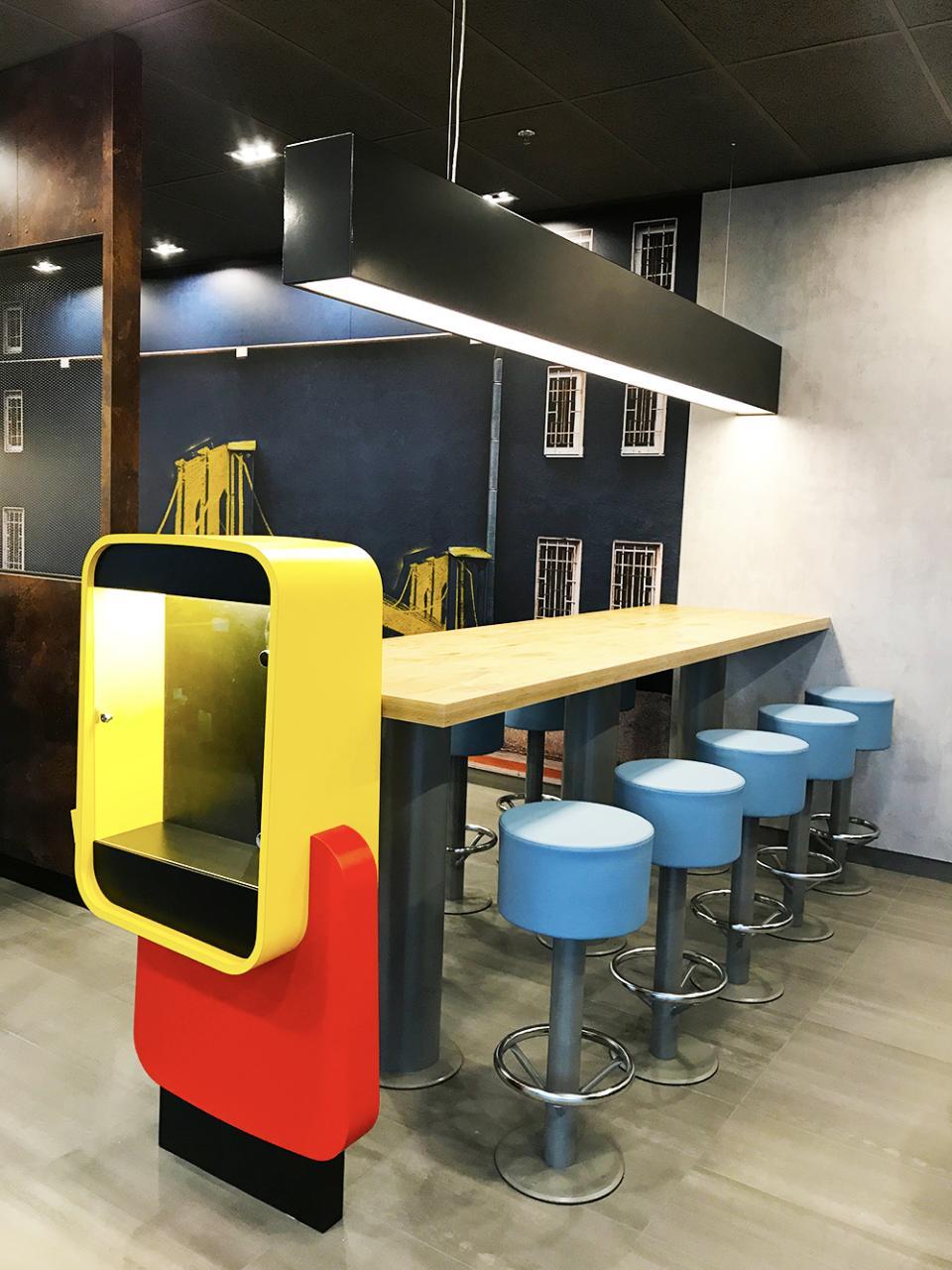 FABRIKANT - individual projects in 1 month!

Individual project of the SPA-hotel "Sea school".
Dear partners!
Group of companies FABRIKANT presents to your attention another complex project – equipping the rooms of the SPA-hotel "Sea school". It should be noted that the leisure center "Marine school " is our long - term partners and good friends. FABRIKANT has already implemented the projects of Vinburger and Cavalli restaurants. It's time to work on equipping the hotel area.
SPA-hotel "Sea school" is a modern rest location in the historical center of Ryazan. The design of the rooms is made in the current fusion style, which harmoniously mixes seemingly incongruous elements, while remaining simple and unintentionally elegant.
In the process of working on the project, group of companies FABRIKANT offered original furniture solutions for the entrance hall, bedroom and shower, which fit seamlessly into the overall style of the interior of the rooms.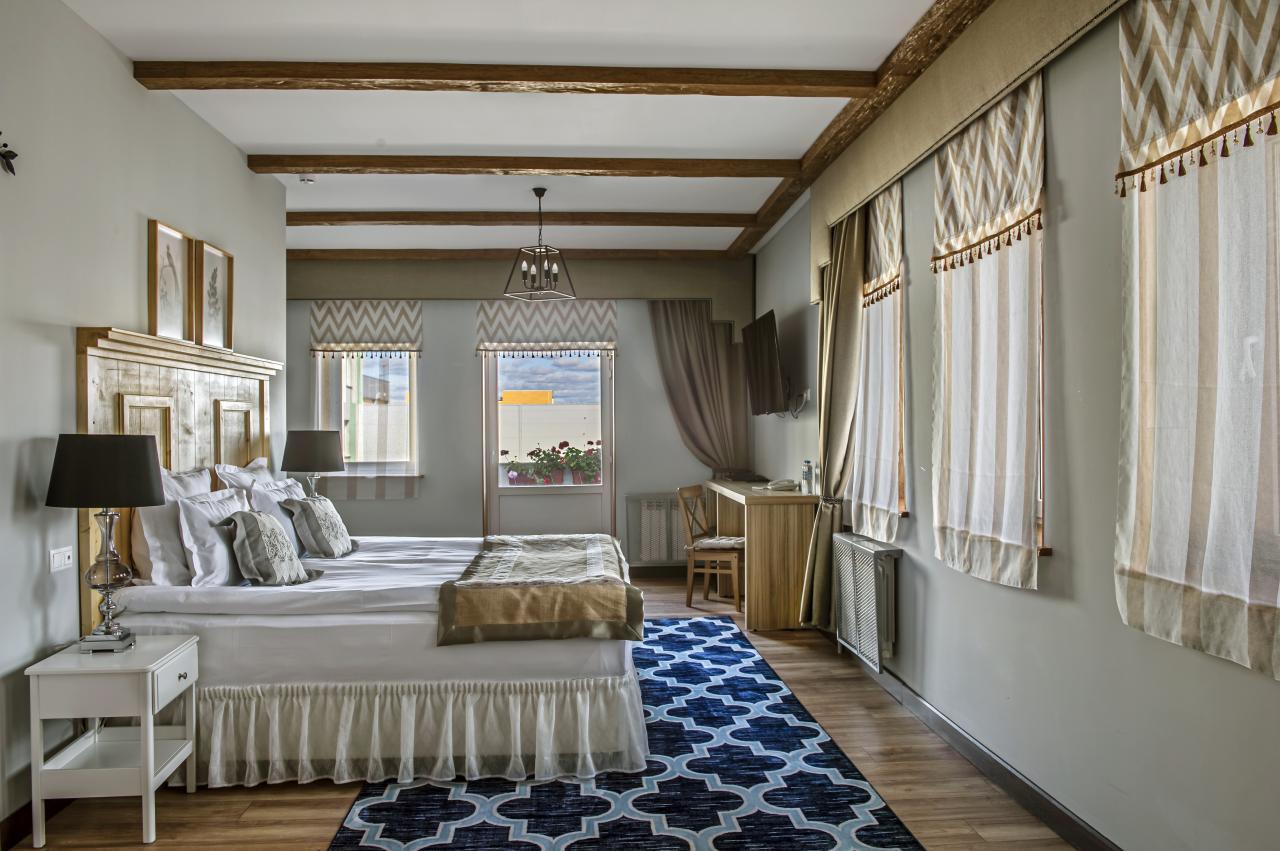 In the hallway area, cabinets for clothes of various sizes and contrasting colors are pleasing to the eye. They are made in both bright (green and Indigo) and laconic (deep graphite) colors. Thus, the cabinets either set the dynamics of the space, or gently dissolve in it.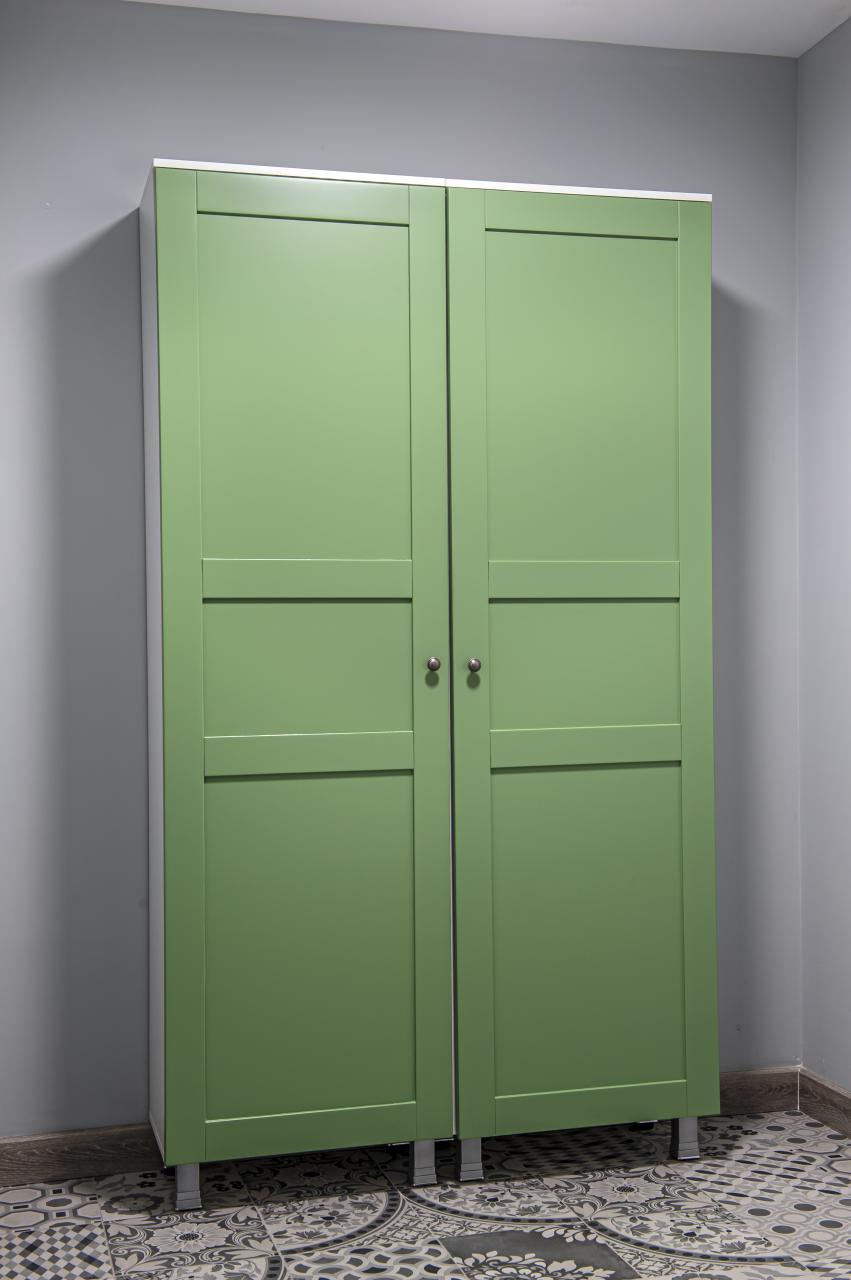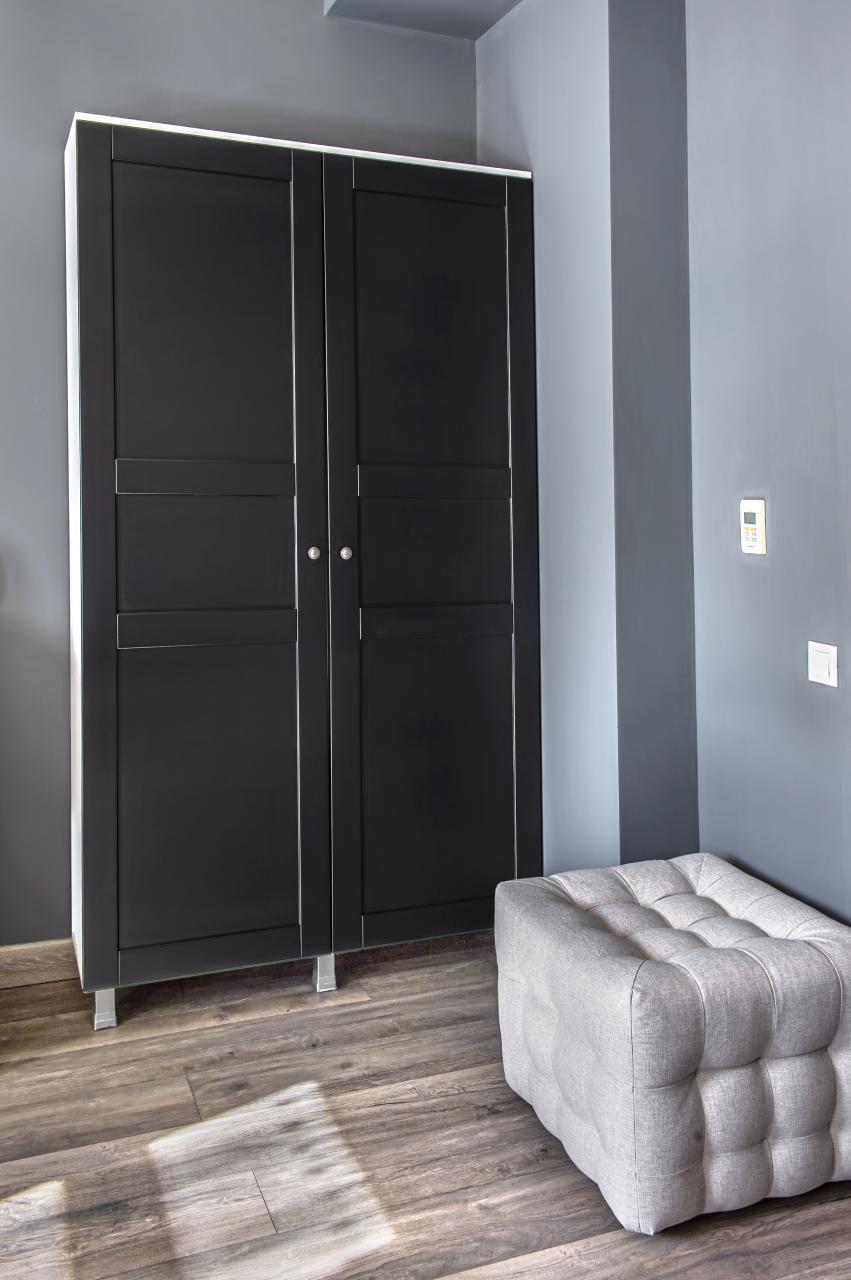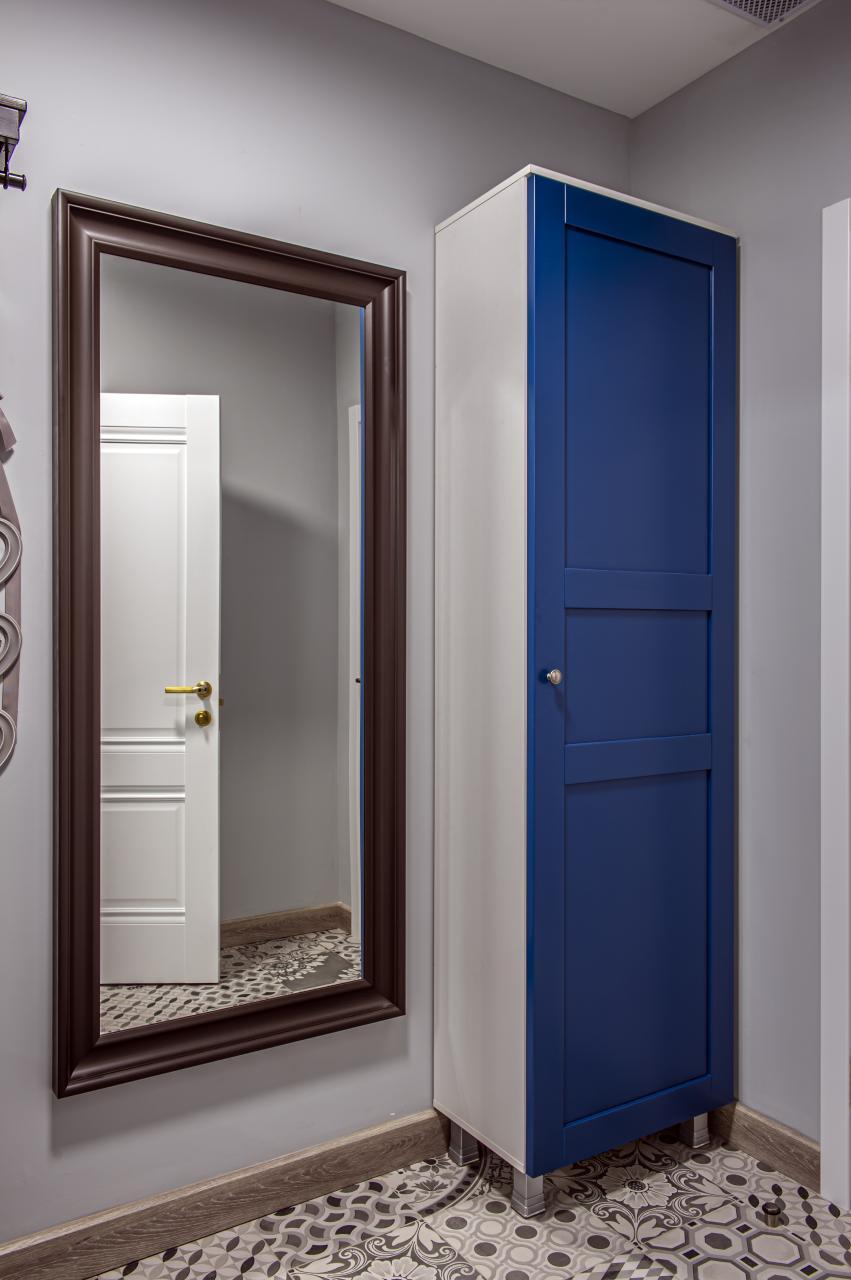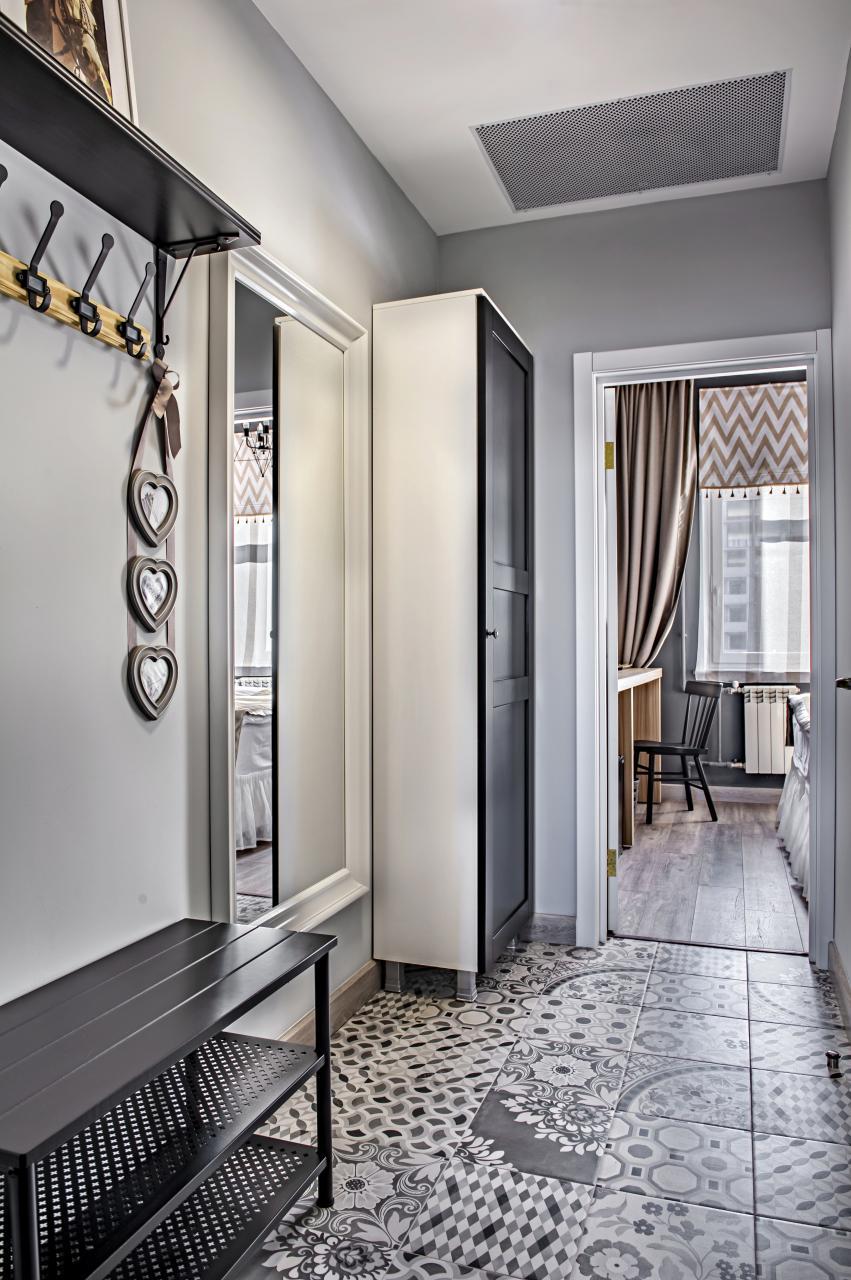 In the bathroom area, attention is drawn to the brutal console under the sink, made of natural wood with an all-metal frame, painted in a soft black tone. Another version of the design involves a combination of 3 materials: natural wood, artificial stone and metal.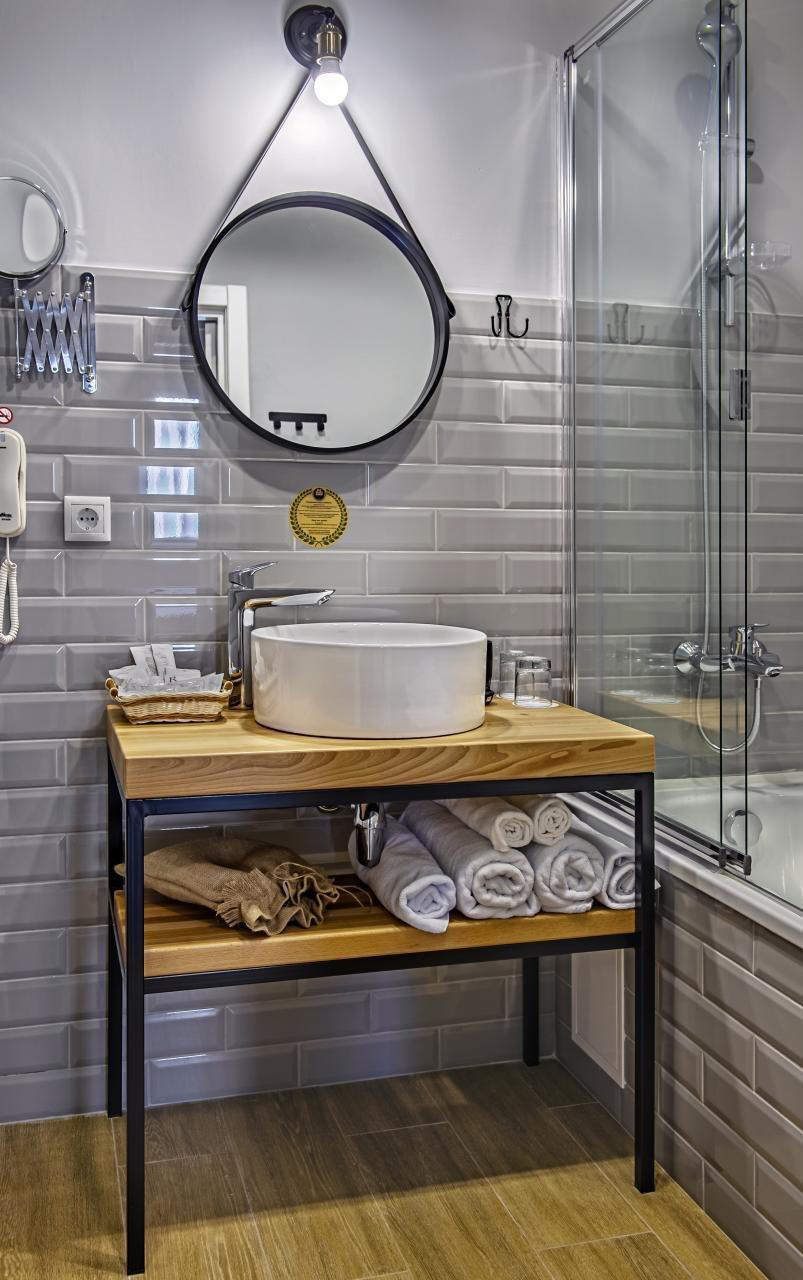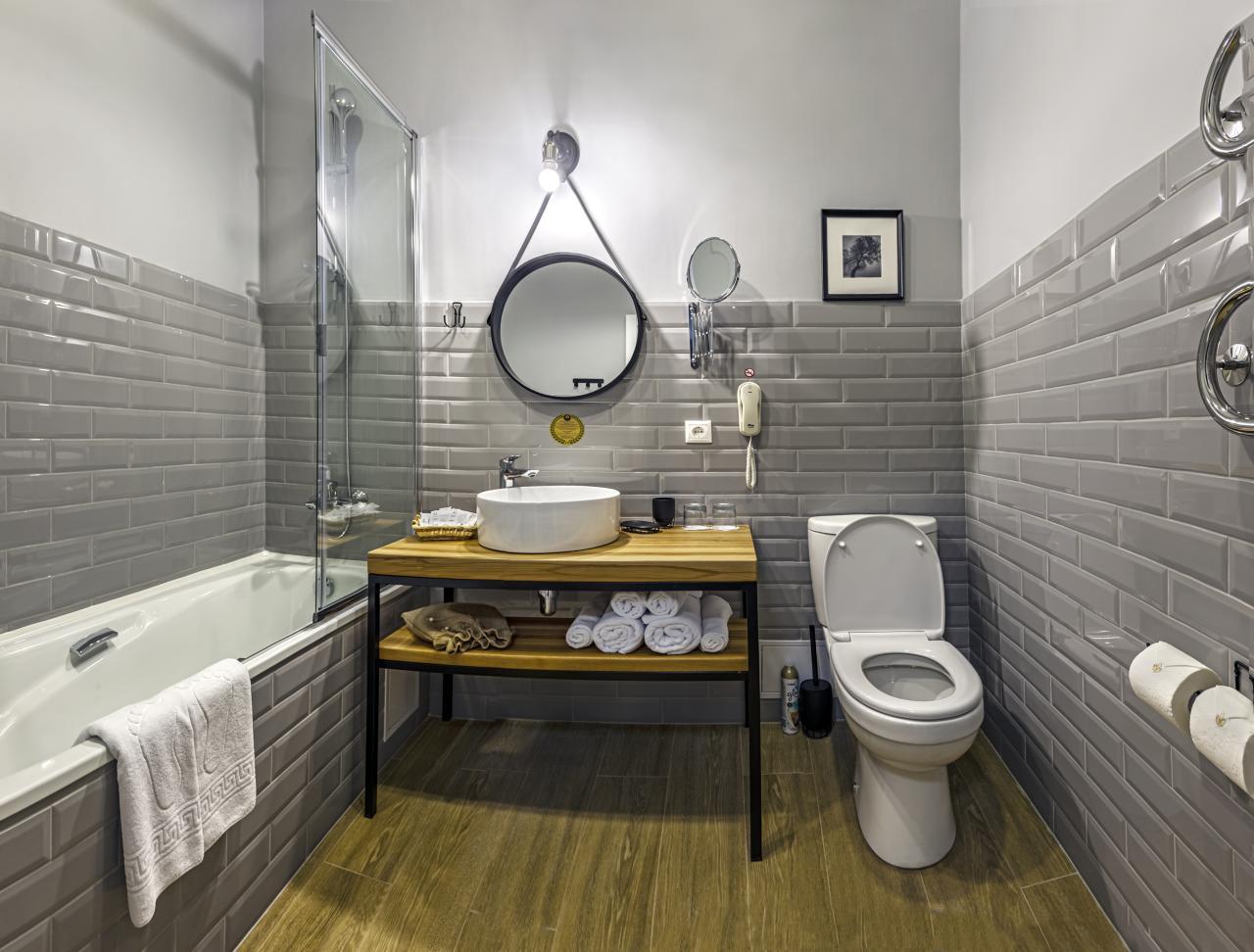 In the sleeping area, a special place is occupied by an original composition of a laconic light wood work console combined with a comfortable chair – a mini-office for those who do not forget about business even on vacation.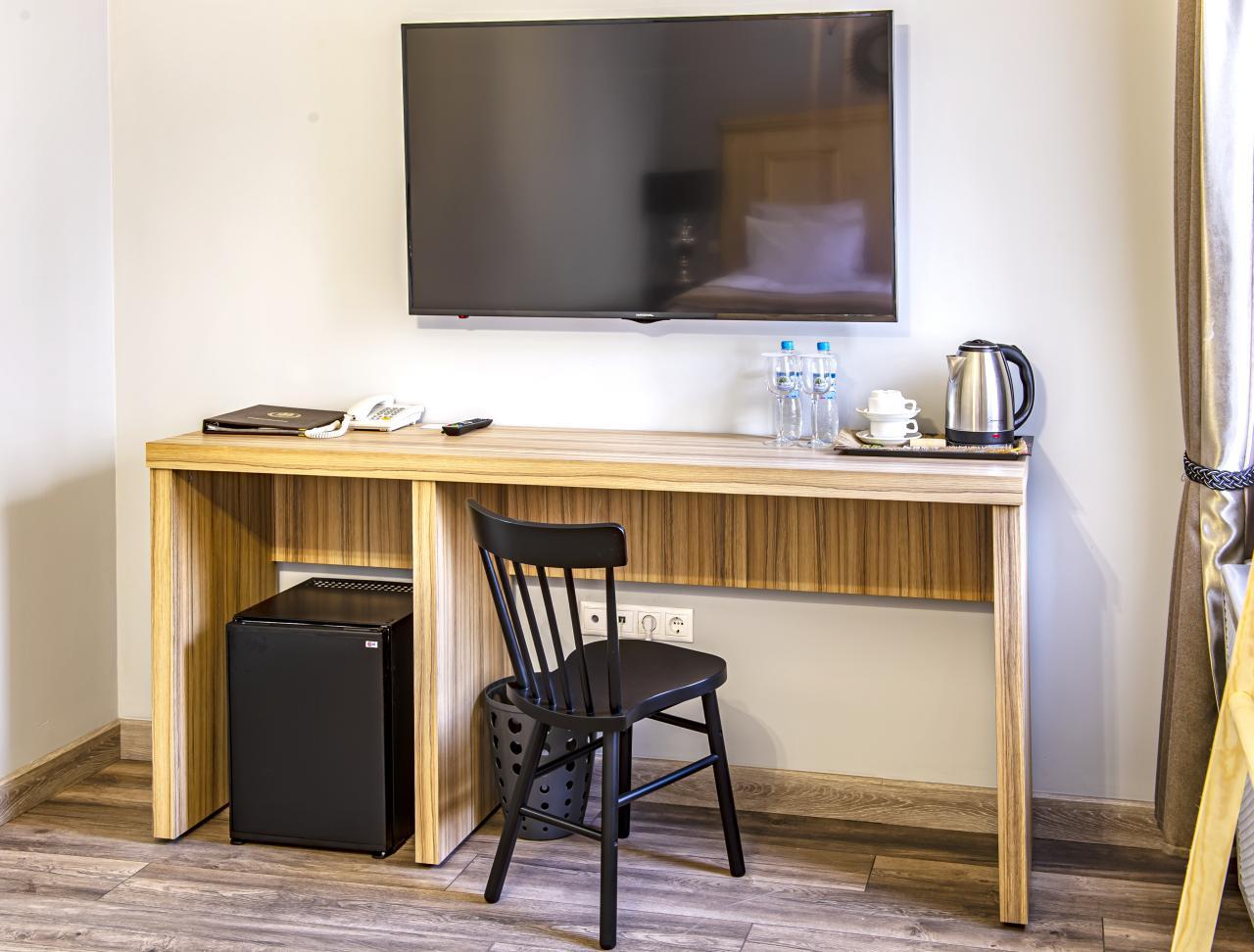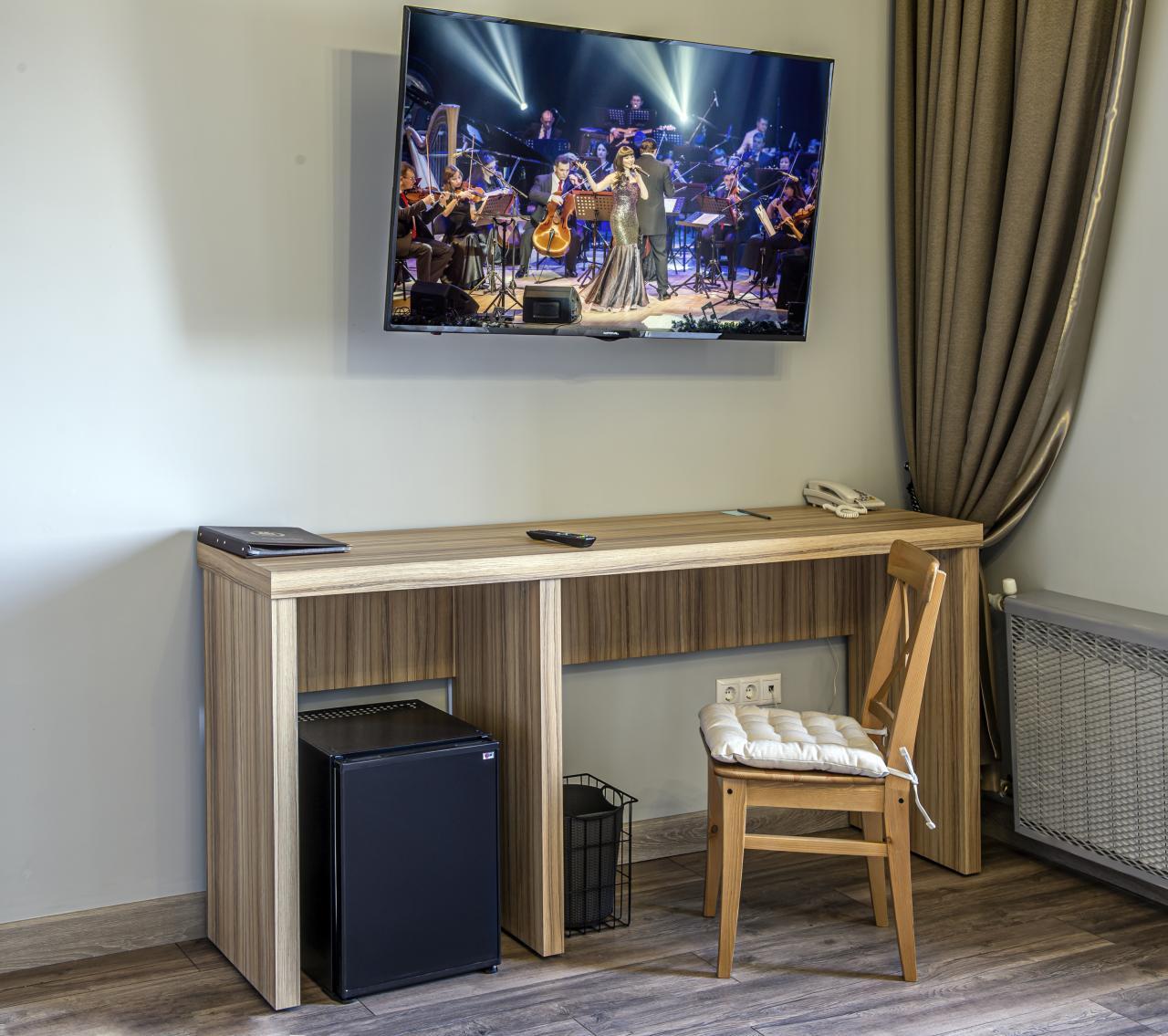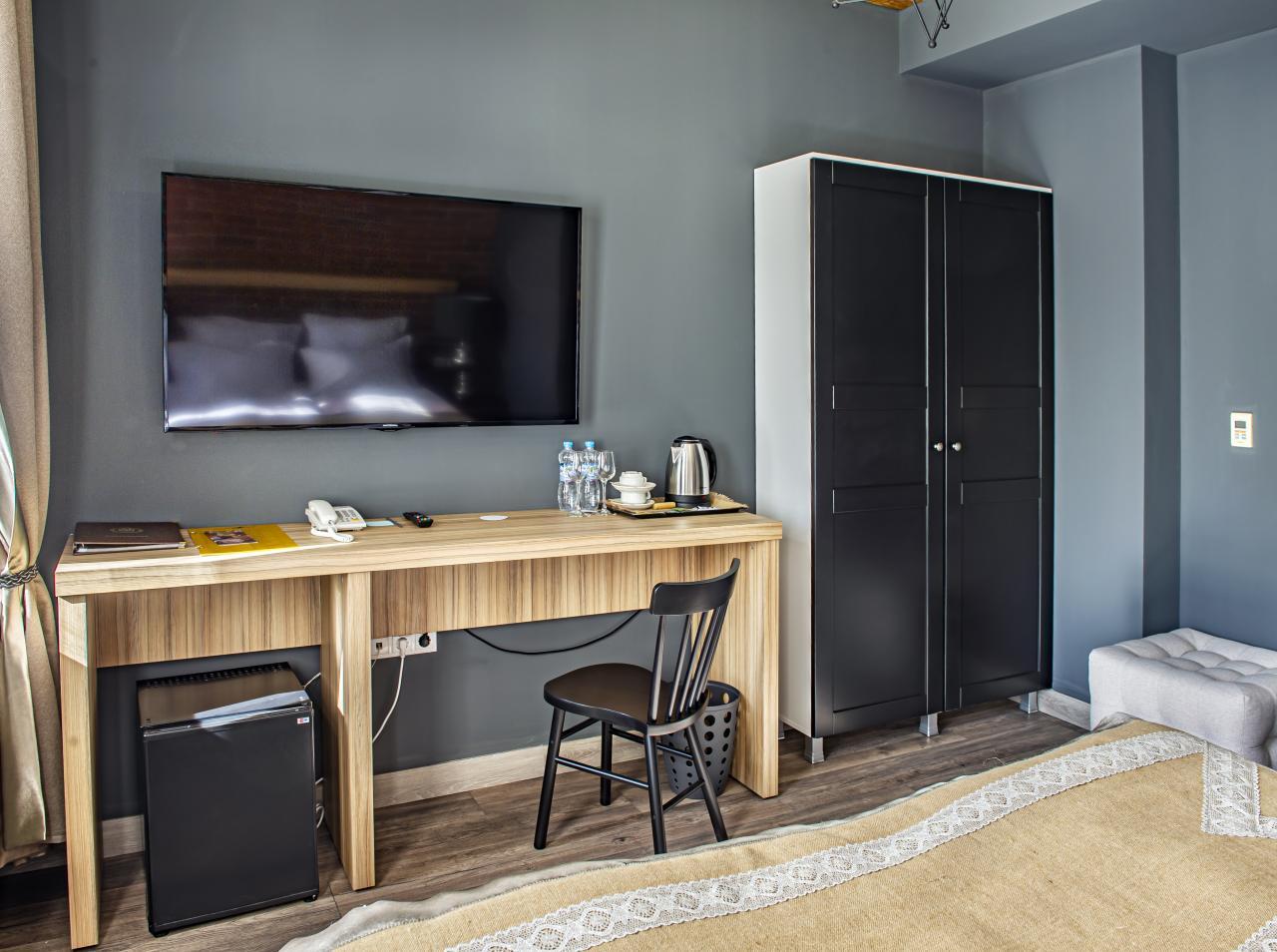 FABRIKANT: we implement the most daring ideas!

New upholstery KRAFT
A new upholstery material KRAFT is available for order.
KRAFT material is made of 100% synthetic fiber. Due to its structure, it does not fade, is resistant to abrasion (20,000 Martindale cycles) and effects of aggressive liquids, which makes it perfect for everyday furniture.
The range includes 6 colors, which makes the collection of these fabrics universal: 01 Brown, 02 Black, 08 Sand, 16 Grey, 64 Green, 67 Blue.
All the necessary information can be provided by specialists of FABRIKANT's sales department.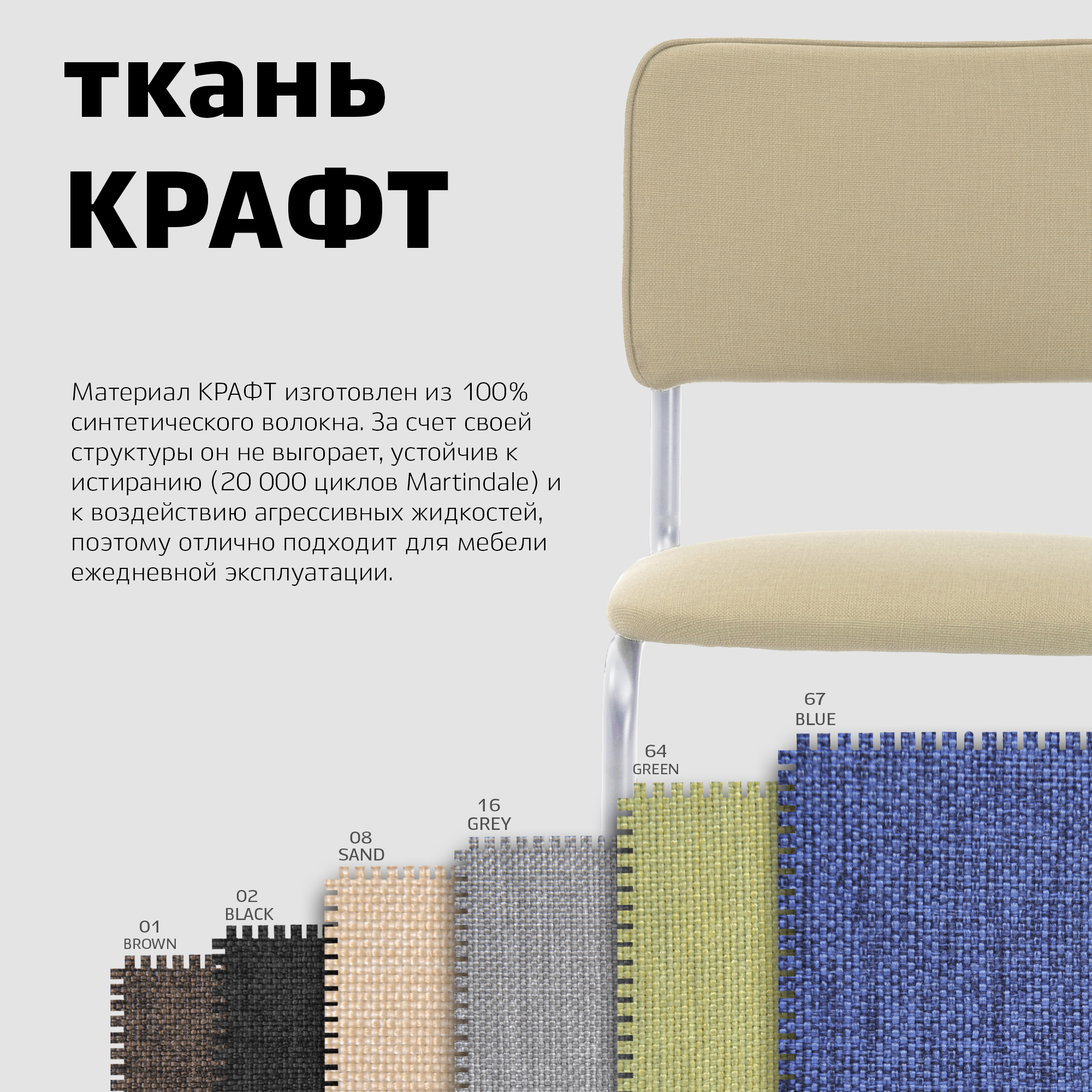 Fabrikant on PIR EXPO — 2019
The largest exhibition in Russia in the field of HoReCa and hospitality industry PIR Expo-2019 was held on 7-10 October, 2019!
More than 200 leading domestic and foreign companies presented novelties in the market of restaurant equipment, full-cycle solutions for designing and equipping any objects of the hospitality and trade industry: restaurants, bars, cafes, canteens, food courts, grocery stores, factory kitchens, street catering and catering enterprises companies.
FABRIKANT presented unique models of armchairs, sofas and chairs at the exhibition. Participation in PIR EXPO-2019 provided us an opportunity for a productive dialogue with customers.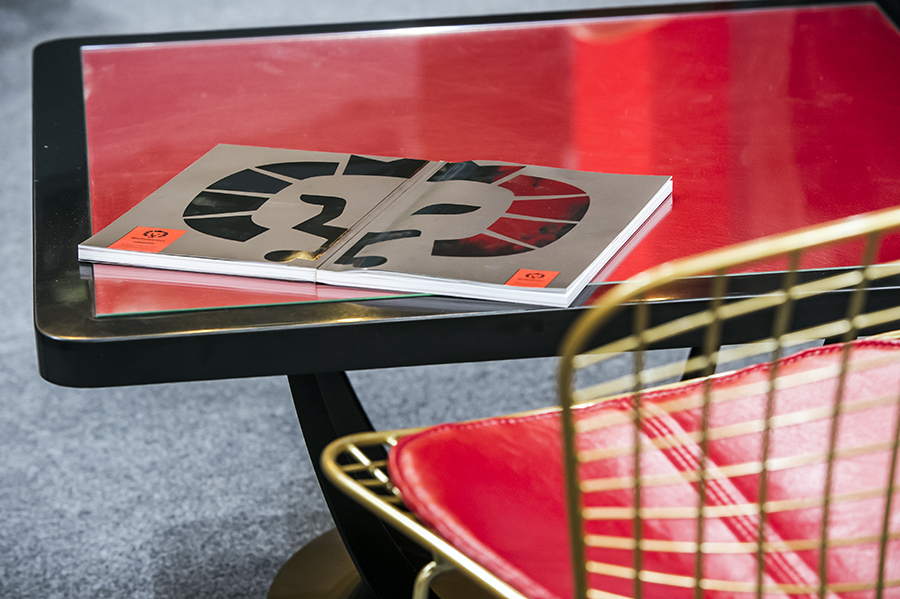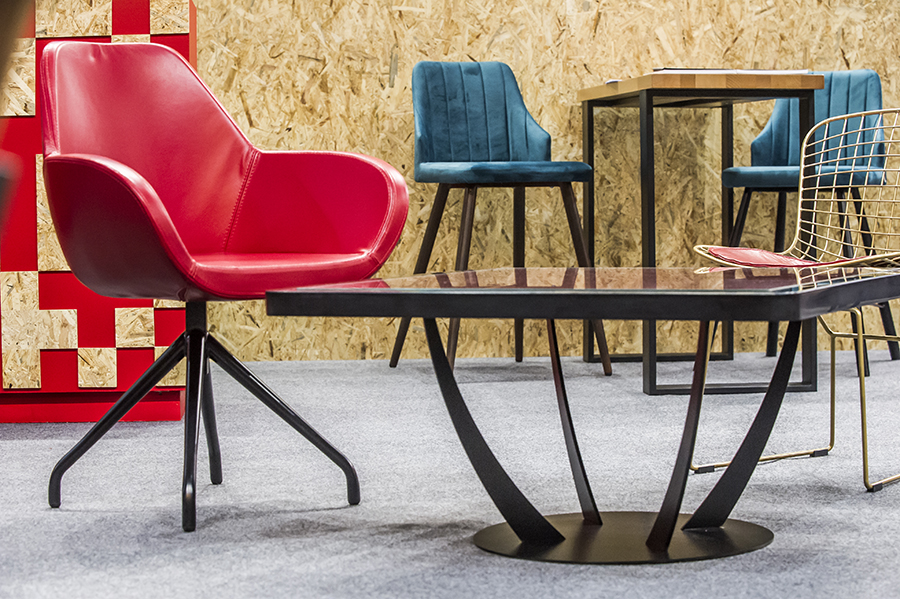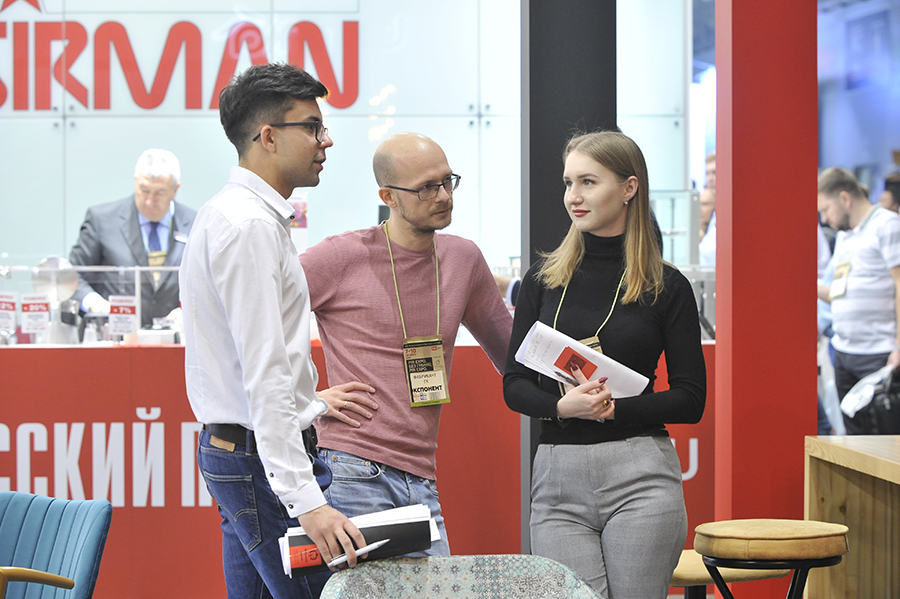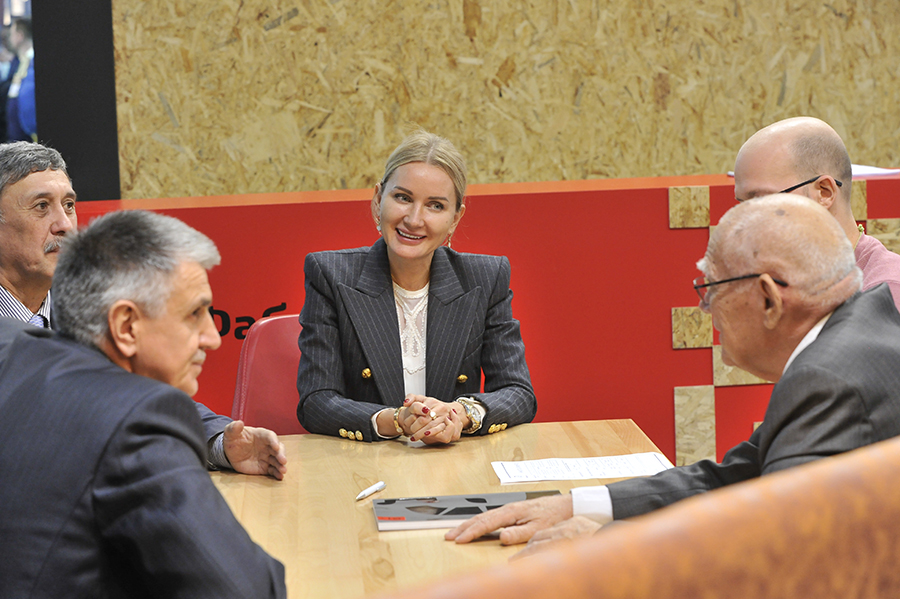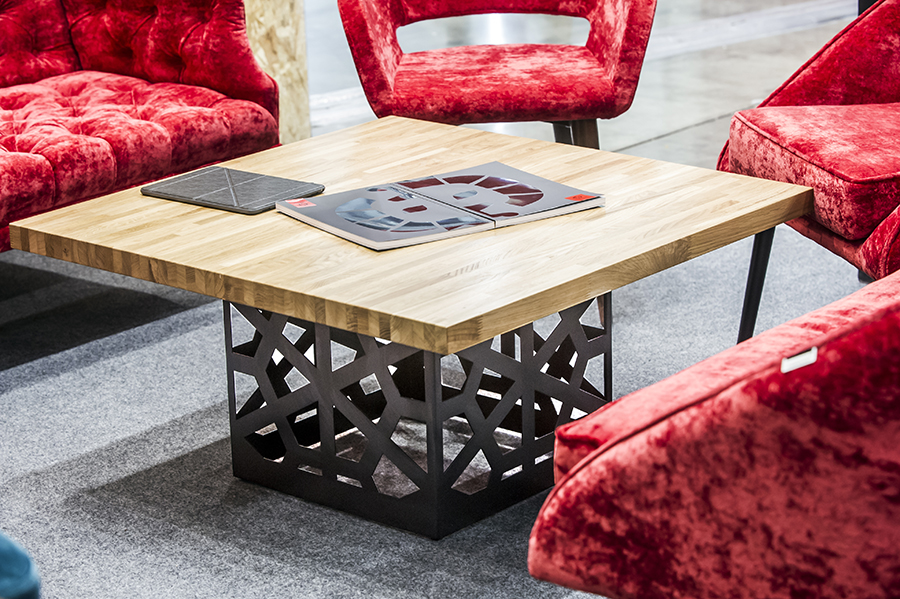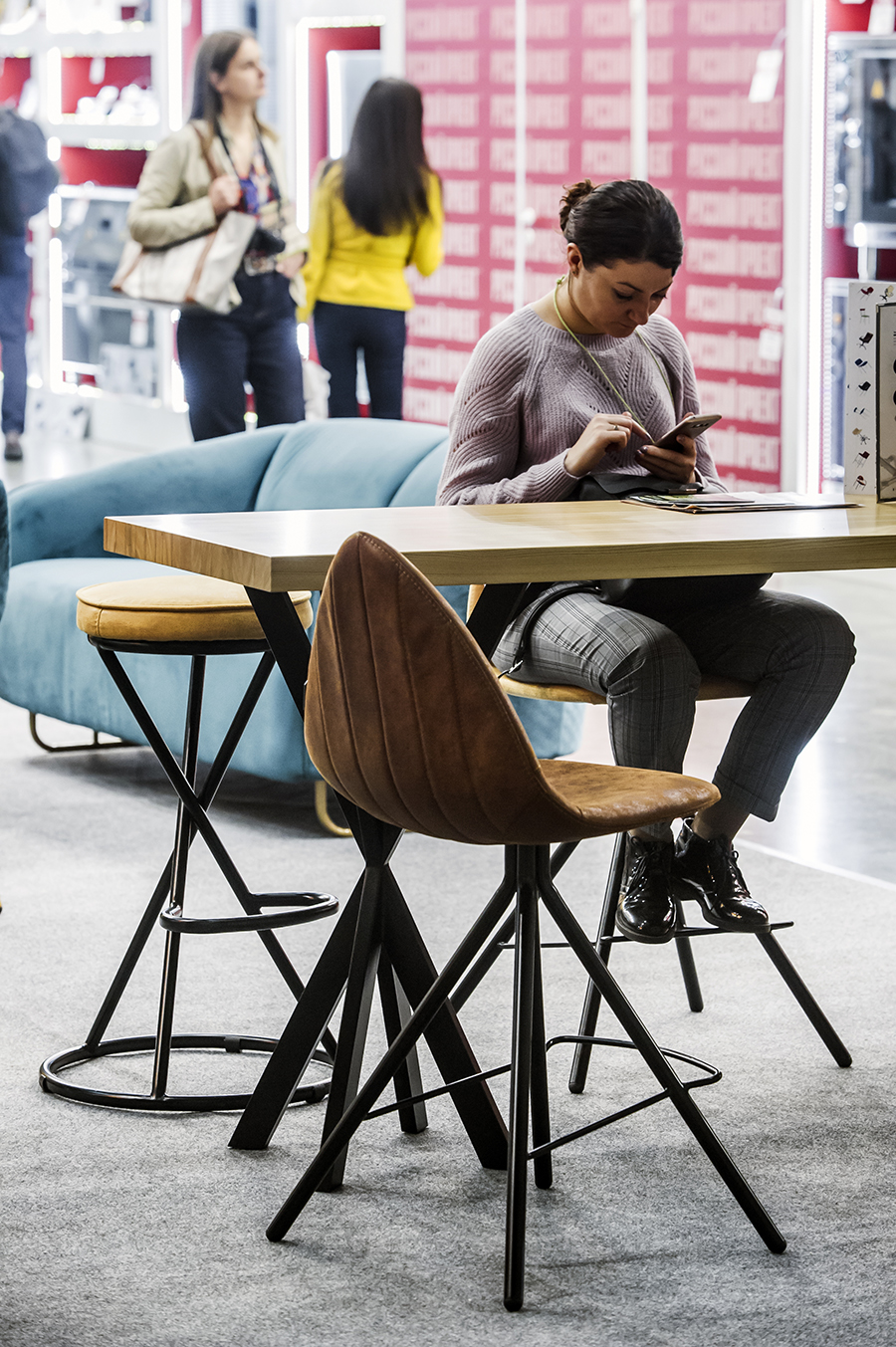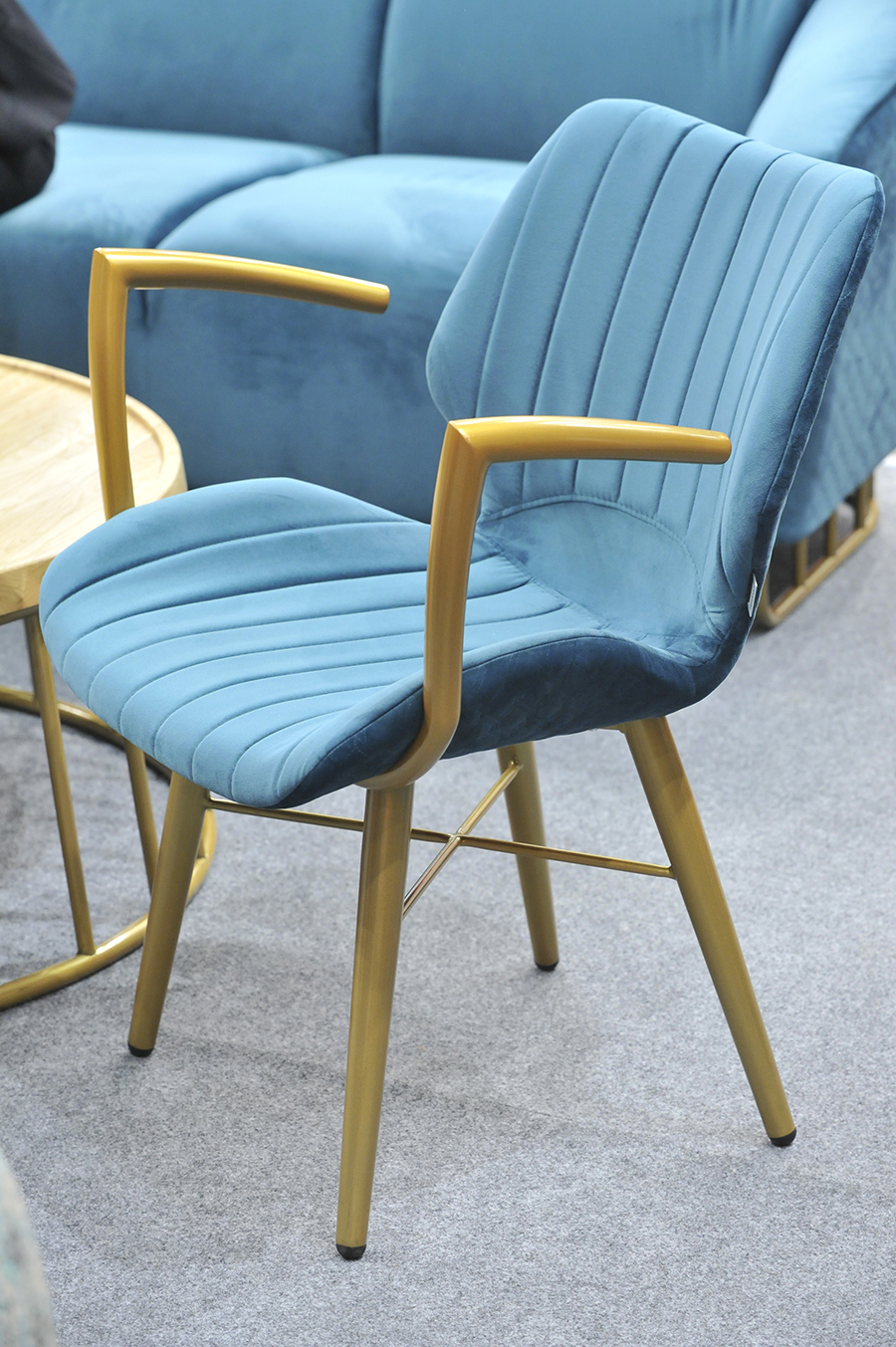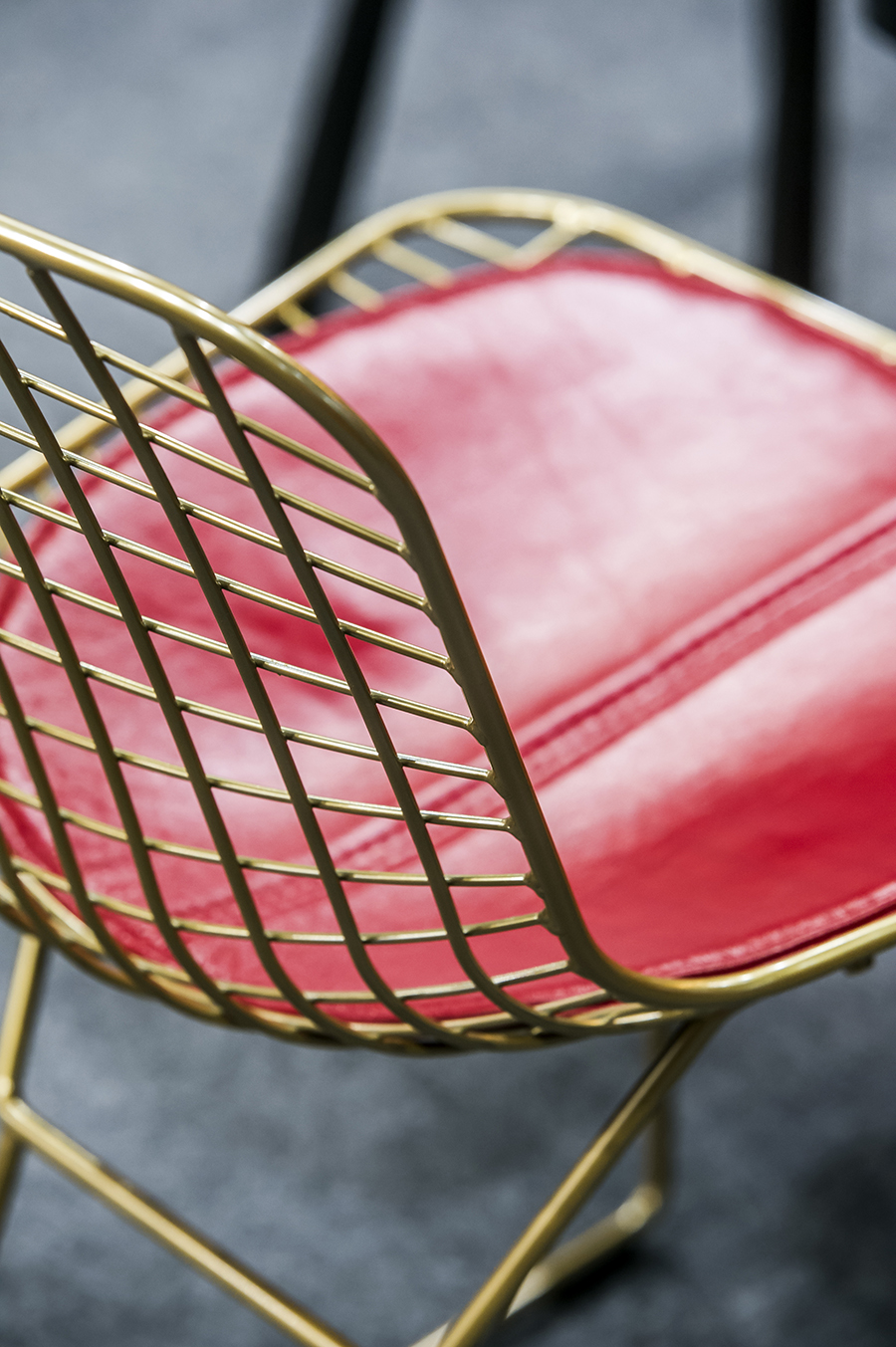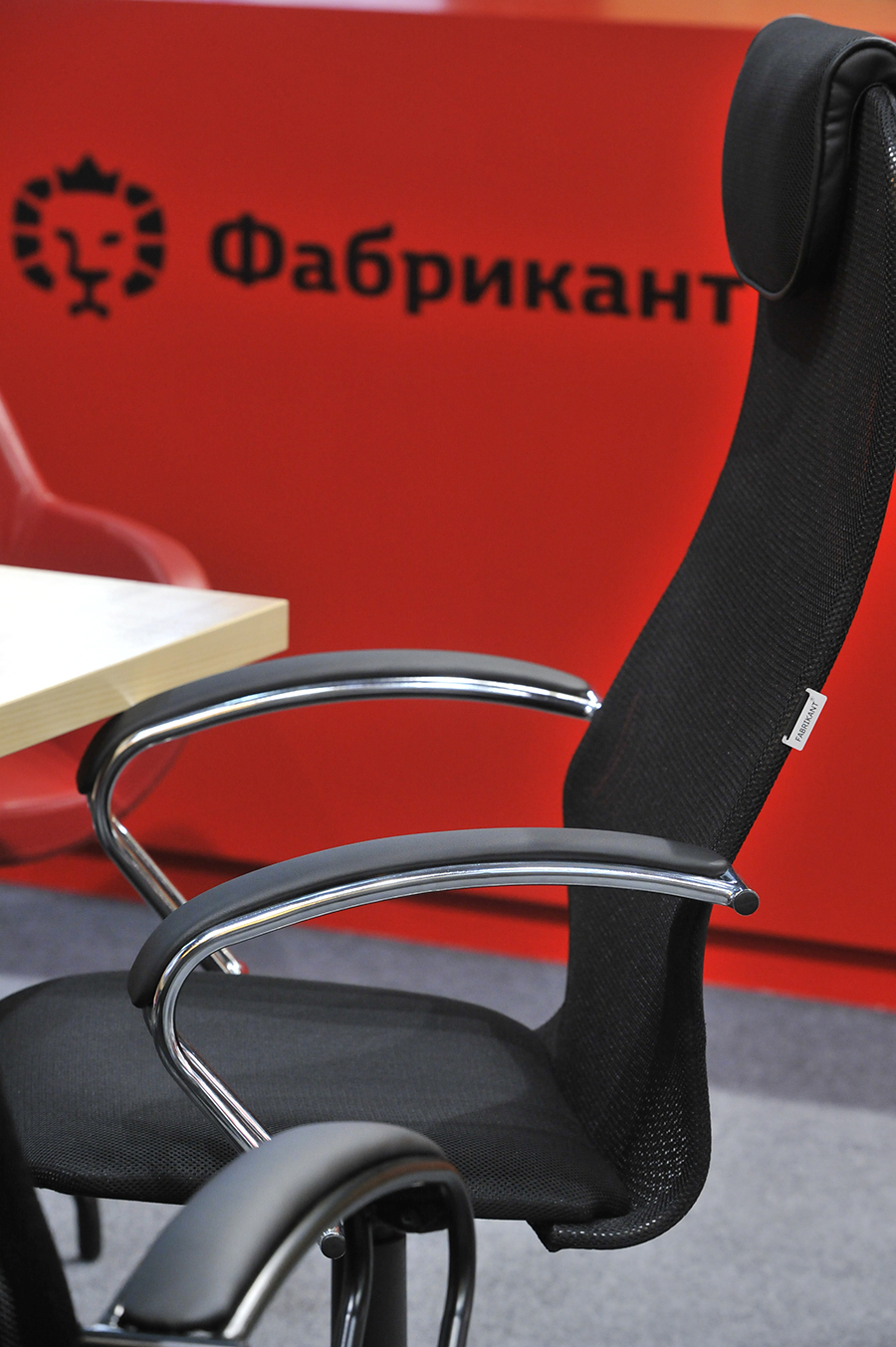 Fabrikant on EXPOMEBEL-URAL 2019
An international specialized exhibition of furniture, equipment, components and technologies for furniture production EXPOMEBEL-URAL was held on 17-20 September, 2019. For many years, Fabrikant has been participating in this large-scale event and contributing to the development of the furniture industry.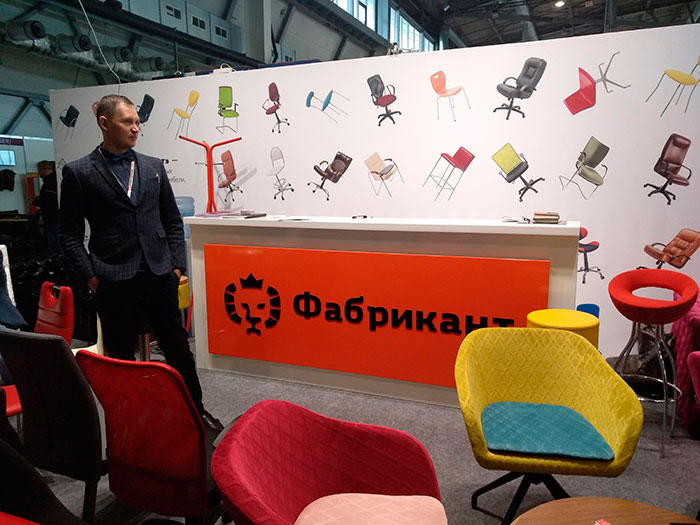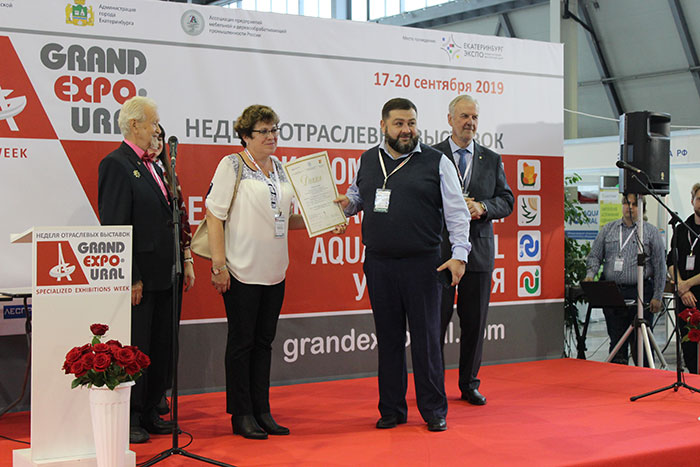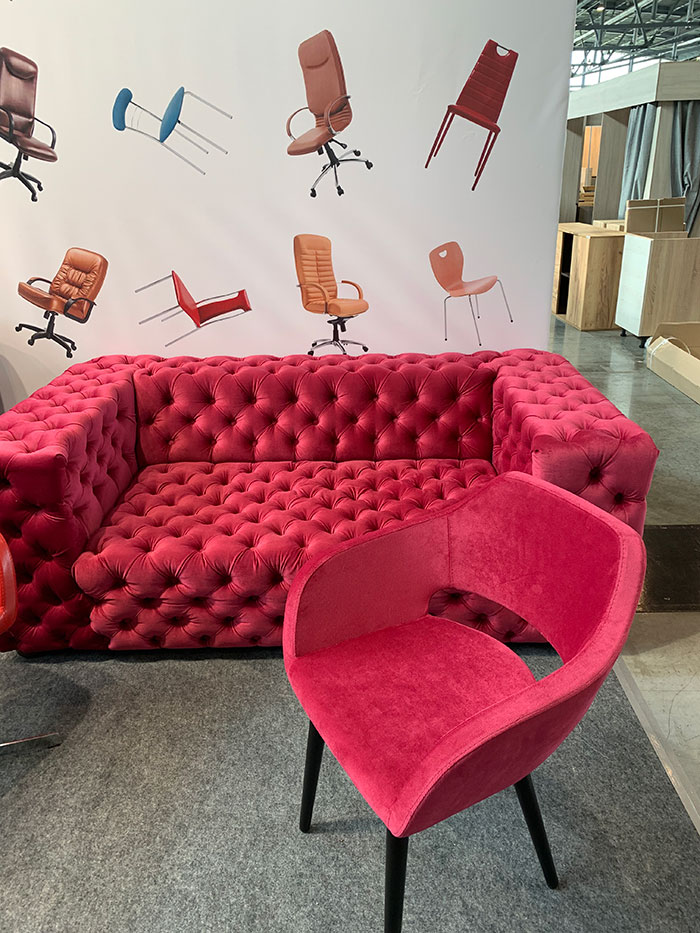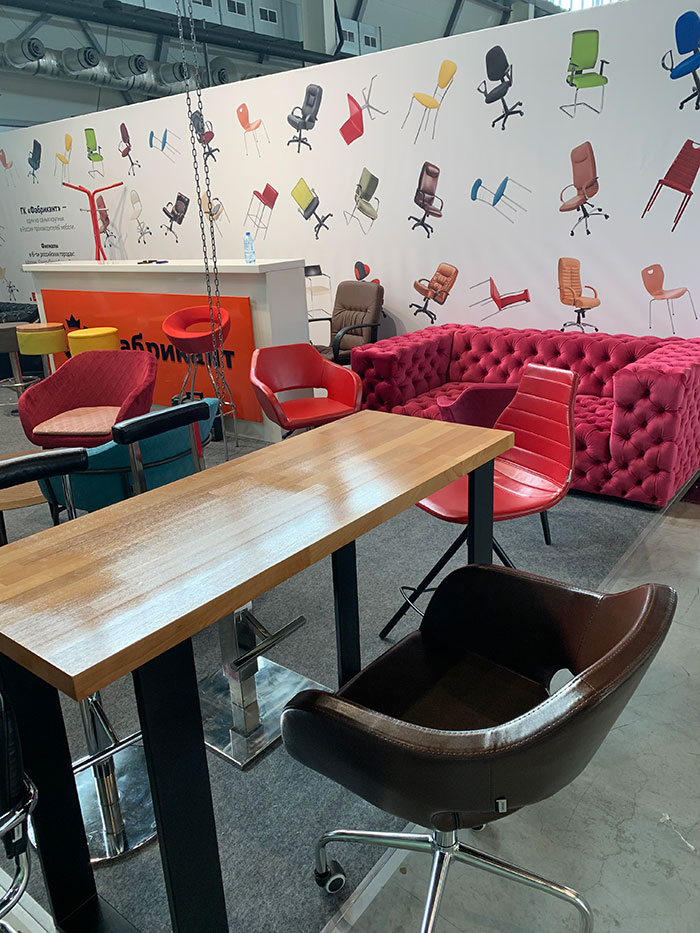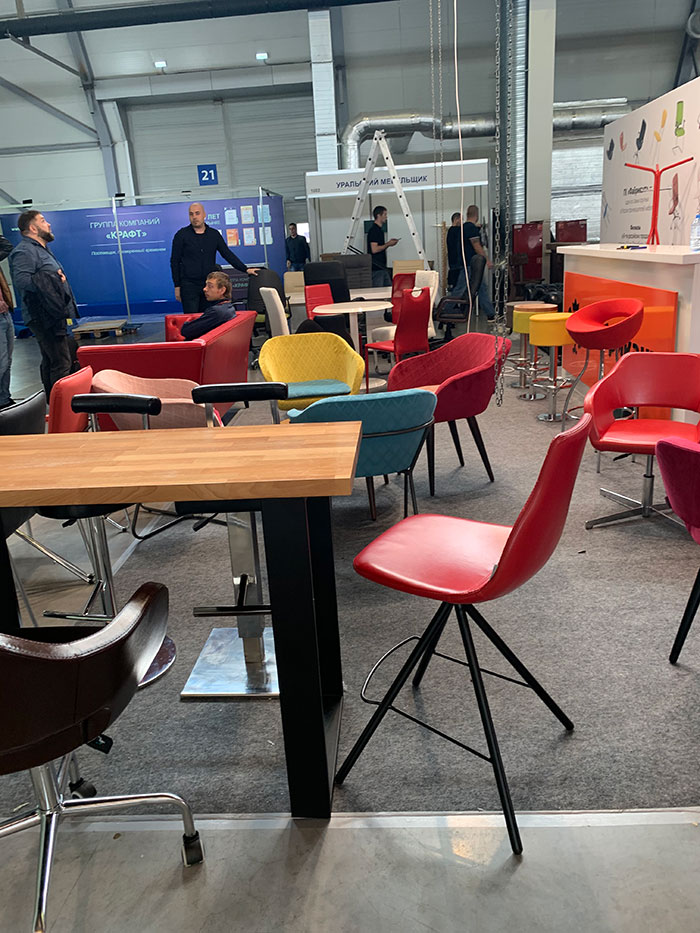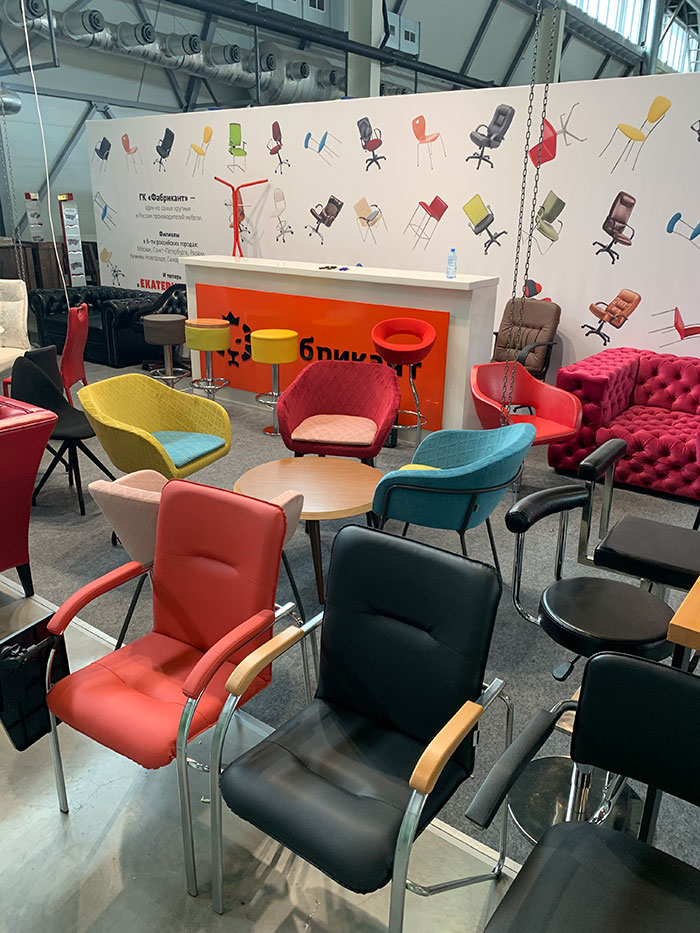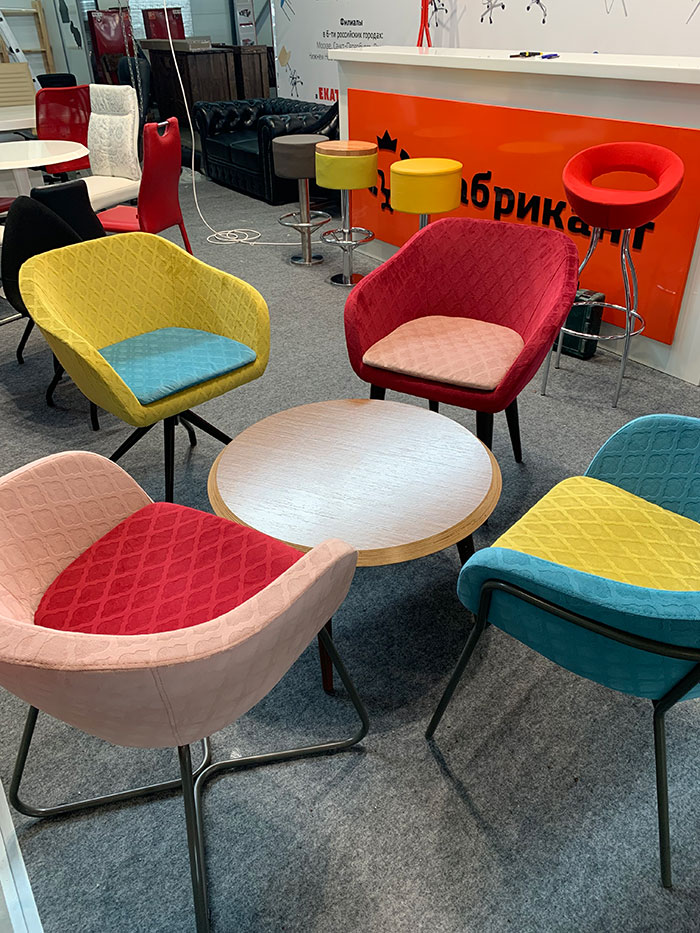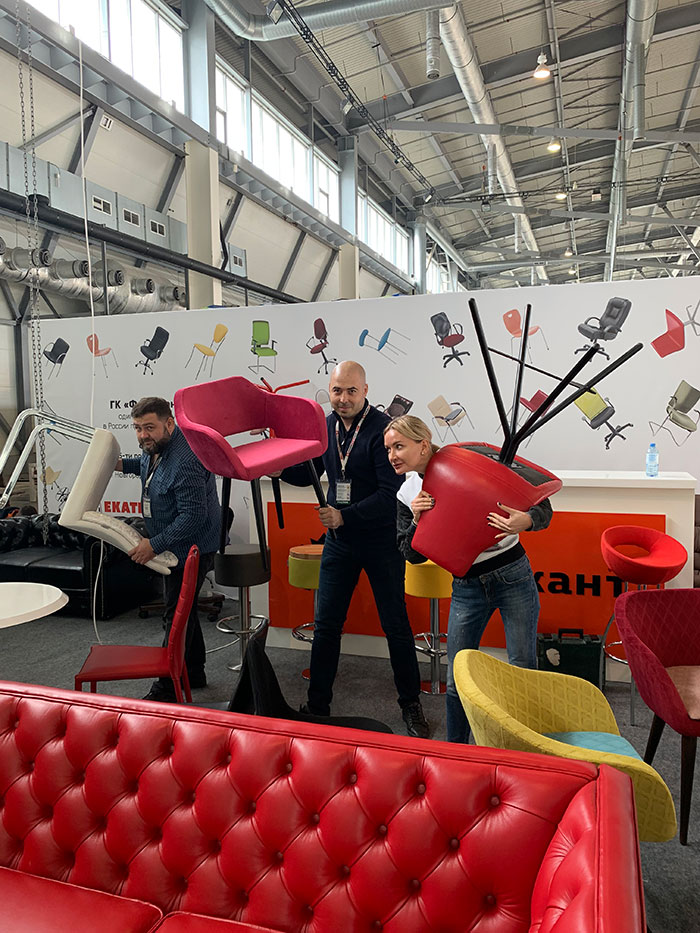 Certificate of origin for production of FABRIKANT
FABRIKANT has received Certificate of origin that proves that our production is produced on the territory of Russian Federation. This certificate is valid till 21/05/2020.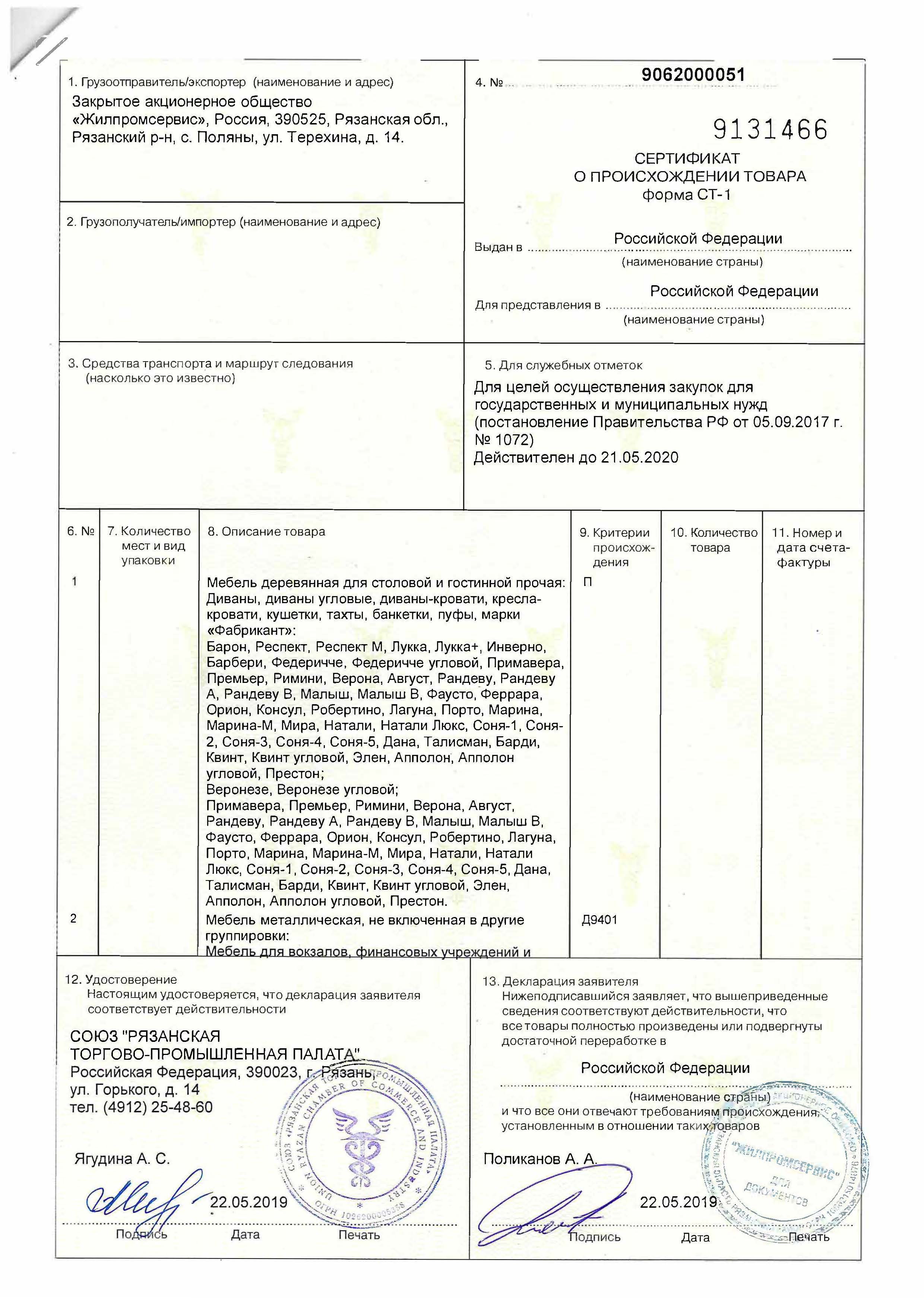 New branch in Yekaterinburg
We are glad to share good news!
New branch of the company FABRIKANT was opened in Yekaterinburg.
Fabrikant is growing and developing. We broaden our boundaries making best products and services for our clients.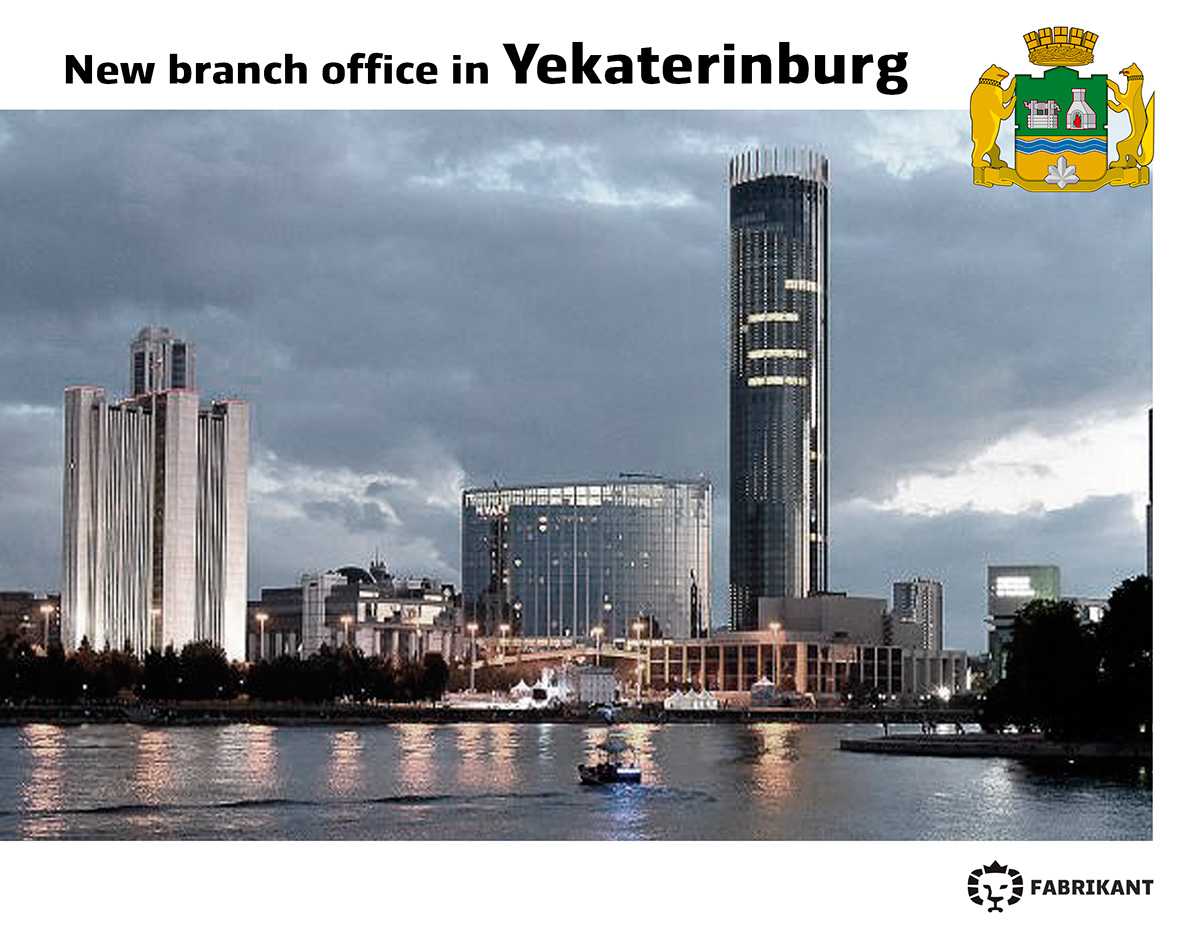 HAPPY NEW 2019 YEAR!
FABRIKANT wishes everyone a Happy New Year 2019!
We wish you prosperity in your business, well-being in your personal life, more joint projects and successful completion of all the started doings!
FABRIKANT TEAM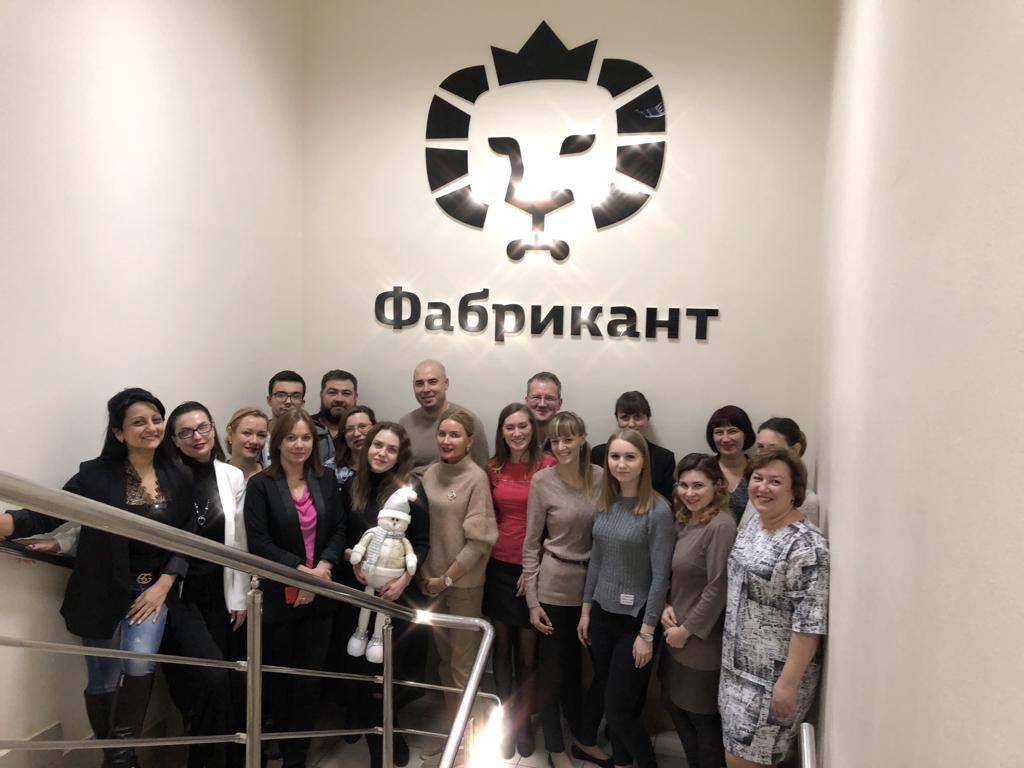 FABRIKANT is the best enterprise of the Ryazan region
On November 16, 2018 Governor Nikolai Lyubimov took part in the official ceremony of awarding the winners of the annual regional contest "The Best Enterprises and Organizations of the Ryazan Region" following the results of last year.
The competition is held in the region for seven years. The main goals of this competition are to stimulate enterprises and organizations of the Ryazan region to increase production efficiency, attract the attention of potential investors, and share advanced production management practices. In addition, the winners receive the priority right to participate in exhibitions and forums organized by the Government of the Ryazan Region and the Ryazan Chamber of Commerce and Industry. By the end of 2017, 88 organizations from 16 municipalities became the best companies. Among the winners was FABRIKANT GROUP OF COMPANIES. The governor presented a diploma to the director of economics Androsov Maxim Mikhailovich.
Governor Nikolai Lyubimov noted that enterprises and organizations received well-deserved awards and are the hope and support of the region's economy. "We have a lot of good, developing enterprises, whose management achieve high performance, understand the importance of the tasks performed, show responsibility and understanding of the economic situation, priorities, market conditions, see the future. Without this, it is impossible to overcome difficulties and move forward, "said Nikolai Lyubimov. According to the opinion of the head of the region, it is important to be able to work effectively in the context of growing export potential and import substitution, introduce innovative technologies, modern production management, and increase labor productivity. "For those who are working effectively, looking for and finding new ways of development, creating high-tech jobs, we will definitely provide support, including expanding sales markets, training young personnel, attracting additional investments for modernization, receiving state support measures, tax preferences, optimizing business processes, - said Nikolai Lyubimov. - I am sure that together we can continue to systematically work on improving the quality and production capacities, as a result of which Ryazan enterprises will be able to become more competitive, and products more demanded.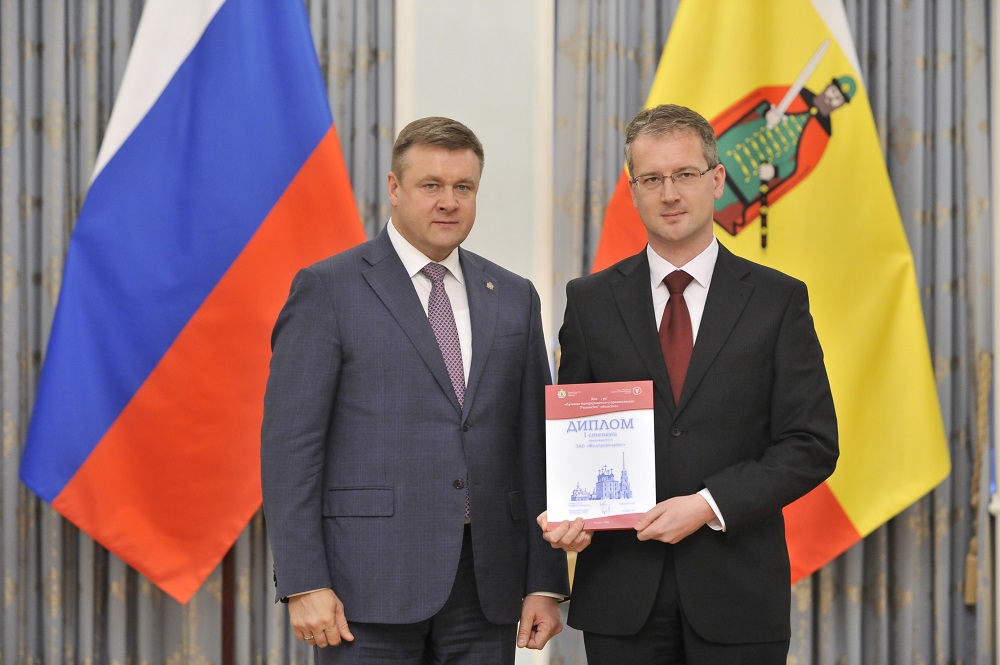 22-year history of FABRIKANT
On 19th of November, 2018 FABRIKANT GROUP OF COMPANIES turned 22 years old.
On behalf of the FABRIKANT Bard of Directors, we want to congratulate all the employees who work for the benefit of our company and say thank you for your contribution in our development, because now Fabrikant is one of the largest and most famous manufacturers in Russia, occupying 27.6%* of FURNITURE MARKET in RUSSIA.
The use of advanced technologies in production allows us to maintain the competitiveness and cover the demand of products all over the Russia, the CIS and EU countries.
Today, the company's production areas occupy a total of over 50,000 m2.
The company manufactures products using laminated chipboard, MDF, bent-glued plywood, glass, decorative plastic, film, artificial stone, metal, as well as chrome-plated metal elements of its own production.
Today, the company with production indicators of up to 10,000 products per day has a branch network with offices and warehouses in all major federal regions of the Russian Federation, and in Poland (Europe), also it has its own transportation park and a long list of products as well as high-quality components for sale.
A constantly modernizing equipment's allows the company to carry out the most ambitious projects in a short time. All manufactured products go through strict quality control.
* According to the results of an independent study of Intesco Research Group from 2013, Fabrikant Group of Companies is one of the leading furniture on metal frame manufacturers in Russia, occupying 27.6% of this market.