New upholstery KRAFT
A new upholstery material KRAFT is available for order.
KRAFT material is made of 100% synthetic fiber. Due to its structure, it does not fade, is resistant to abrasion (20,000 Martindale cycles) and effects of aggressive liquids, which makes it perfect for everyday furniture.
The range includes 6 colors, which makes the collection of these fabrics universal: 01 Brown, 02 Black, 08 Sand, 16 Grey, 64 Green, 67 Blue.
All the necessary information can be provided by specialists of FABRIKANT's sales department.
Fabrikant on PIR EXPO — 2019
The largest exhibition in Russia in the field of HoReCa and hospitality industry PIR Expo-2019 was held on 7-10 October, 2019!
More than 200 leading domestic and foreign companies presented novelties in the market of restaurant equipment, full-cycle solutions for designing and equipping any objects of the hospitality and trade industry: restaurants, bars, cafes, canteens, food courts, grocery stores, factory kitchens, street catering and catering enterprises companies.
FABRIKANT presented unique models of armchairs, sofas and chairs at the exhibition. Participation in PIR EXPO-2019 provided us an opportunity for a productive dialogue with customers.
Fabrikant on EXPOMEBEL-URAL 2019
An international specialized exhibition of furniture, equipment, components and technologies for furniture production EXPOMEBEL-URAL was held on 17-20 September, 2019. For many years, Fabrikant has been participating in this large-scale event and contributing to the development of the furniture industry.
Certificate of origin for production of FABRIKANT
FABRIKANT has received Certificate of origin that proves that our production is produced on the territory of Russian Federation. This certificate is valid till 21/05/2020.
New branch in Yekaterinburg
We are glad to share good news!
New branch of the company FABRIKANT was opened in Yekaterinburg.
Fabrikant is growing and developing. We broaden our boundaries making best products and services for our clients.
HAPPY NEW 2019 YEAR!
FABRIKANT wishes everyone a Happy New Year 2019!
We wish you prosperity in your business, well-being in your personal life, more joint projects and successful completion of all the started doings!
FABRIKANT TEAM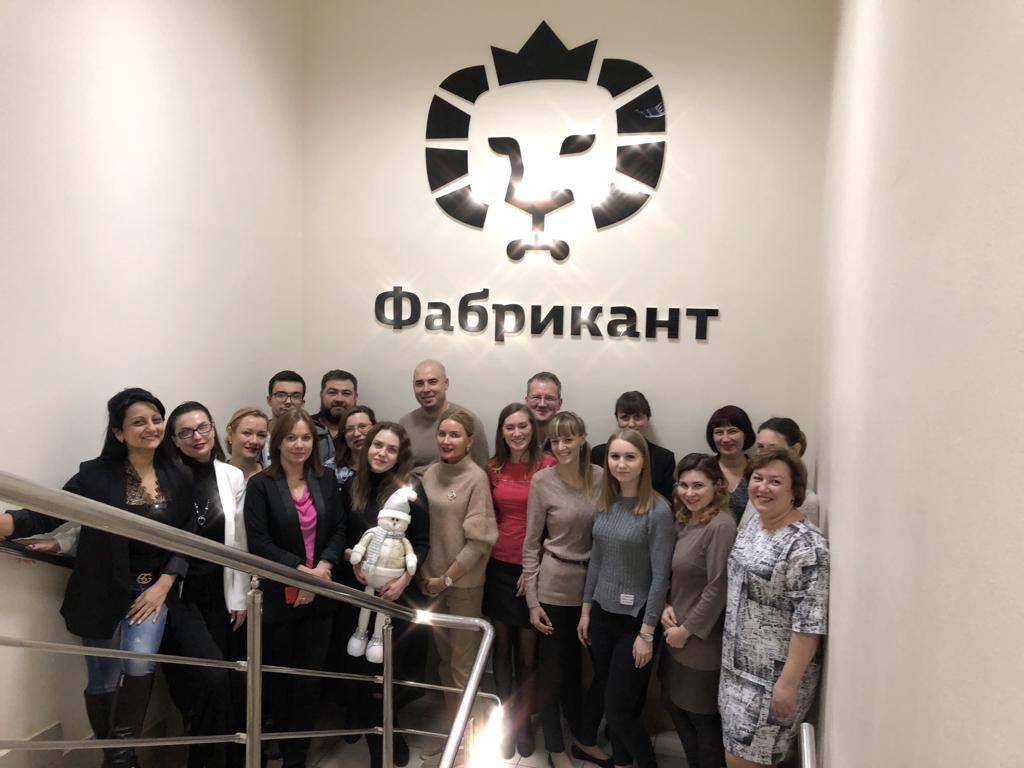 FABRIKANT is the best enterprise of the Ryazan region
On November 16, 2018 Governor Nikolai Lyubimov took part in the official ceremony of awarding the winners of the annual regional contest "The Best Enterprises and Organizations of the Ryazan Region" following the results of last year.
The competition is held in the region for seven years. The main goals of this competition are to stimulate enterprises and organizations of the Ryazan region to increase production efficiency, attract the attention of potential investors, and share advanced production management practices. In addition, the winners receive the priority right to participate in exhibitions and forums organized by the Government of the Ryazan Region and the Ryazan Chamber of Commerce and Industry. By the end of 2017, 88 organizations from 16 municipalities became the best companies. Among the winners was FABRIKANT GROUP OF COMPANIES. The governor presented a diploma to the director of economics Androsov Maxim Mikhailovich.
Governor Nikolai Lyubimov noted that enterprises and organizations received well-deserved awards and are the hope and support of the region's economy. "We have a lot of good, developing enterprises, whose management achieve high performance, understand the importance of the tasks performed, show responsibility and understanding of the economic situation, priorities, market conditions, see the future. Without this, it is impossible to overcome difficulties and move forward, "said Nikolai Lyubimov. According to the opinion of the head of the region, it is important to be able to work effectively in the context of growing export potential and import substitution, introduce innovative technologies, modern production management, and increase labor productivity. "For those who are working effectively, looking for and finding new ways of development, creating high-tech jobs, we will definitely provide support, including expanding sales markets, training young personnel, attracting additional investments for modernization, receiving state support measures, tax preferences, optimizing business processes, - said Nikolai Lyubimov. - I am sure that together we can continue to systematically work on improving the quality and production capacities, as a result of which Ryazan enterprises will be able to become more competitive, and products more demanded.
22-year history of FABRIKANT
On 19th of November, 2018 FABRIKANT GROUP OF COMPANIES turned 22 years old.
On behalf of the FABRIKANT Bard of Directors, we want to congratulate all the employees who work for the benefit of our company and say thank you for your contribution in our development, because now Fabrikant is one of the largest and most famous manufacturers in Russia, occupying 27.6%* of FURNITURE MARKET in RUSSIA.
The use of advanced technologies in production allows us to maintain the competitiveness and cover the demand of products all over the Russia, the CIS and EU countries.
Today, the company's production areas occupy a total of over 50,000 m2.
The company manufactures products using laminated chipboard, MDF, bent-glued plywood, glass, decorative plastic, film, artificial stone, metal, as well as chrome-plated metal elements of its own production.
Today, the company with production indicators of up to 10,000 products per day has a branch network with offices and warehouses in all major federal regions of the Russian Federation, and in Poland (Europe), also it has its own transportation park and a long list of products as well as high-quality components for sale.
A constantly modernizing equipment's allows the company to carry out the most ambitious projects in a short time. All manufactured products go through strict quality control.
* According to the results of an independent study of Intesco Research Group from 2013, Fabrikant Group of Companies is one of the leading furniture on metal frame manufacturers in Russia, occupying 27.6% of this market.