New restaurant project in St. Petersburg.
We present another completed project of a catering restaurant from the FABRIKANT. This time in St. Petersburg, on Karbyshev street.

Laconic partitions of deep copper and graphite tones create cozy private areas. The perforated wall panels are made of HPL plastic and feature built-in premium quality LEDs with high lumen output. Emphasized minimalistic tables and bar stools are made on a reinforced metal frame, which makes them highly durable under the most intense traffic.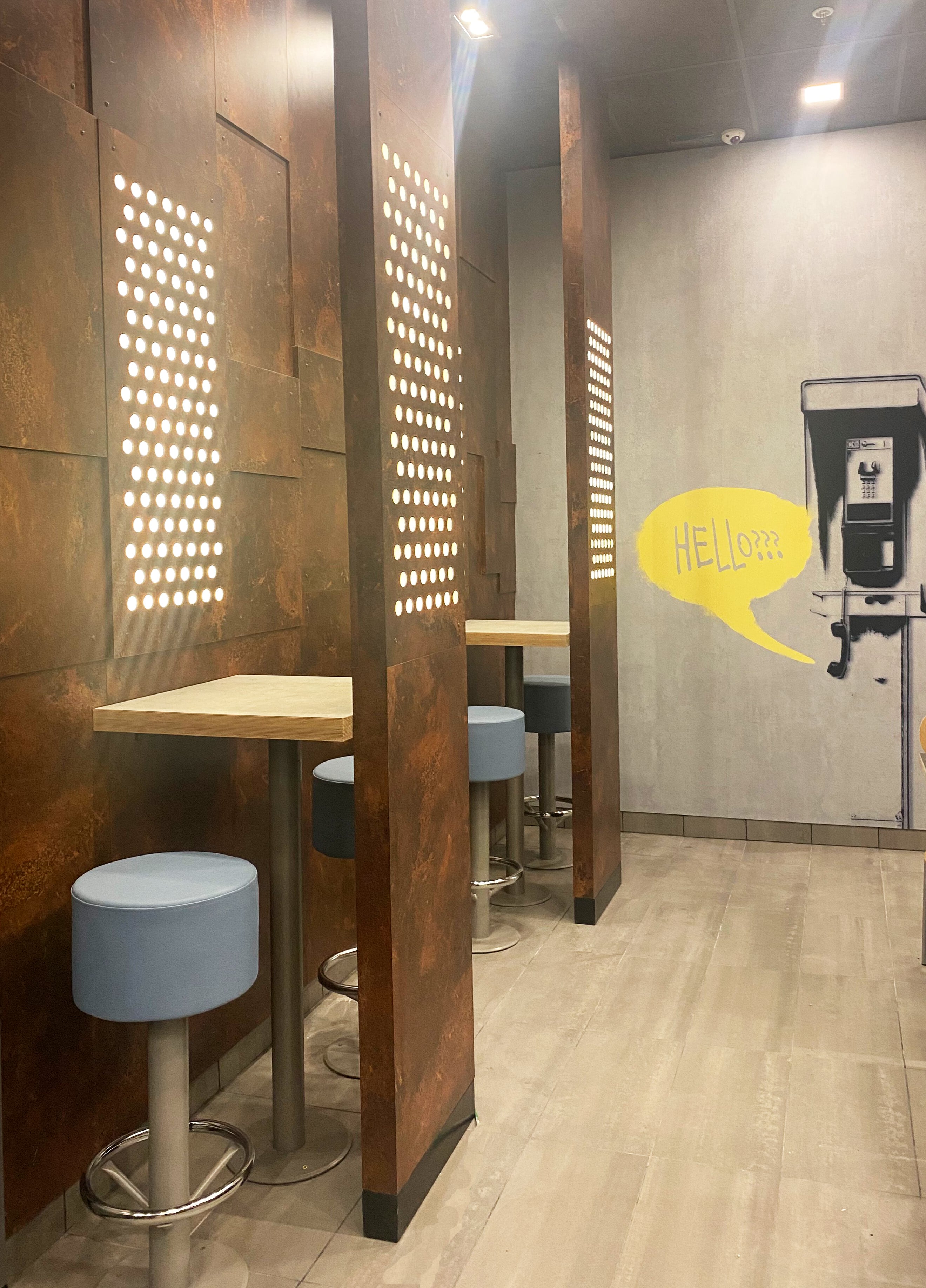 Chairs near tables in contrasting colors, covered with HPL-plastic, color and texture imitate beech and wenge wood. These chairs are also made on a metal frame, which guarantees a long service life under high loads.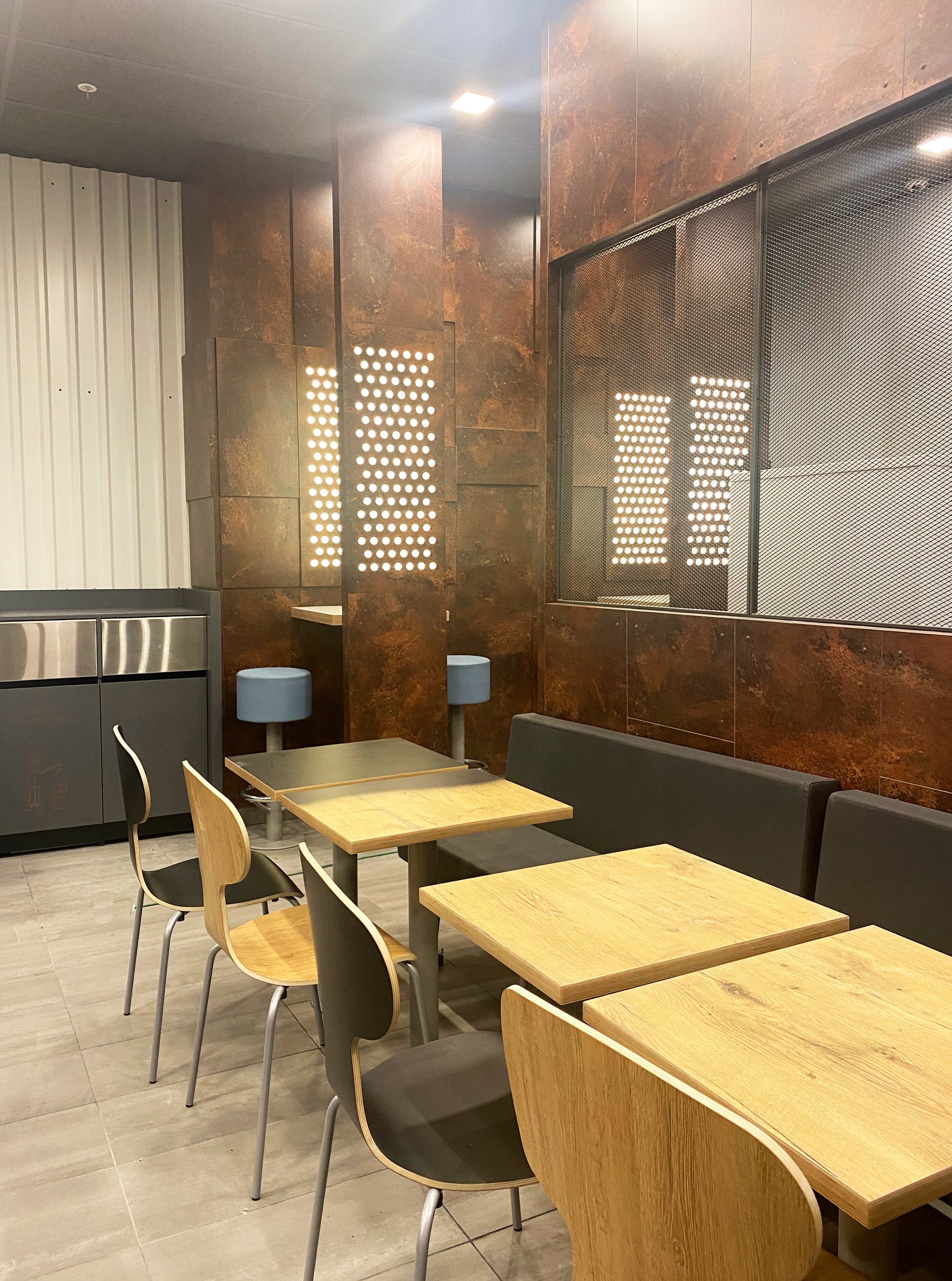 Soft upholstered benches in matte faux leather, painted in muted black and gray shades, form a cozy seating area. The upholstery material of the banquets is practically not subject to abrasion and does not support combustion, which is especially important for public spaces.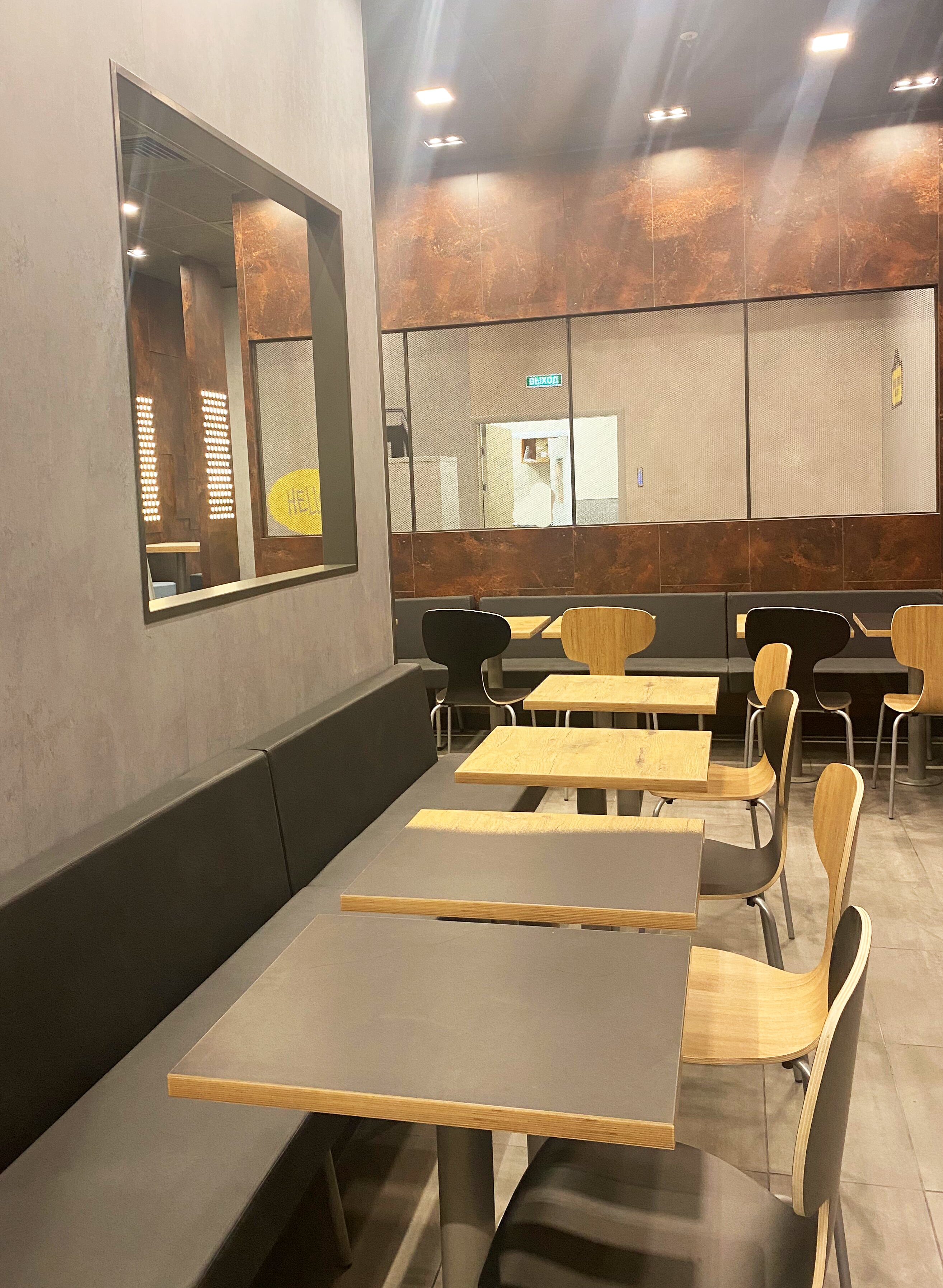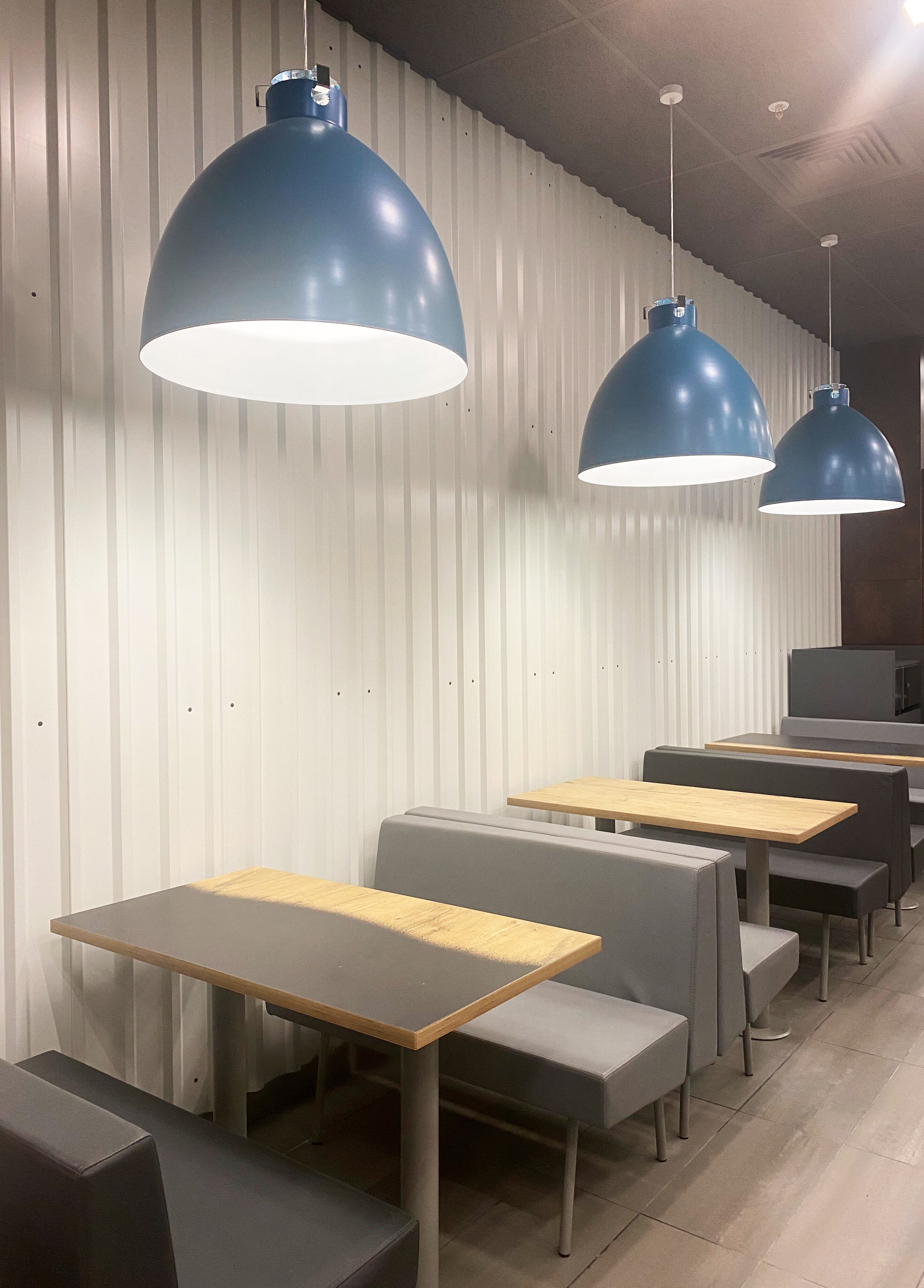 The light composition is realized in the form of built-in point and large-scale pendant lamps of oval and rectangular shape.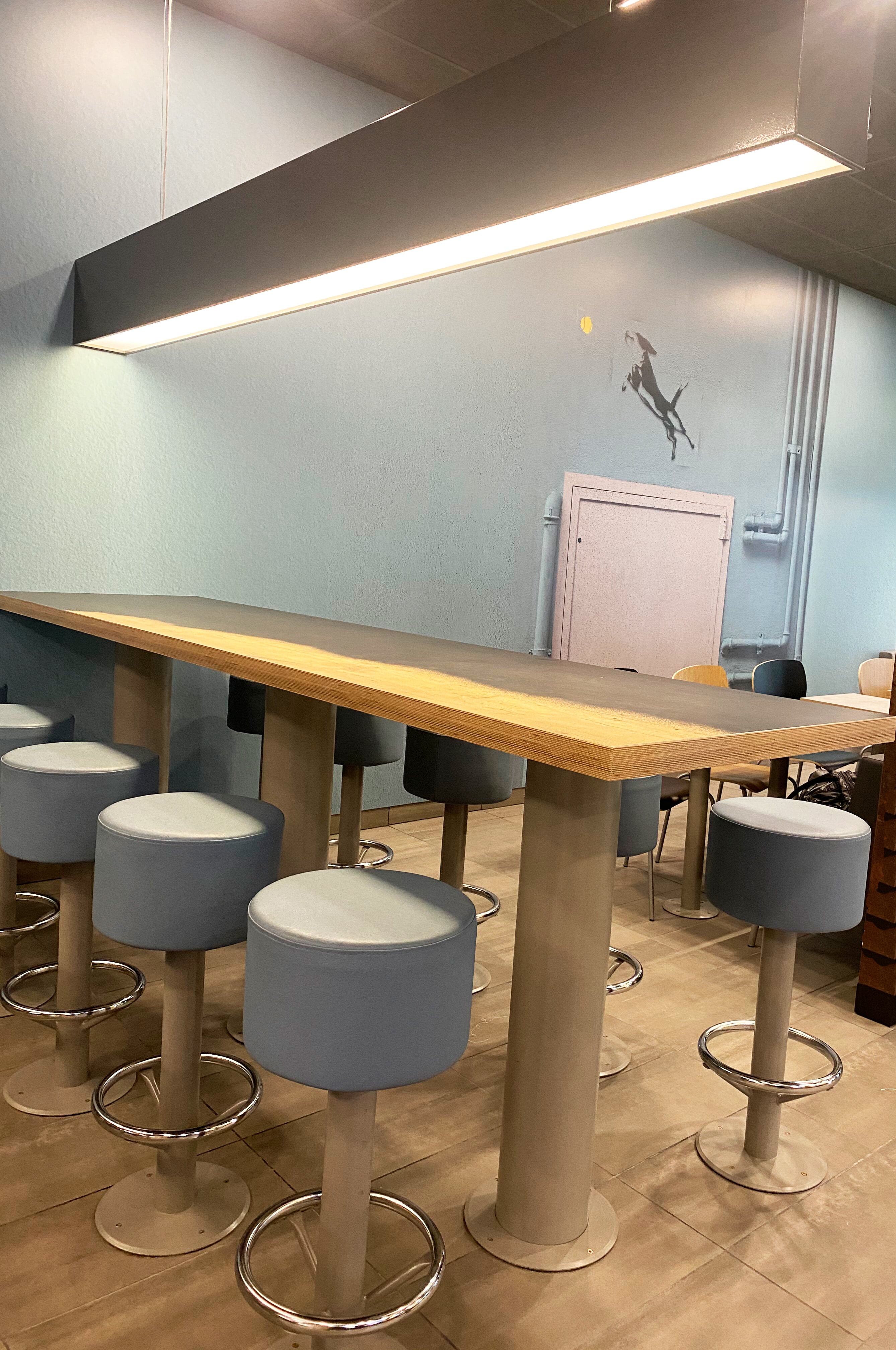 To summarize, the concept of this project is not typical for a fast food restaurant - the design is emphatically laconic, and the tones are calm. At the same time, it is this interior design that emphasizes the romantic and slightly melancholic atmosphere of the Northern capital.
FABRIKANT: individual projects from drawing to installation!
New project of a restaurant in the Moscow region.
Dear partners!

FABRIKANT presents another implemented project of a public catering restaurant, this time the location-the Moscow region.
The interior of the restaurant turned out to be very cozy-calm and restrained. Laconic partitions of muted tone "copper" perfectly delimit the room, creating separate chamber zones. The dining group is represented by double tables on a powerful metal frame in combination with weightless chairs in contrasting shades with a coating of HPL-plastic.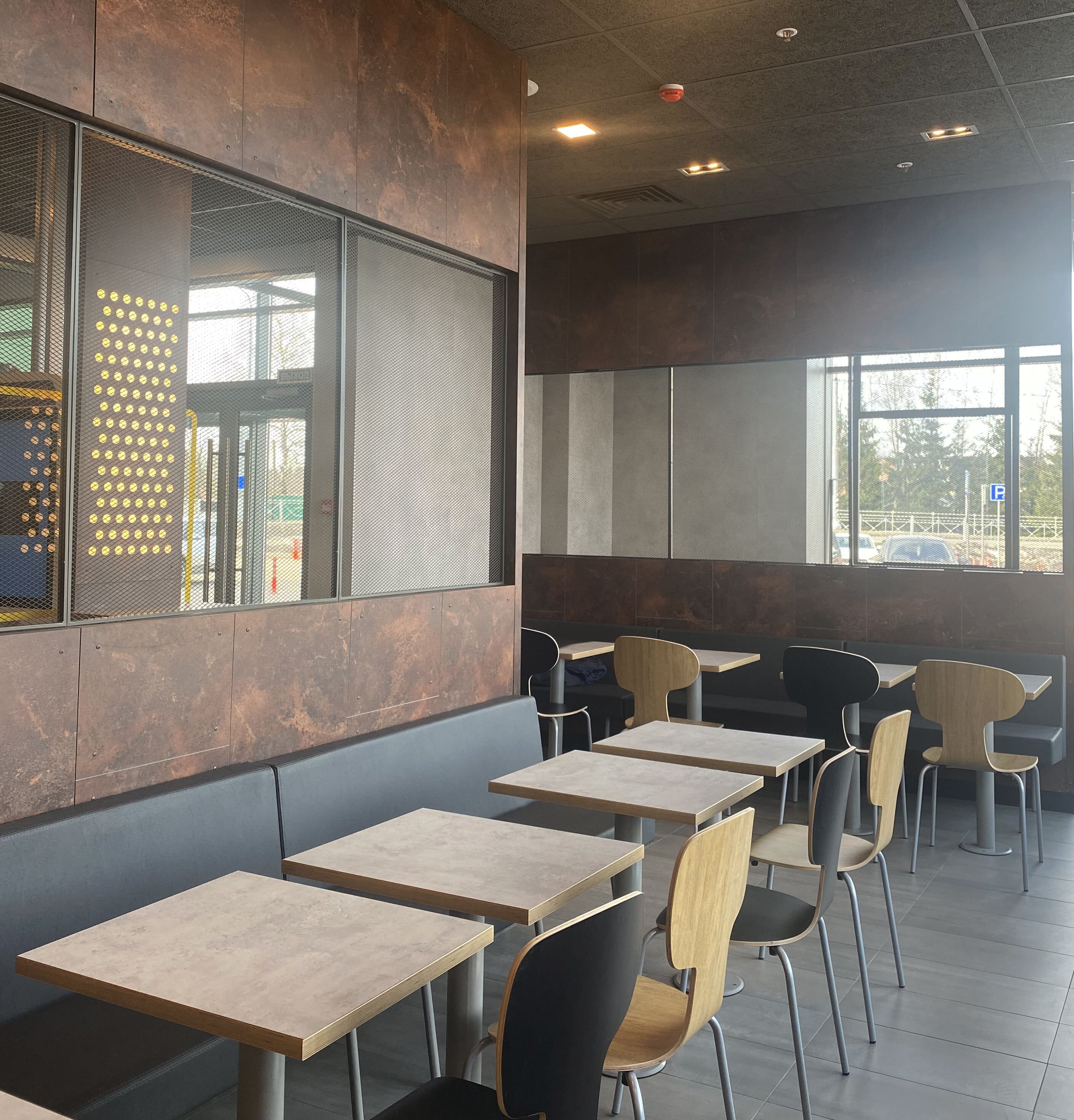 The window area is equipped with cozy soft sofas upholstered in vandal-proof matte eco-leather with molded polyurethane foam filling. The graphite upholstery of the sofa area is perfectly combined with the metallic blue lampshades of the lamps. The tables here are already on the company more.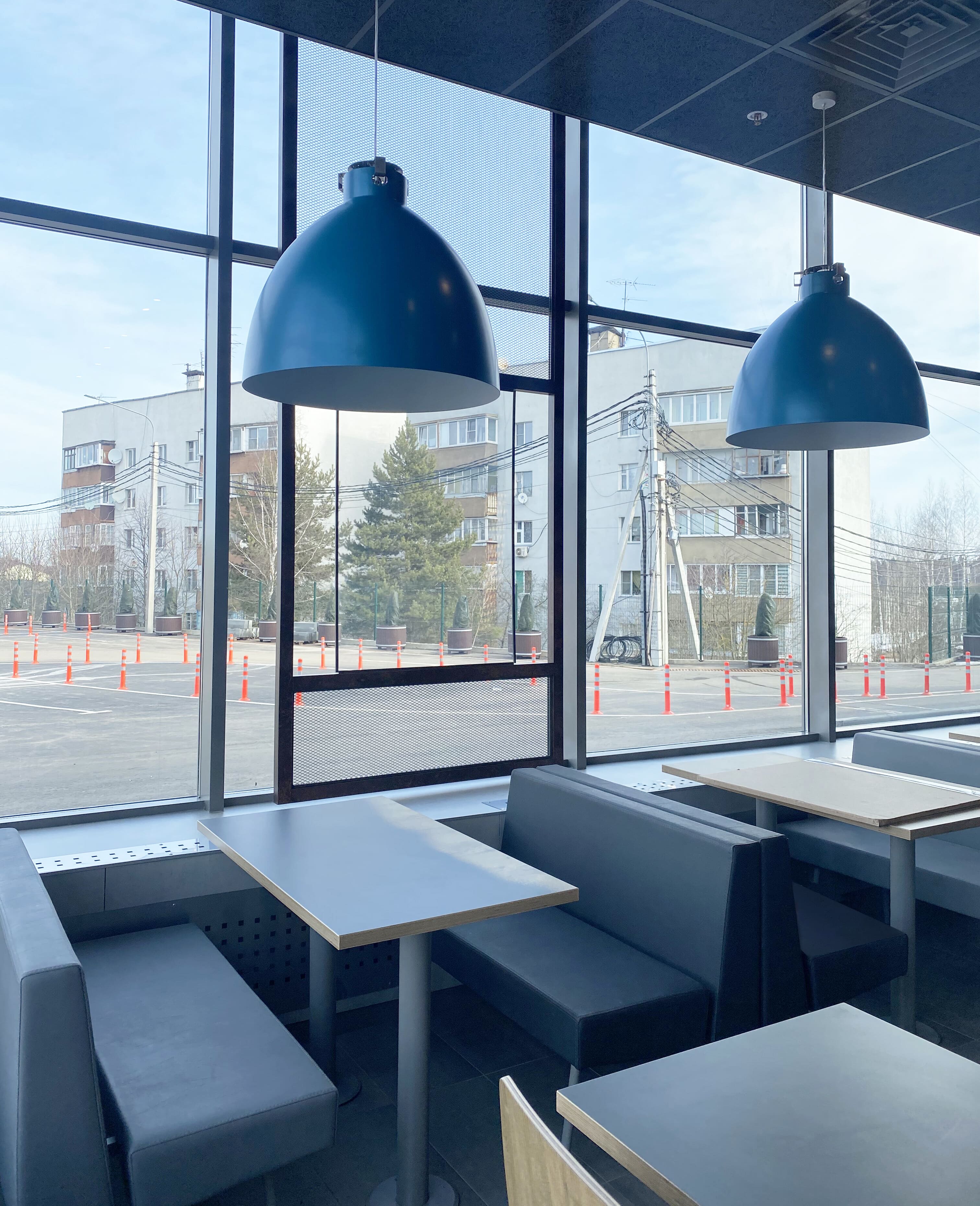 The bar area is decorated with high chairs on a strong metal frame. For the convenience of visitors, the chairs are equipped with an ergonomic footrest. The design and upholstery of the chairs are specially designed for a large flow of visitors.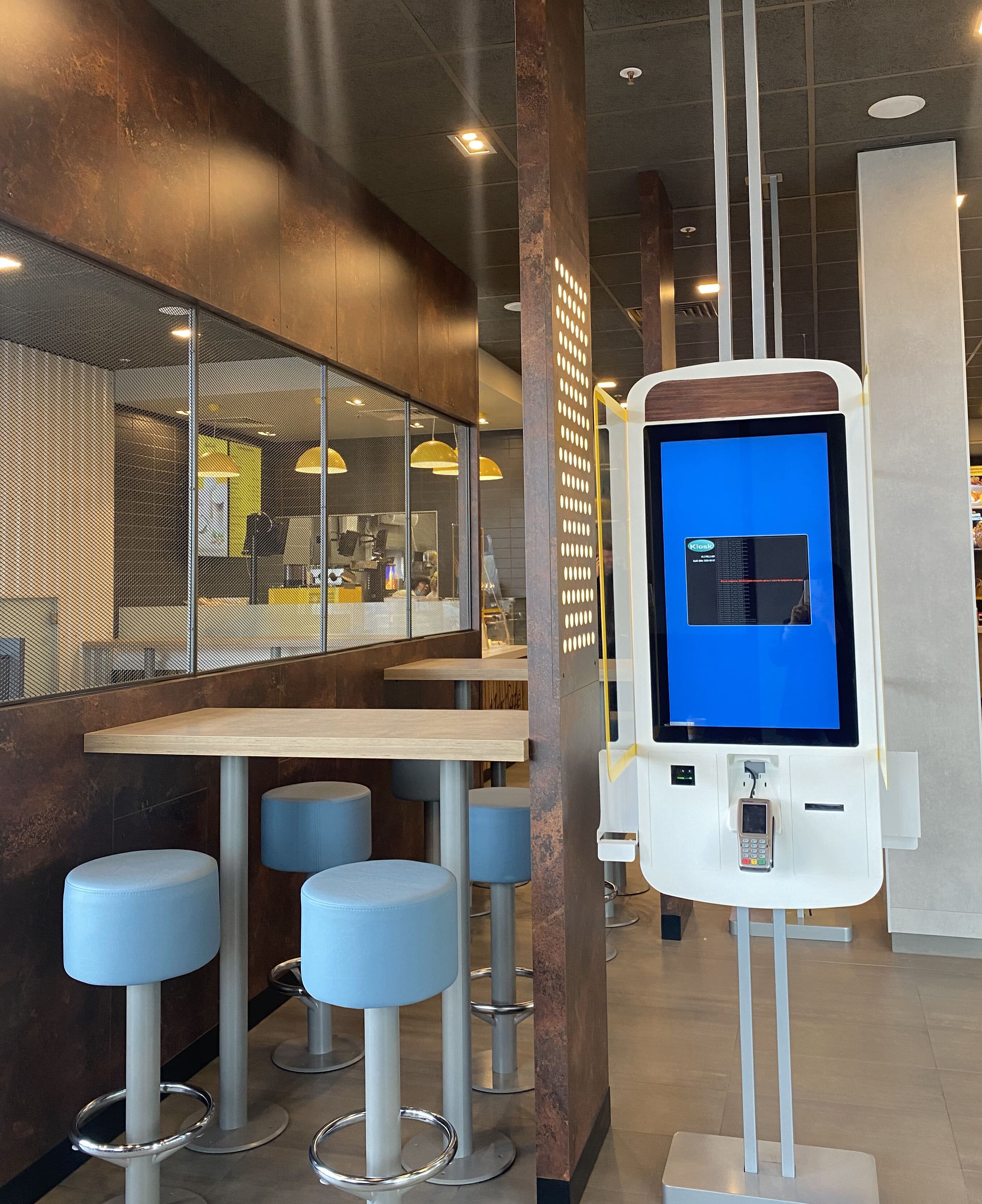 The lighting of the restaurant is implemented in the form of original lamps in lampshades of contrasting tones: metallic blue and bright yellow.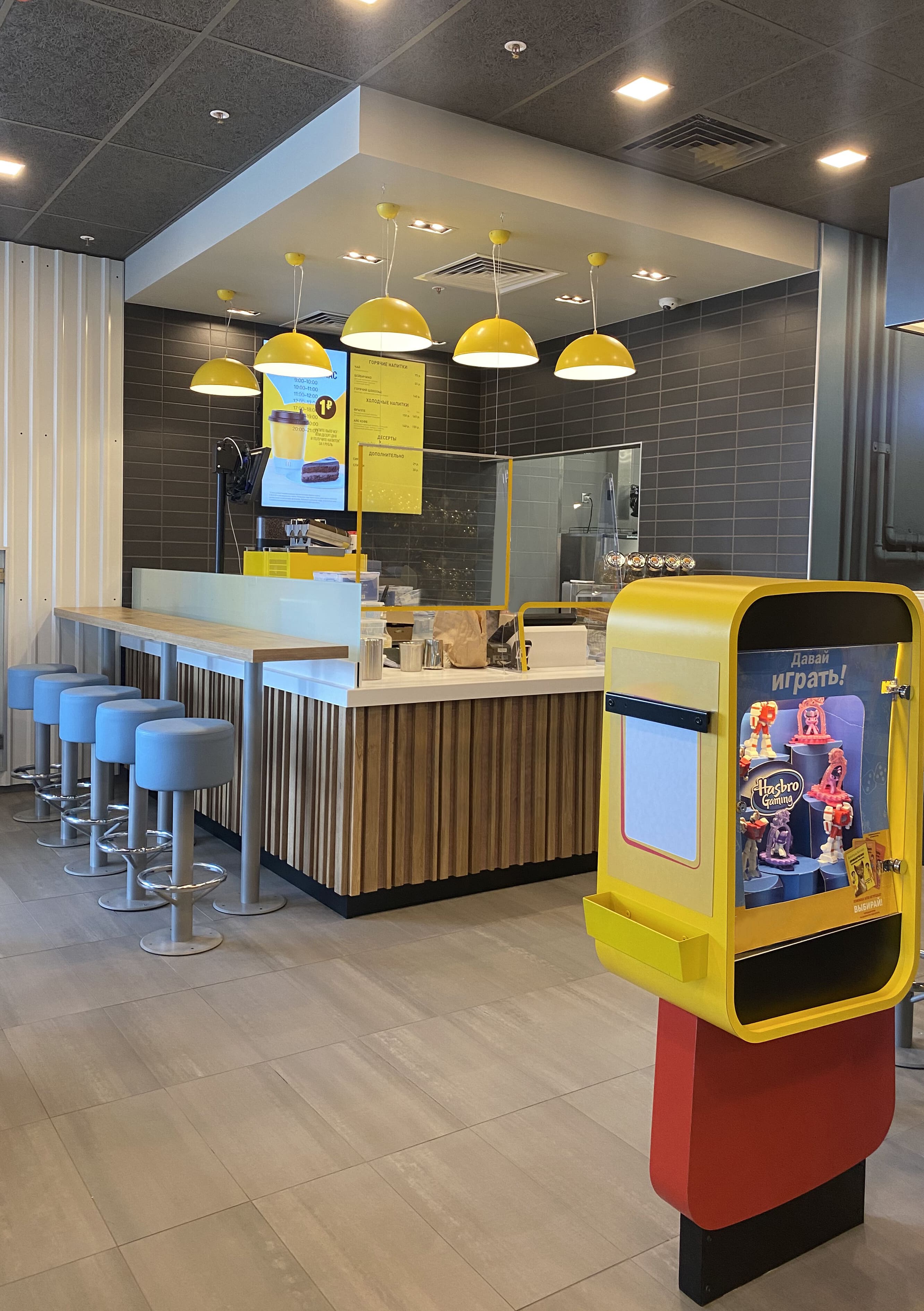 All elements of this project are made at the production site of FABRIKANT. Turnkey installation is also implemented by our company.
FABRIKANT: individual projects from drawing to installation!


Fast food restaurant project in Bronnitsy.
FABRIKANT has successfully implemented another project of a fast food restaurant, this time in Bronnitsy near Moscow.
This project turned out to be very bright, graphic, with active contrasting elements. The design is based on three basic colors: deep black, milky white, light wood. And rich yellow tones add drive to the interior.
The dining group is represented by small tables with white HPL-coated tabletops on a metal base. Chairs of the same model are located between them, but in different shades it is deep brown, bright yellow and black and white. The design of the chairs is supported by mini benches in the same color scheme. The group is complemented by a multi-section light wood bench made of bent-glued plywood bent in 3 projections.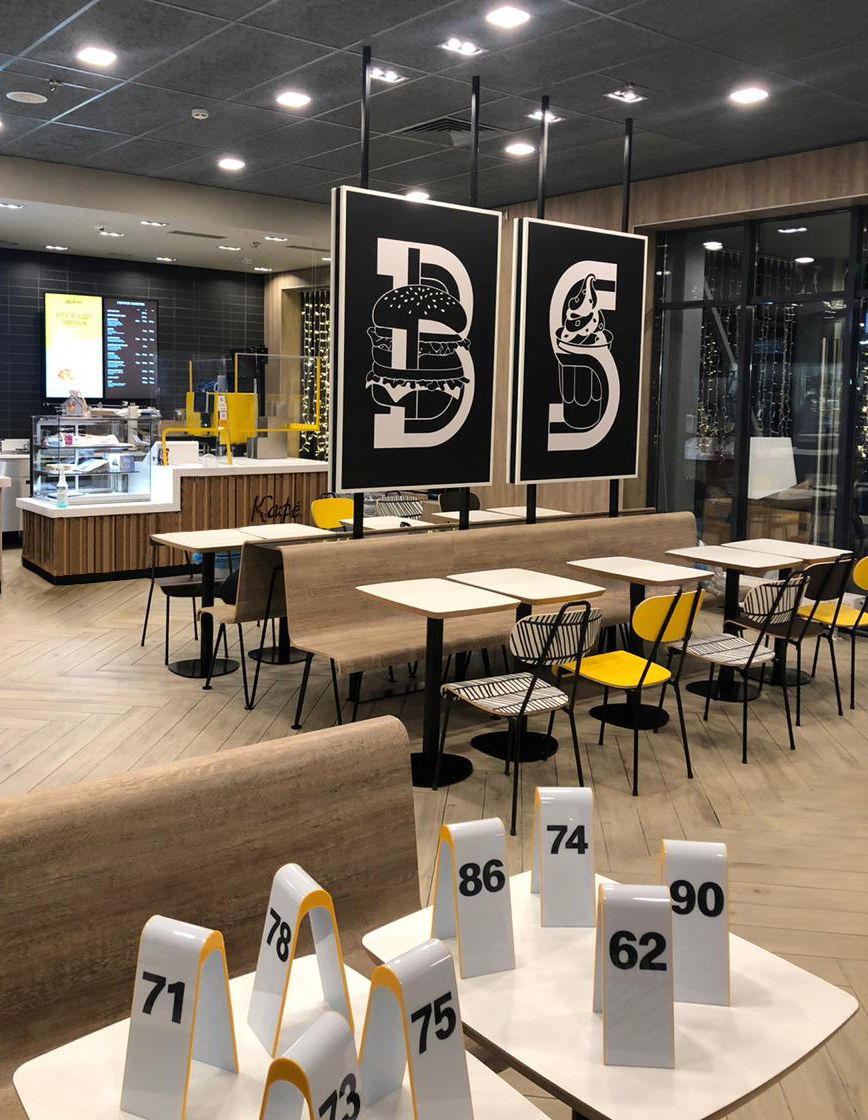 The dining area is also represented by a bar group in the form of a counter covered with HPL plastic and high round chairs with a comfortable footrest. The chrome-plated base of the bar stools echoes the fixtures in a shiny metal shade above the bar area.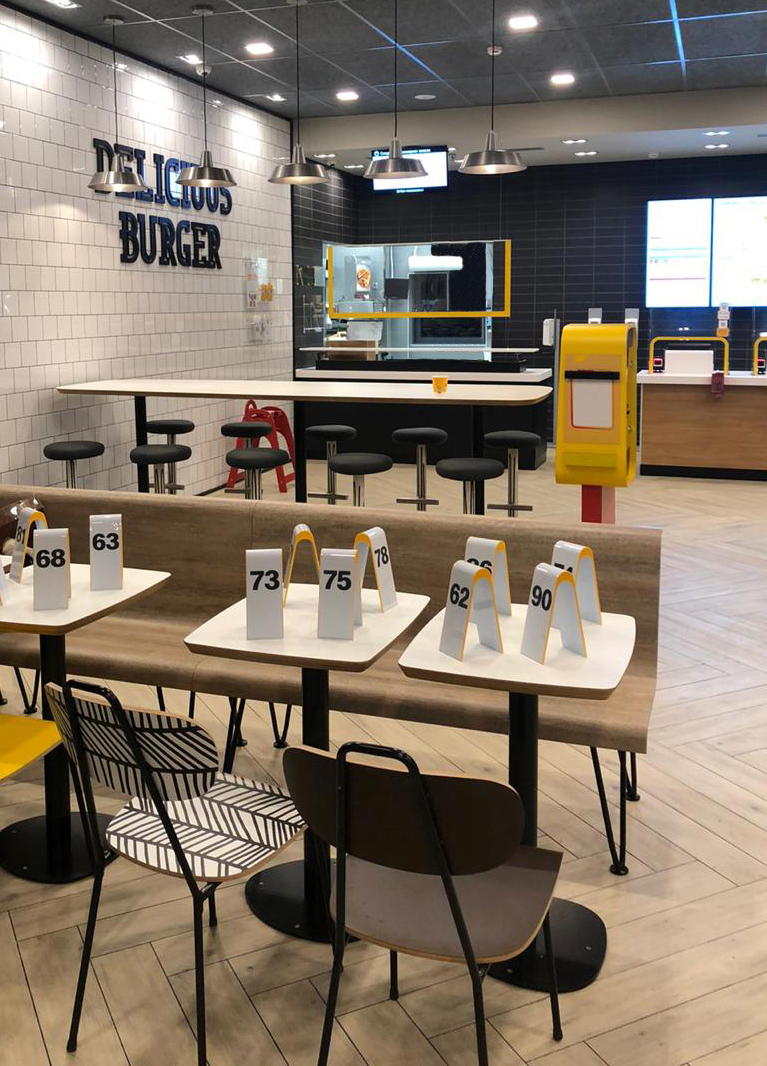 Special attention should be paid to the children's location with an original, multi-level design of the table, complemented by round soft chairs on a graphical leg.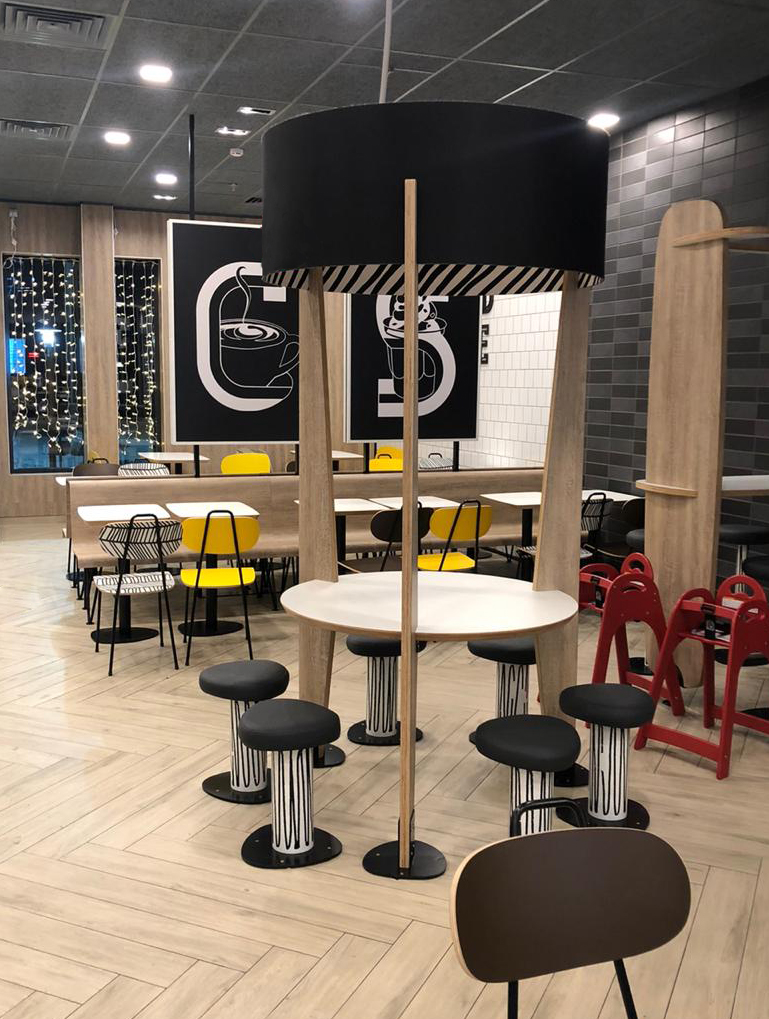 Another distinctive feature of this project is multifunctional panel-partitions with active graphics in the current lettering style.
All elements are made at the production of FABRIKANT. Turnkey installation was also carried out by our forces.
FABRIKANT: project implementation from drawing to installation!
Public catering restaurant
We present another newly implemented project of a fast food restaurant for the Northern capital. This project turned out to be laconic in St. Petersburg: light wood, black metal, dotted bright accents. FABRIKANT managed to maintain the corporate identity of the customer's brand without overloading it with details.

The tone in the interior is set by tables made of solid light wood on a strong metal base, painted in a restrained matte tone "black moire".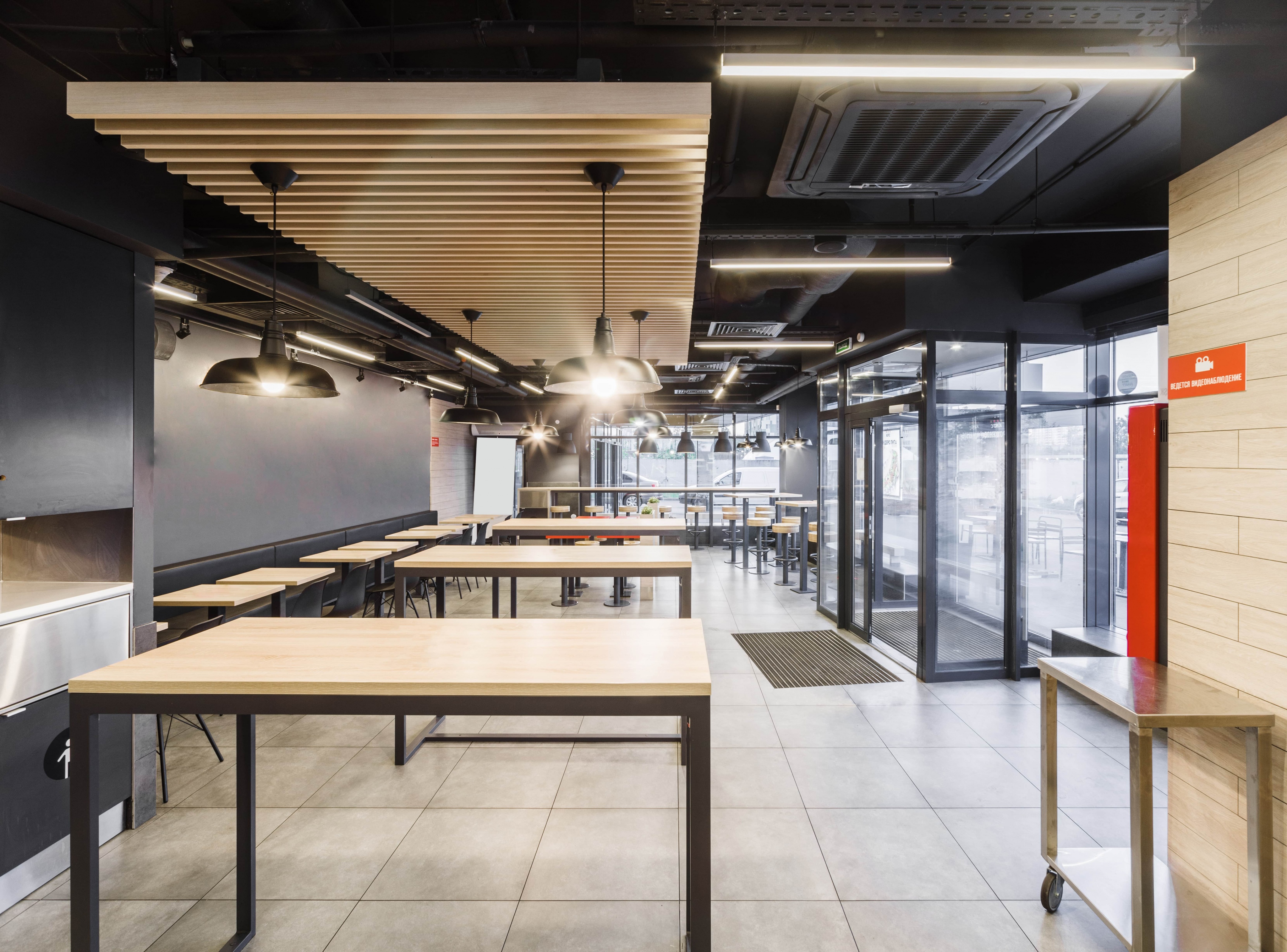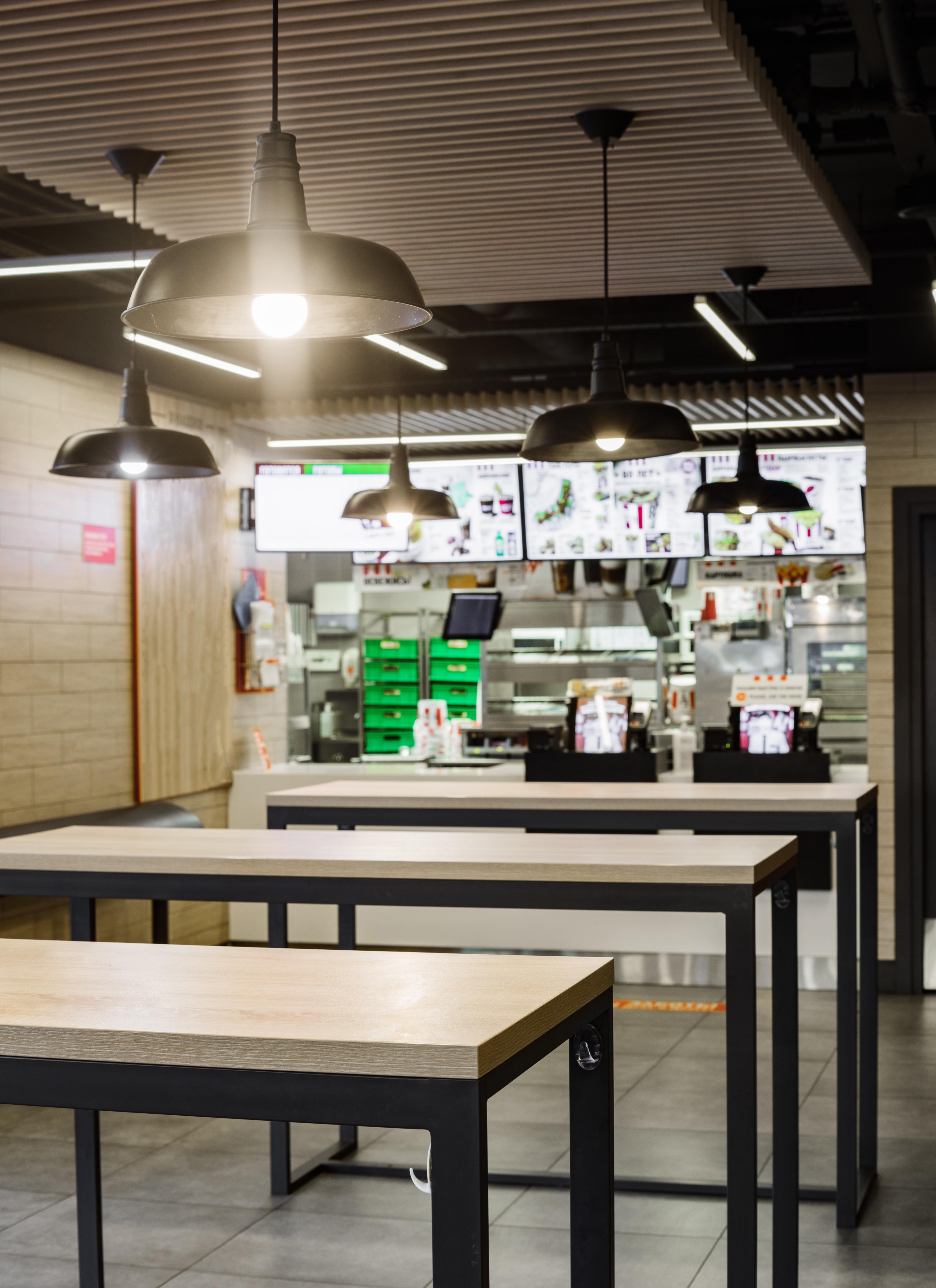 They are echoed by bar stools with seats in the form of a sawn tree on a powerful metal frame of deep black color.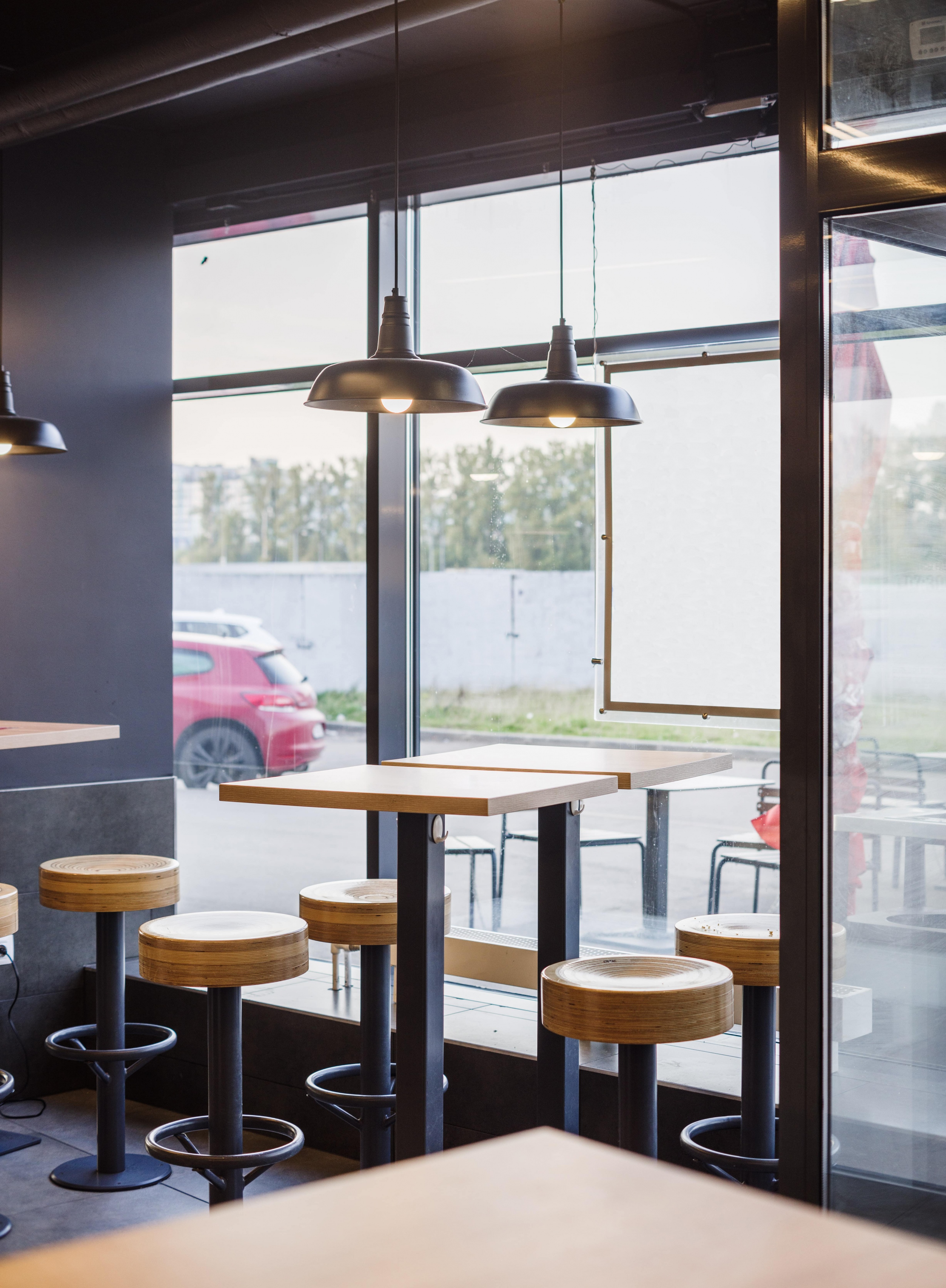 Bright accents are set by red mini-tables on the graphite-colored underlay.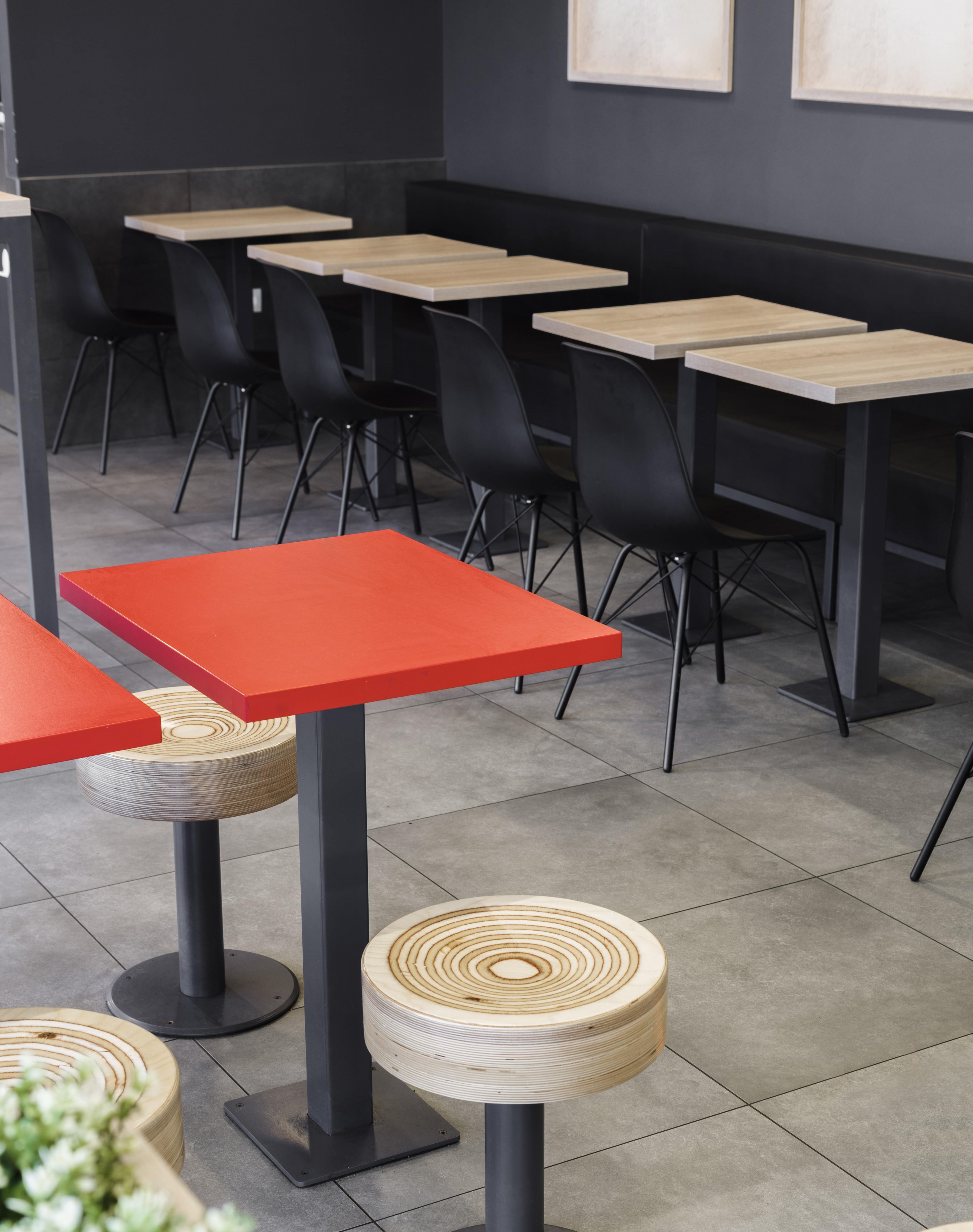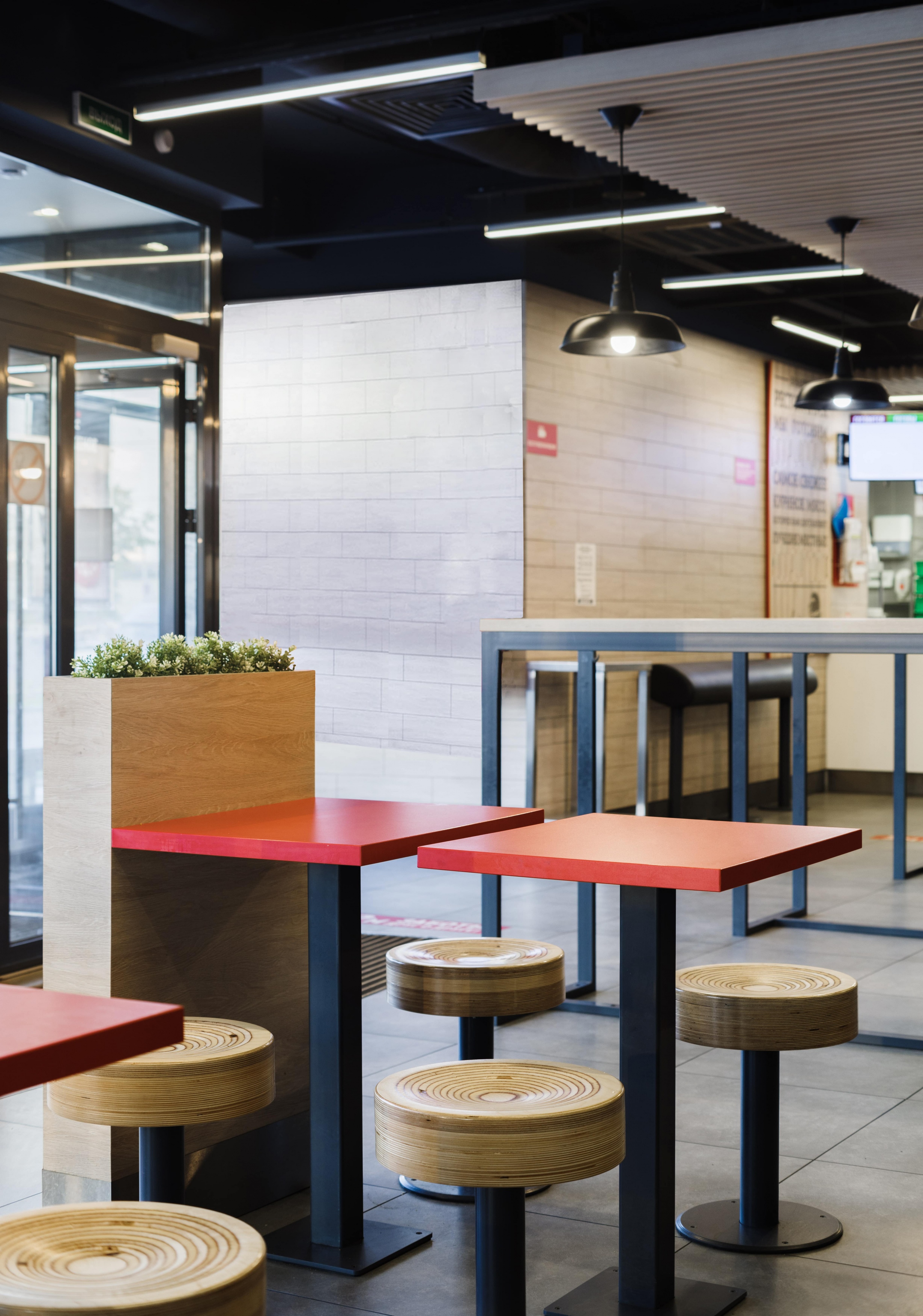 Unobtrusively dilute the interior of wood and metal chairs made of durable molded plastic.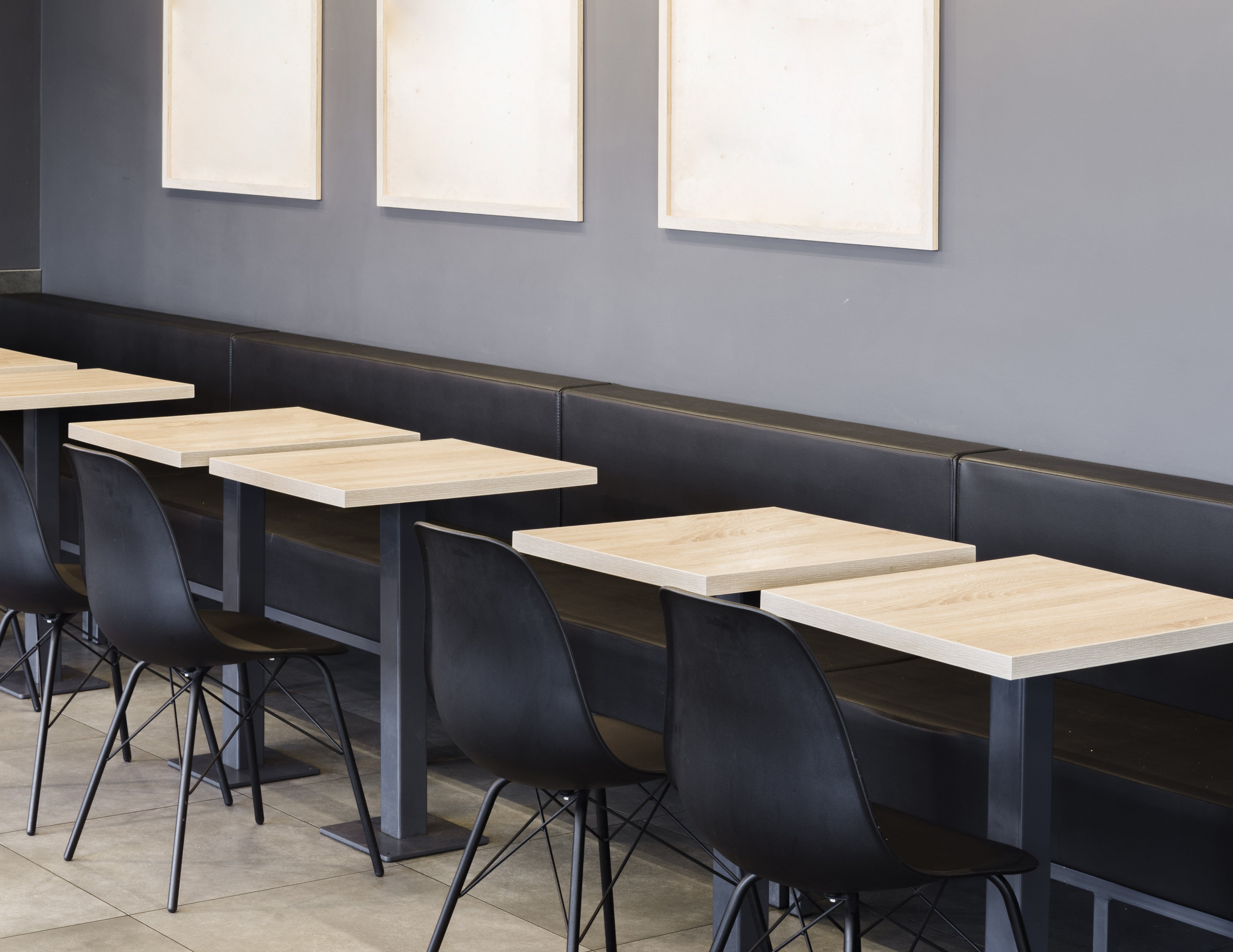 Black wall-mounted sofas in artificial leather create a cozy lounge-location. Even the various shaped lamps are designed in a General matte-black color scheme.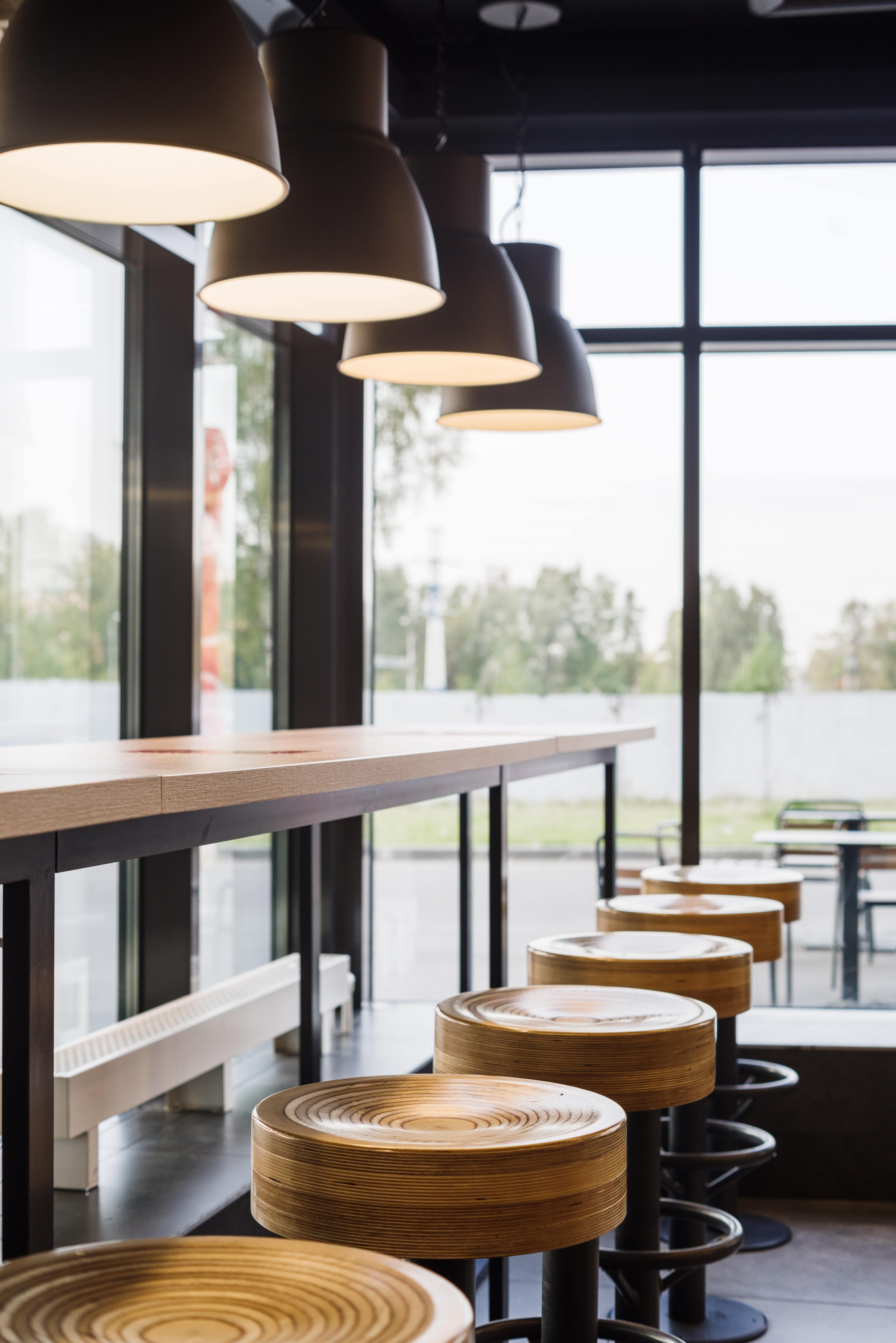 The result: another cozy restaurant in the current loft-style appeared in St. Petersburg thanks to the efforts of our company. If your business needs a stylish renovation in the shortest possible time and in a "turnkey" format, please contact the corporate sales Department of FABRIKANT by phone 8-800-250-40-60.
FABRIKANT - individual projects in 1 month!
Fast food restaurant
On the eve of the New Year, FABRIKANT has completed another project of a catering restaurant. This time in the very heart of the cultural capital - in St. Petersburg, on Bolshaya Morskaya.
The title of the cultural capital obliges, therefore, it was decided to fit even the project of a fast food restaurant into the melancholic atmosphere of St. Petersburg, while not forgetting about practicality.
Laconic partitions of muted tones "copper" and "graphite" zone the room and create a feeling of comfort.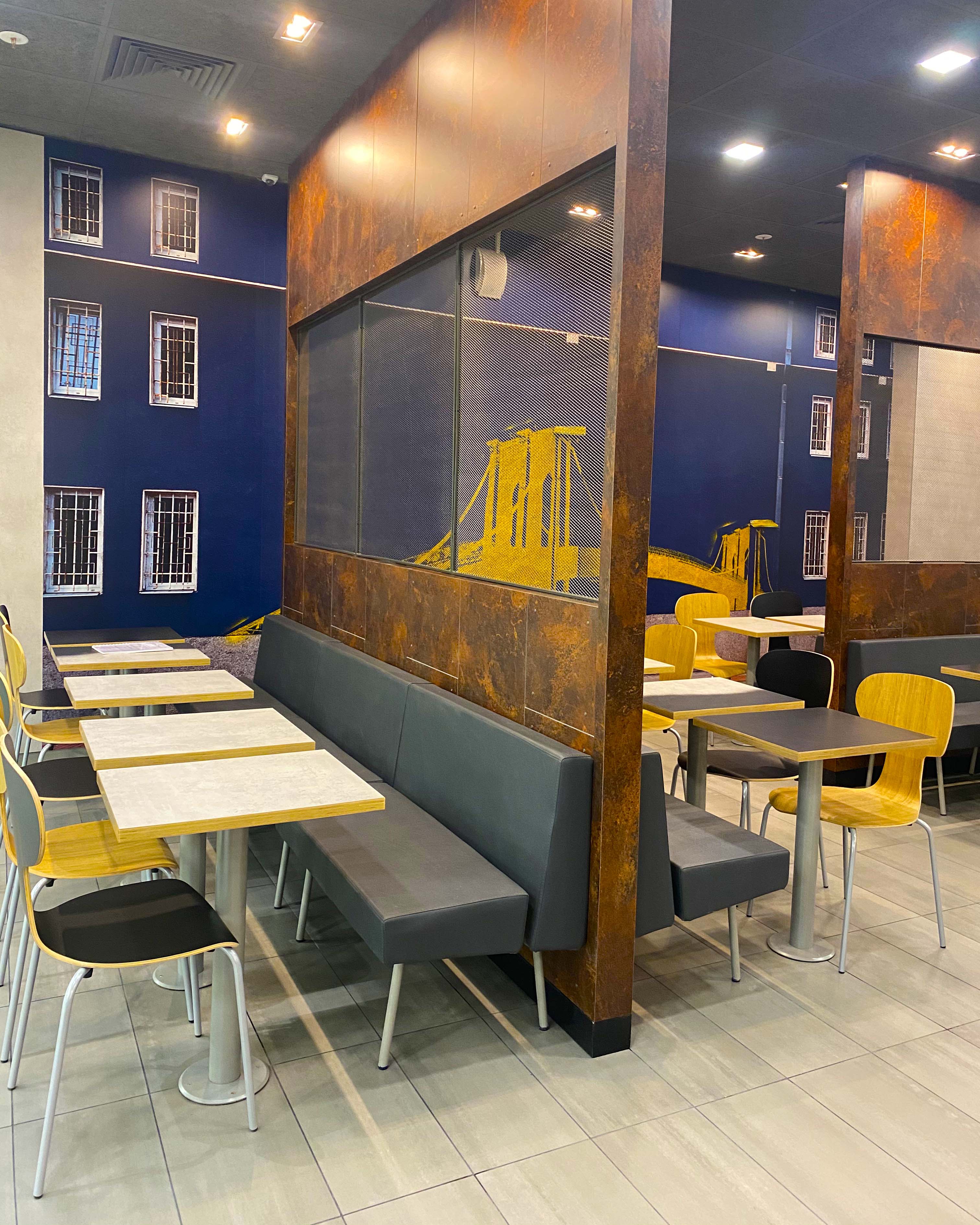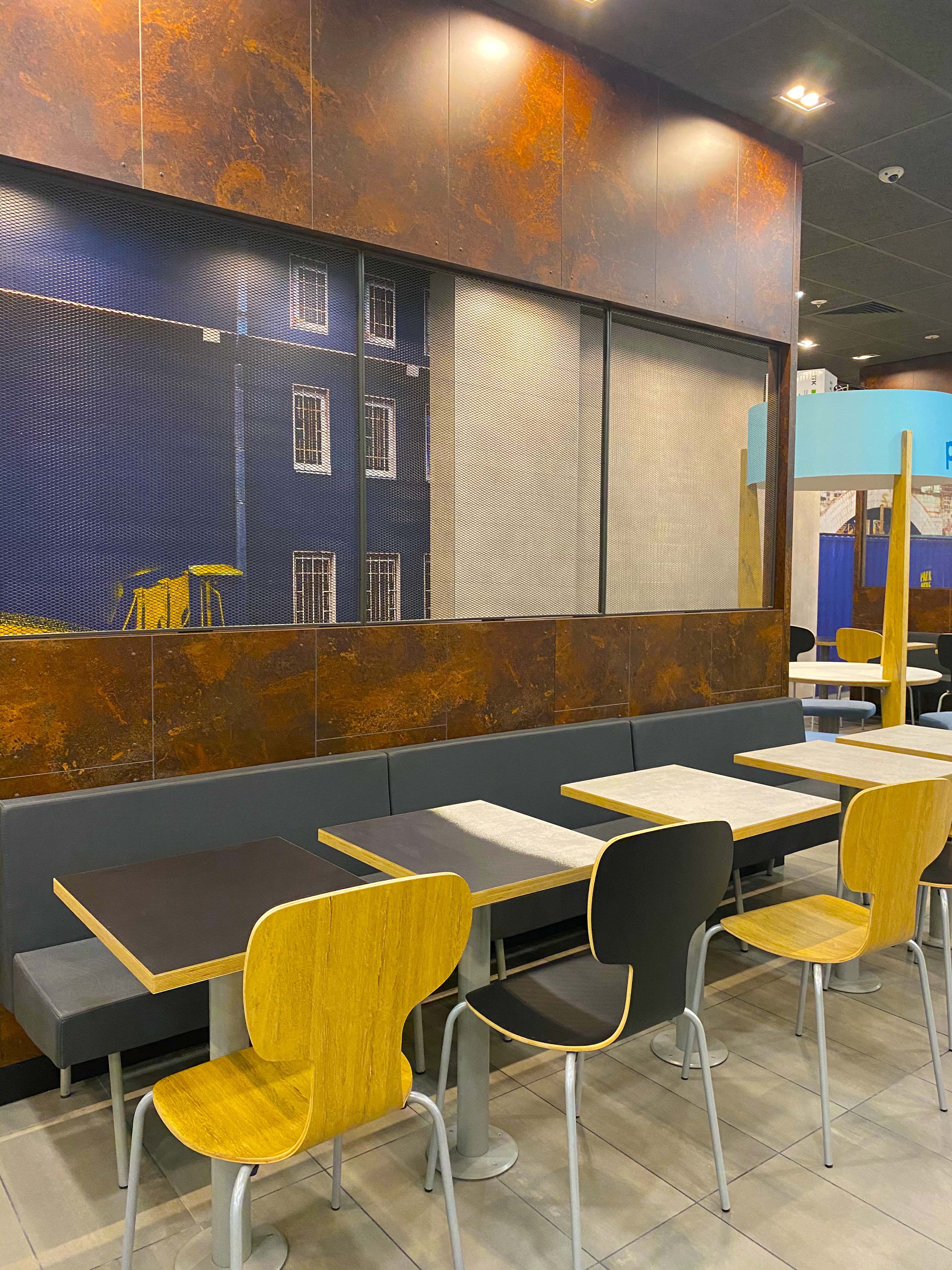 Brutal wooden tables on a reinforced metal frame are specially designed for locations with high traffic, and the center of St. Petersburg is famous for the abundance of tourists.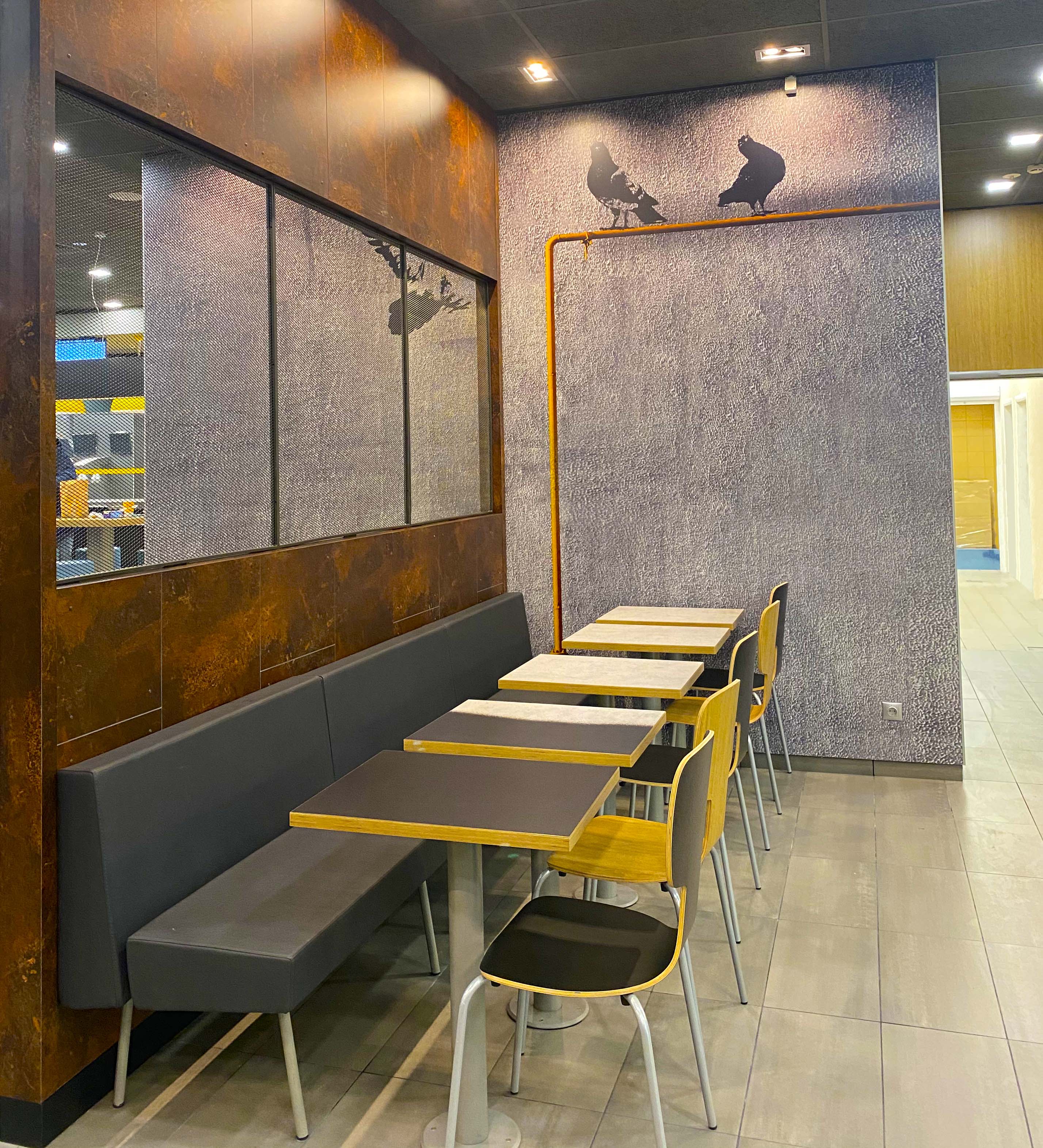 Monumental bar stools on a stable base will withstand a large flow of visitors.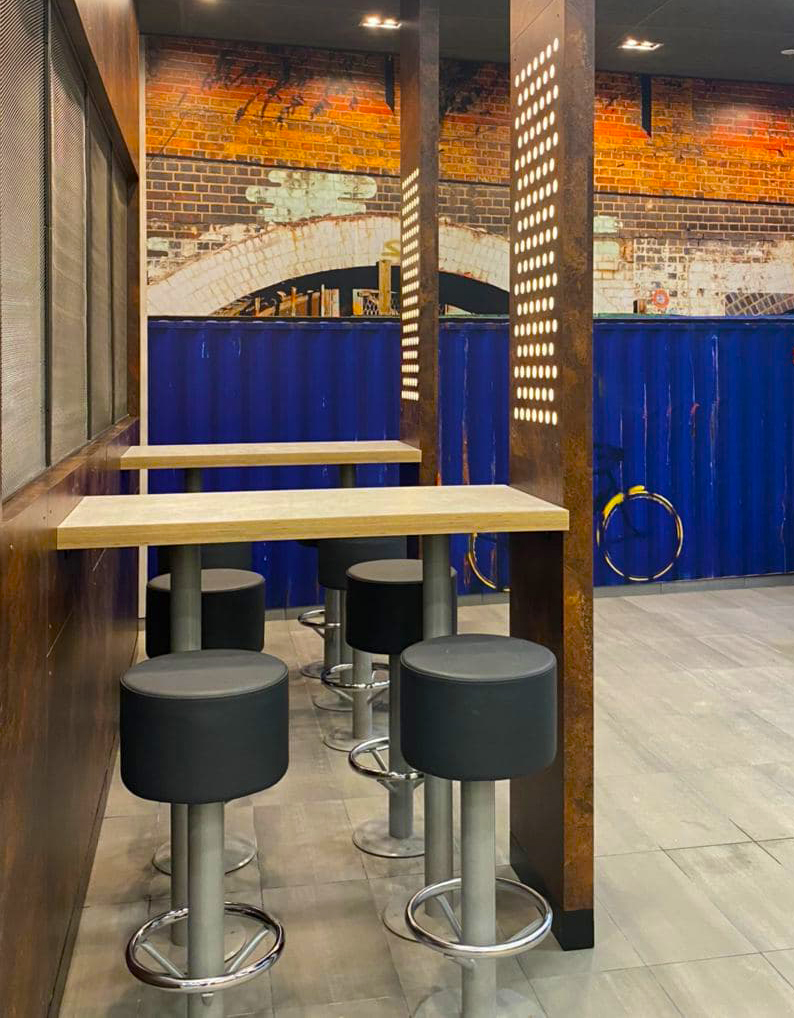 The seemingly weightless plastic chairs are framed by a sturdy metal frame, which guarantees a long service life under high loads.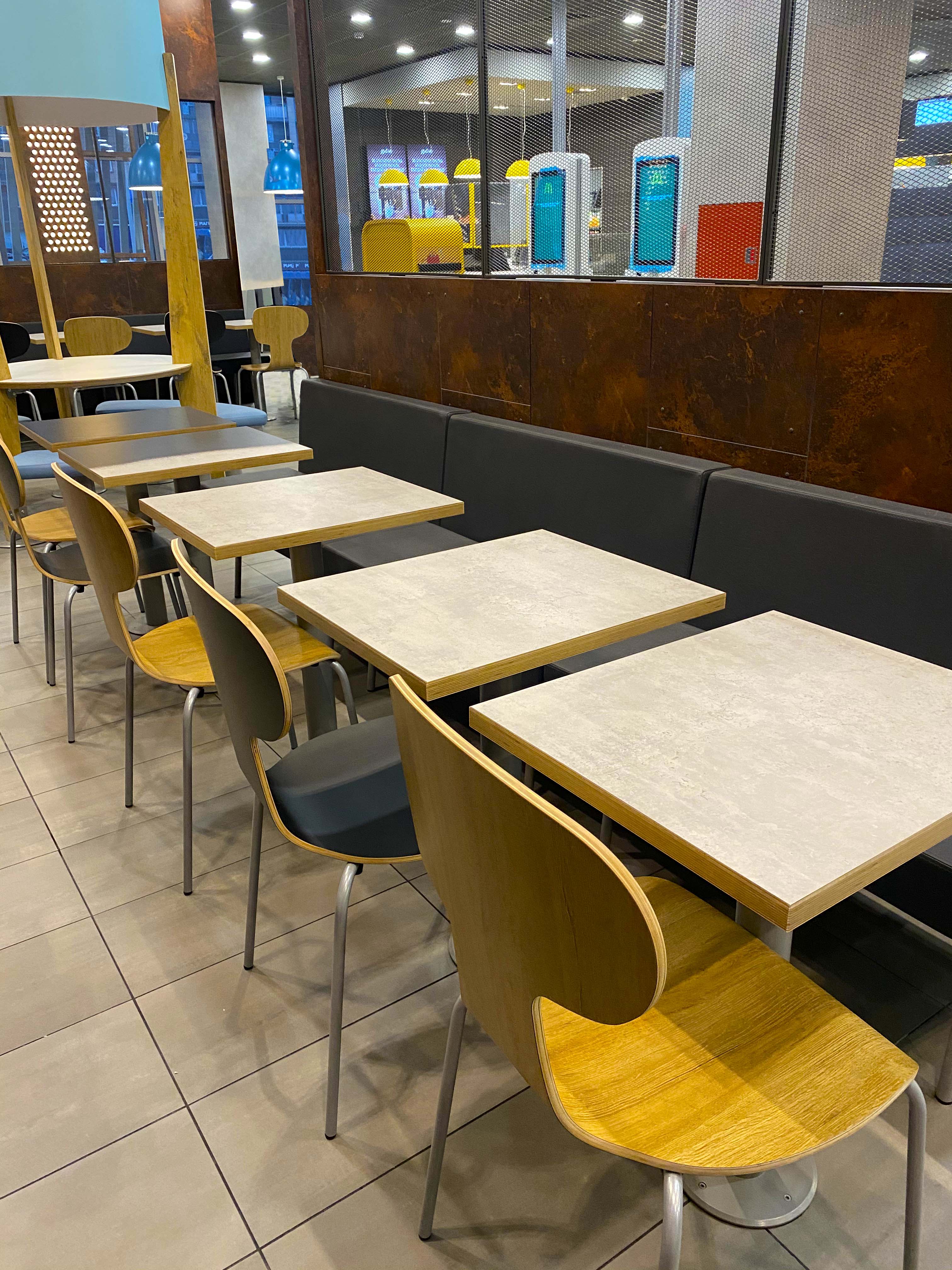 The minimalist sofas in matte faux leather, painted in soft black and gray shades, form a cozy dining area.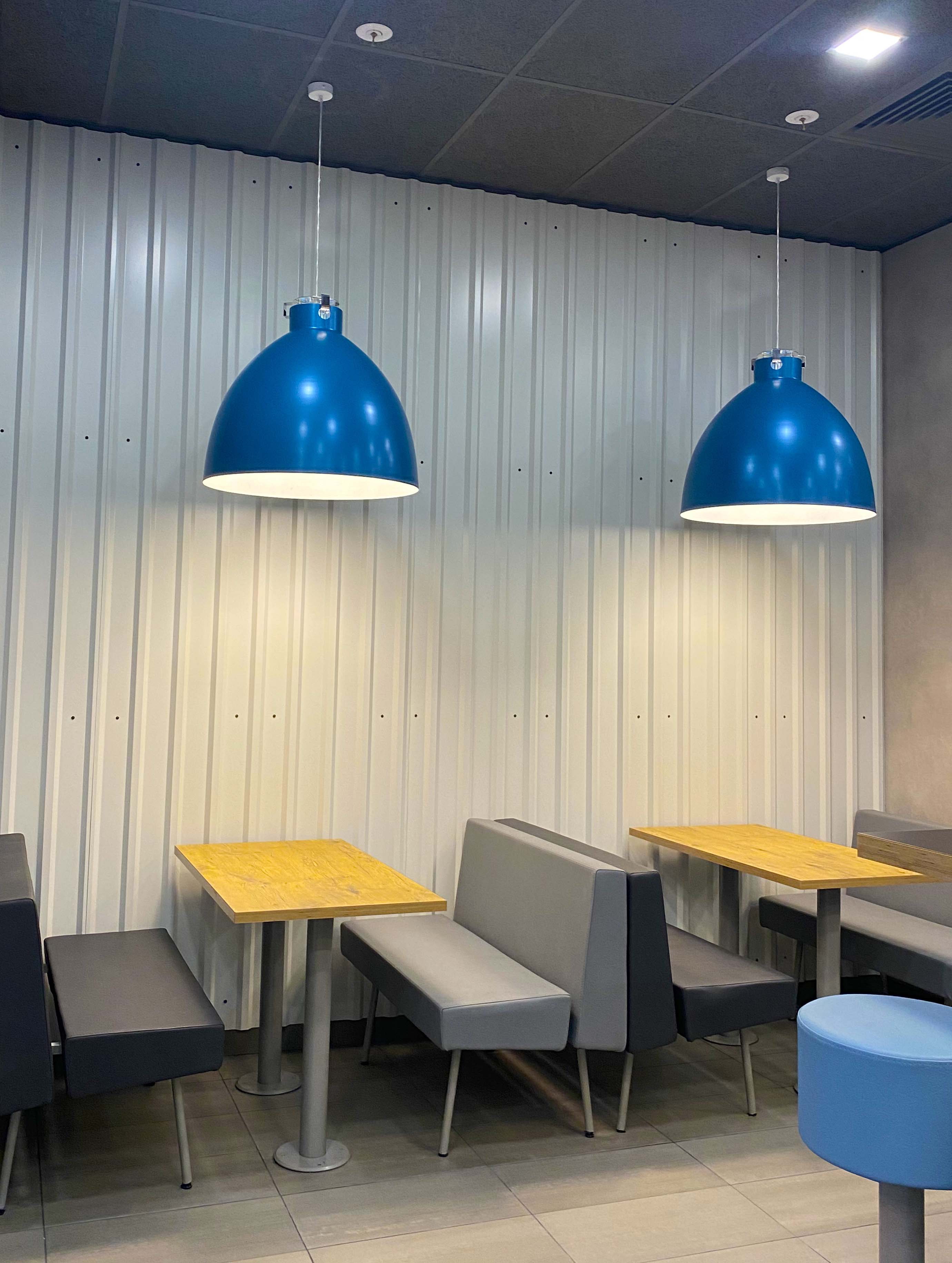 The lighting solution is realized in the form of original lamps in contrasting colors: discreet blue and bright yellow.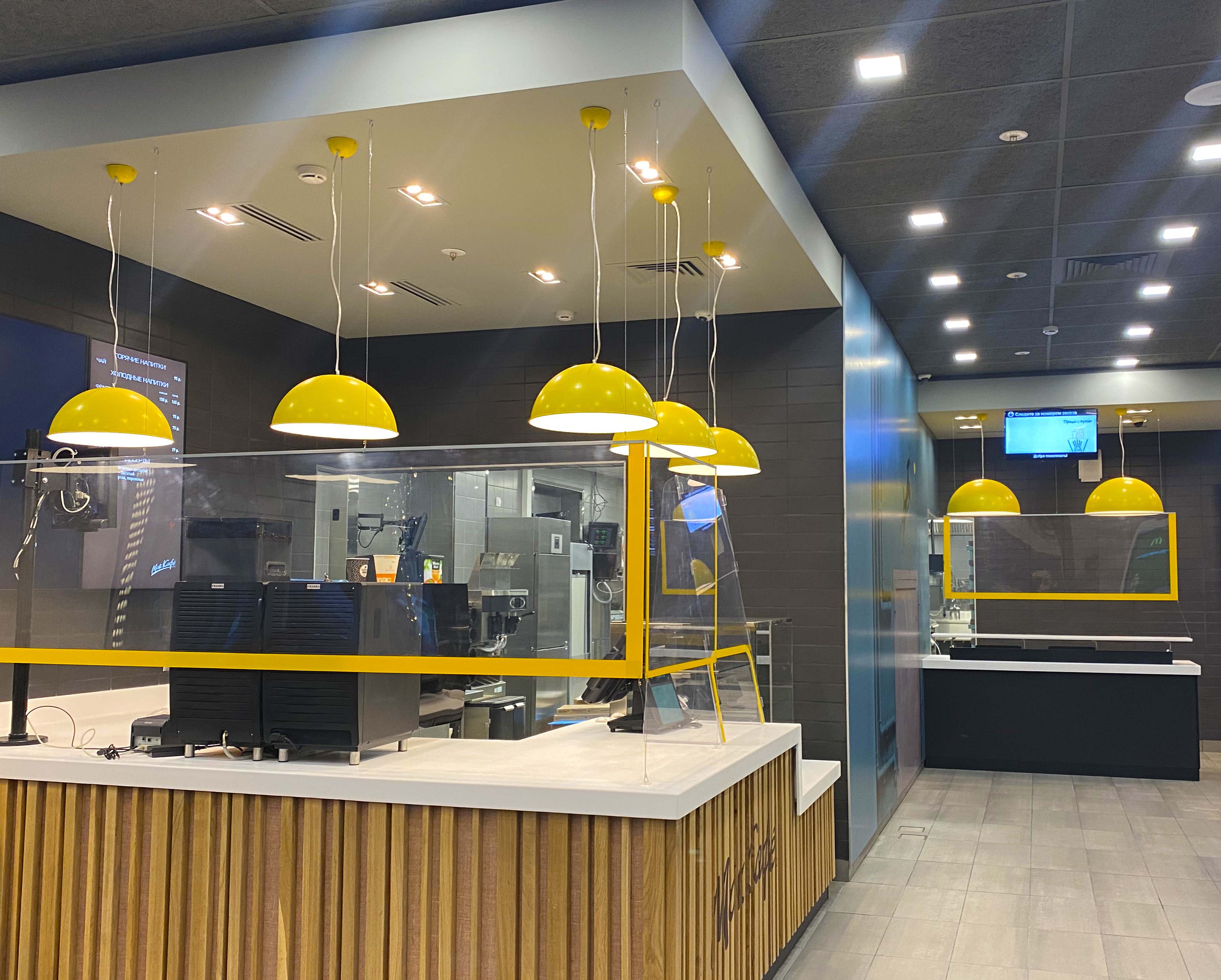 The unique character of the northern capital is supported by graffiti in the form of pigeons and bridges of St. Petersburg.
To summarize, this project turned out to be very consistent in St. Petersburg. At the same time, it is precisely the laconic design and calm shades that create a special atmosphere of a cozy space in the very center of a big city.
FABRIKANT - individual projects in 1 month!
Public catering restaurants
Cafes, bars and restaurants are without exaggeration the favorite direction of creative efforts of group of companies FABRIKANT. All catering facilities are very different in their areas, style, and target audience, but they all share one thing – the maximum comfort that restaurateurs strive to create for their guests.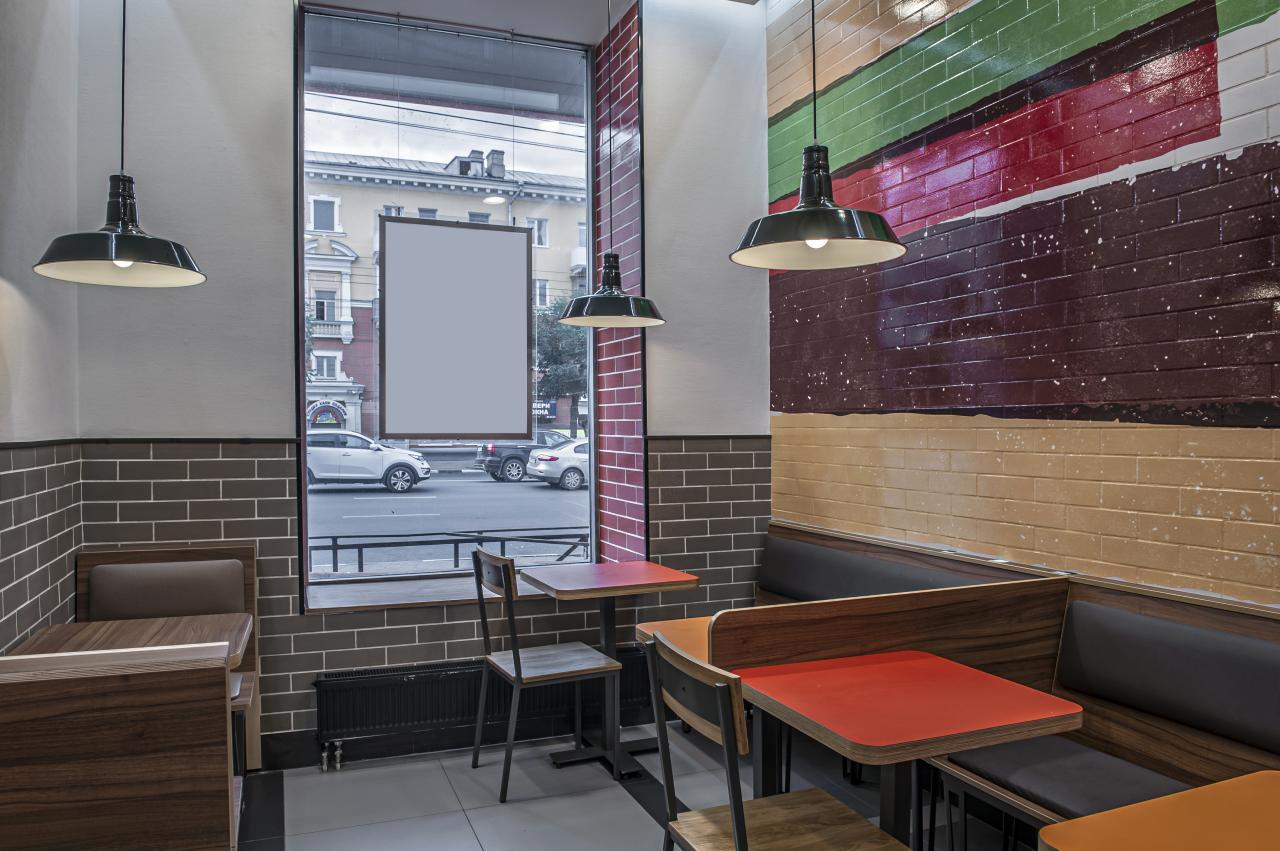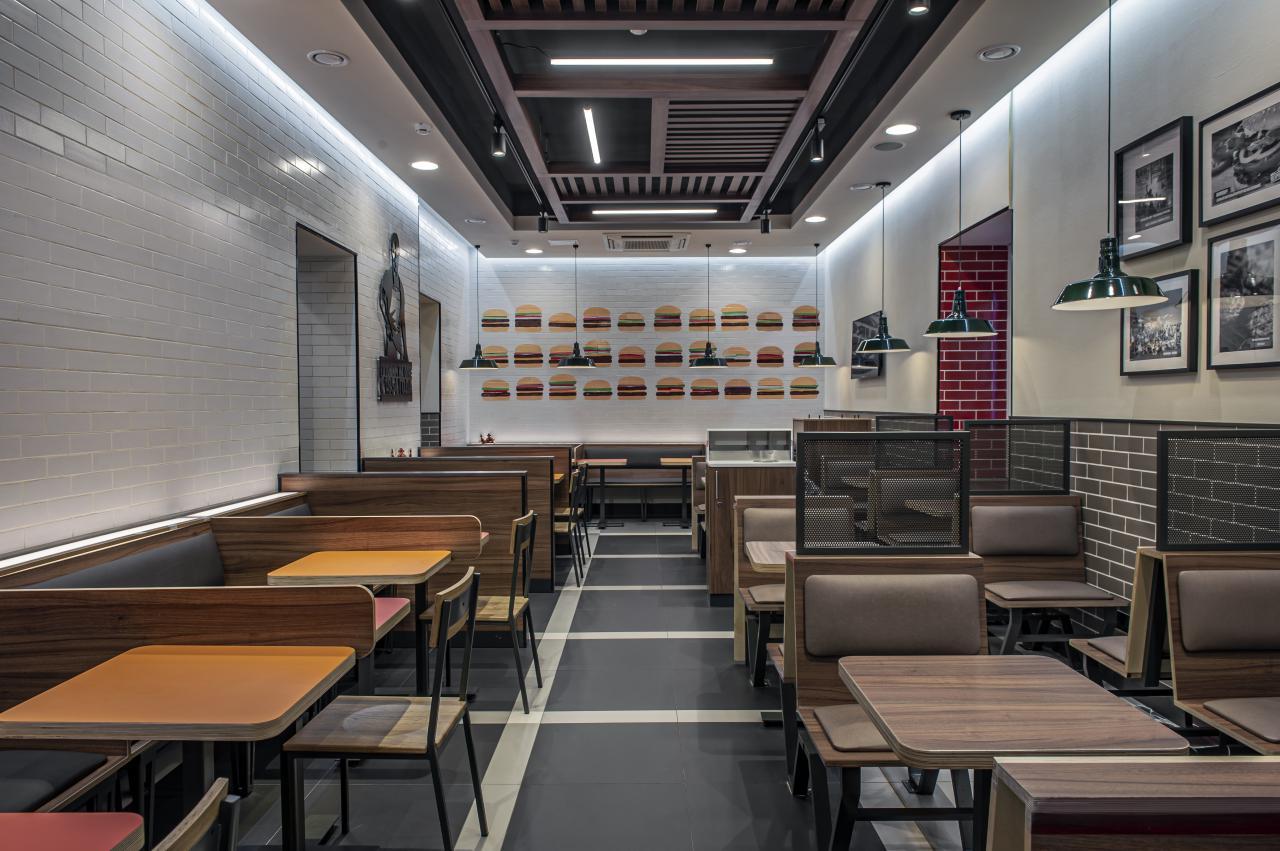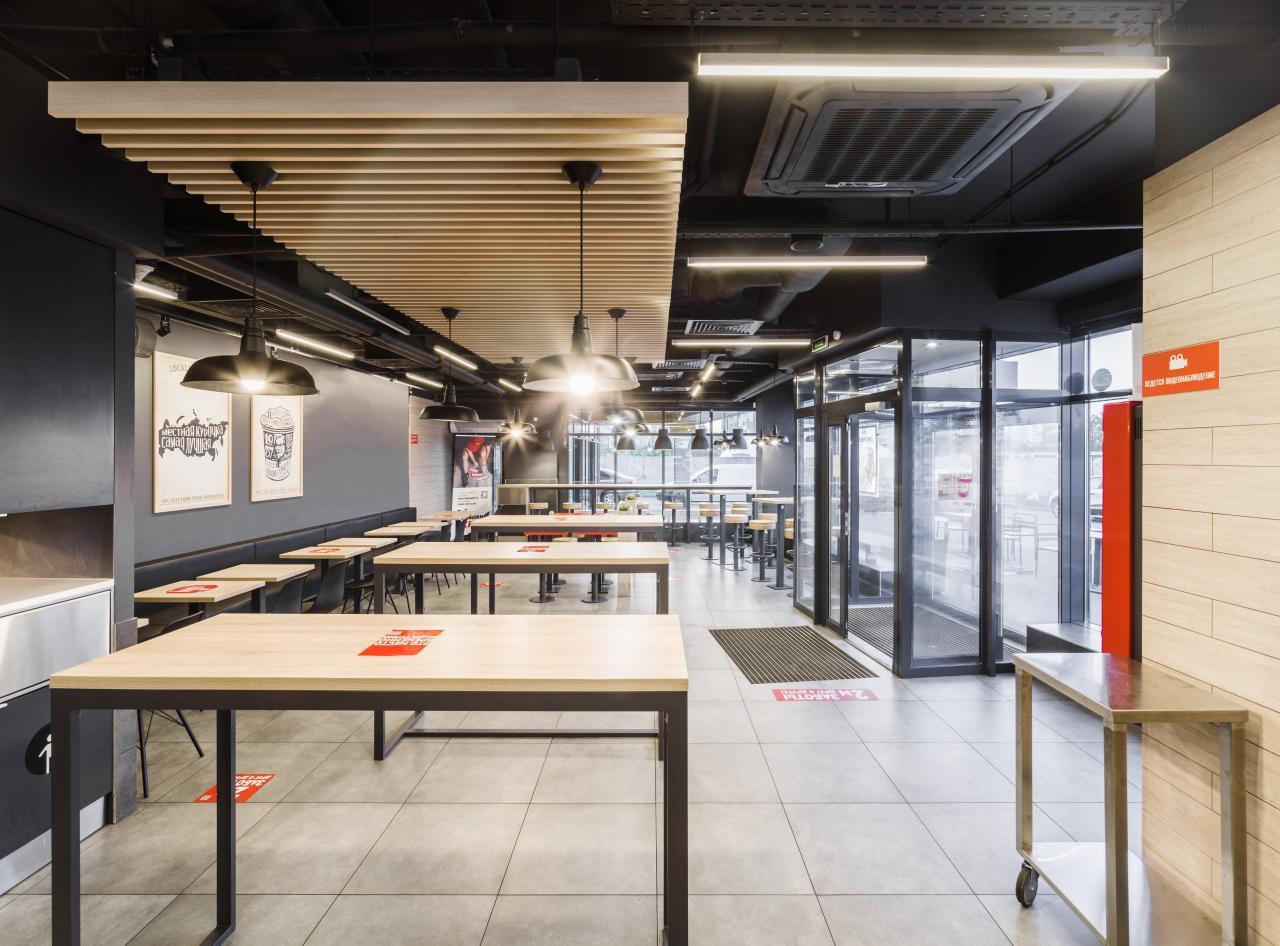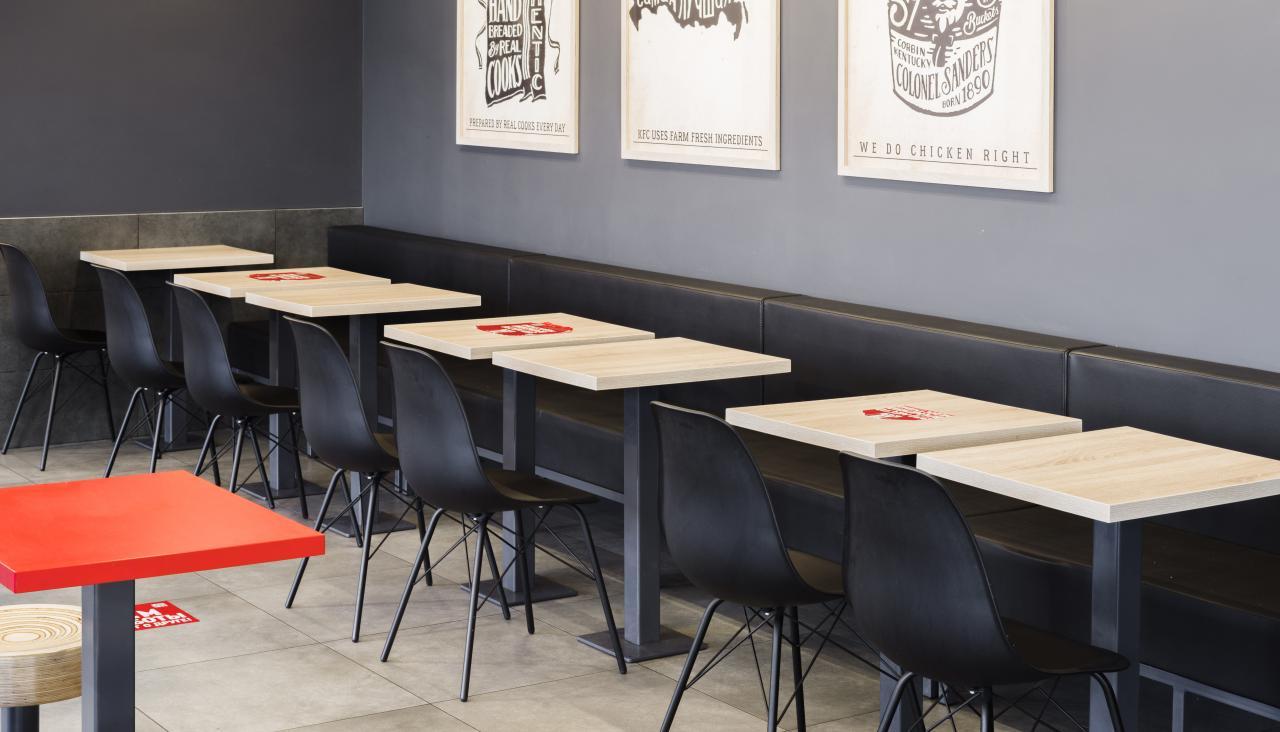 Froup of companies FABRIKANT is working on this task. We help implement the most daring design ideas, produce original furniture and decor for guest, household and technical areas.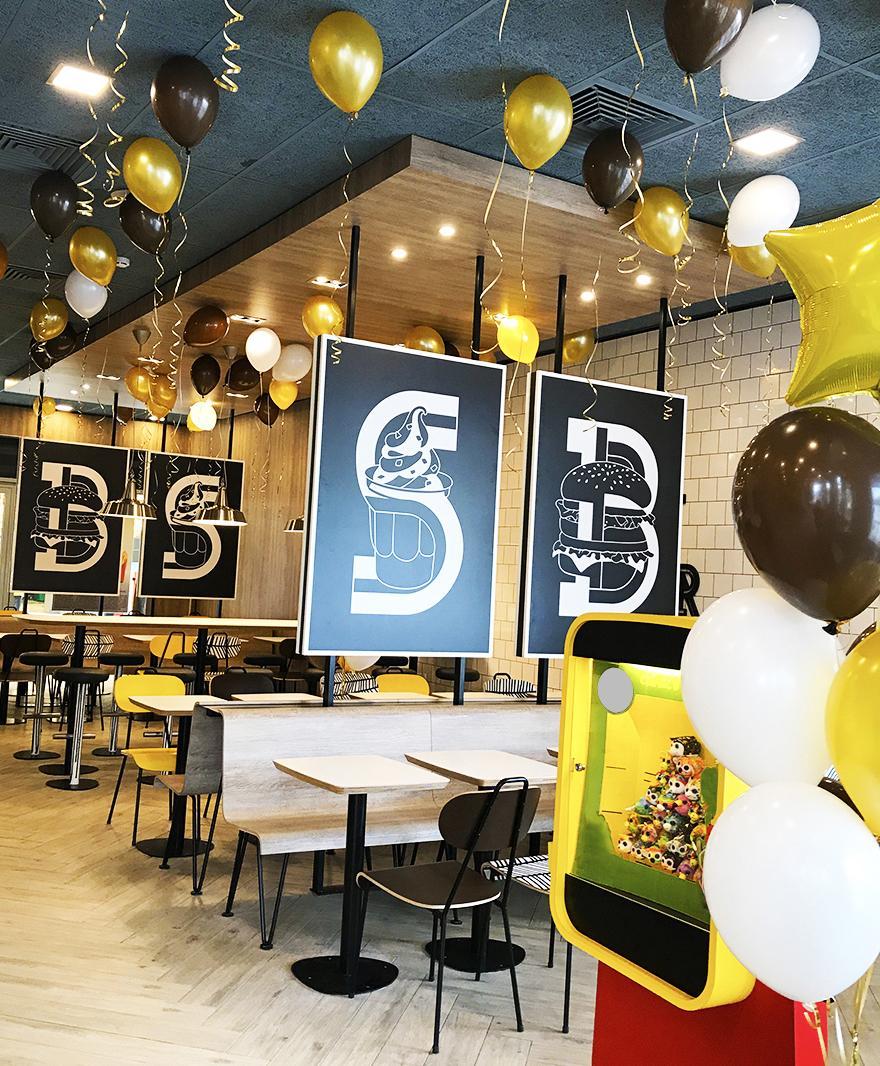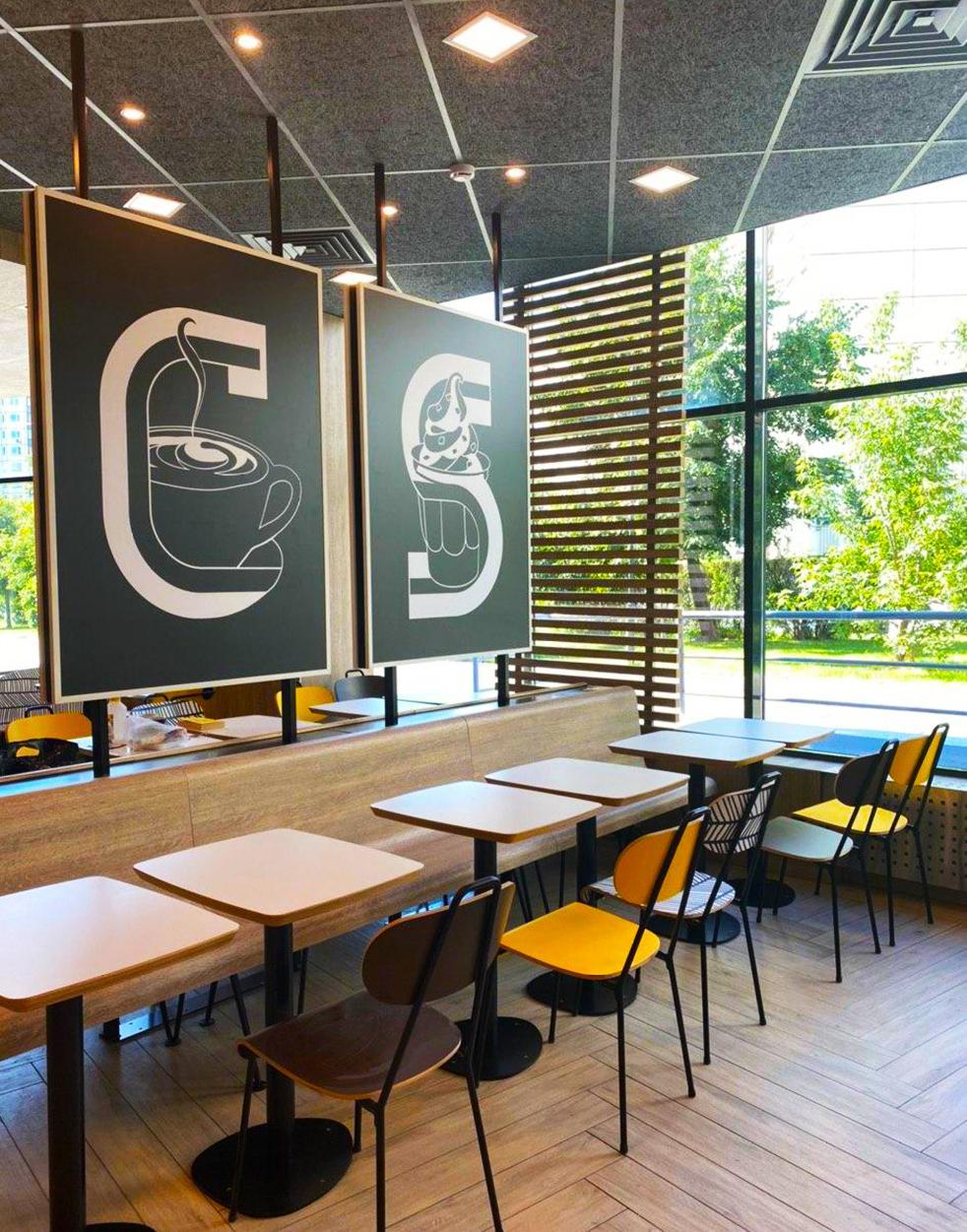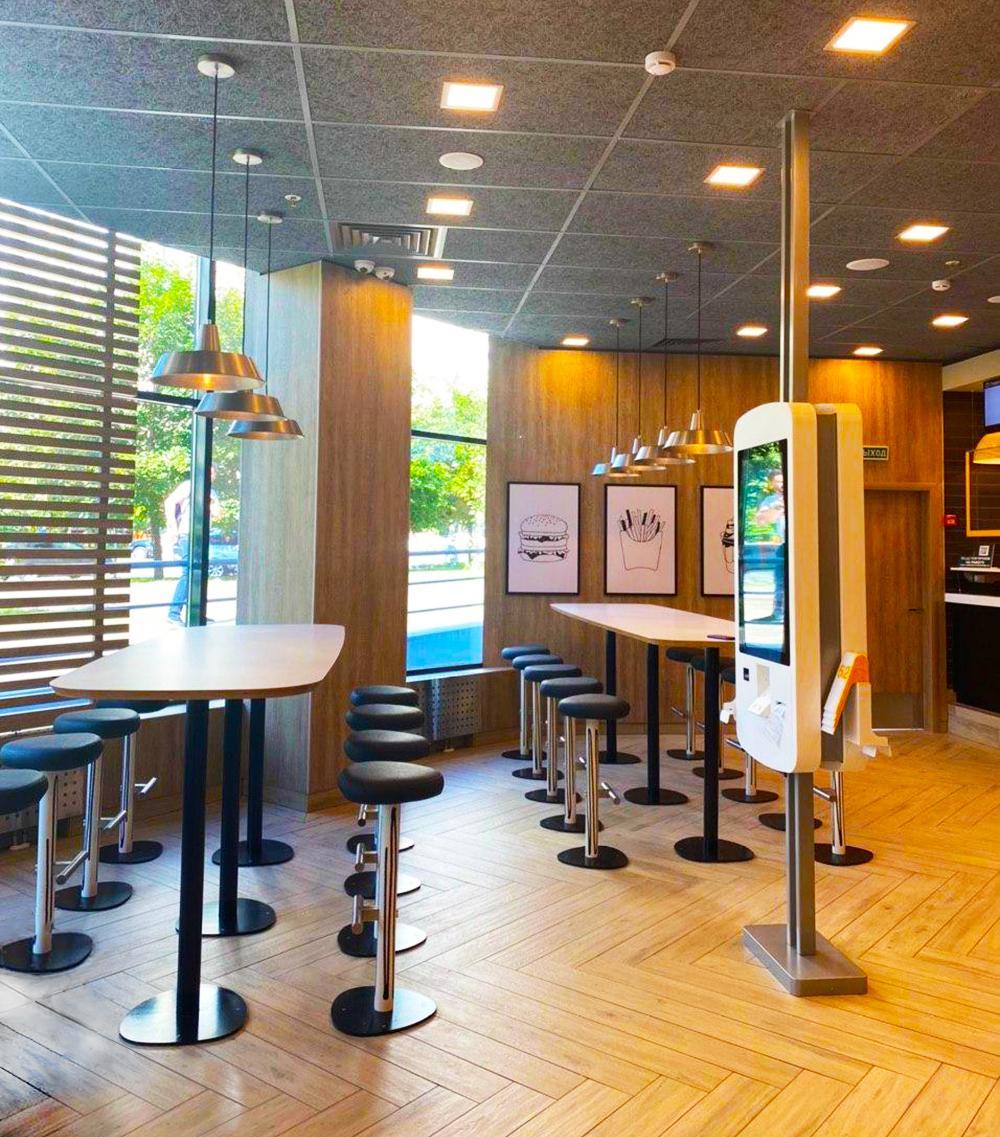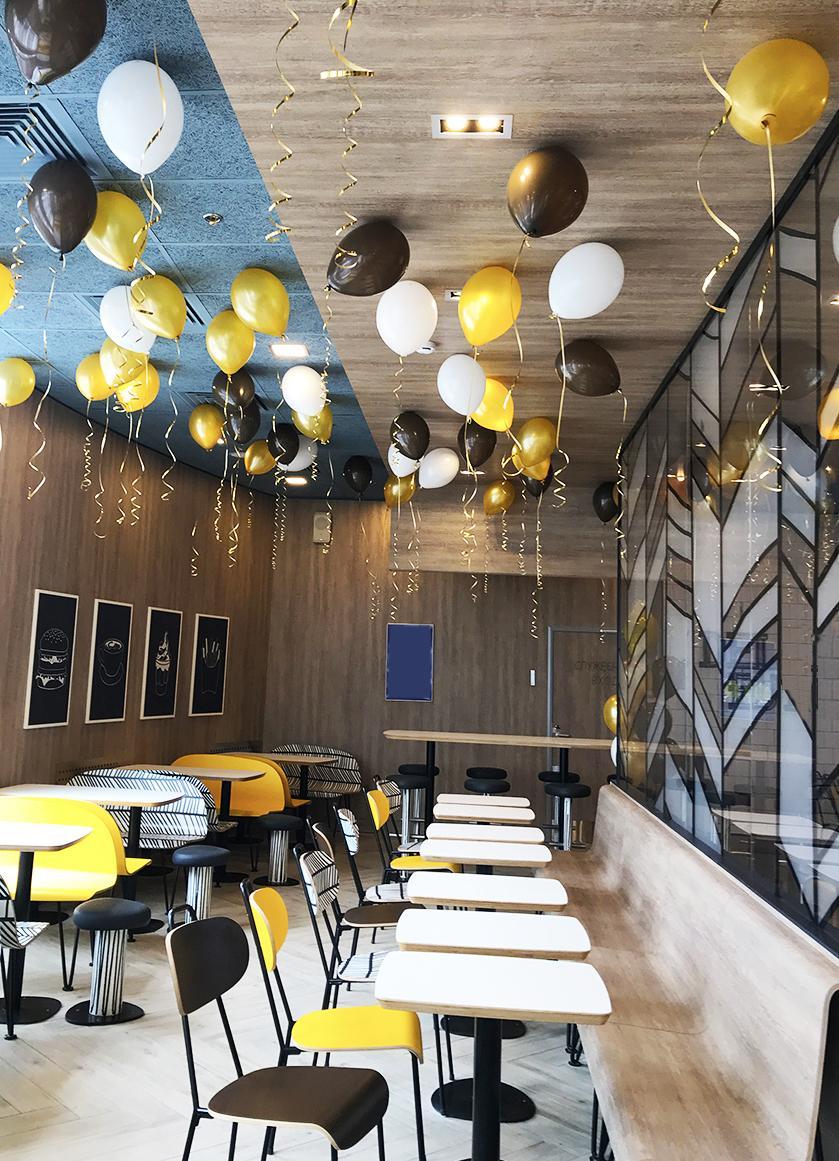 When working on each project, group of companies FABRIKANT takes into account not only the designer's wishes, but also the standards for organizing public spaces, the ergonomics of the human body, and the psychology of perception of colors and materials. This allows us to create truly comfortable furniture for relaxing and eating. And for restaurateurs, group of companies FABRIKANT will always recommend the best modern materials that are most resistant to wear and practical in care.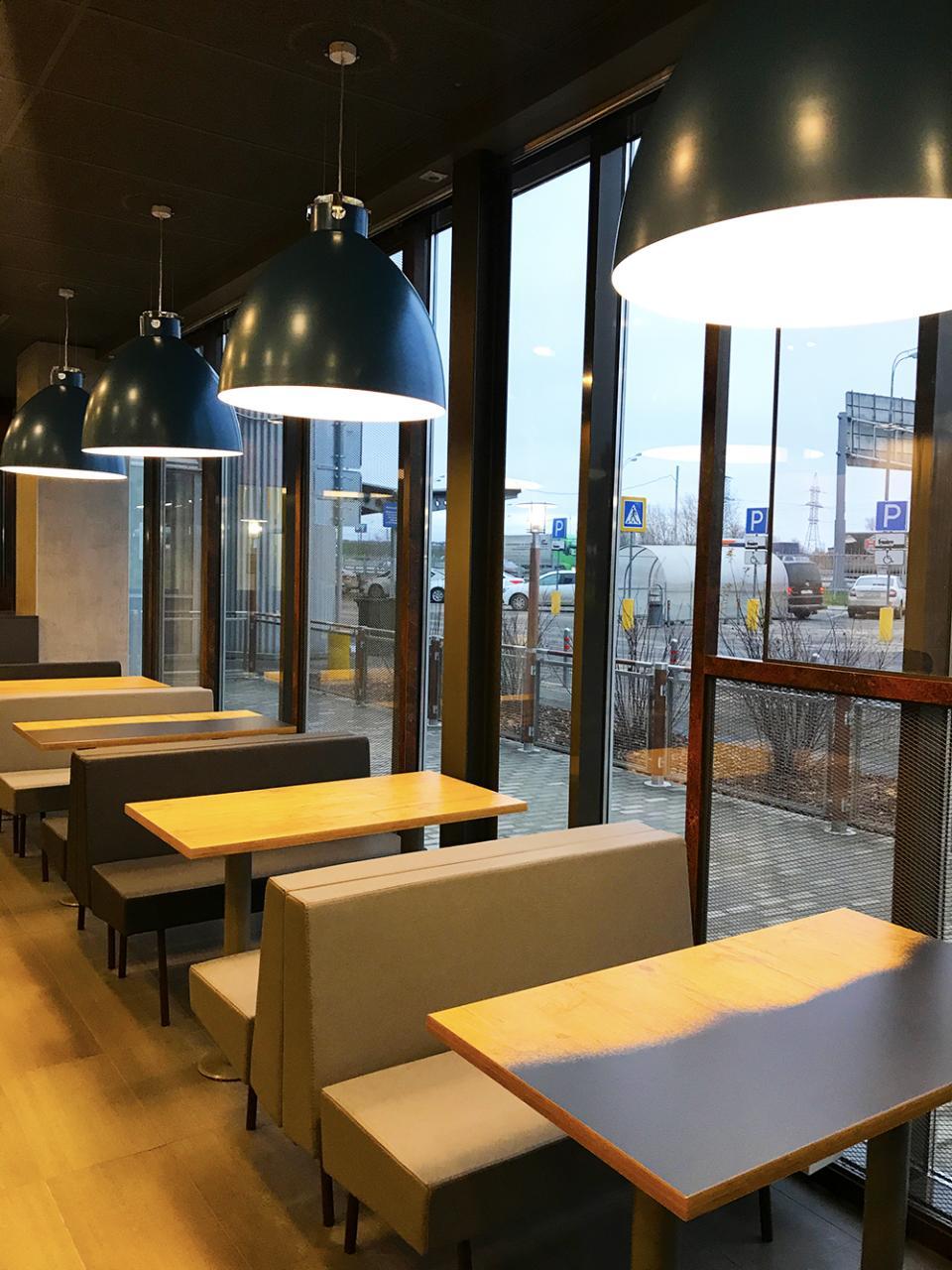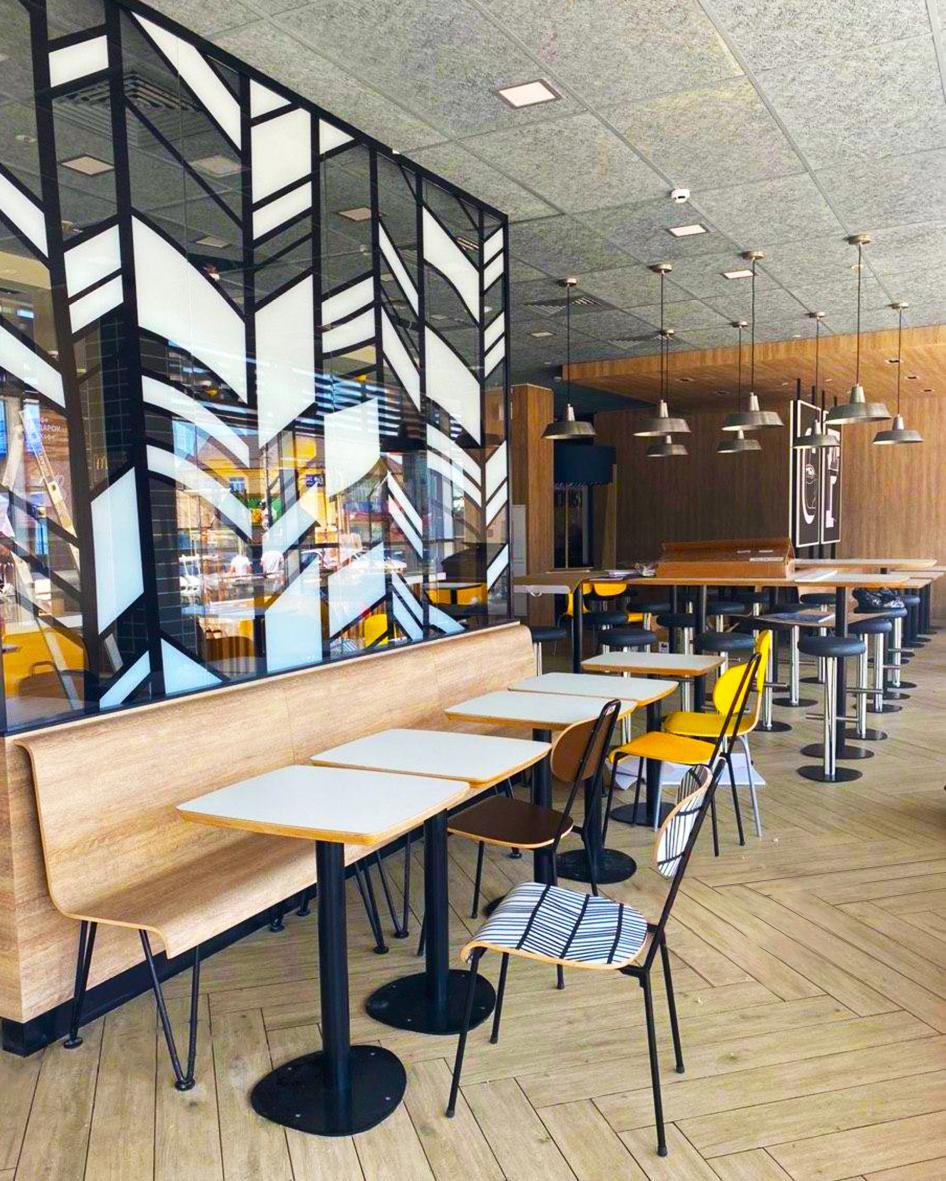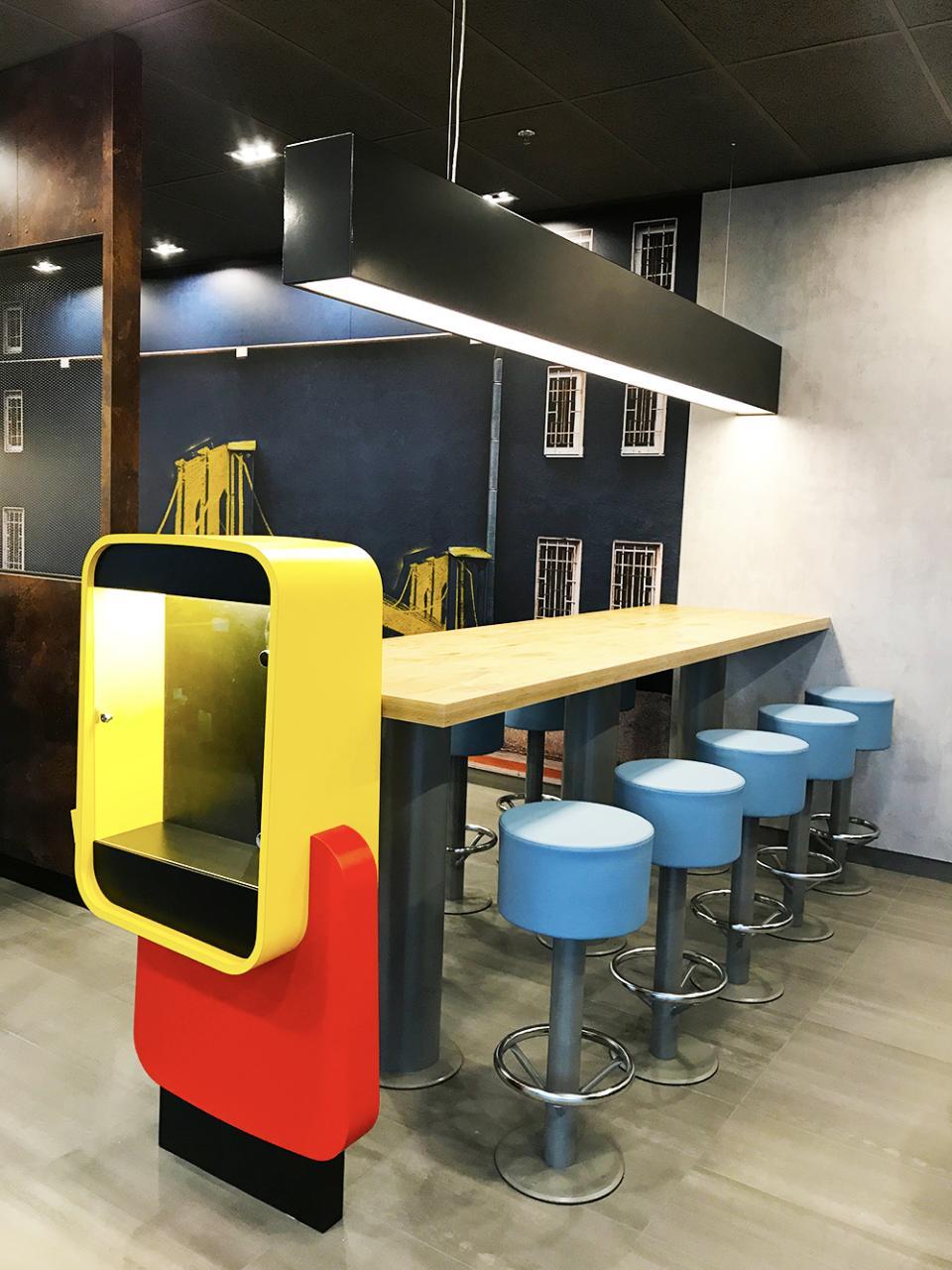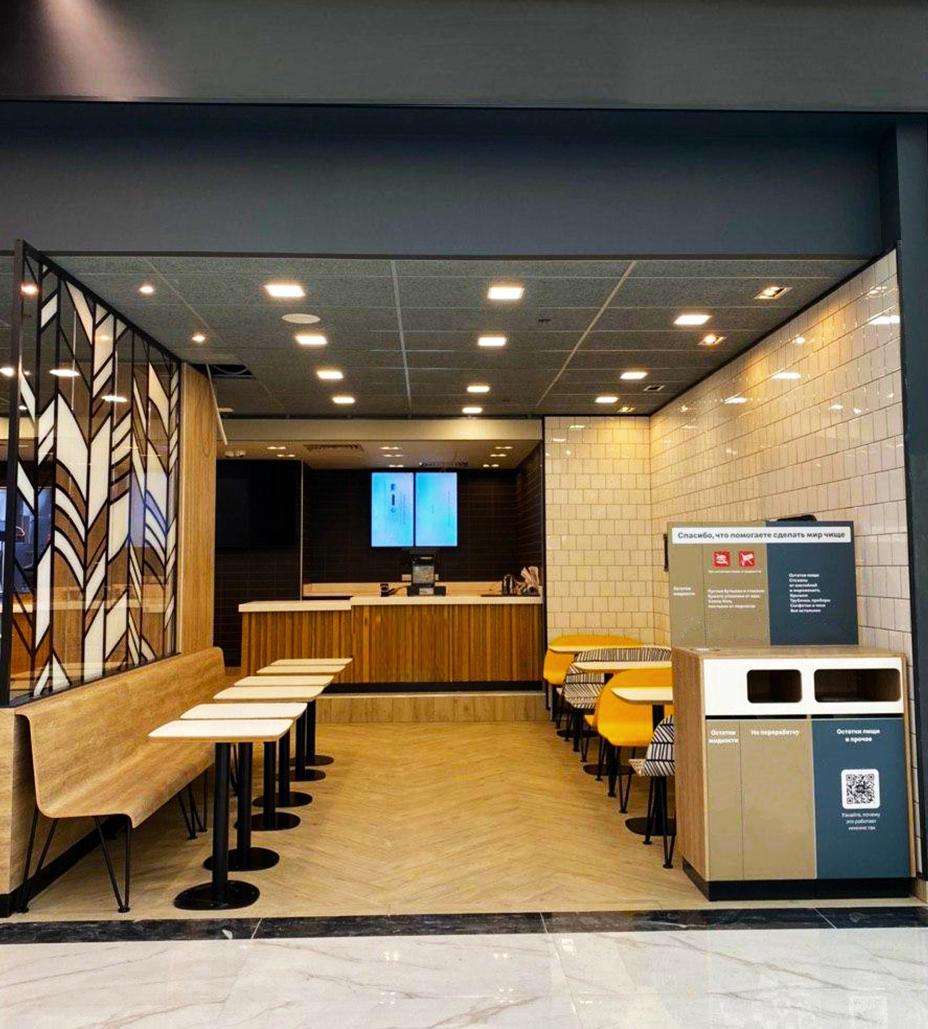 SPA-hotel "Sea school"
SPA-hotel "Sea school" is a modern rest location in the historical center of Ryazan. The design of rooms of various categories is made in the current fusion style, which is simple and elegant.
In this project, the main task of Fabrikant group was to offer original furniture solutions for the hallway, bedroom and shower areas, which perfectly fit into the overall design concept. And our company successfully coped with this.

In the hallway area, cabinets for clothes of various sizes and contrasting colors are pleasing to the eye. They are made in both bright (green and Indigo) and laconic (deep graphite) colors.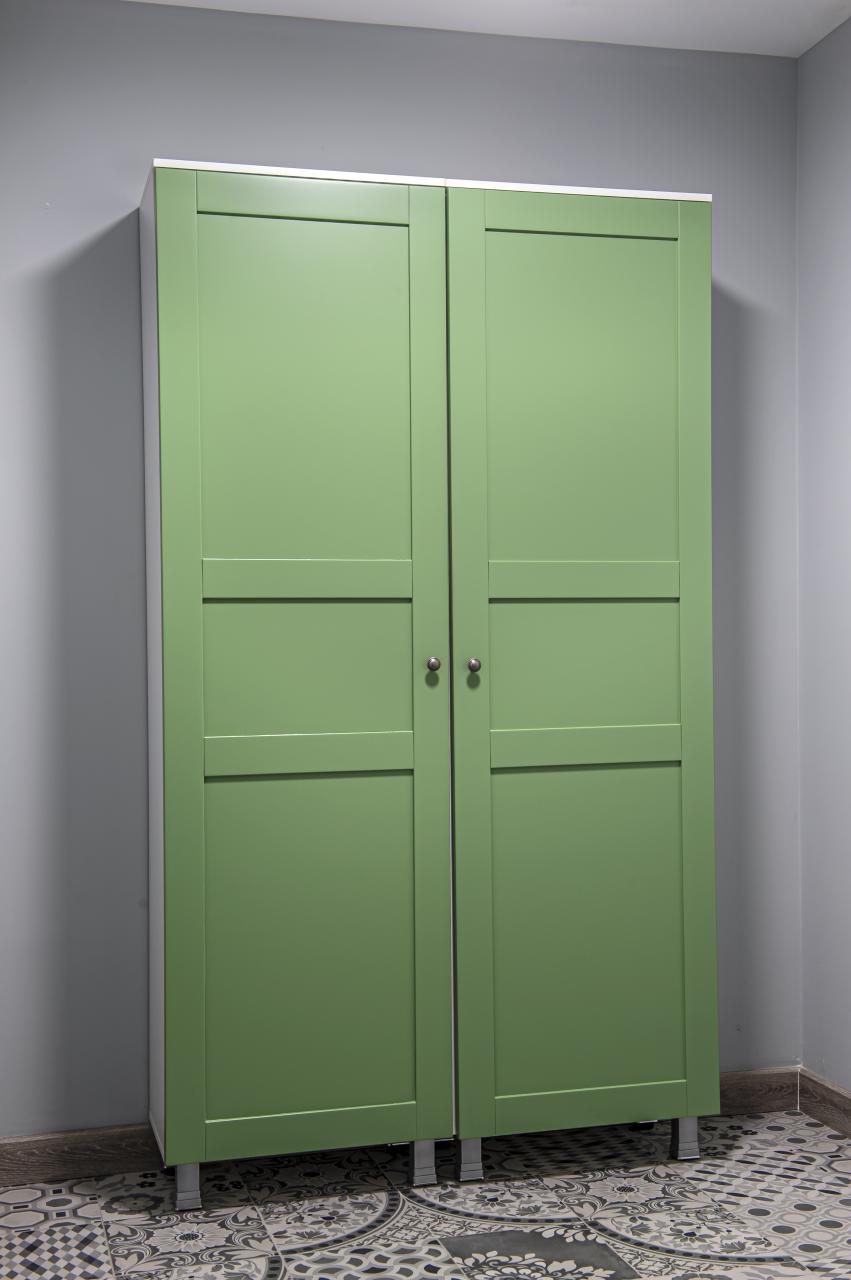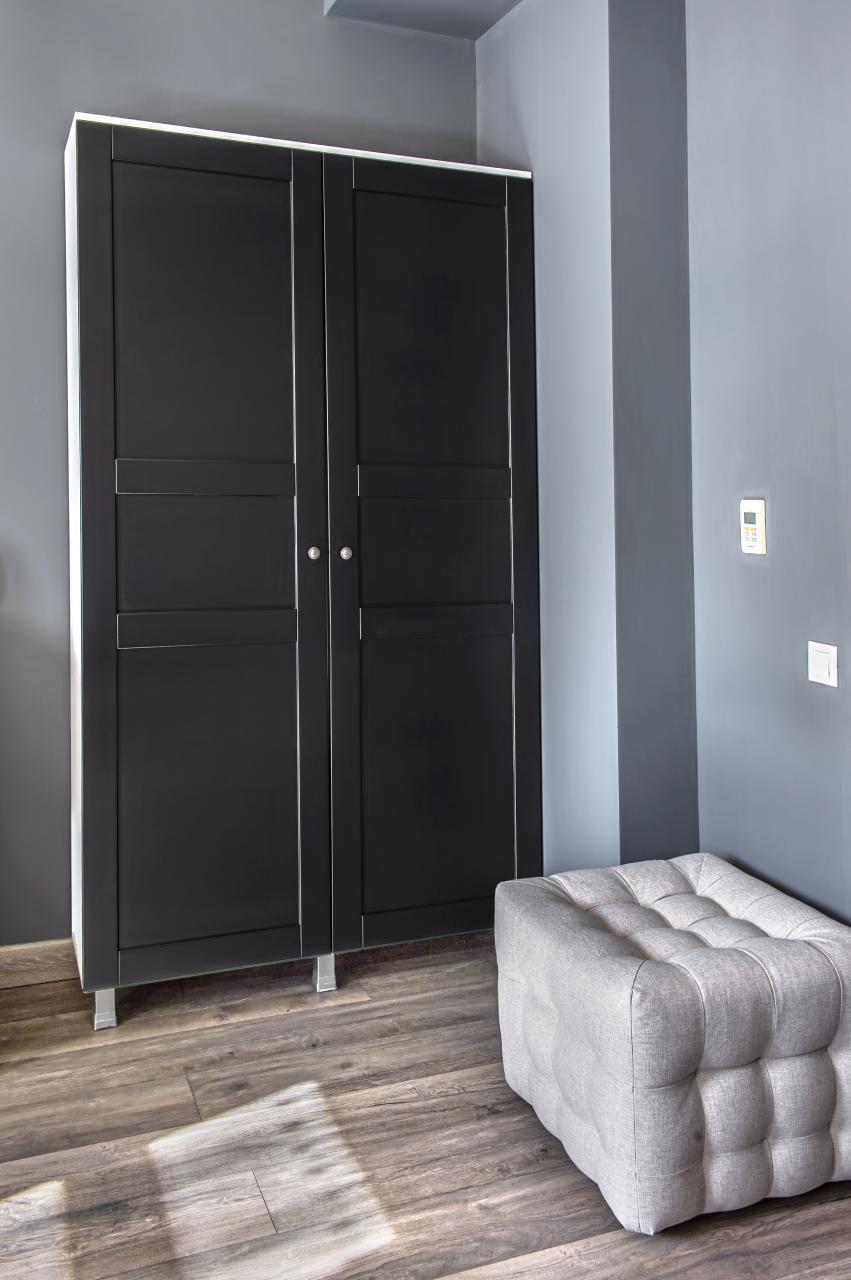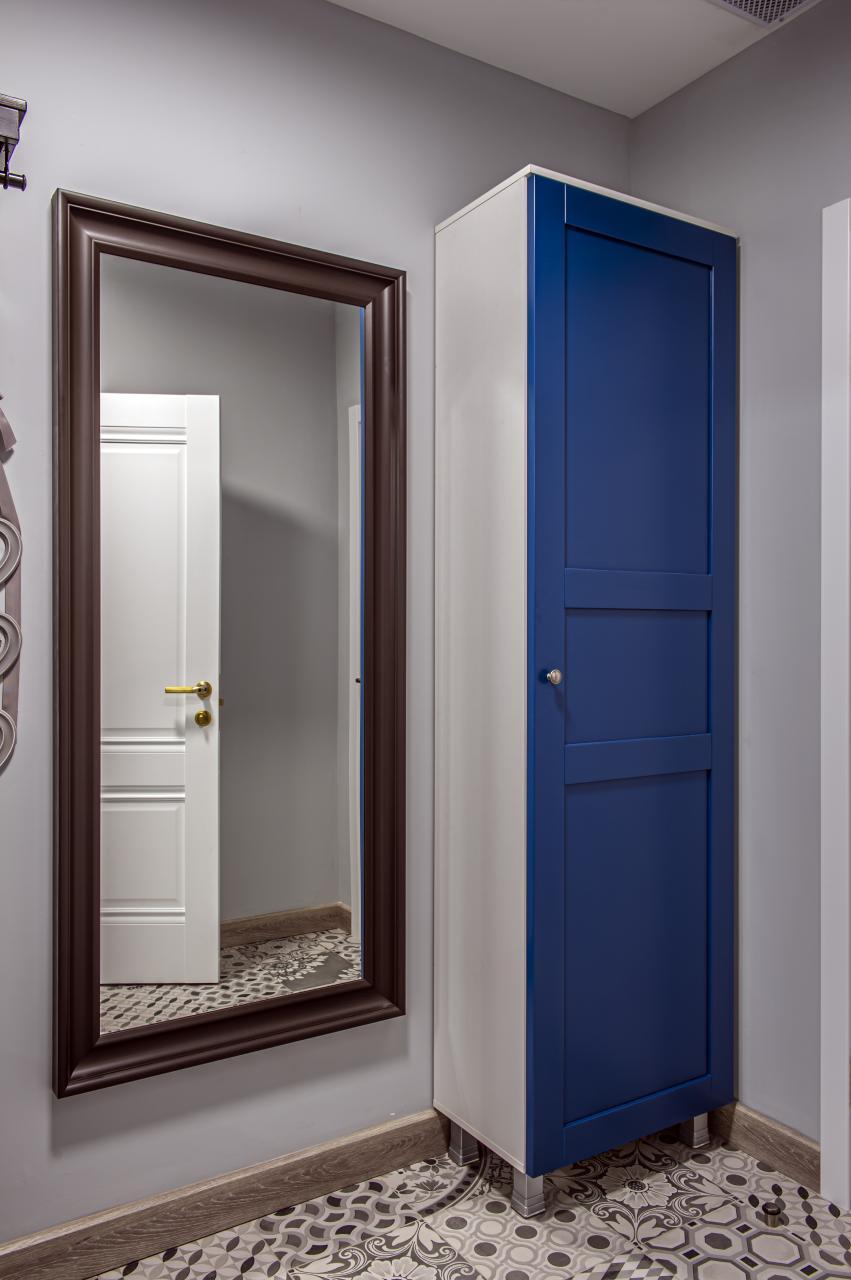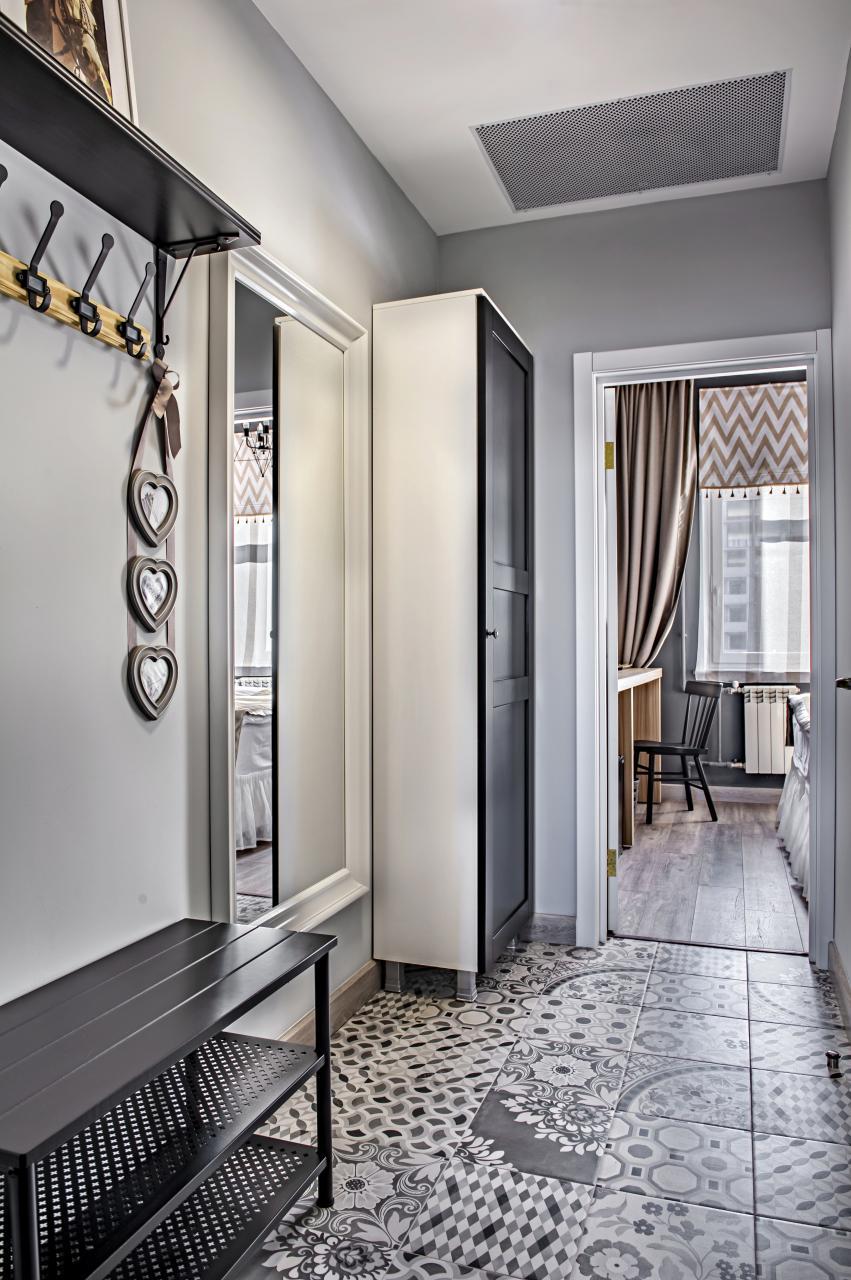 In the bathroom, the author's consoles for sinks, made of natural wood with an all-metal frame, painted in a soft black tone, attract attention. Another version of the consoles involves a combination of 3 materials: natural wood, artificial stone and metal. This design solution, despite the apparent brutality of execution, looks organic in the bright interior of the shower area.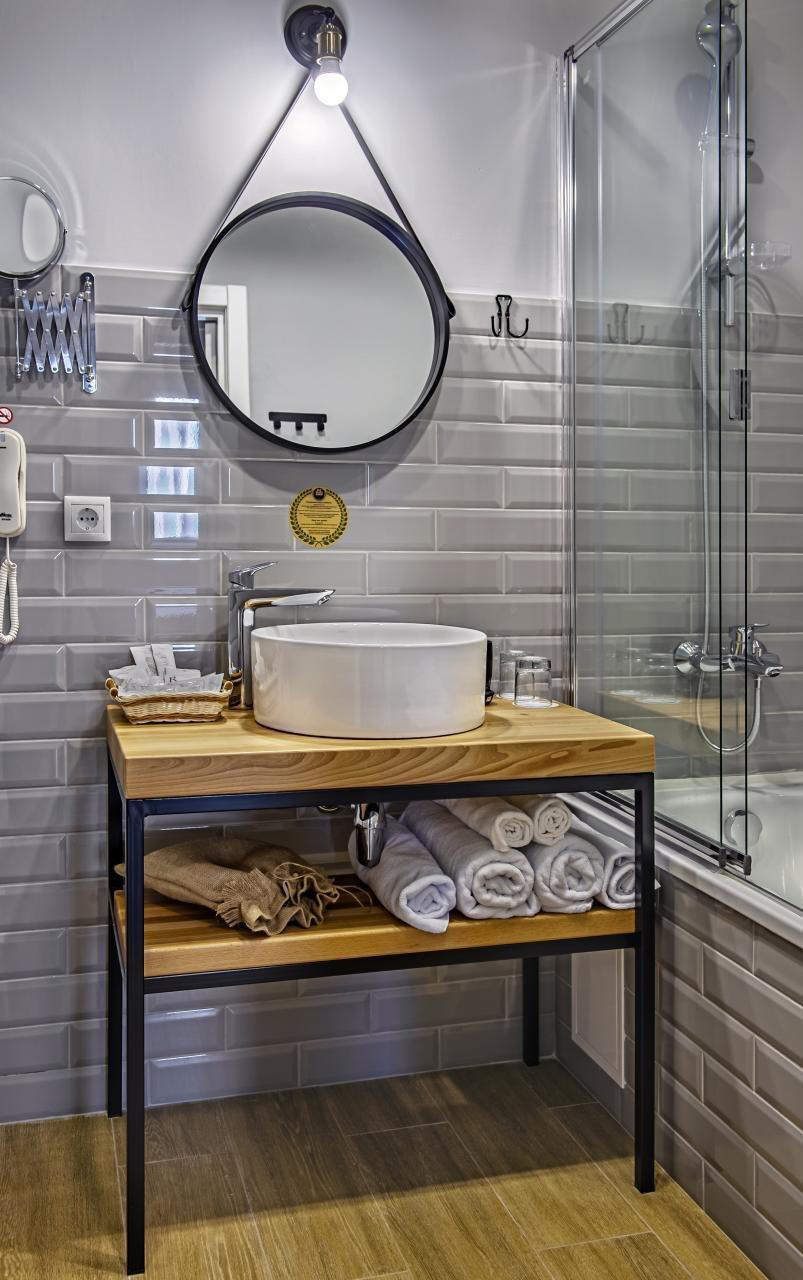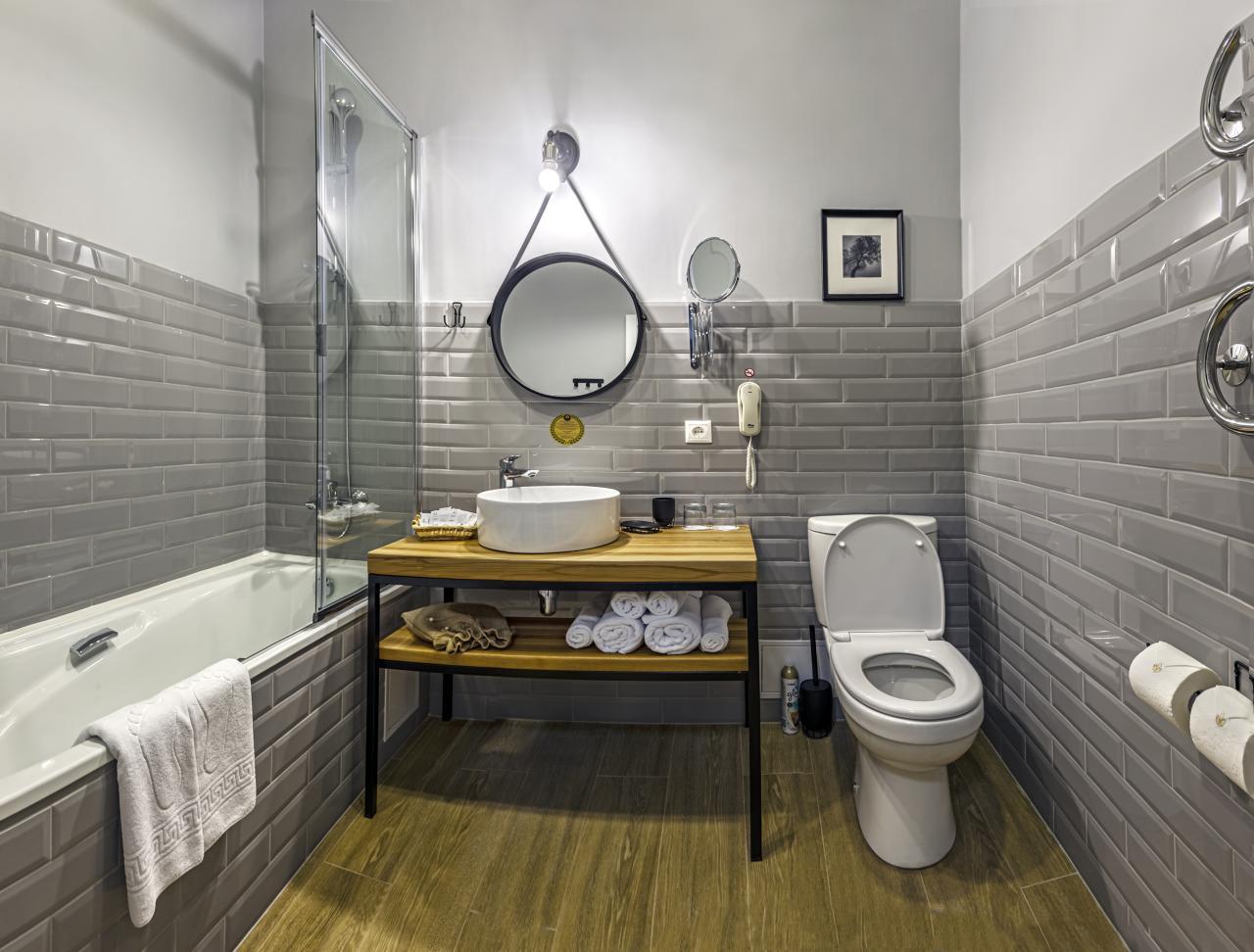 Special requirements for the design of the sleeping area of the room. This is understandable, because guests spend most of their time in it. Here a special place is occupied by an original composition of a laconic light wood work console combined with a comfortable chair – a mini-office for those who do not forget about business even on vacation.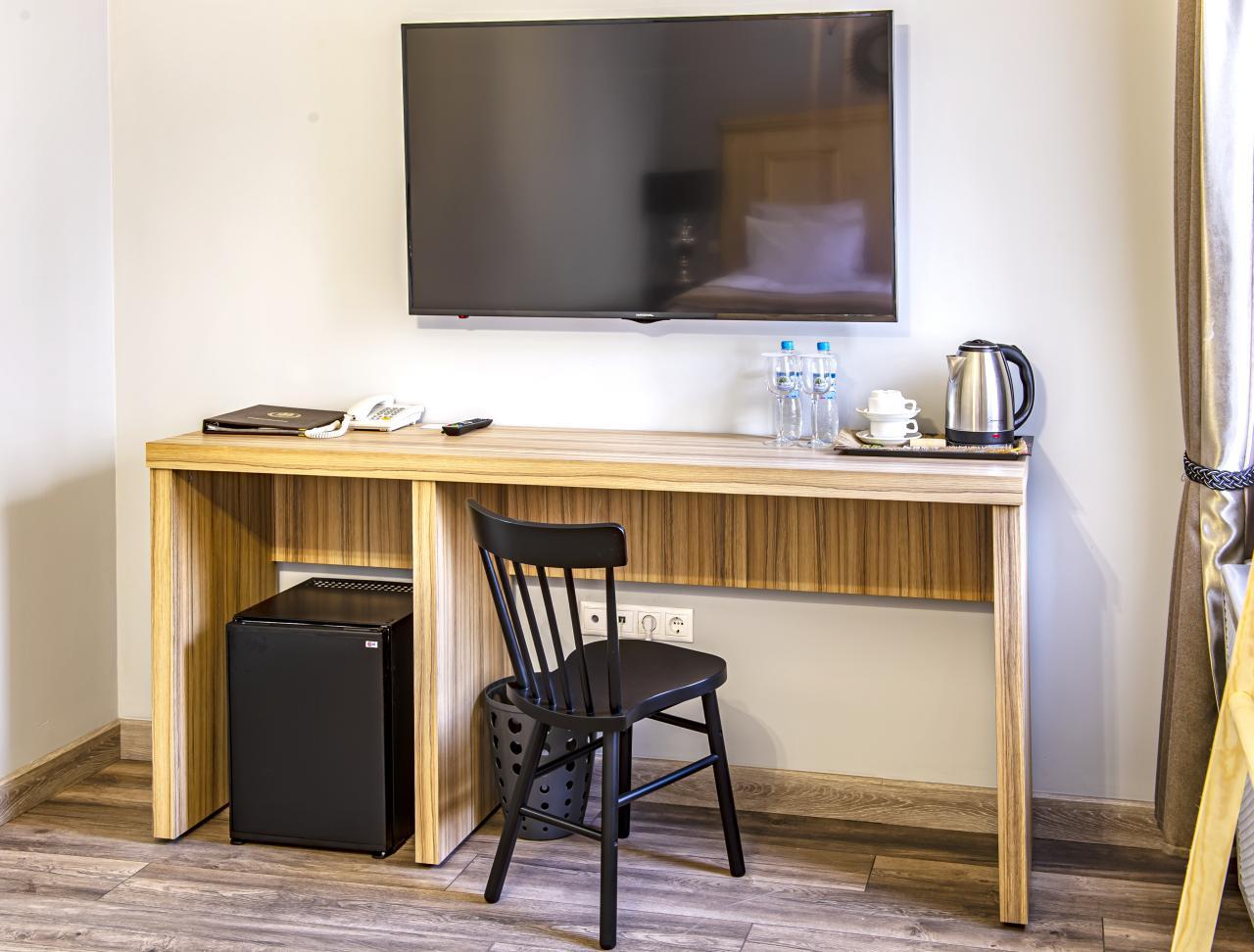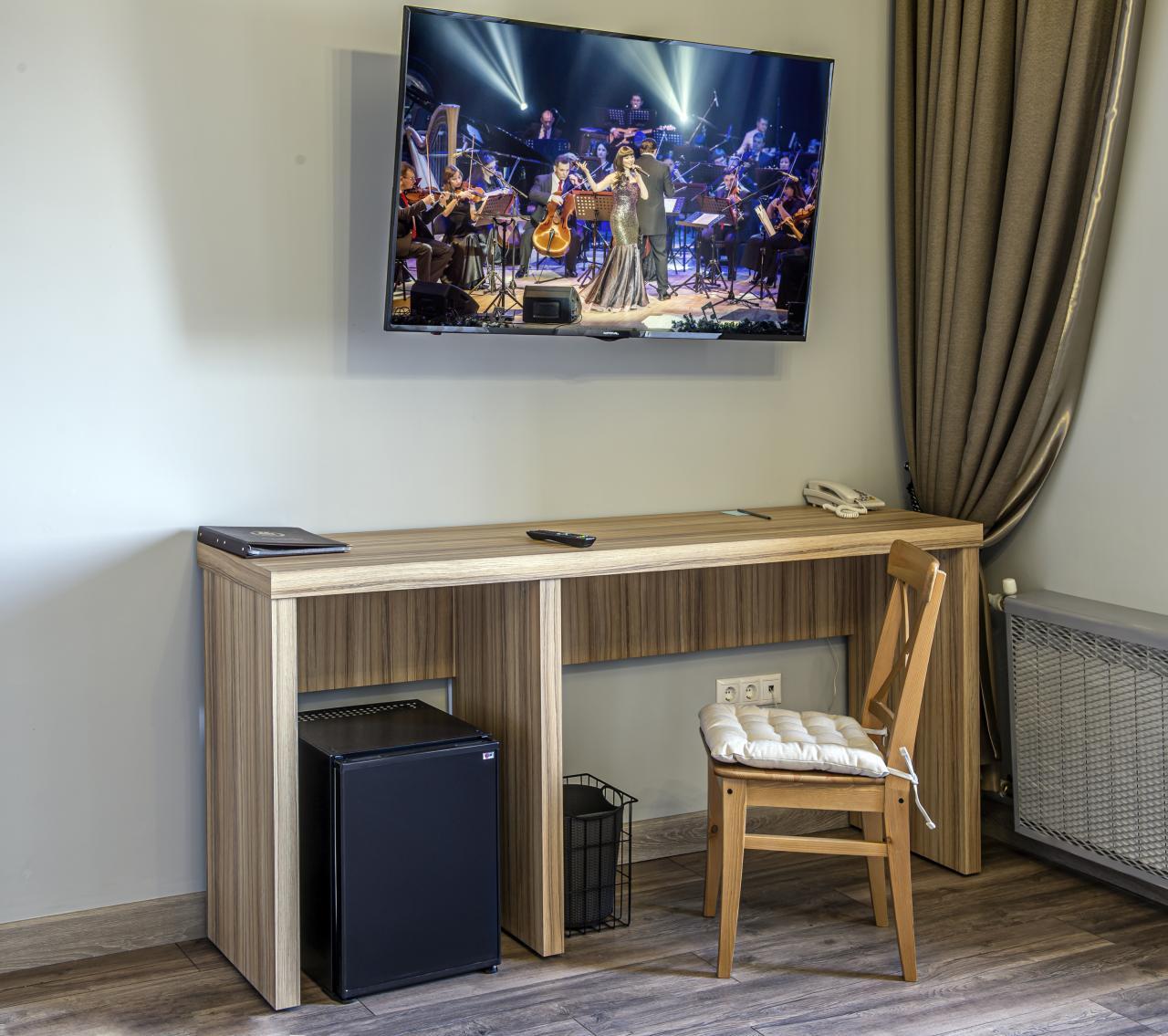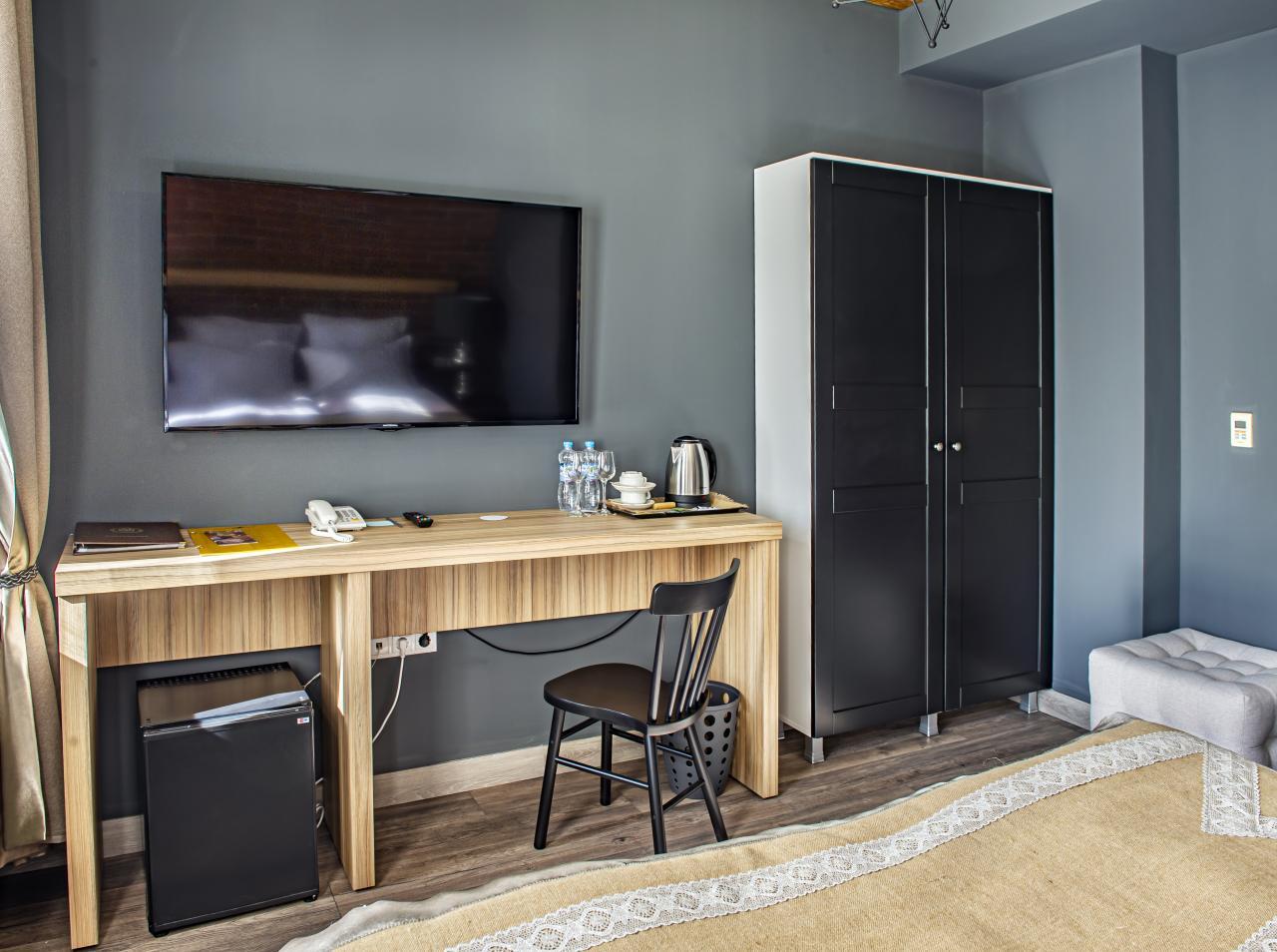 But for those who prefer to relax in comfort, soft puffs of cubic shape are provided. This form allows the guest to "play dice" by designing their own lounge area. And the size of the pouf "Maxi" - use them not only as a comfortable alternative to the chair, but also as a full - fledged replacement for the chair and even the couch.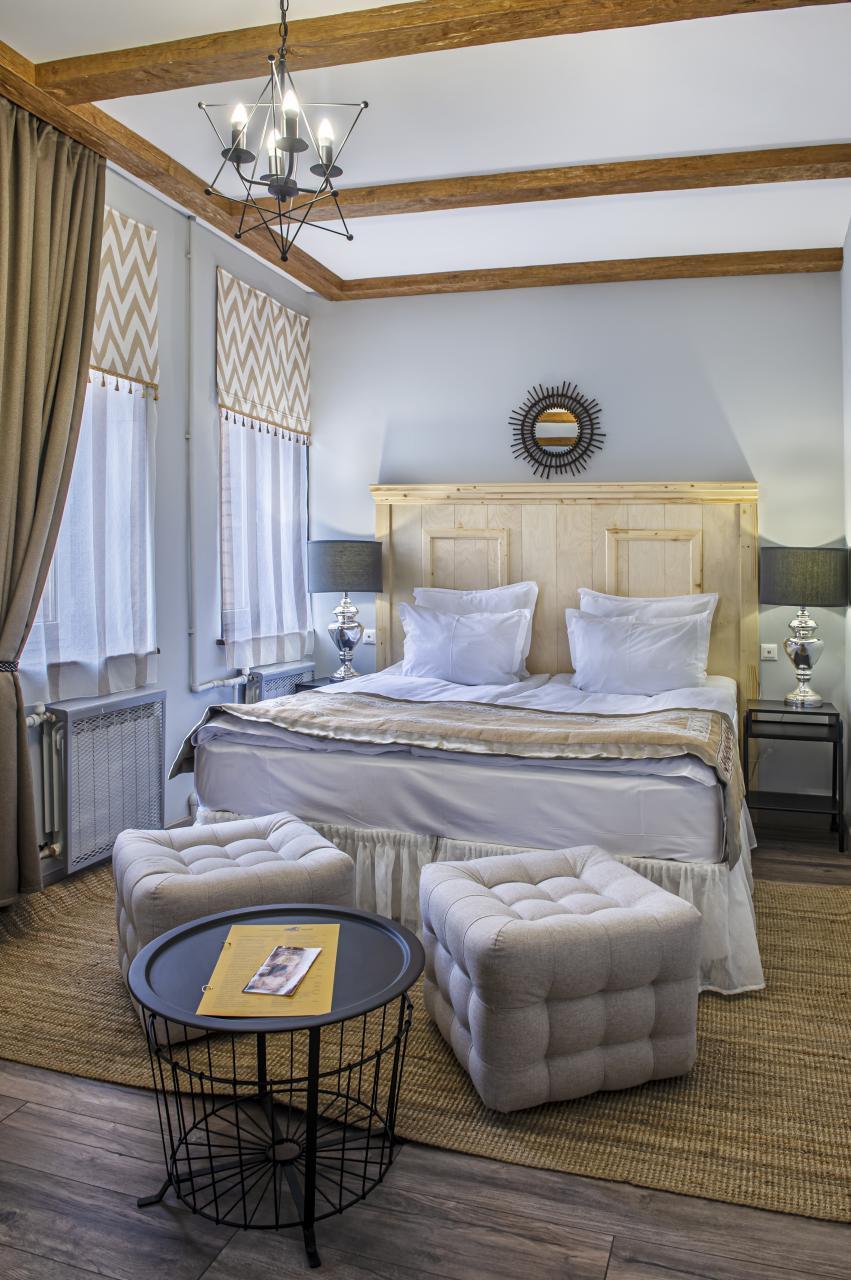 Burger King
Implemented another project for the restaurant "Burger King".
New restaurant opened its doors for the passengers of the Kazanskiy station.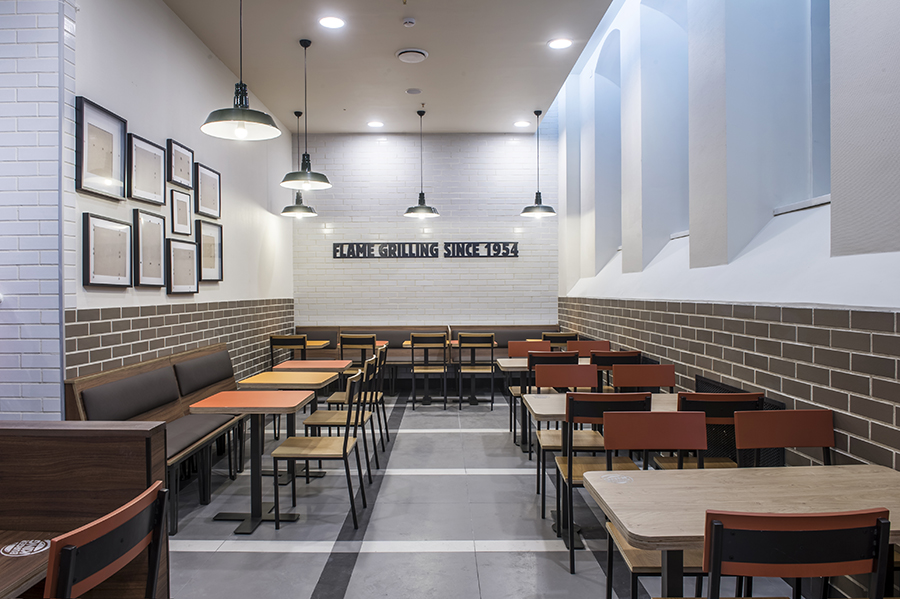 The minimalist style of the restaurant is complemented by bright accents: yellow and orange plastic tables for two or four people, wooden chairs and walnut-colored partitions.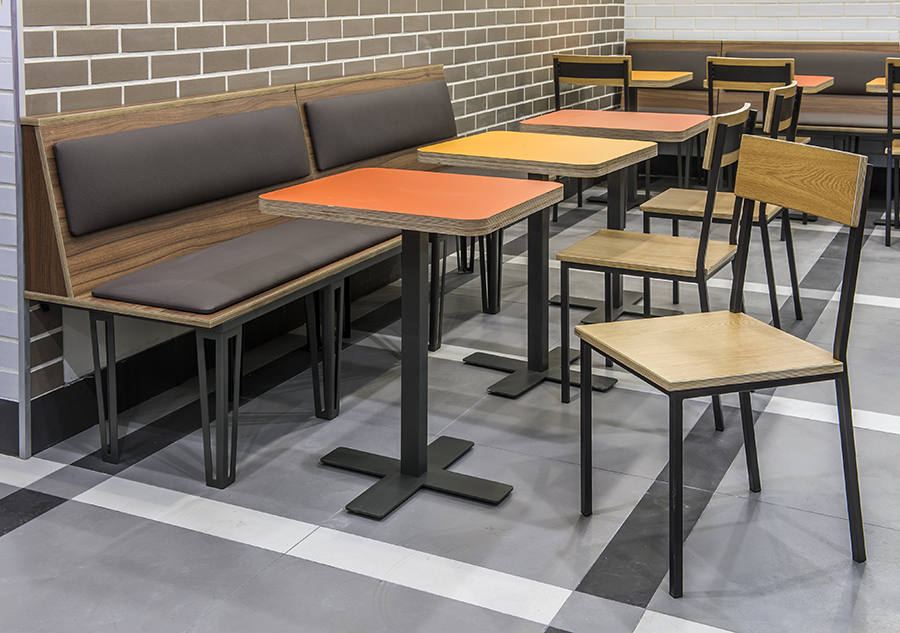 Fabrikant like no one else, understands what furniture should be used for restaurants and catering. Special materials for tables and chairs combined with an experienced approach and the latest technology, will allow you to say - "these chairs will handle everything"!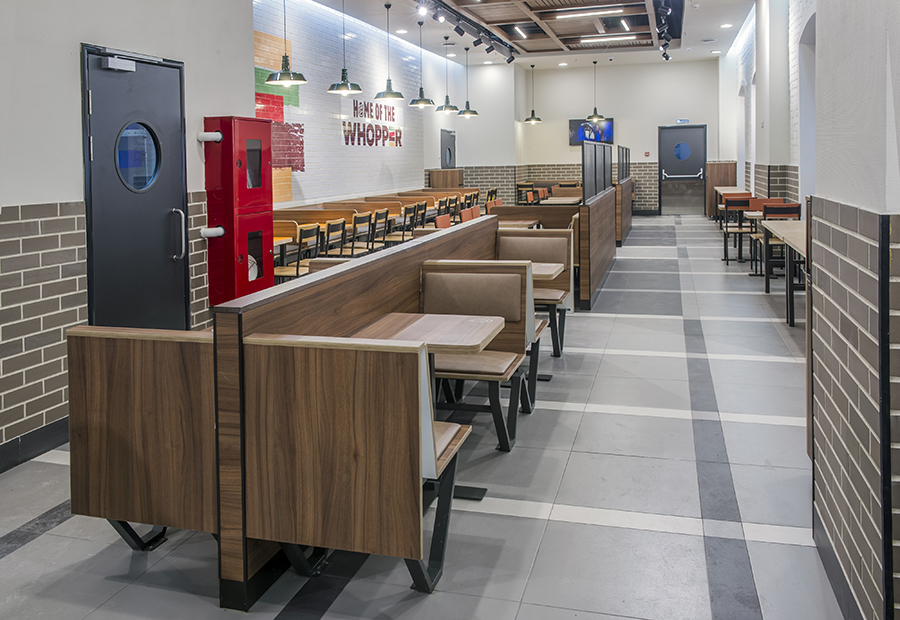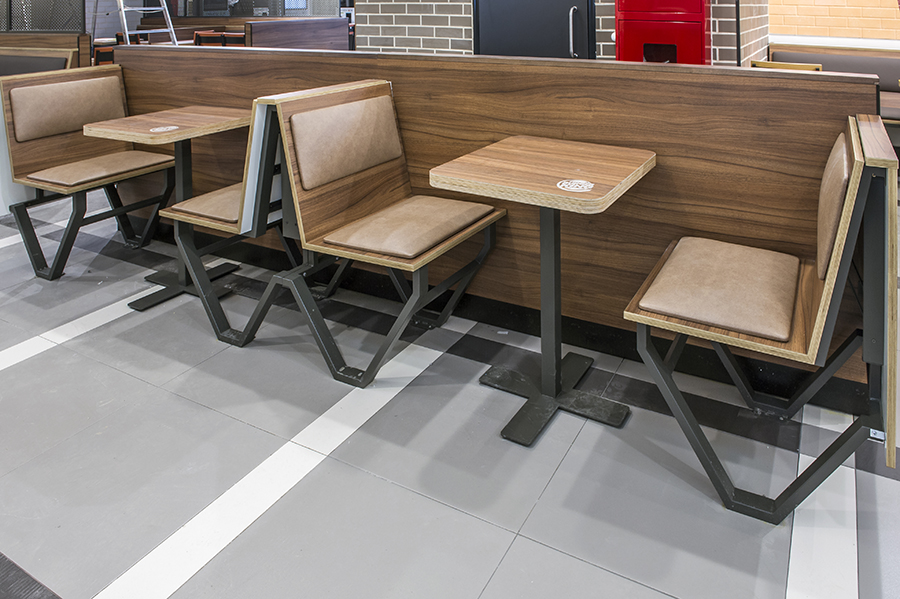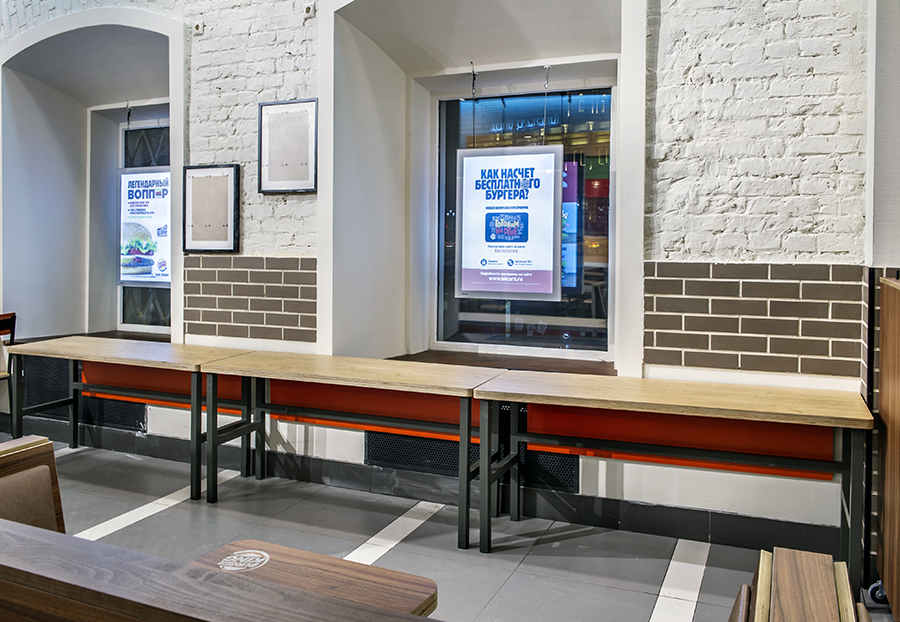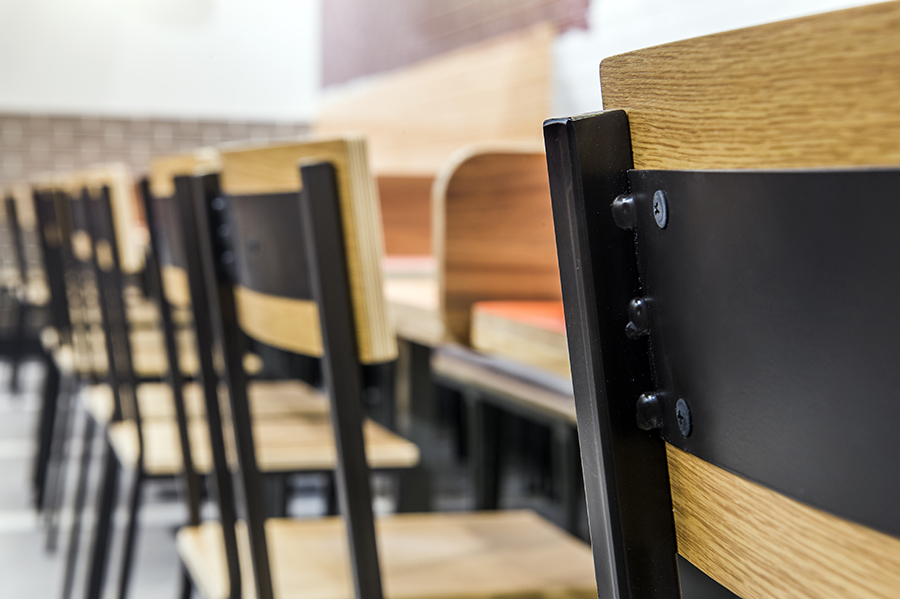 Milling the logo on the tables speaks about the individual approach for each customer.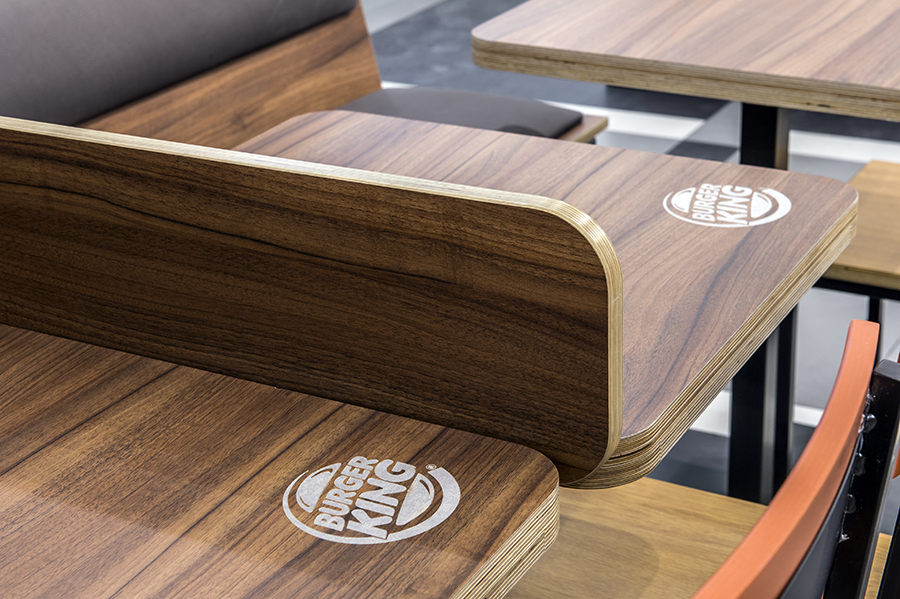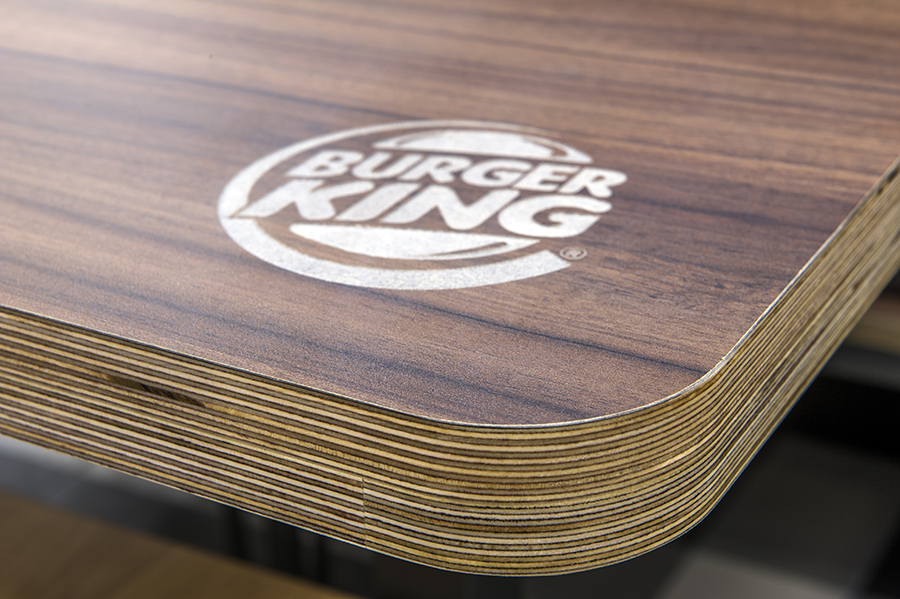 Burger King
When a visitor comes fro a diner, he usually orders his favorite soda, sandwich and sits down at the table, without even thinking how many people have worked to make him comfortable, BUT there are a lot of such people. And many of them work with us.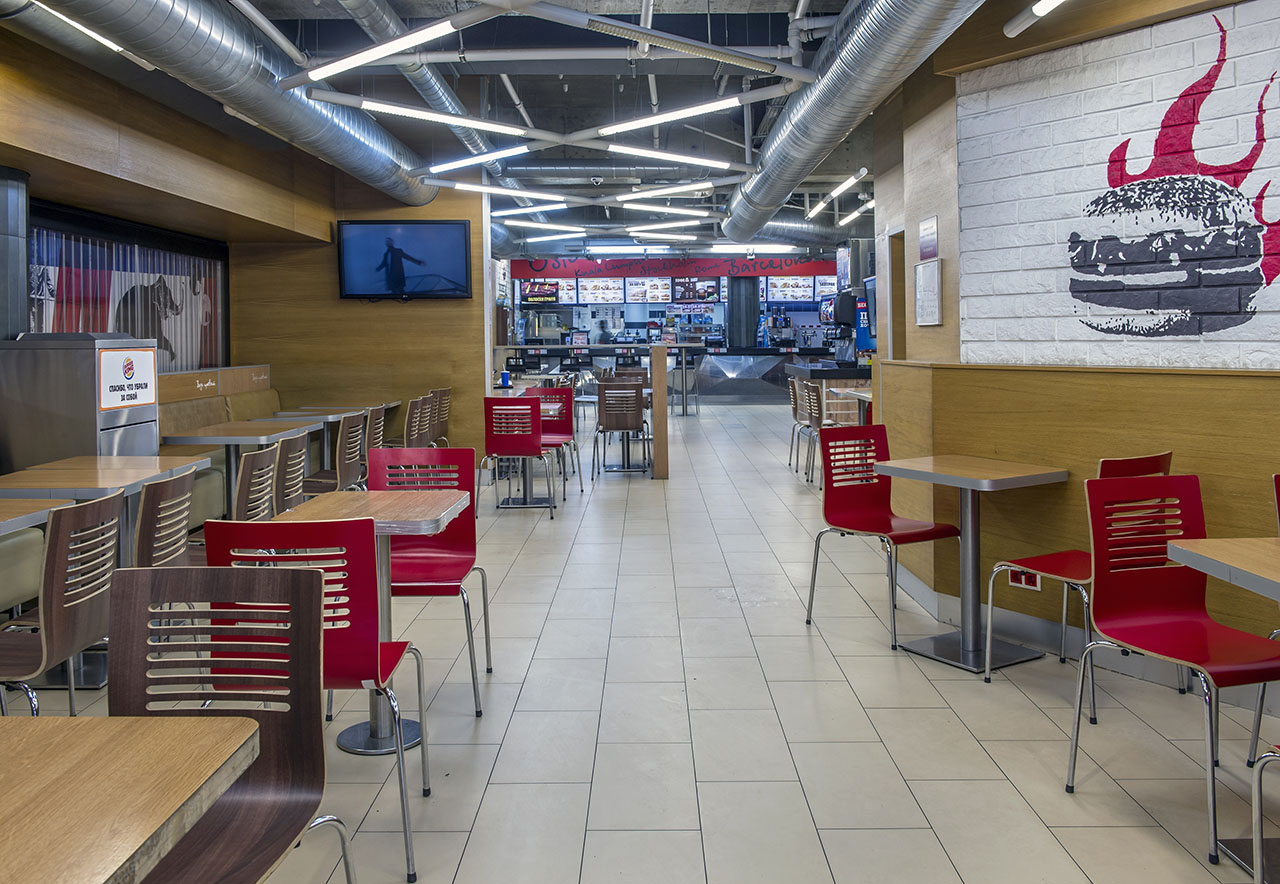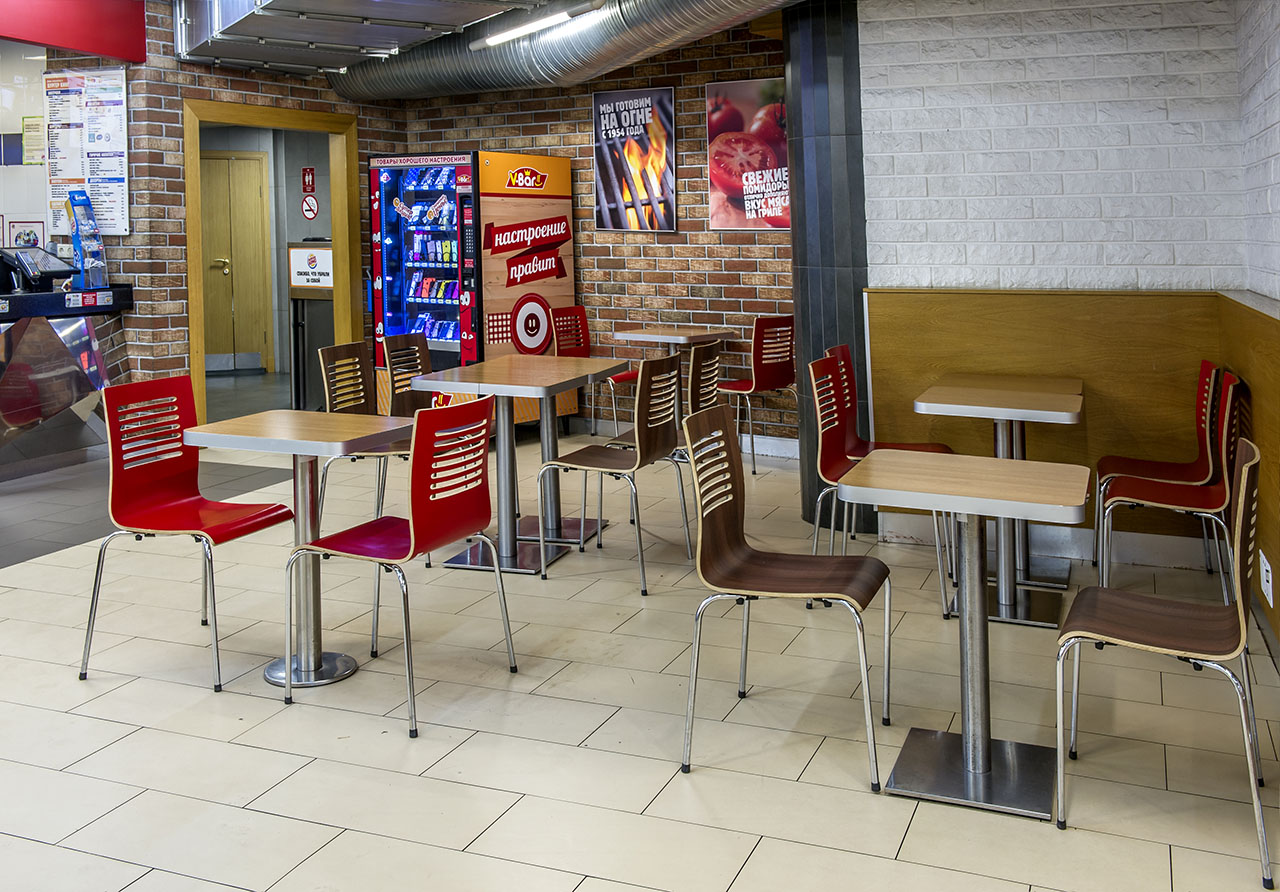 Fabrikant has been the official supplier of chairs for Burger King restaurants since 2015. Especially for this international company in Russia 2 models were invented. One of them is «Red».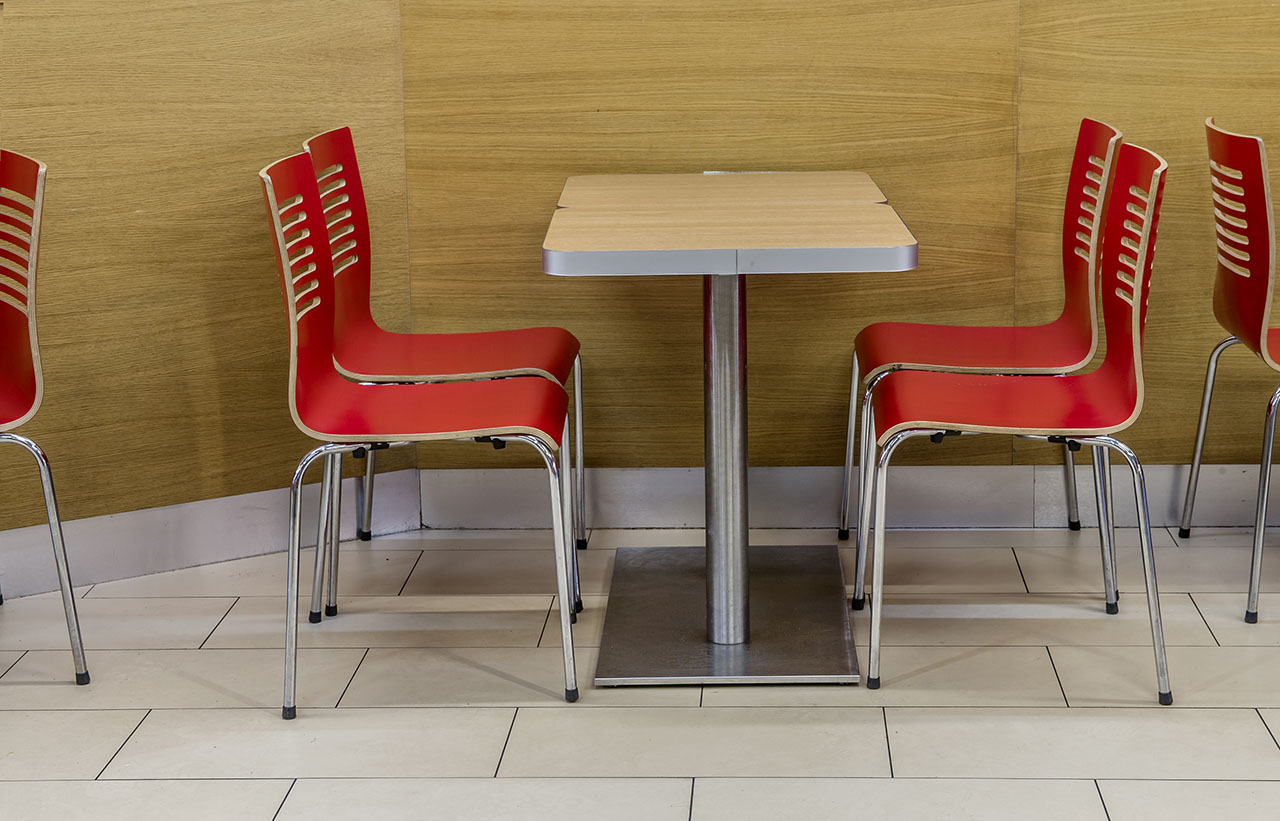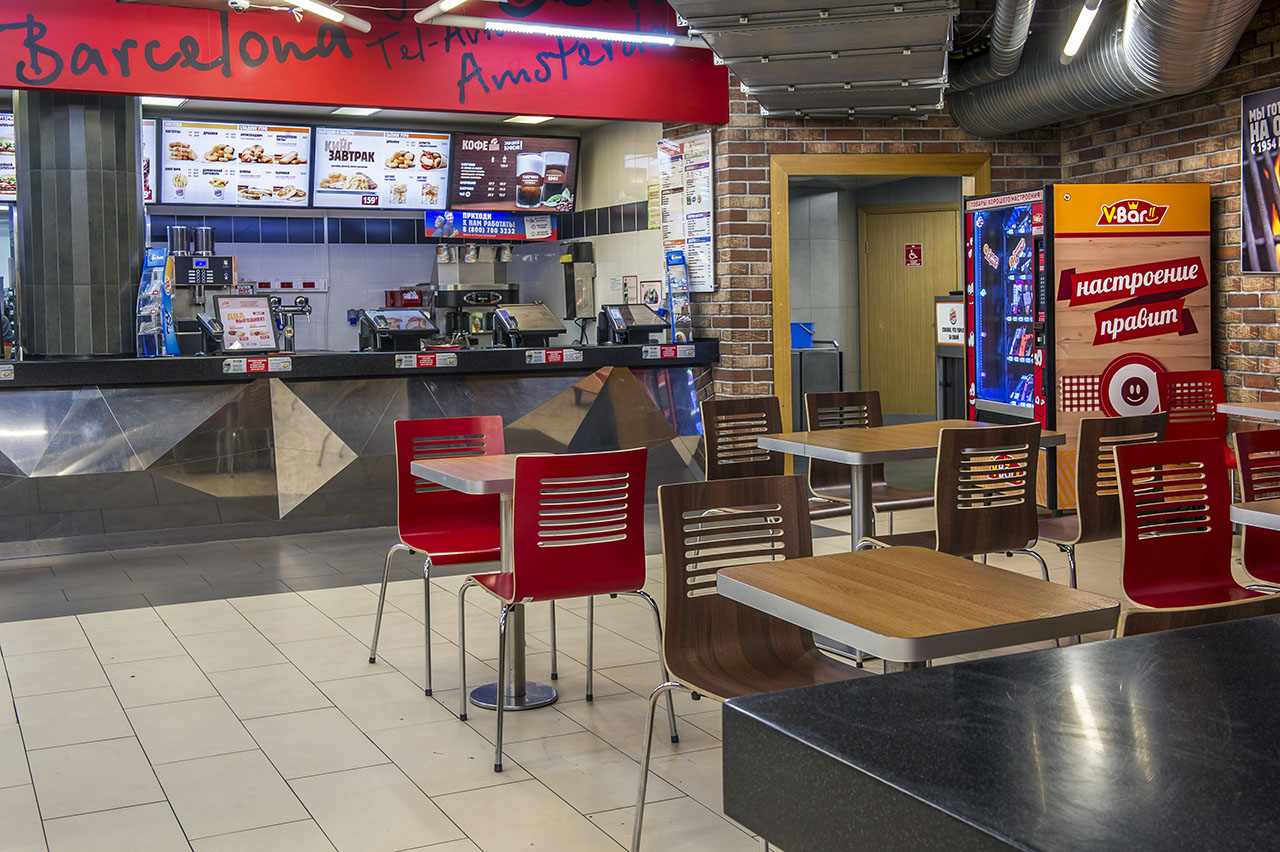 The chairs, installed in the Burger King, are made to be used in eating places. You can sit on them and get up a hundred times per day - they will surely handle everything!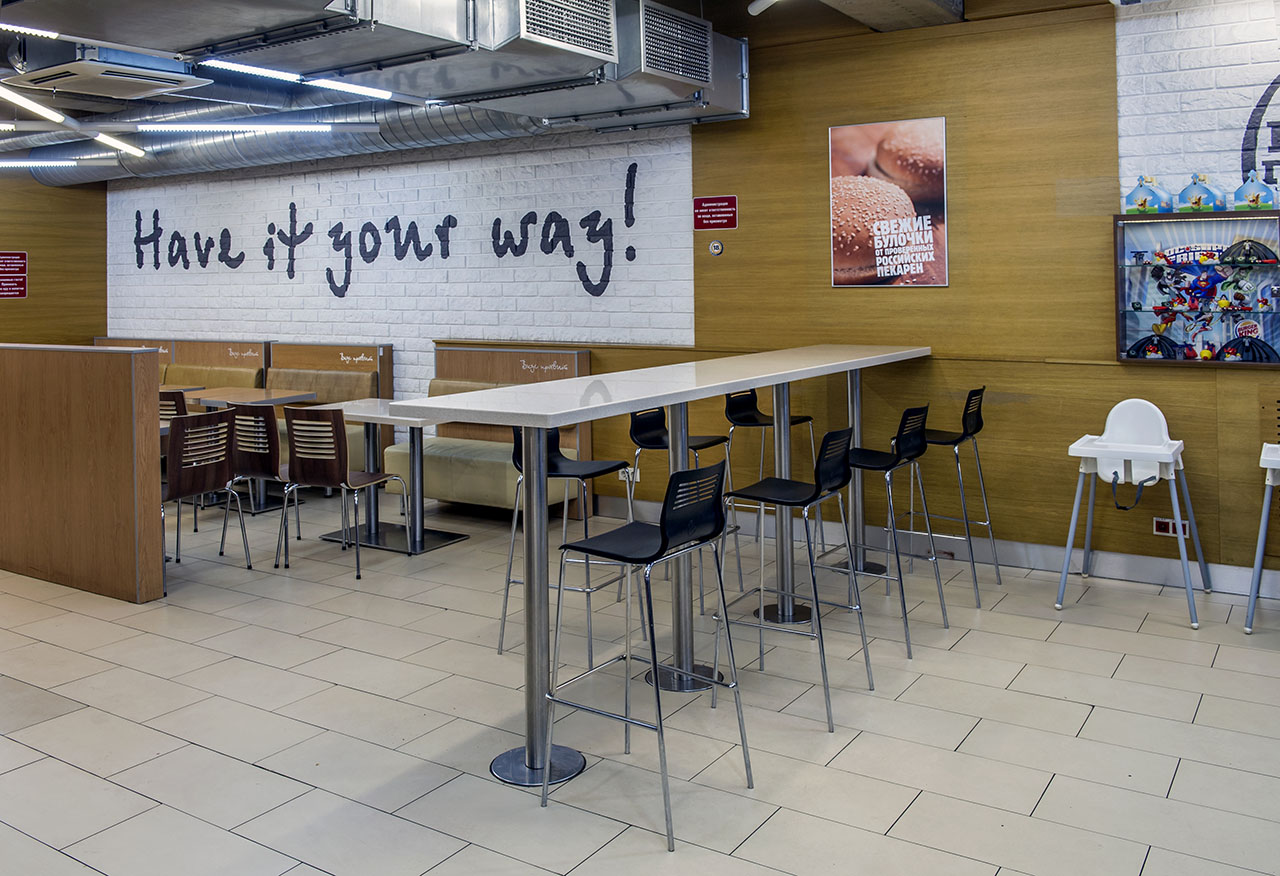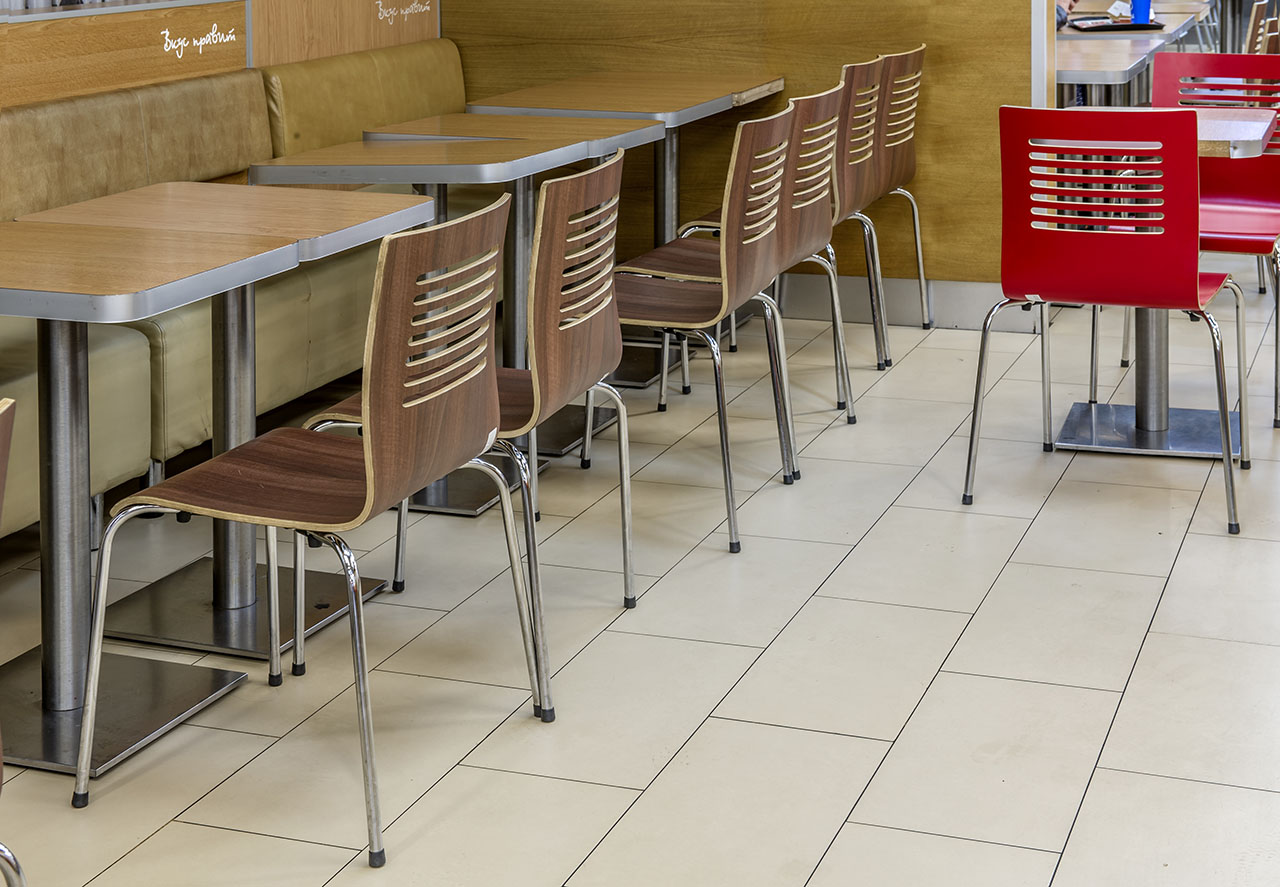 Geox
The Italian company Geox has been producing clothing and shoes for men, women and children for 25 years. When in 2015 this trademark came to Russia, GEOX annouced a tender for the trading equipment and furniture for all its shops.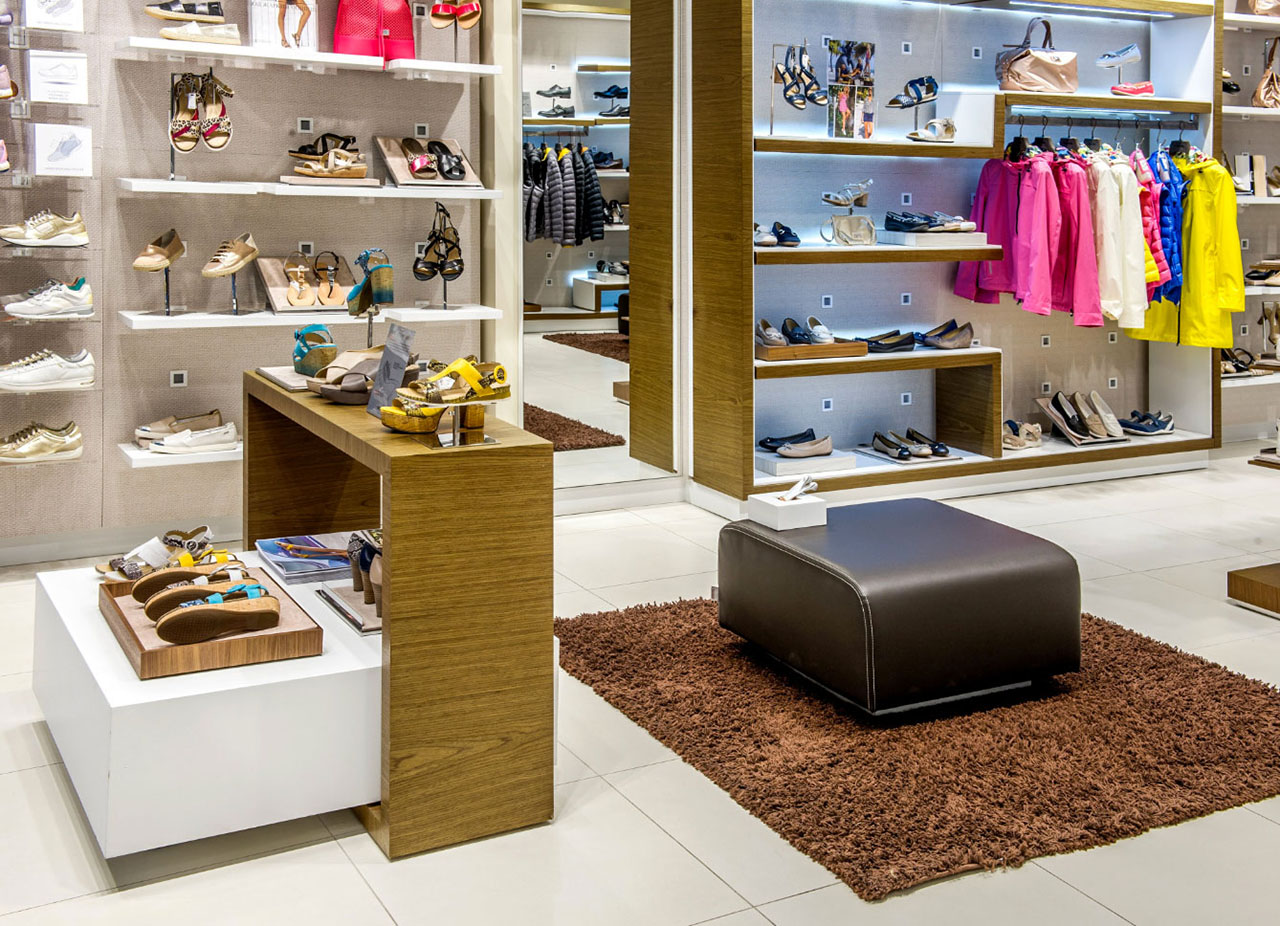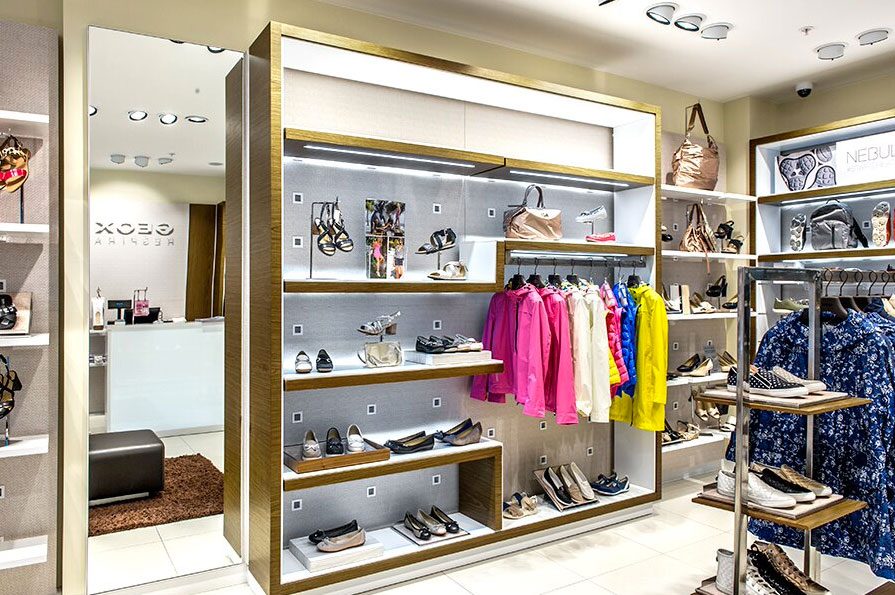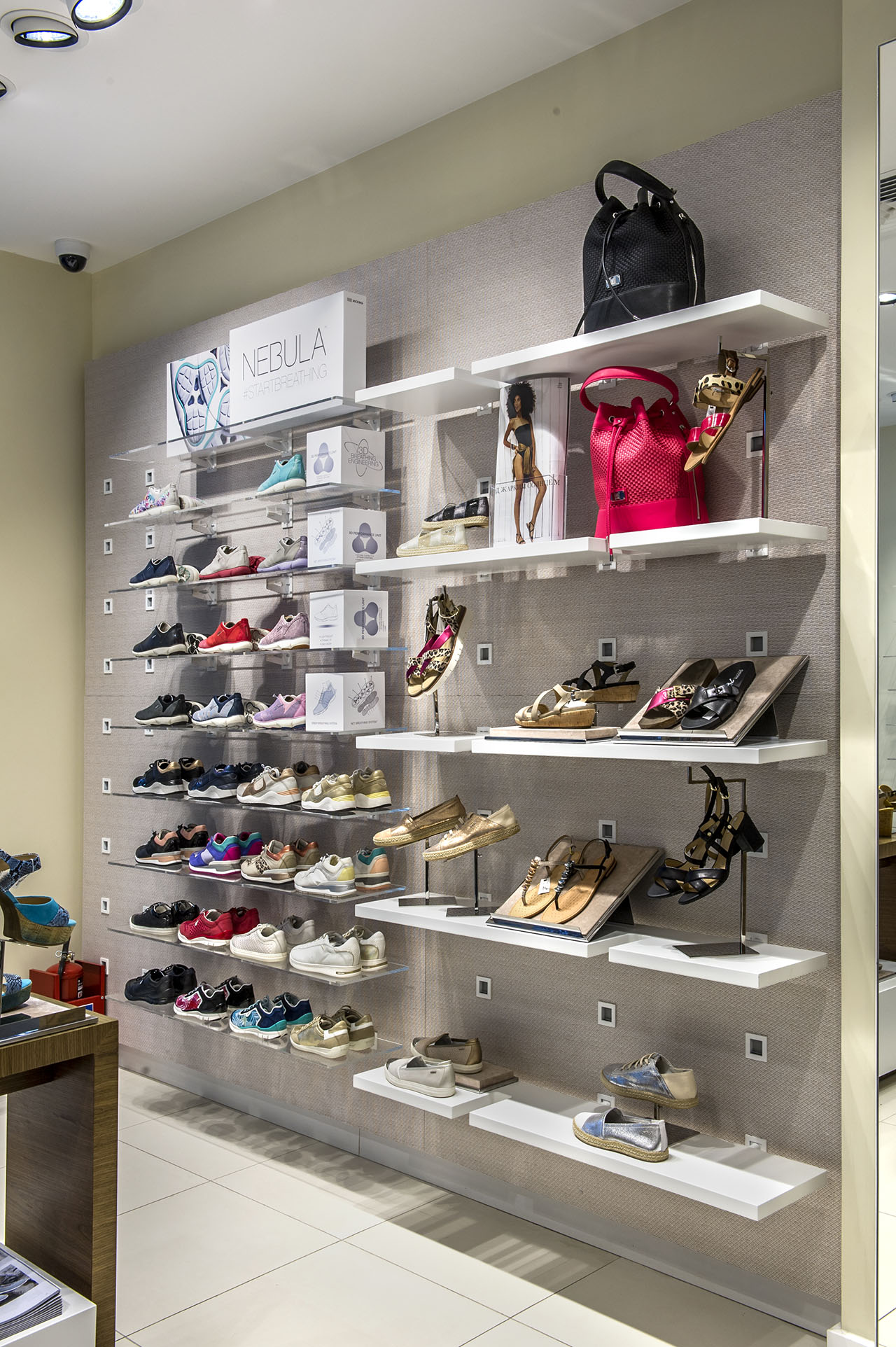 According to the results of the competition, we were selected as the only supplier and today we already managed to fully equip 18 Russian and 1 Mongolian GOEX stores. Among them there are different rooms - from small pavilions of 60 square meters to large salons of 120 square meters.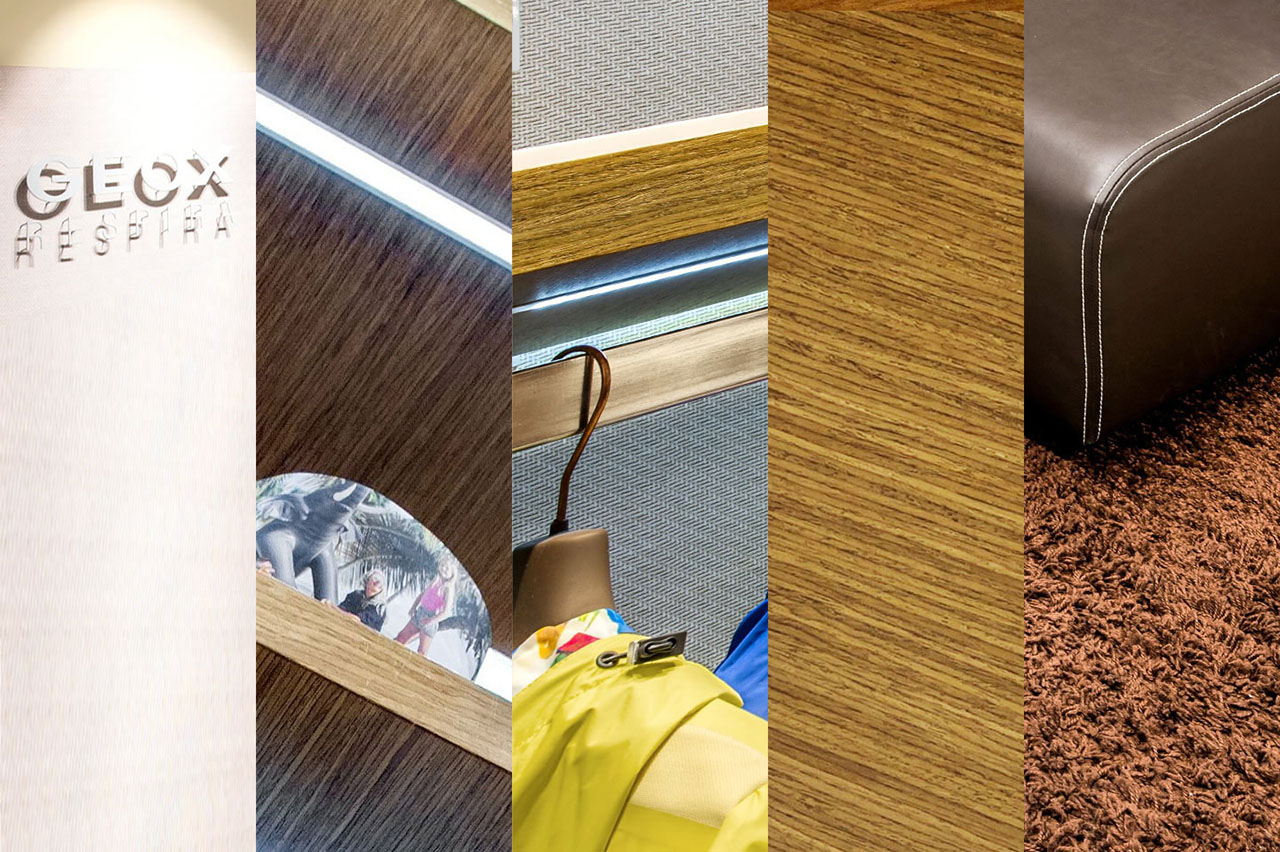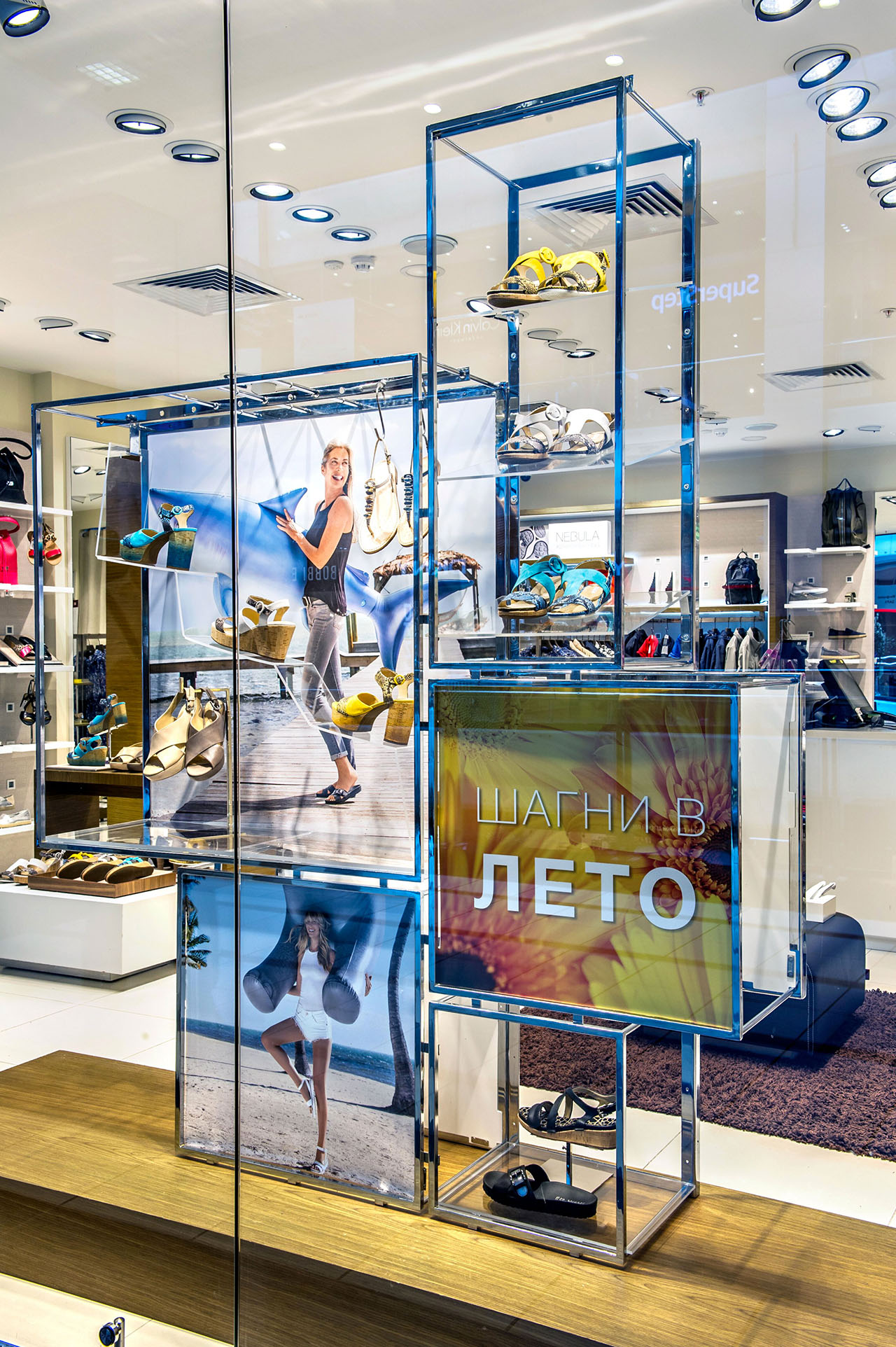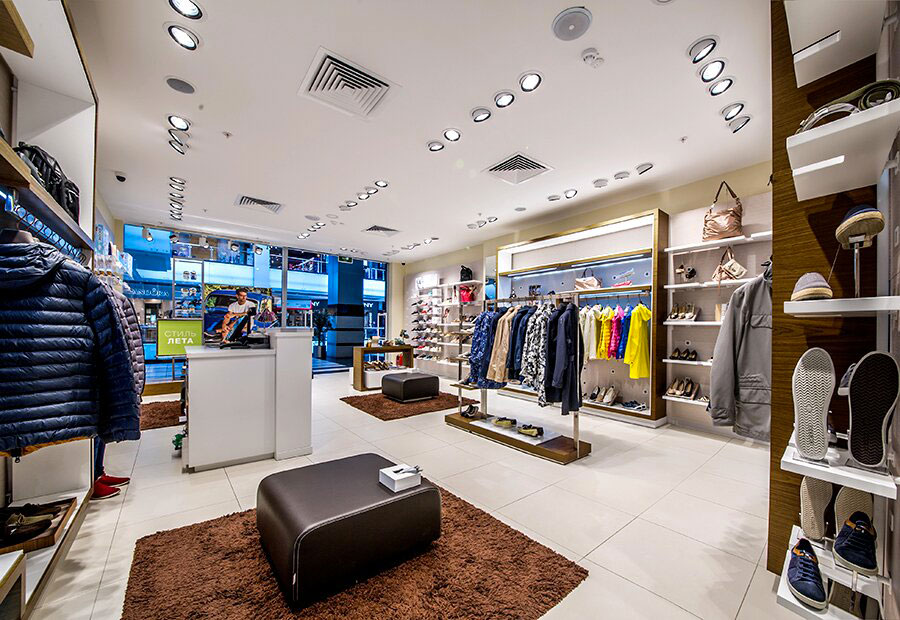 We produce all the necessary peise of furntiure, deliver them to the store location conduct the instalation for future store ourselves. The furniture is made of painted MDF, artificial veneer, plexiglass and stainless steel. As an aditional accessories fabric, carpets and curtains are used to finish all decor of the store.
Nissan
Partnerships have been associated with the Japanese auto giant and "Fabrikant" for over 4 years. Since then, we have implemented in total around 40 joint projects. Their geography includes both the territory of Russia and the cities of Kazakhstan.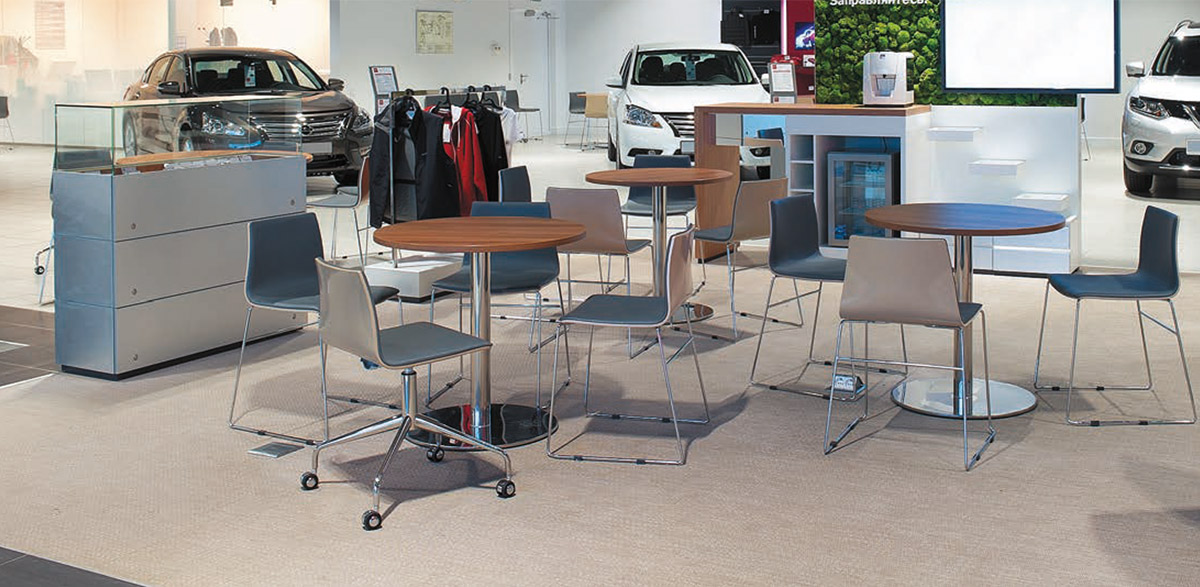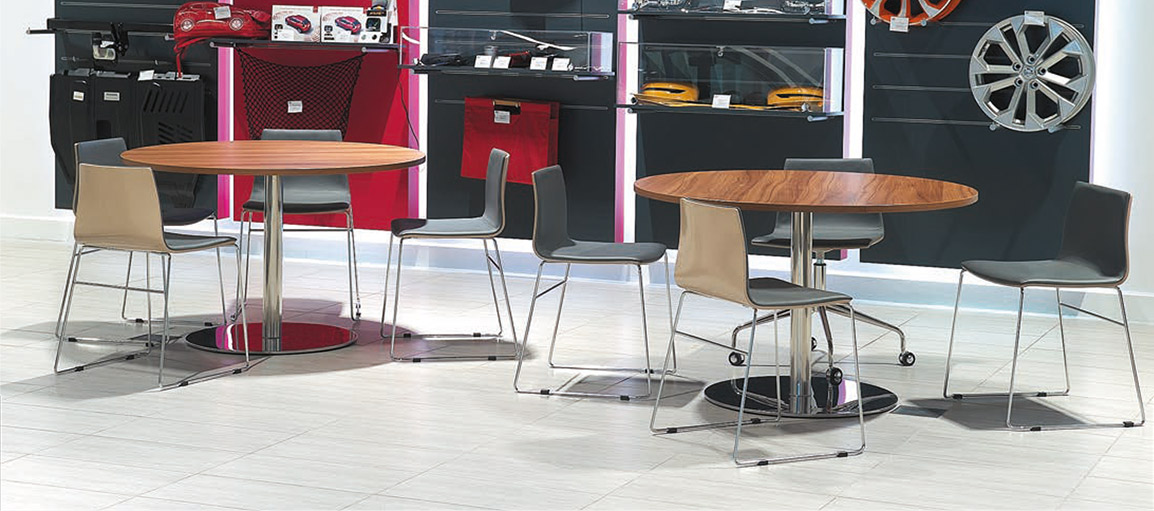 In the framework of the ongoing cooperation, we are making furniture according to the drawings of European designers and architects. In production of such furnture many complexe materials are used that are considered to be difficult for industrial processing.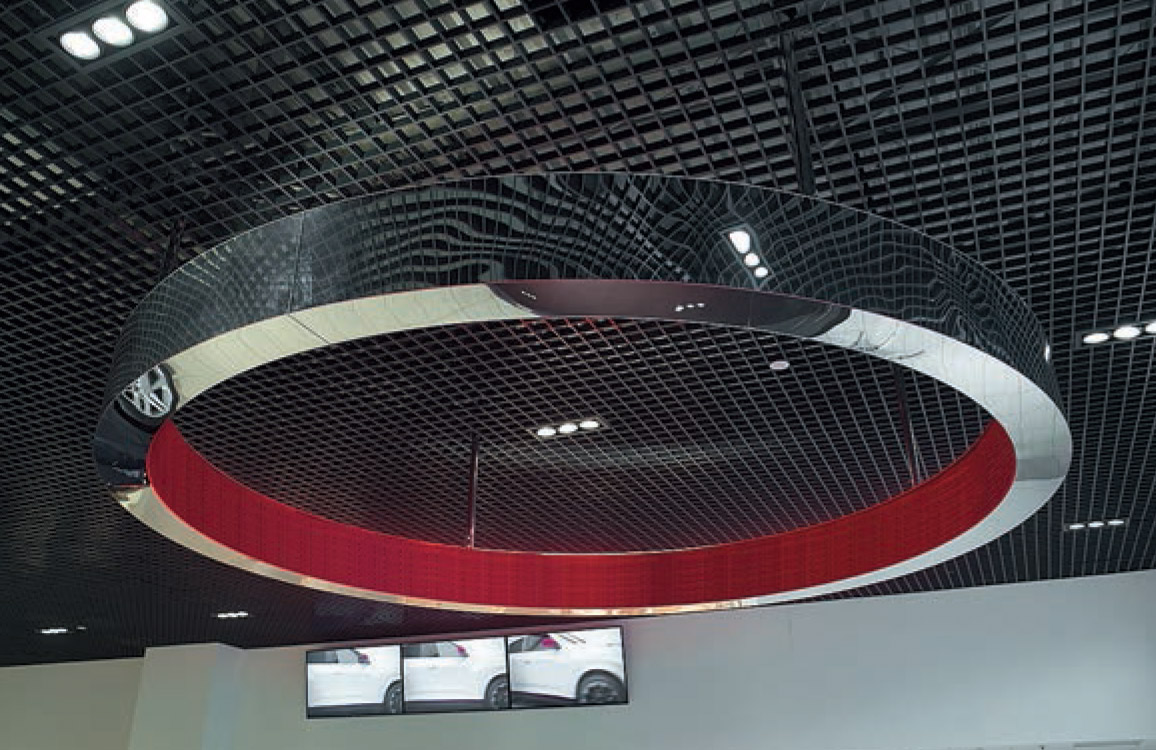 As a result, in the offices of Nissan appear great products made of metalized plastic, veneer, artificial stone and hanging elements with multimedia. For extraordinary furniture sometimes even natural moss is used!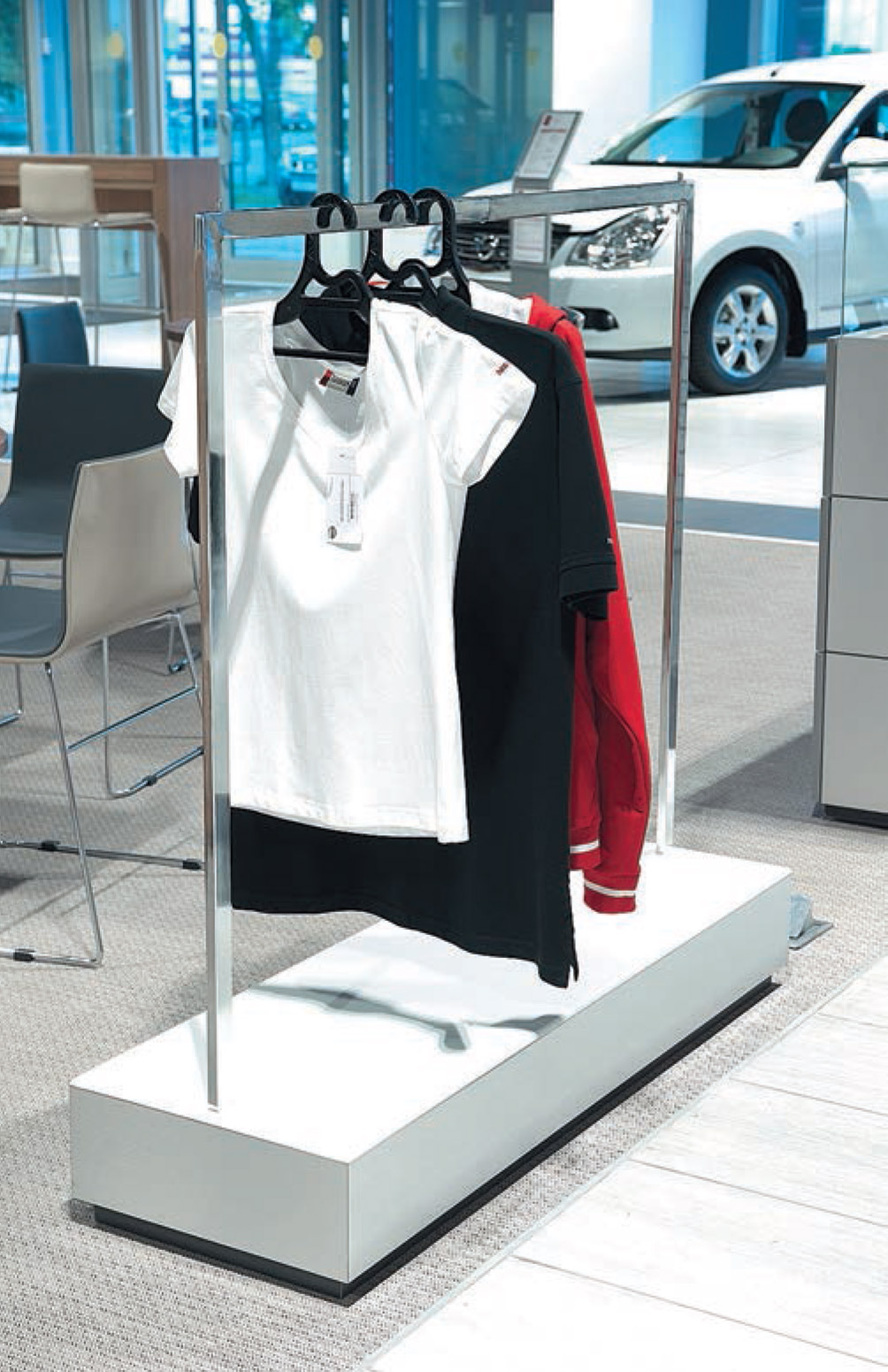 The main models required by the car company are «Noris», «Noris B» и «Noris G».
Vinburger
Vinburger bar - a nice place with delicious burgers, favorite drinks and friendly atmosphere.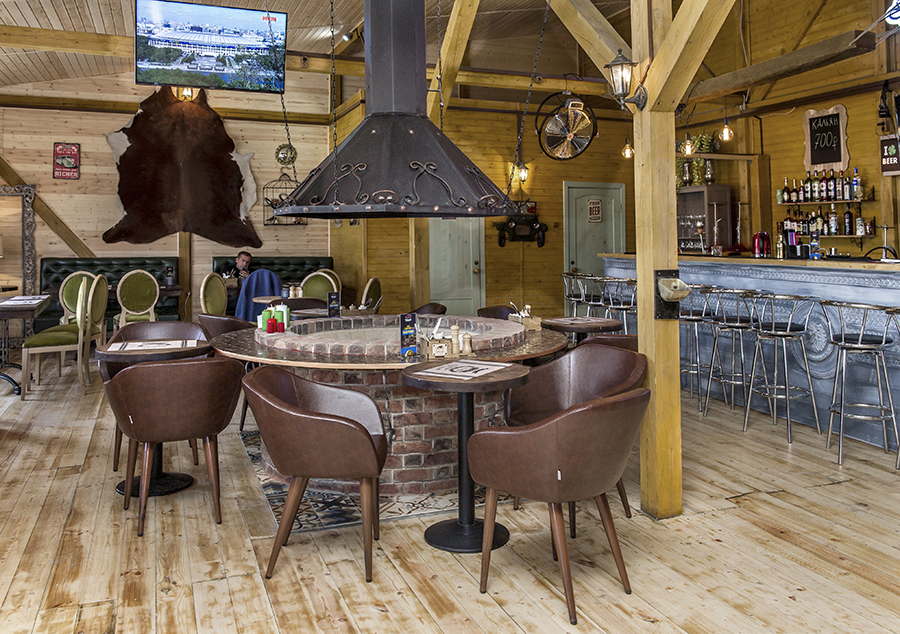 This summer, many guests came to cheer for the Russian team of the World Cup. «Vinburger» was equipped with furnutre produced by FABRIKANT to make staying of its visitors confortable and pleasant. Guests appreciated the Koko W visitors' chairs, which fit perfectly the interior of the bar.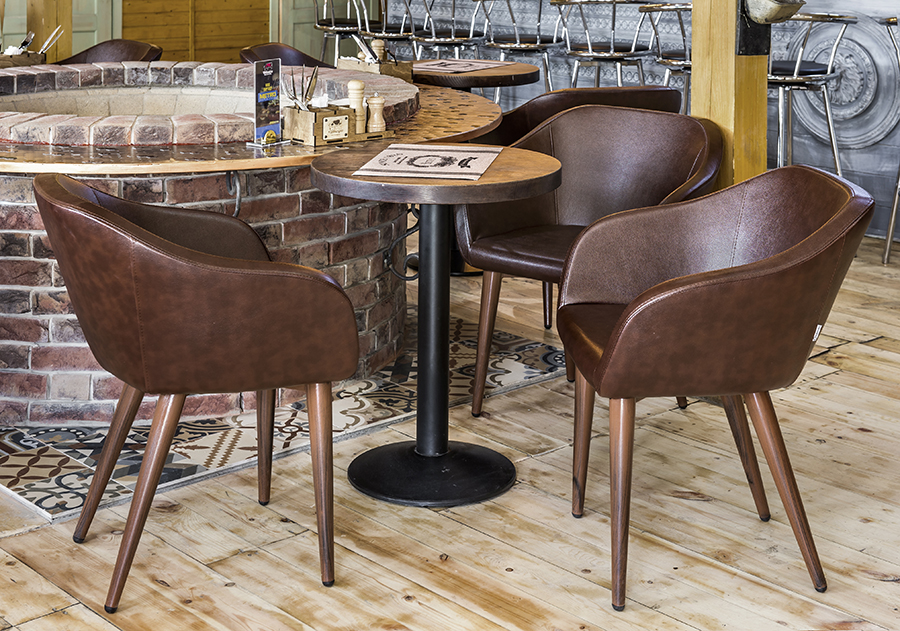 Коко W is made of brown artificial leather and supplemented with imitationed of wood legs. Selected colors and textures is exactly what you need in order to emphasize the simplicity and comfort of your favorite bar. Characteristics of the used materials guarantee a long service life of the furniture.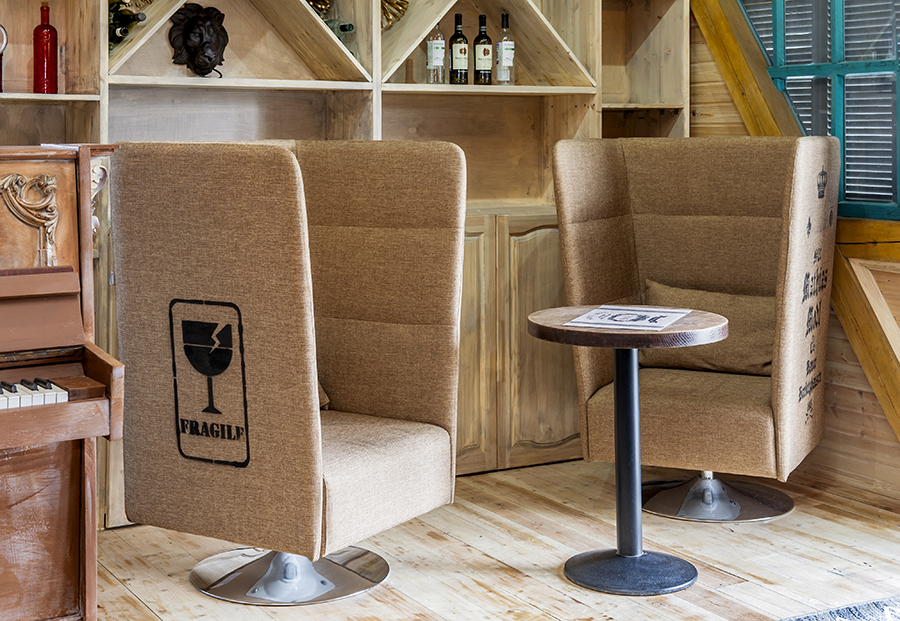 To enjoy the nice private communication we invite you to try Marie family set. Mari is a chair with a high back and rotating base with the table.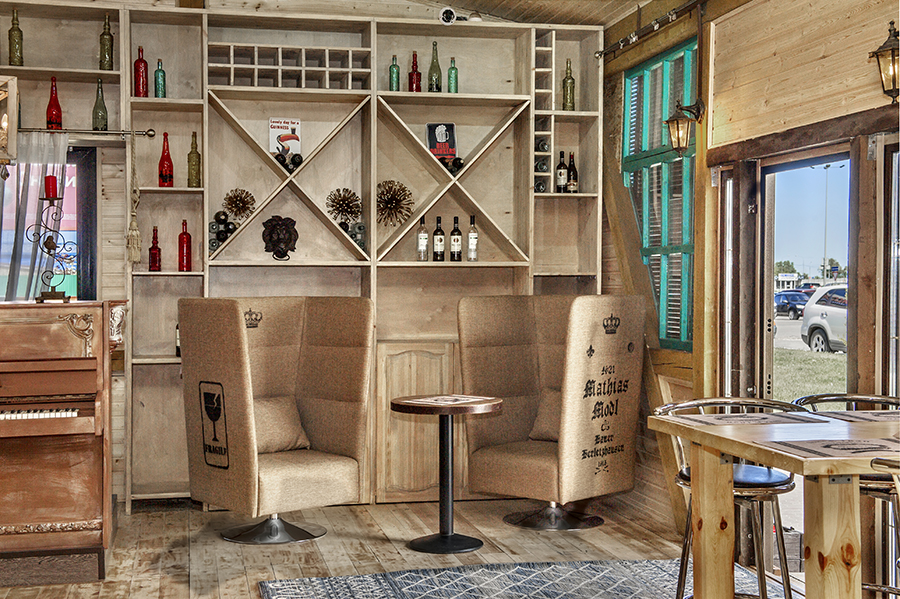 Sitting at a round table in this chair, you feel sequire due to the high back. The sides of the chair hide you from prying eyes and allow you to fully concentrate on your interlocutor. The twisting mechanism that Marie is equipped with brings a bit of romance and ease conversation.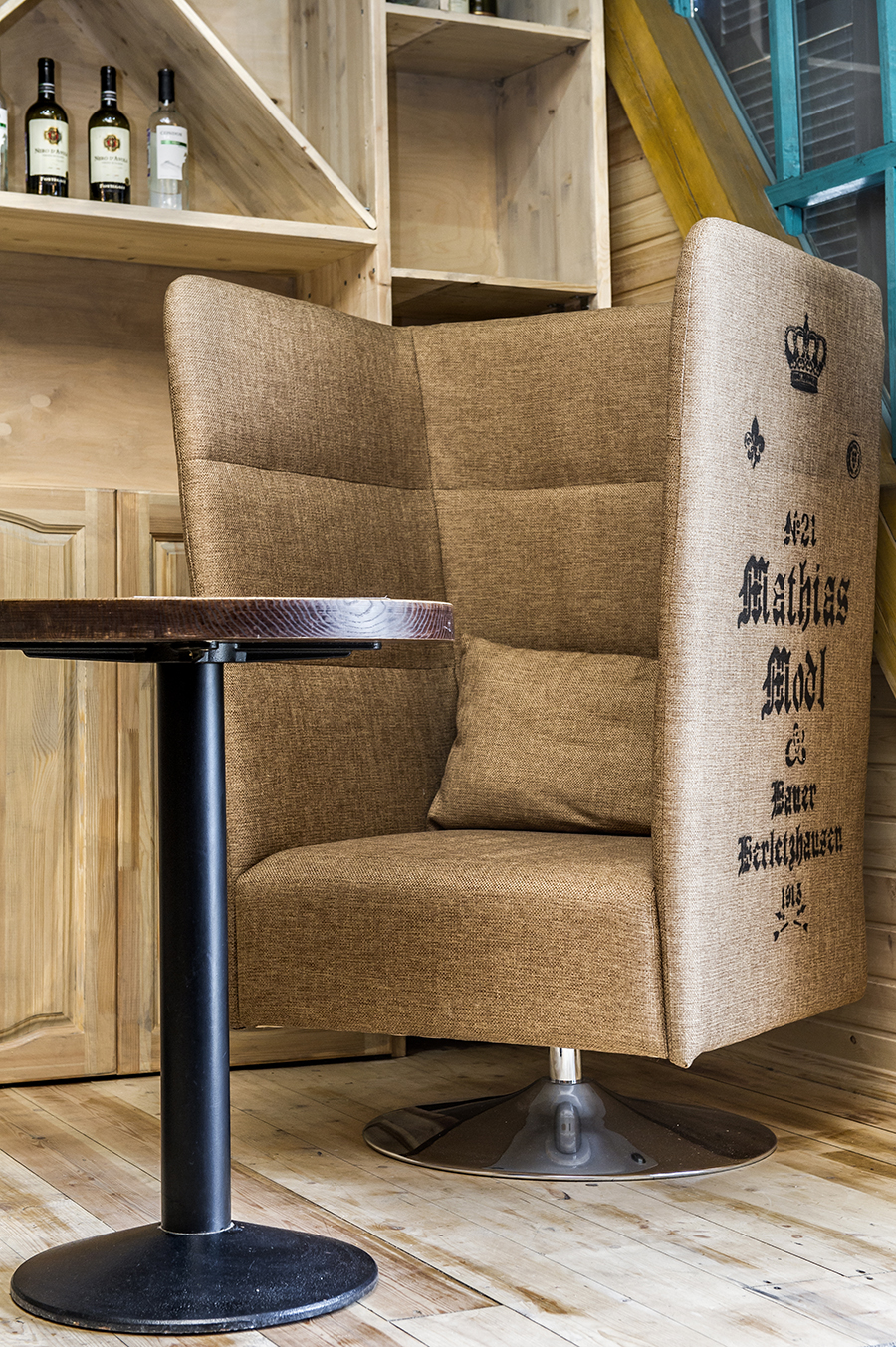 The upholstery of the chair is made in Dublerin fabric, which practically does not get dirty and is pleasant for touch. In general, this is what you need for a cozy place for two.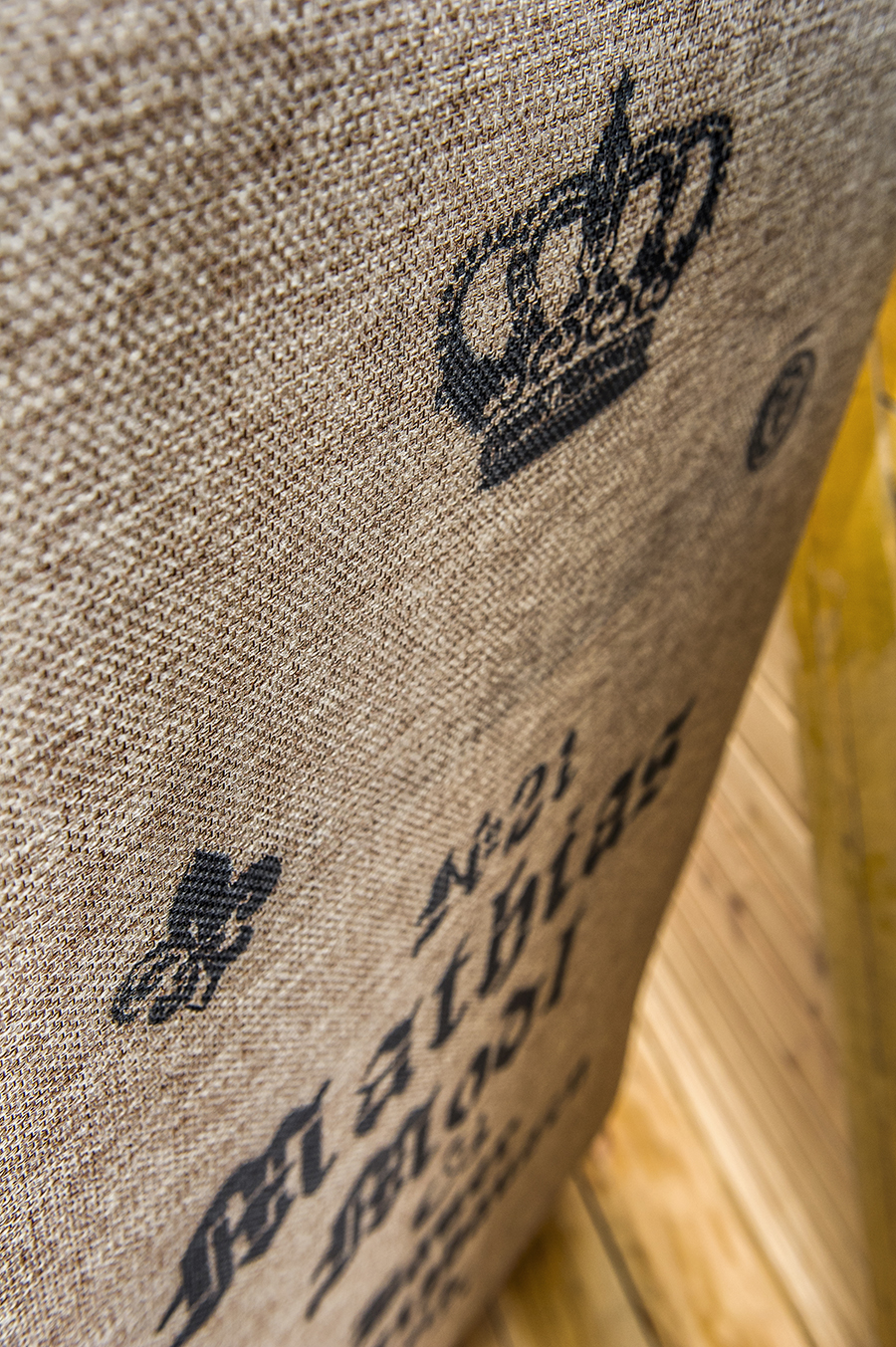 Cavalli
There is a great place for business meetings, family holidays, romantic dates or get-togethers with friends in Ryazan. This is a stylish and cozy restaurant of Italian cuisine "Cavalli".
Comfortable furniture, dimmed lighting, candles prived everything to have a rest and a pleasant communication.
Fabrikant worked specifically on this project.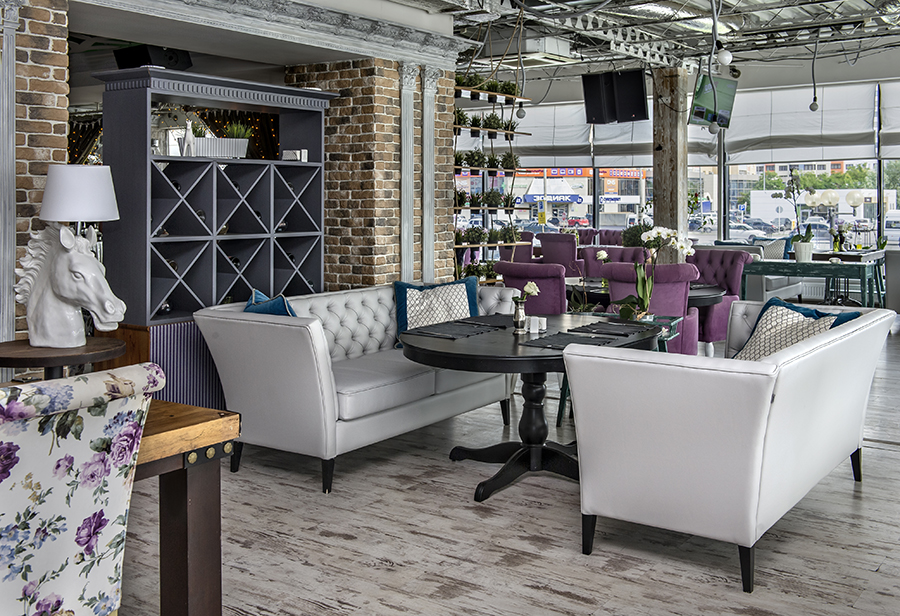 In order to decorate the dining areas Fabrikant used sofas "Tomo", which succinctly fit into interior style of the restaurant.
The upholstery is genuine leather of the new generation SC of a noble light gray color.
Even penps marks are easily removed from such material! In addition, antifungal skin treatment was accomplieshed to this leather. So, such material will last for a long time!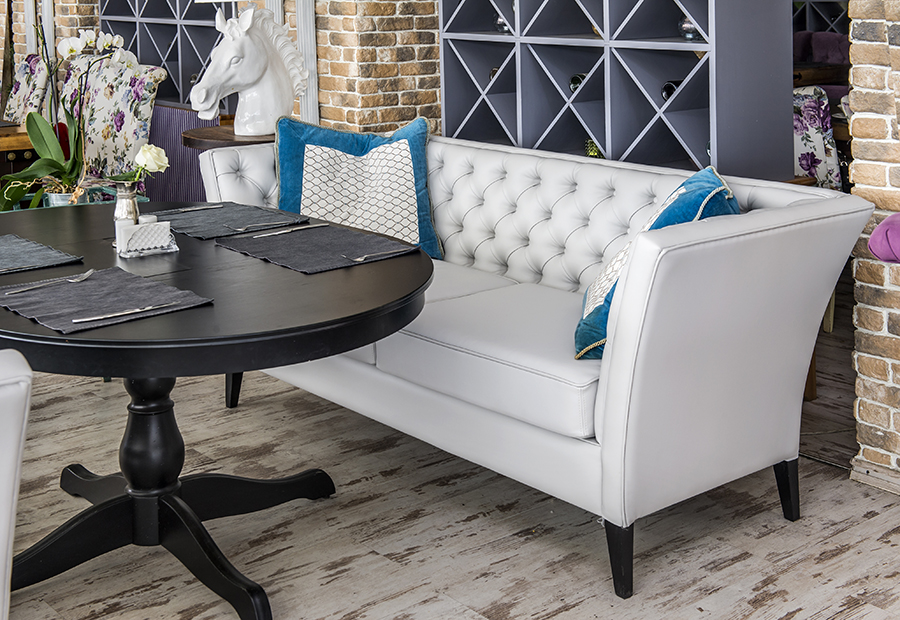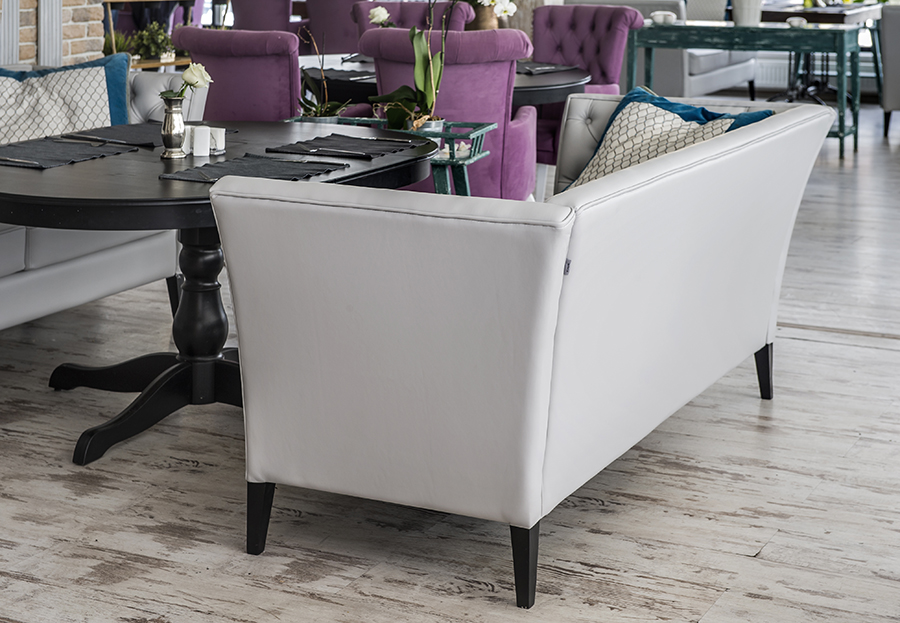 The wooden legs of the sofas in dark colors are perfectly combine the colors of the dining tables.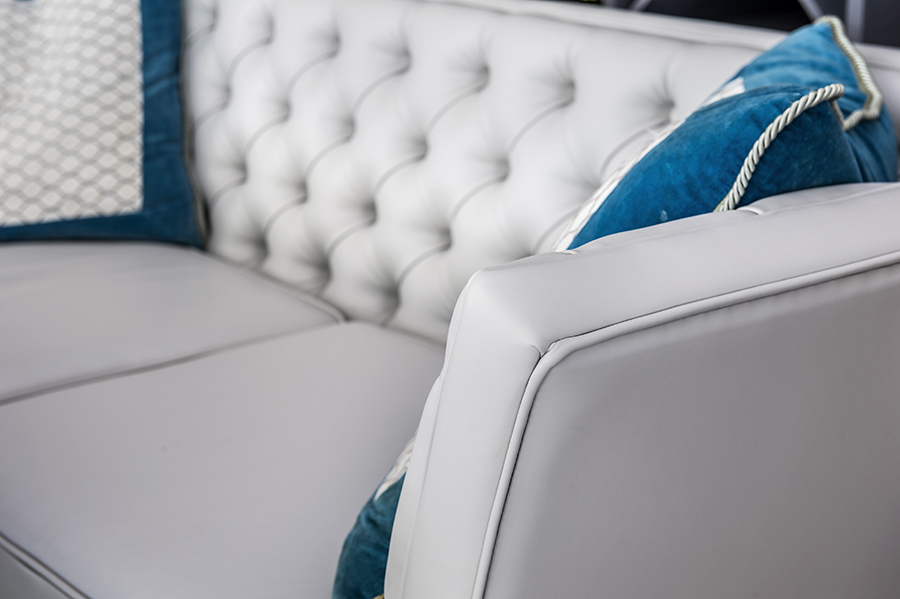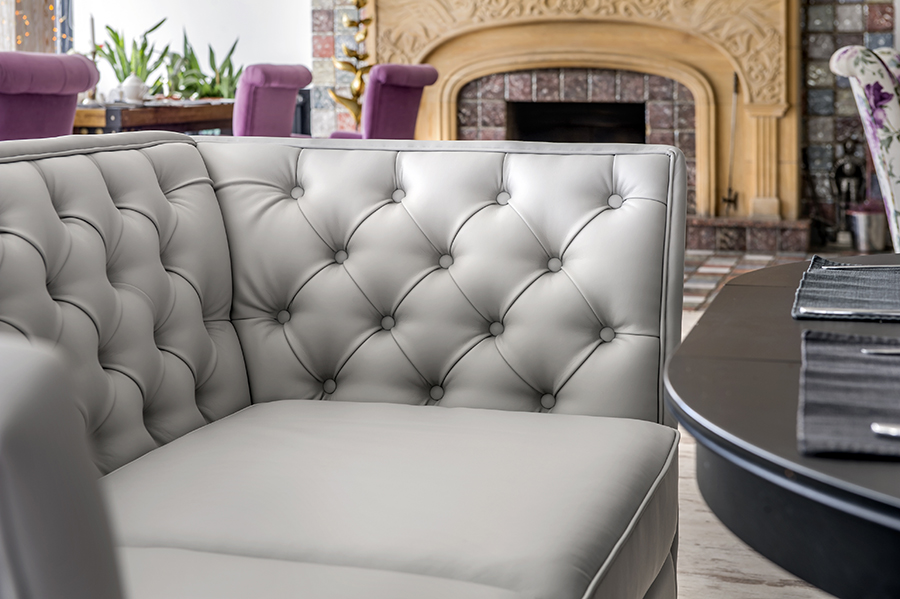 To sit on such sofas is a pure pleasure!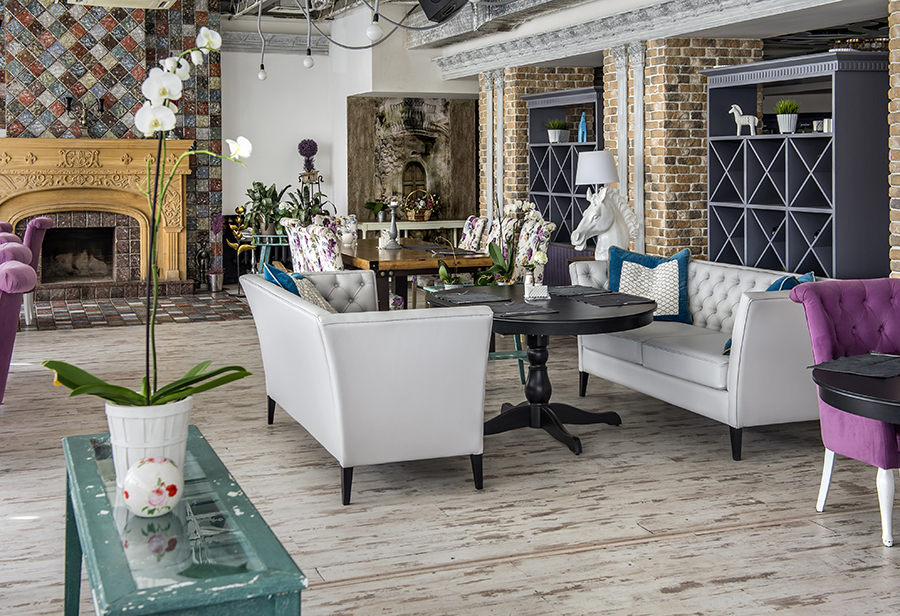 Shokoladnitsa
This is Cafe with home atmosphere, full of comfort, warmth and goodies ...
Fabrikant worked on this project to be a part of it.
This project has lots of furniture and very different furntiure! Specifically we see bar counters, flower stands, waiter stations, tables, storage cabinets, racks for toys ...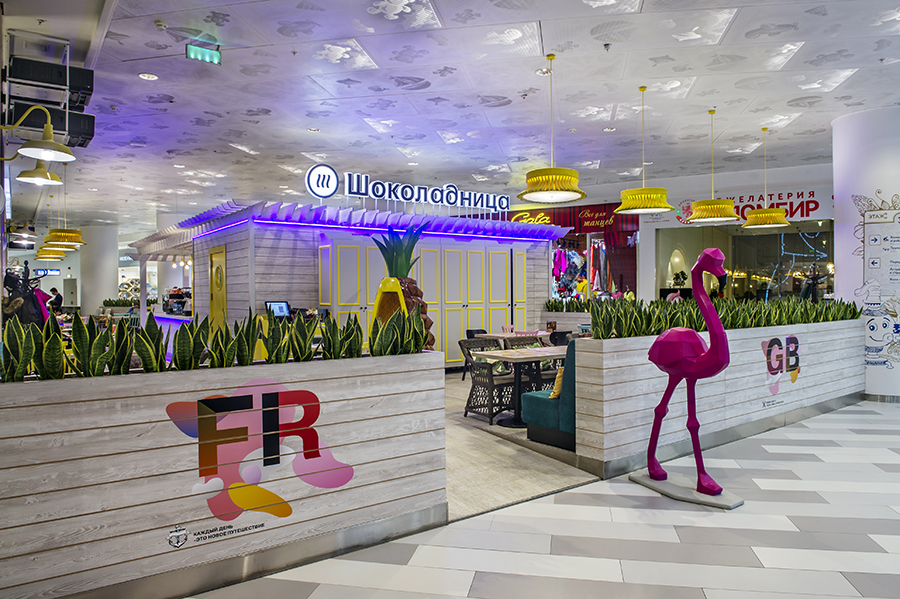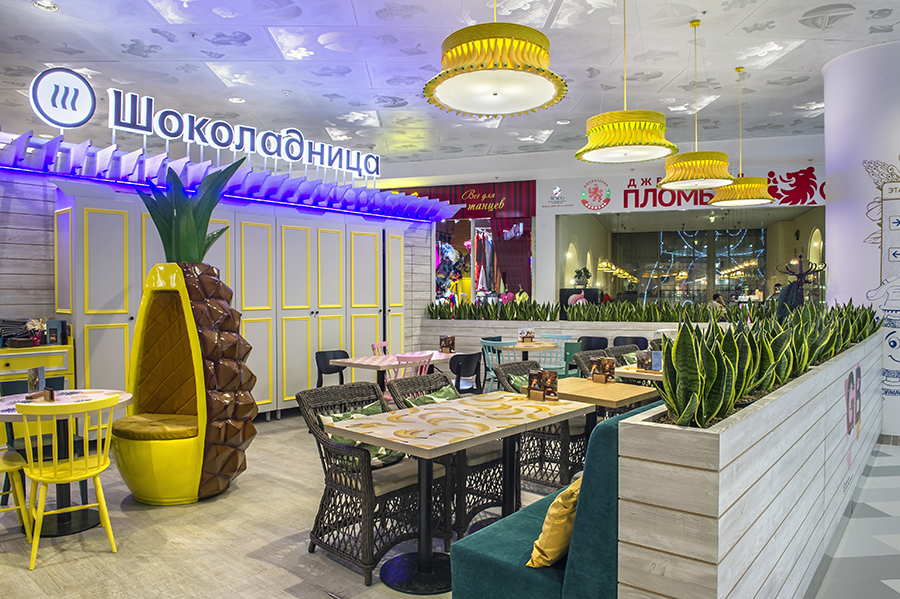 The abundance of flower stands with bright plants successfully confine visitors from the bustle of the shopping center.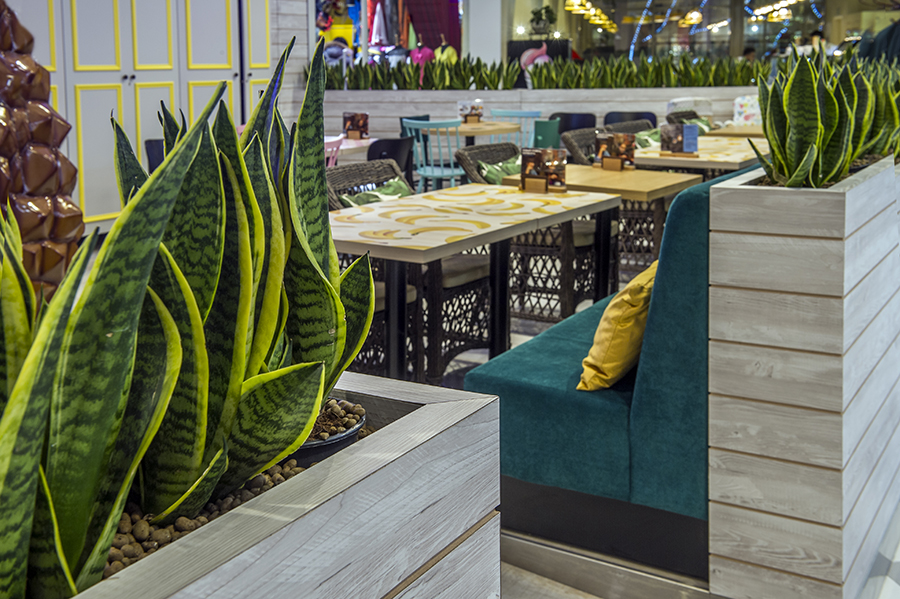 Bright accents are created by yellow waiters stations and soft green sofas.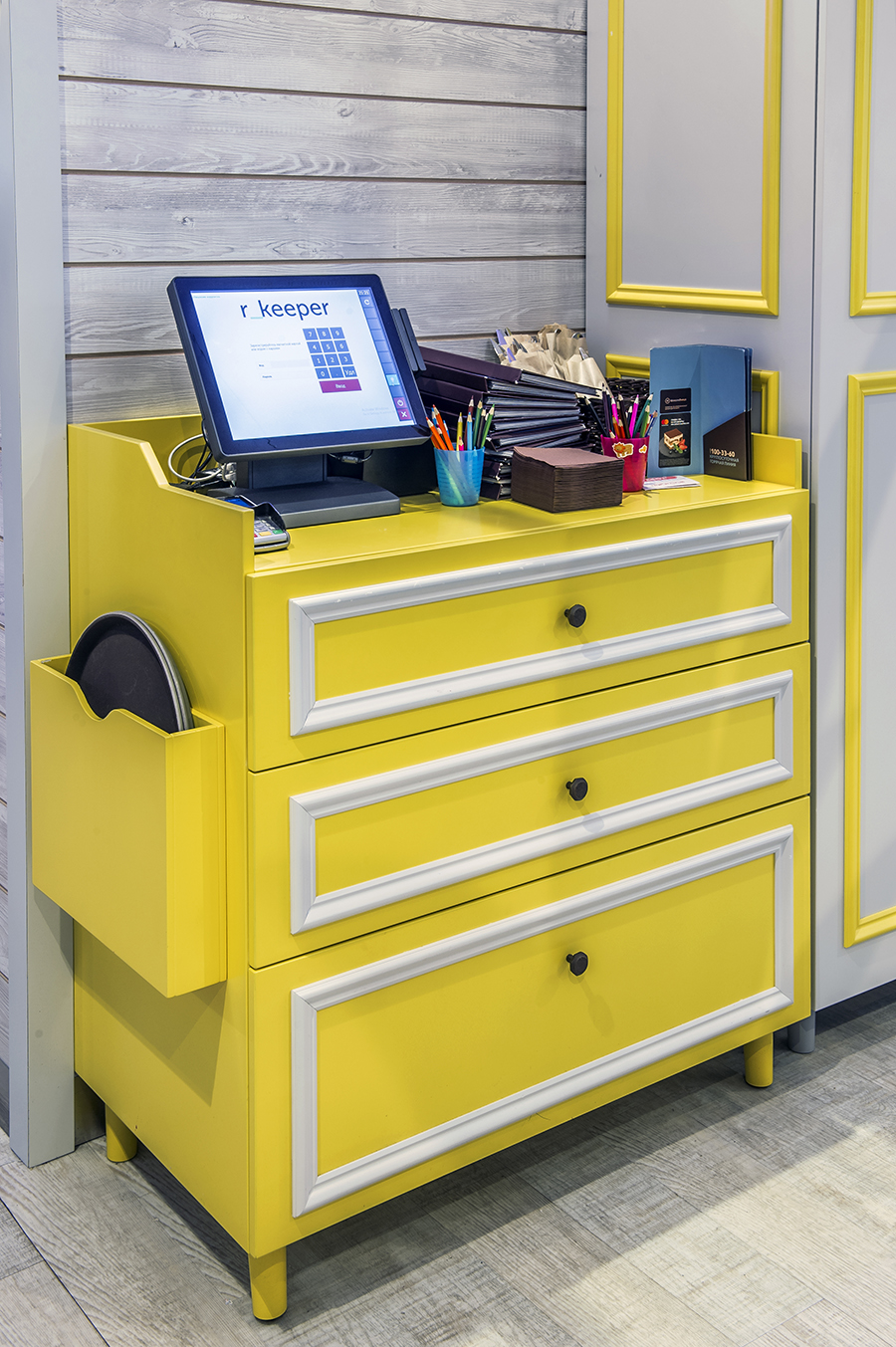 The internal kitchen hides under lath roof with backlight very well while stone countertop always looks clean and easy to take care.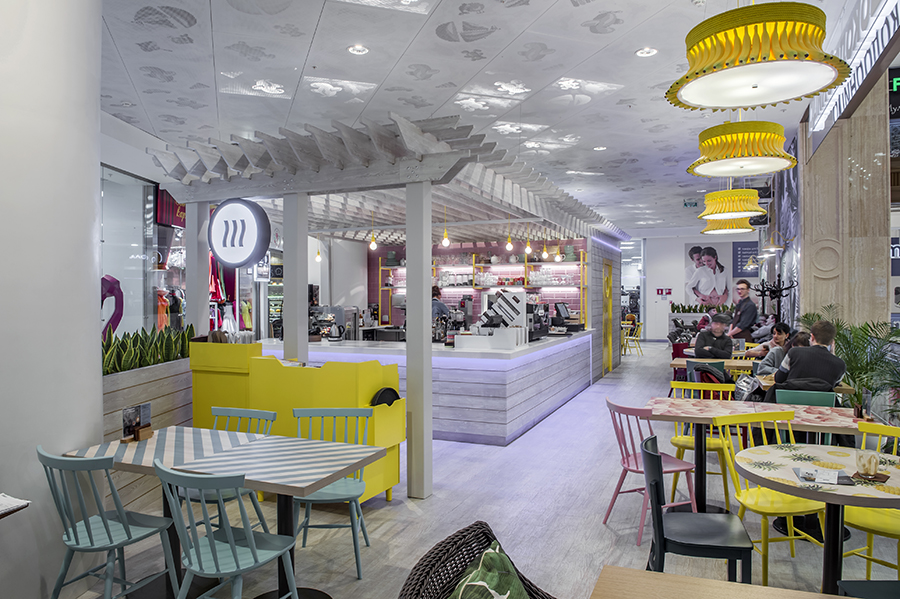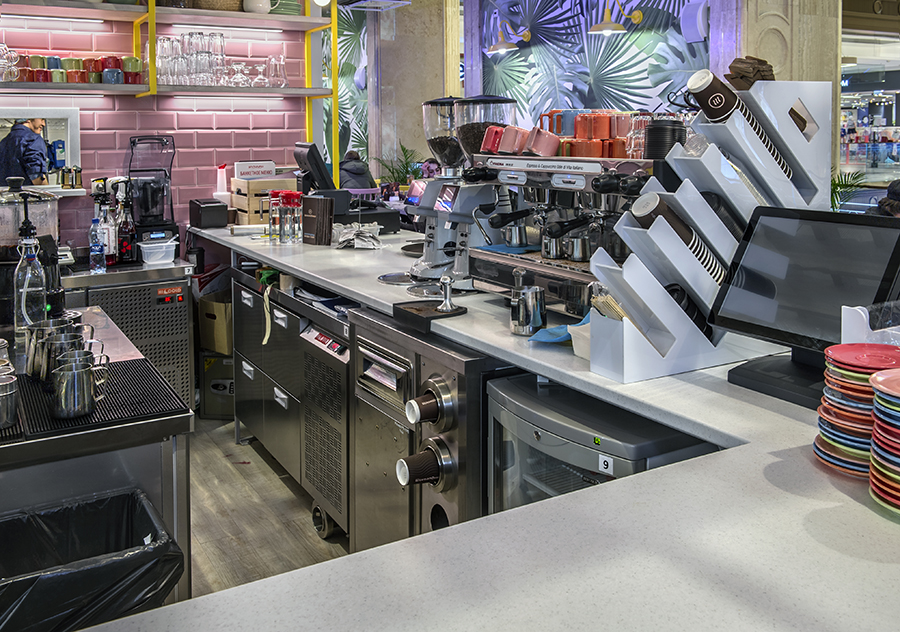 Self-service tables and metal-framed bar counters are made in the same style.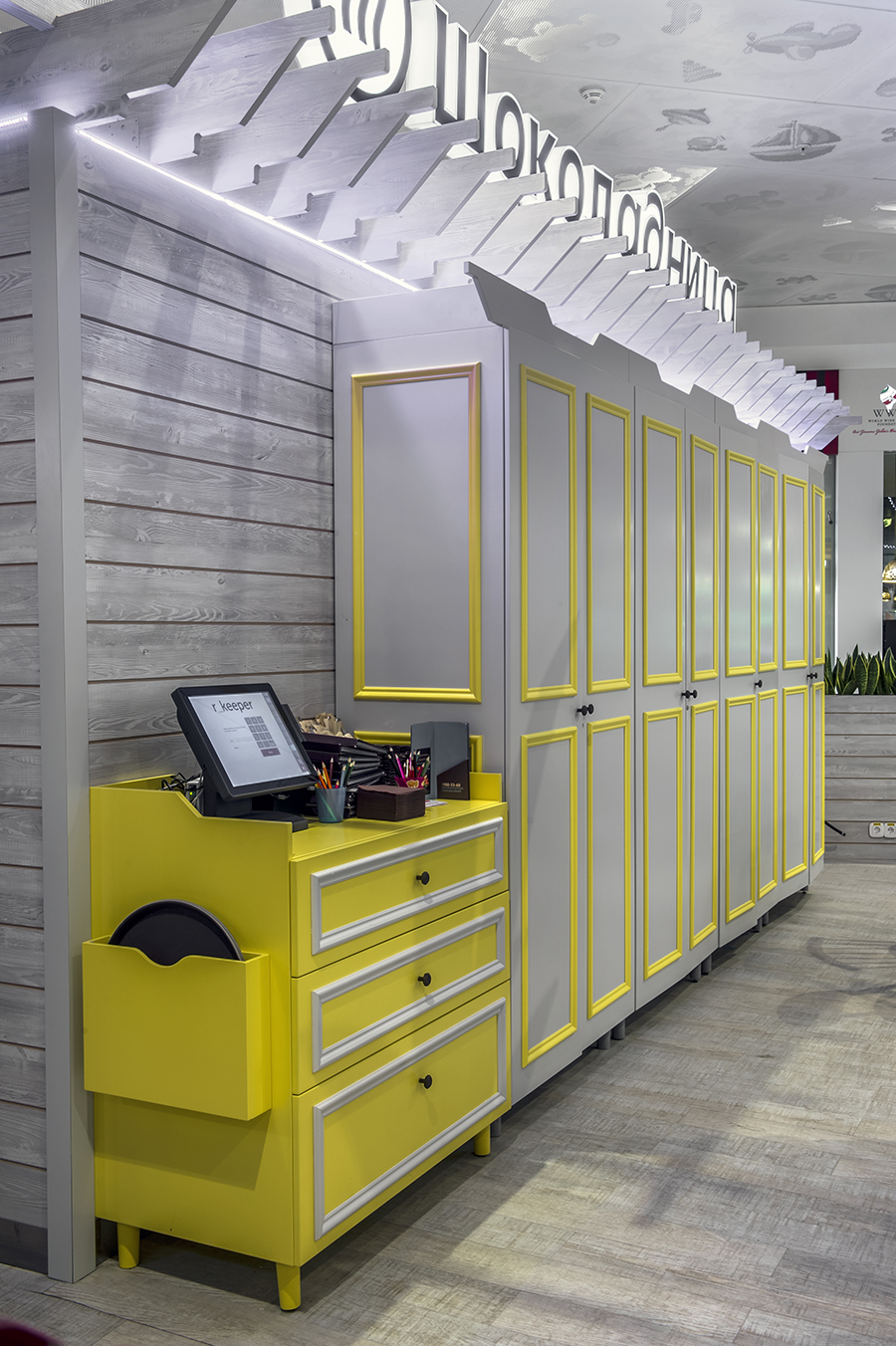 There is also a play area for children with lots of toys on the shelves and lockers. The general play area is similar to a form of ship, the sides of which are made of wall panels with milling.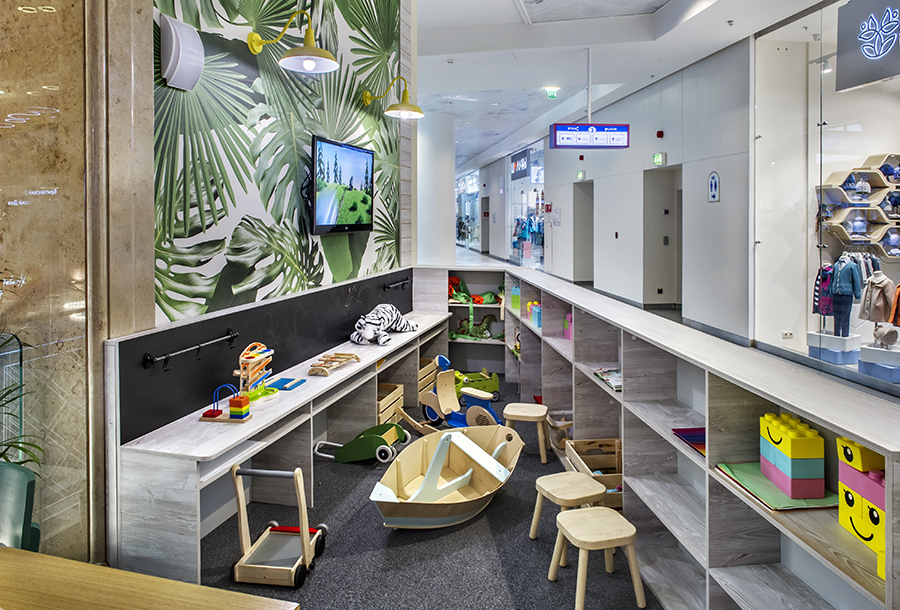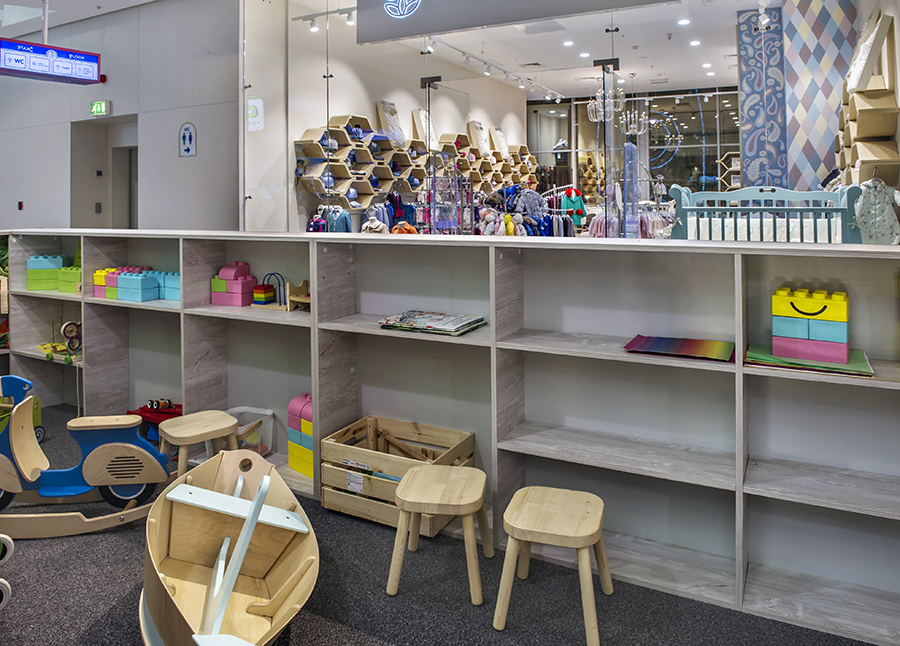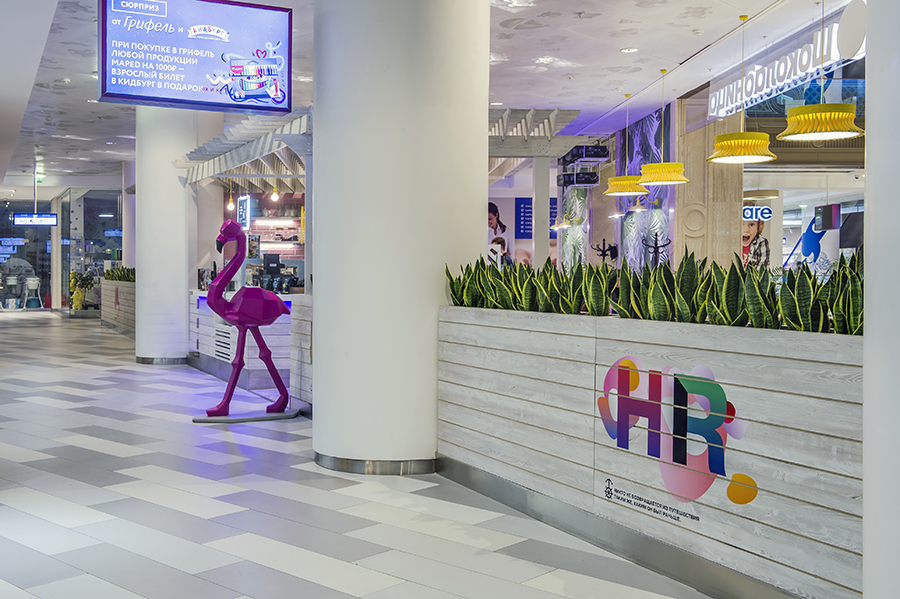 YAMAHA
FABRIKANT was selected as a supplier of brand stands by leading transnational company Yamaha Corporation. Staff of FABRIKANT has developed the design of the stand, conducted production and installation of the brand zone for MusicCAST.
Brand area in the Aviapark shopping center became the first of a whole series of demo-area projects for MediaMarkt stores.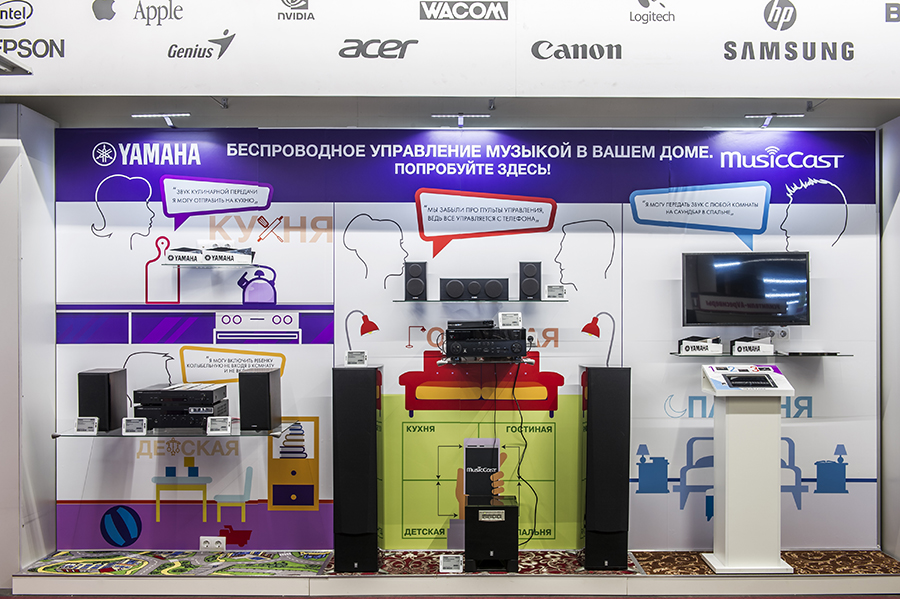 MusicCAST is a revolutionary new audio networking solution that allows you to use all MusicCAST products together or separately.
When developing a booth for MusicCAST music equipment, all customer requirements were taken into account: lighting, power supply, shelf layout, functional grading in residential areas, etc.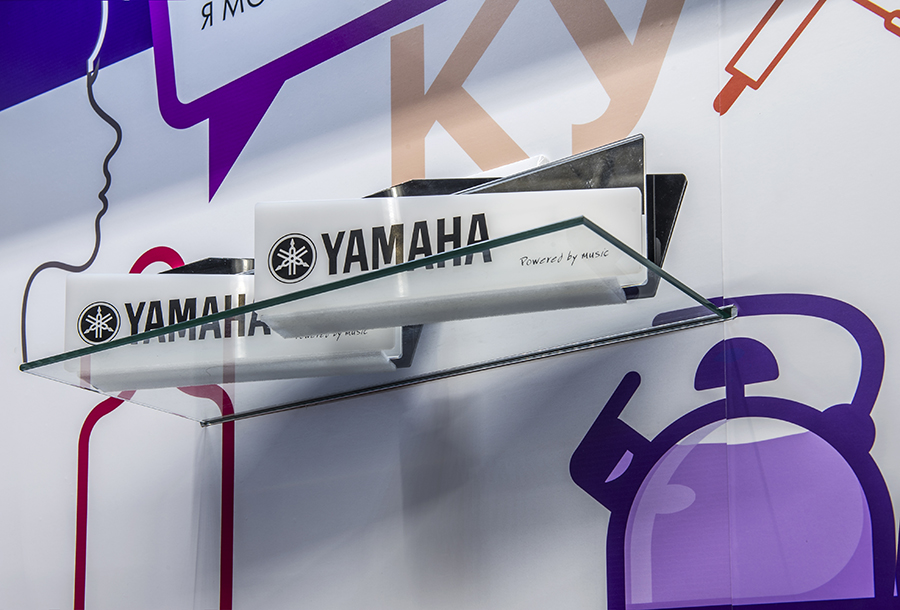 To ensure the safety of stand operation, there are steel metal frame inside the stand betraying the rigidity of the structure. The transparent shelves are made of tempered glass. This shelves are installed in European cut-in profile.
White glass shelves for musical equipment are "talking" background in Yamaha corporate style - everything is done to clearly demonstrate to consumers the advantages of using MusicCAST.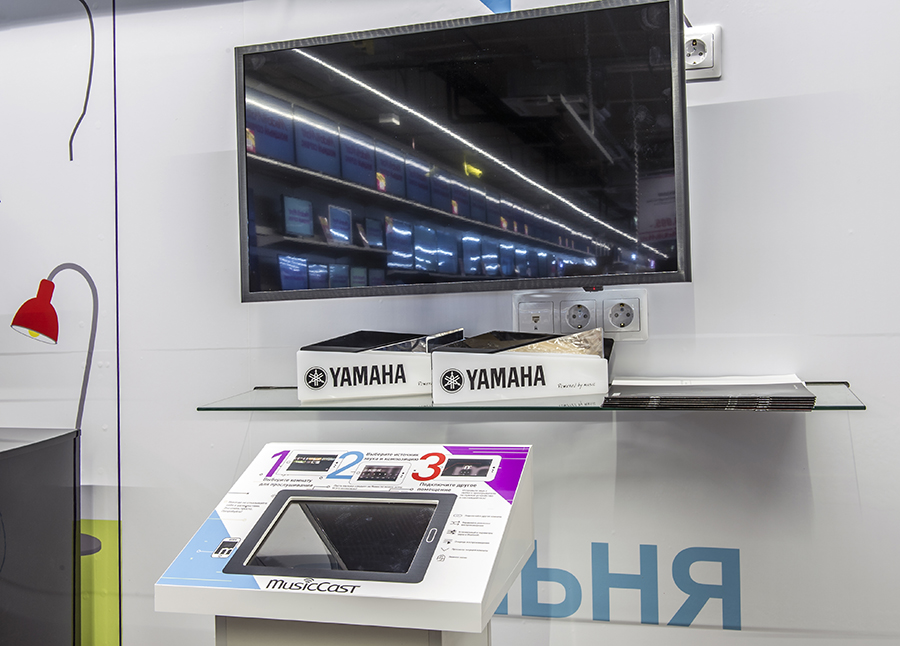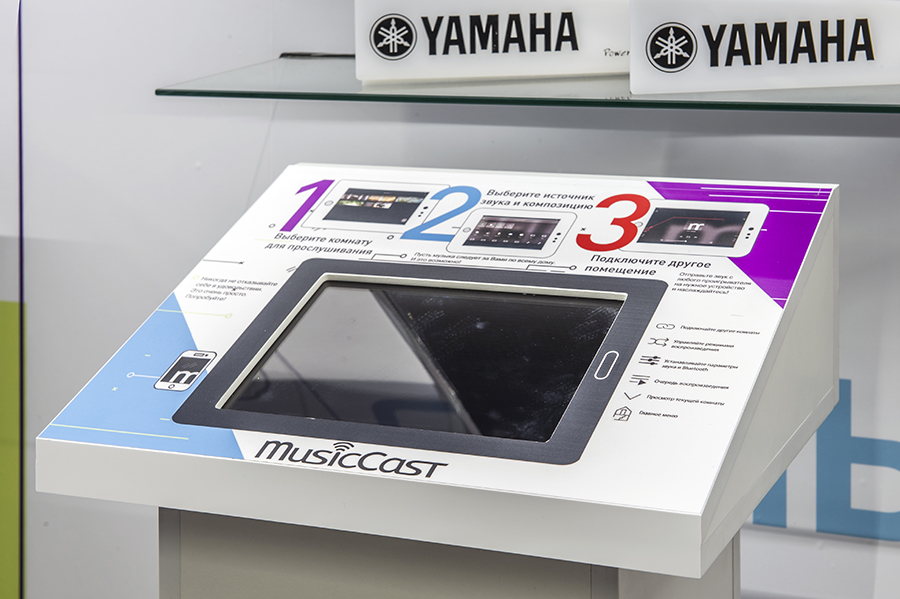 Sberbank
The oldest bank of Russia follows the latest trends and serves its clients in offices that equipped with modern requiremnents, and in such offices everything should be stylish and comfortable - especially, it is furniture.
After Fabrikant won the tender for equipping the offices of Sberbank, we have already supplied more than 2,500 units of upholstered furniture for management offices. The sets include sofas ""Vitara"", as well as models ""Altair"" and ""Altair +"". They are delivered to all banks in Moscow as well as to all Central regions of Russian Federation, Western Siberia, Urals and the North Caucasus.
In the future, we plan to continue cooperation with the bank and expand the range of the offered cabinet furniture. So there is still a lot of interesting things ahead!
Beeline
The central office of Beeline, one of the largest mobile operators in the Russian Federation and neighboring countries, was equipped with furniture. The office was equipped with workplaces for employees, soft furniture for visitors, storage systems for personal belongings of employees.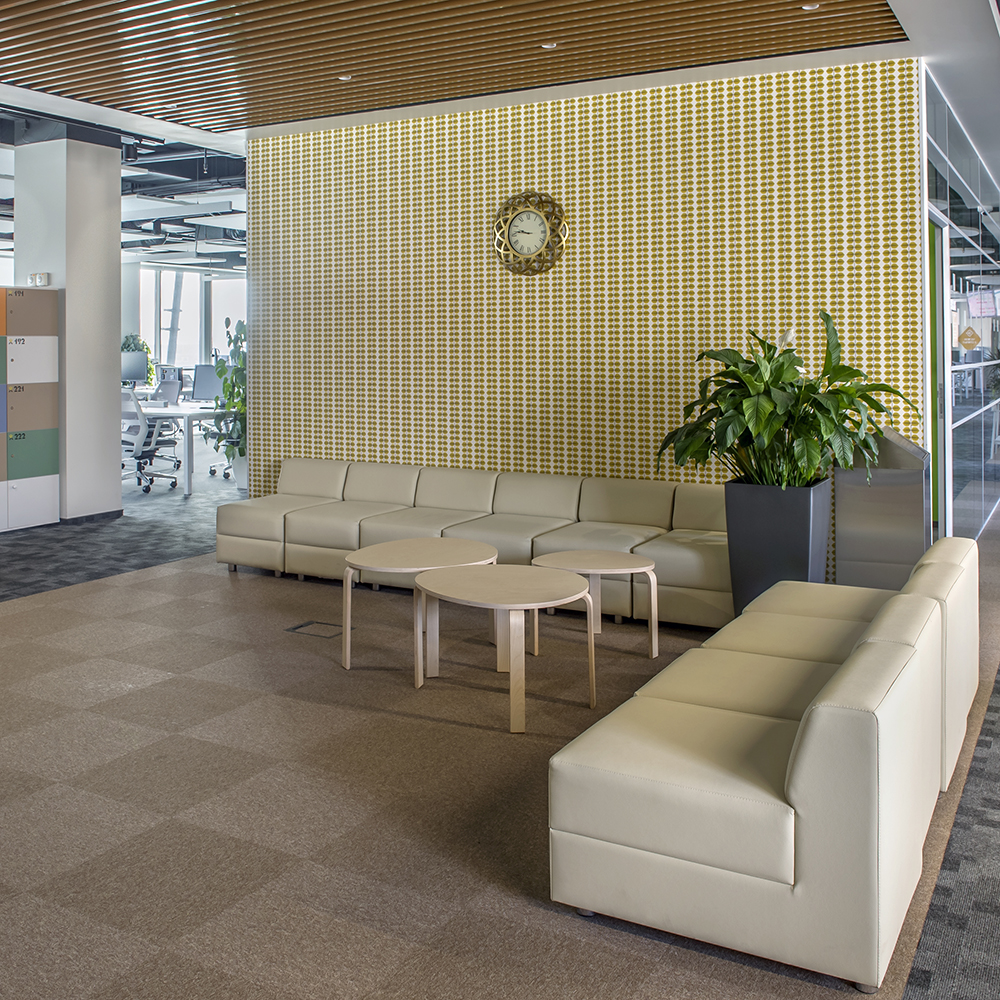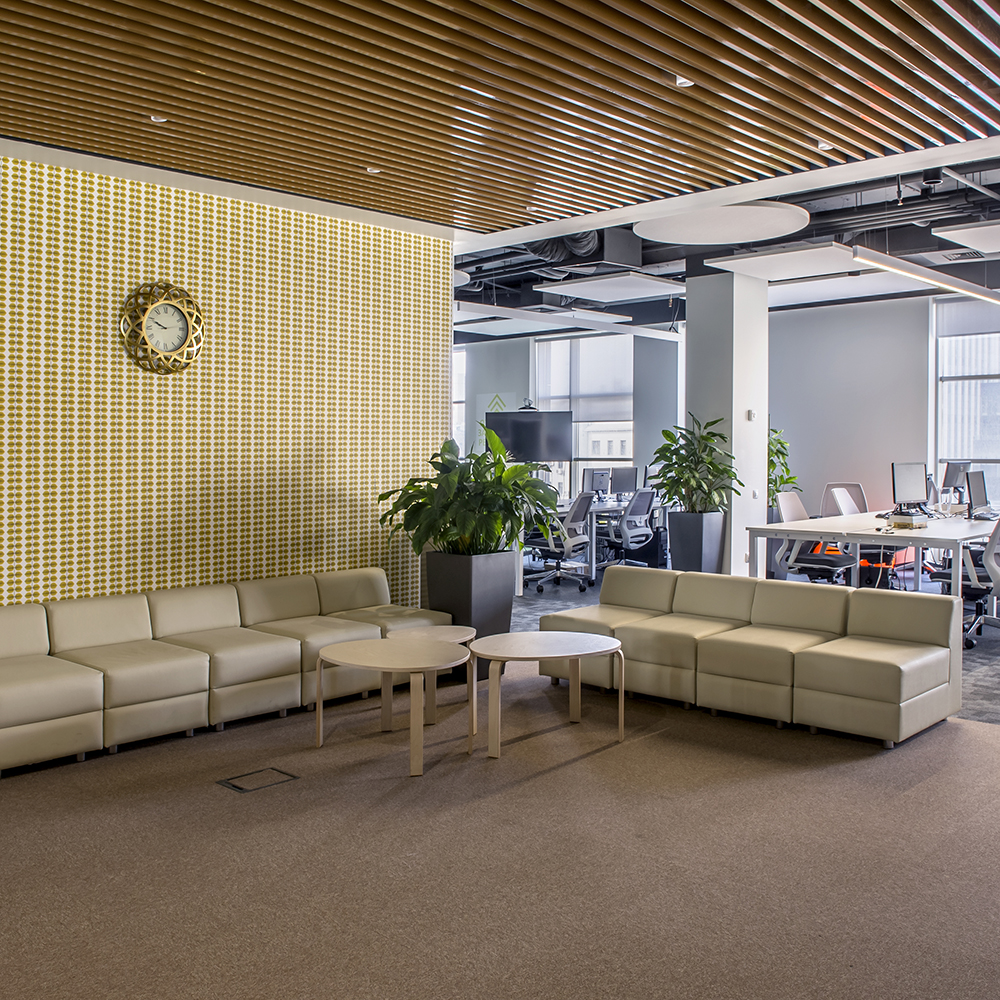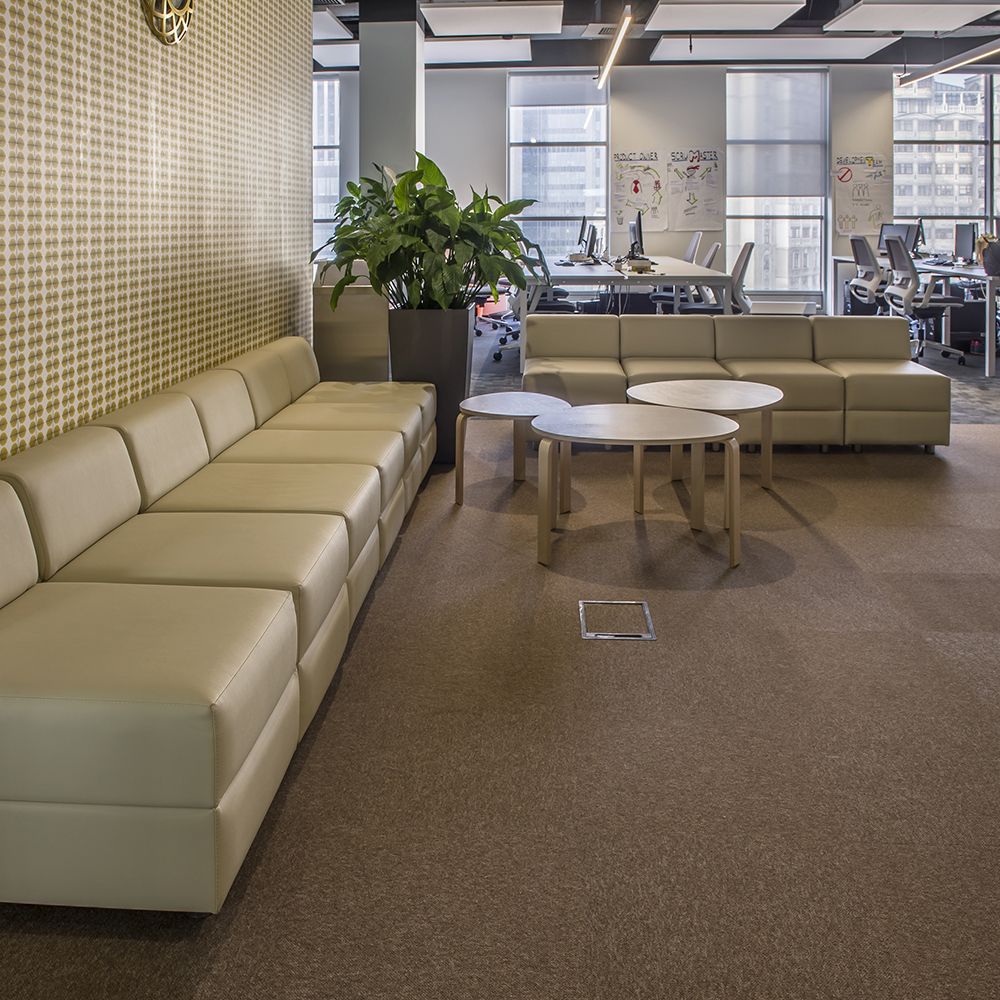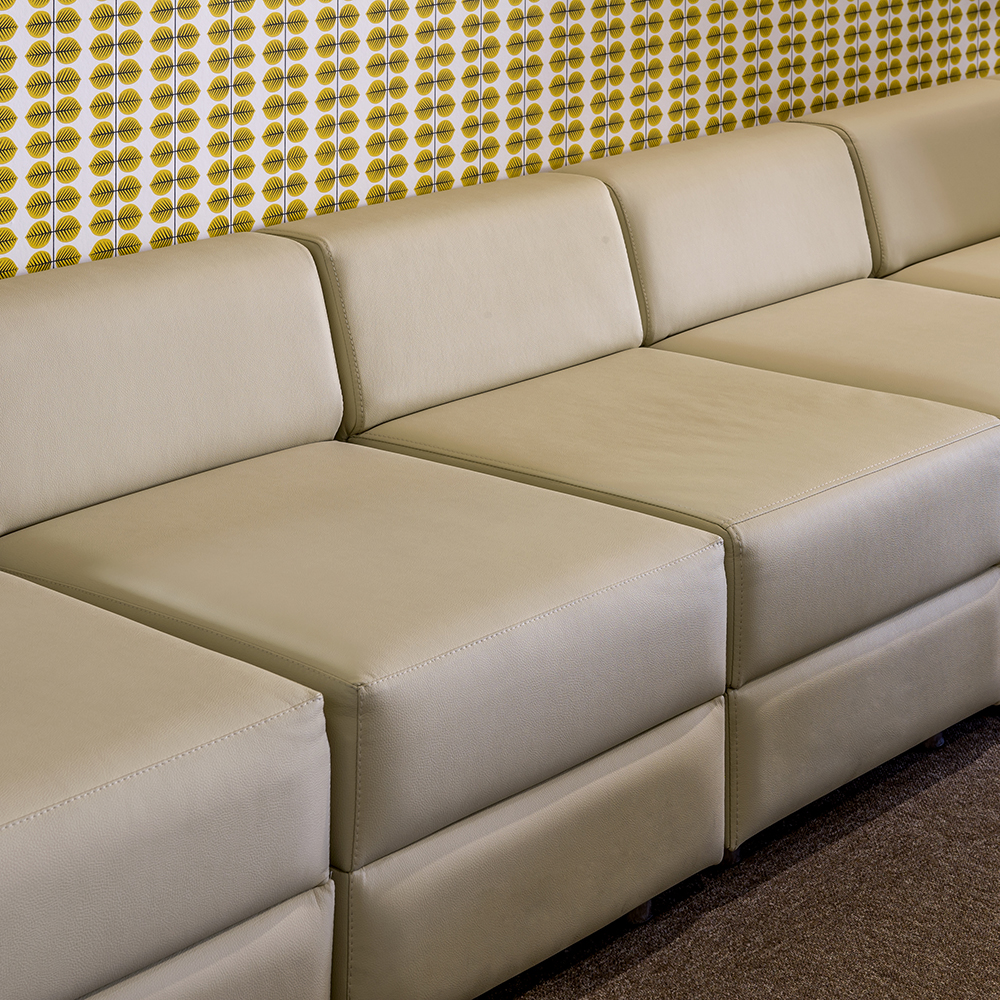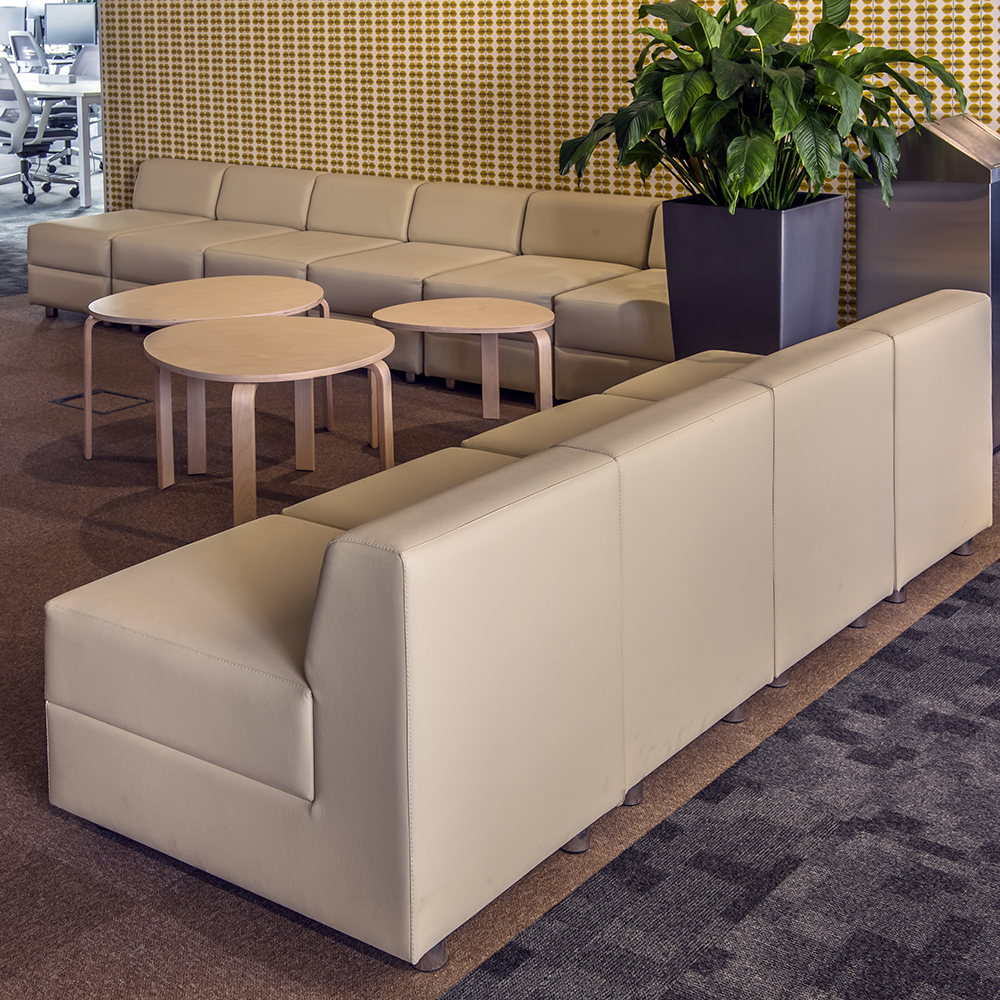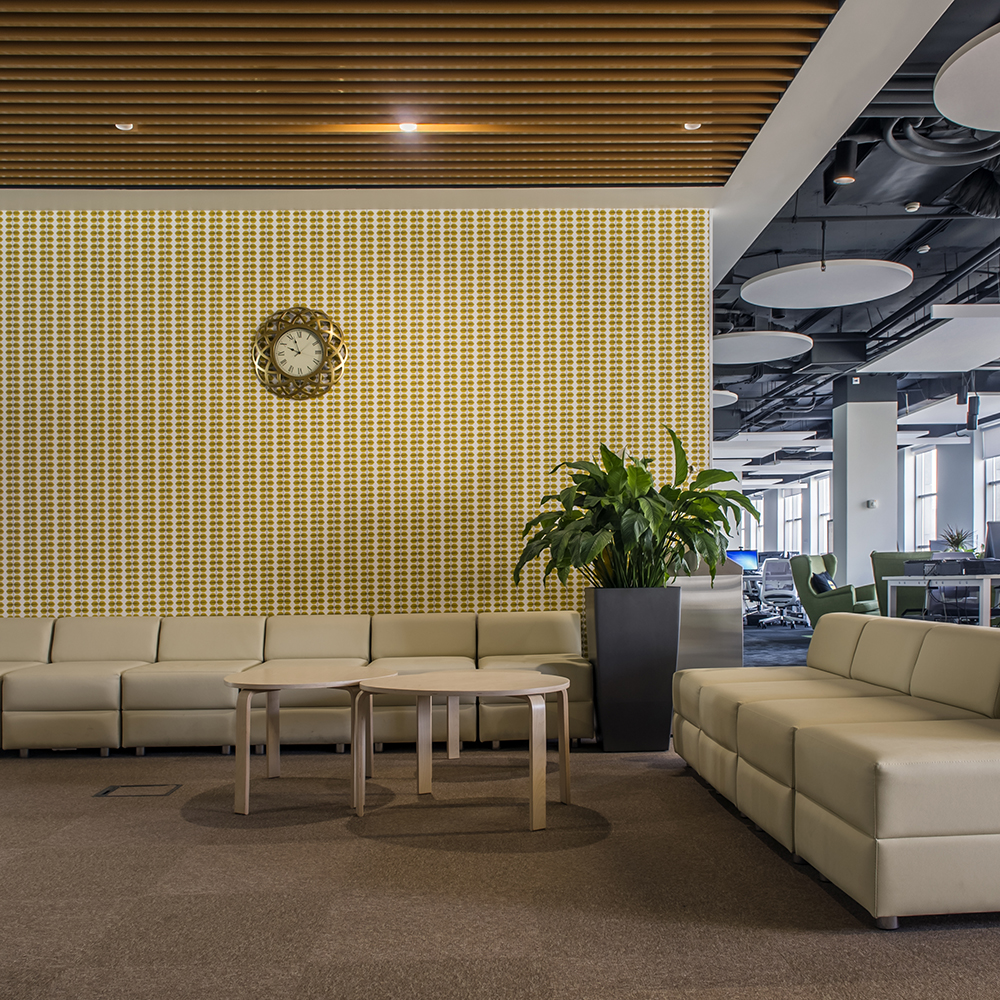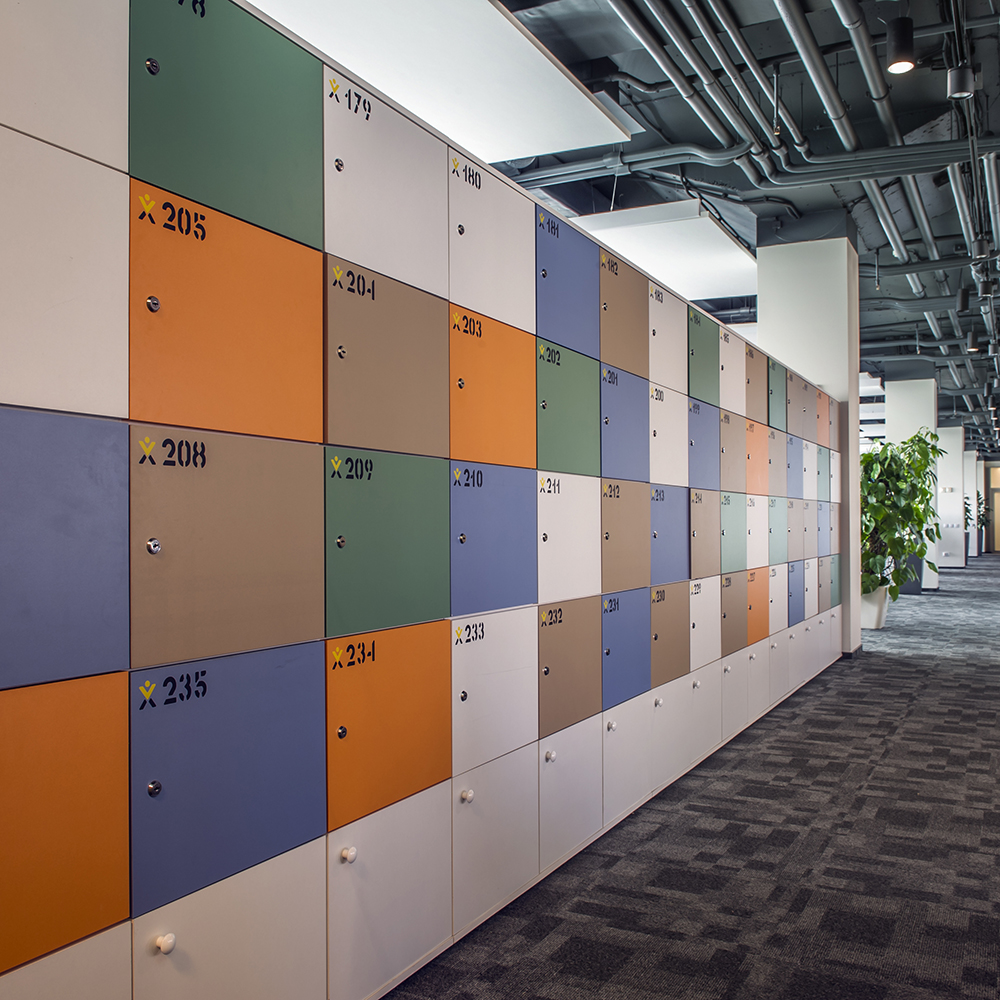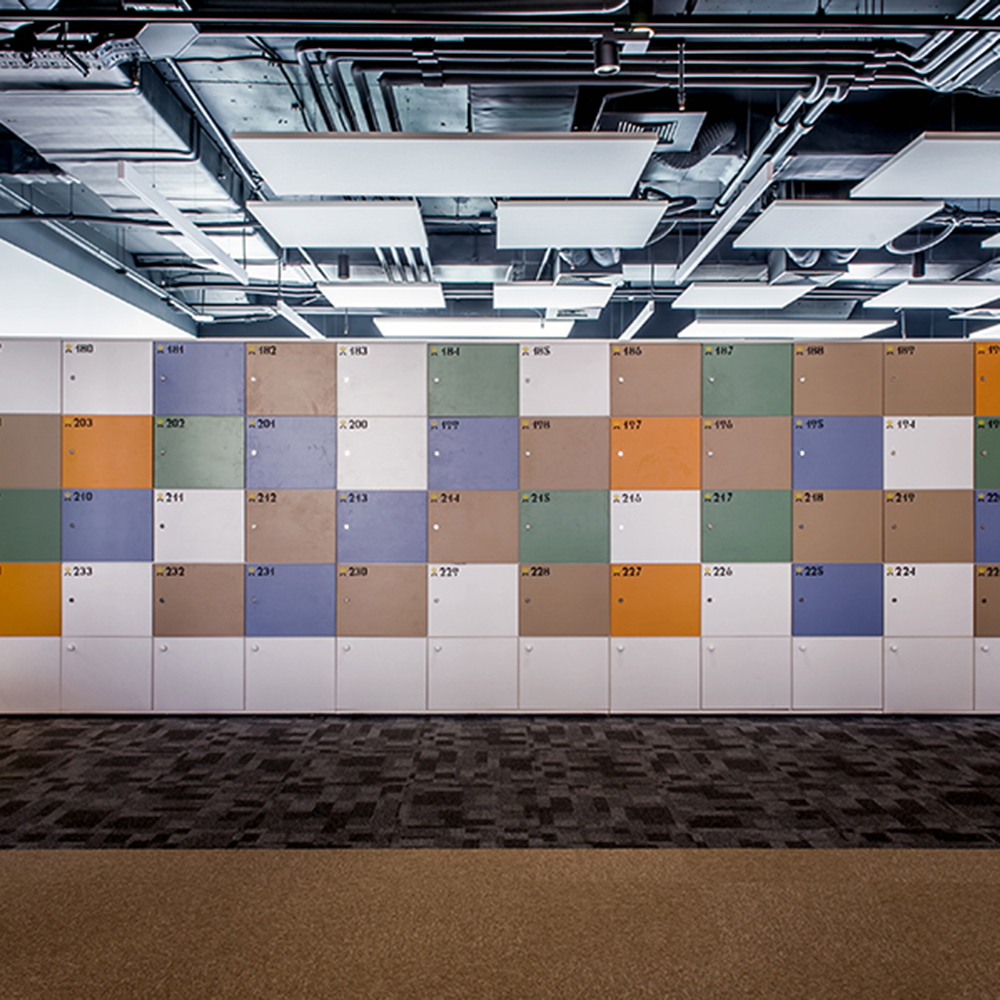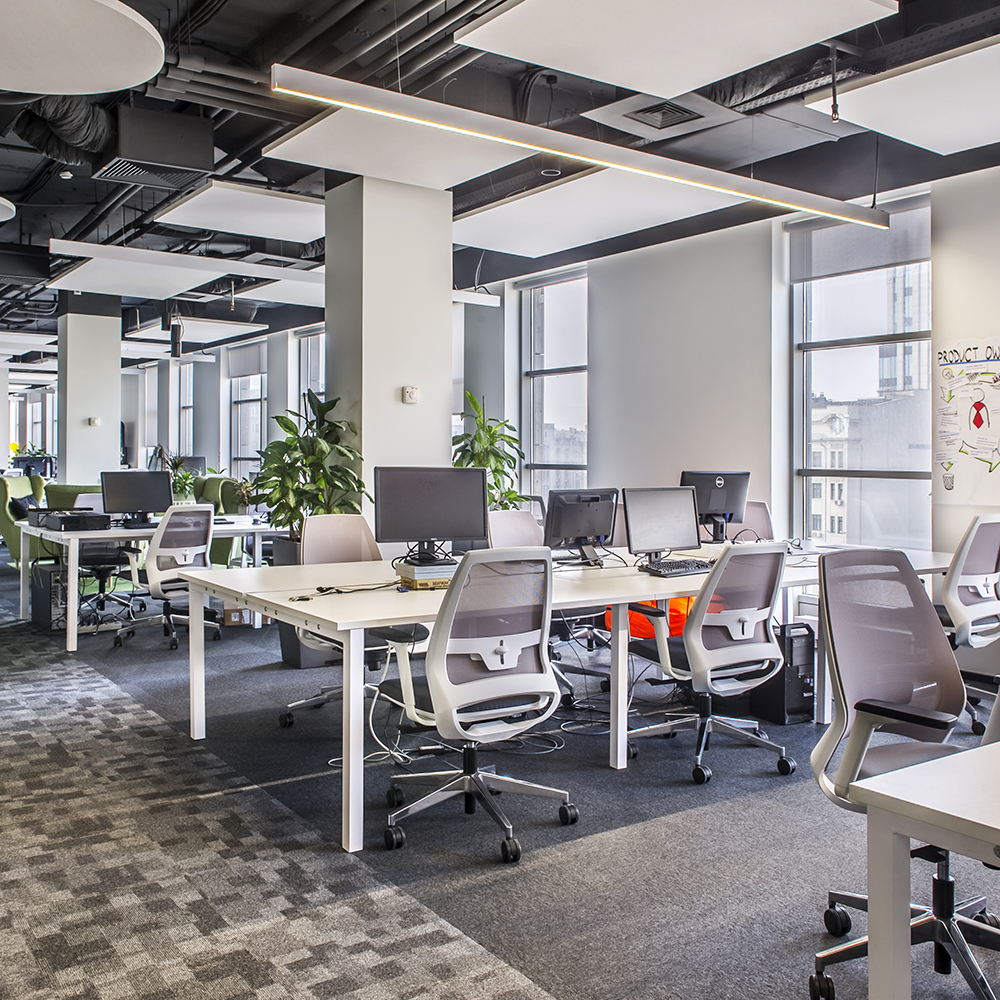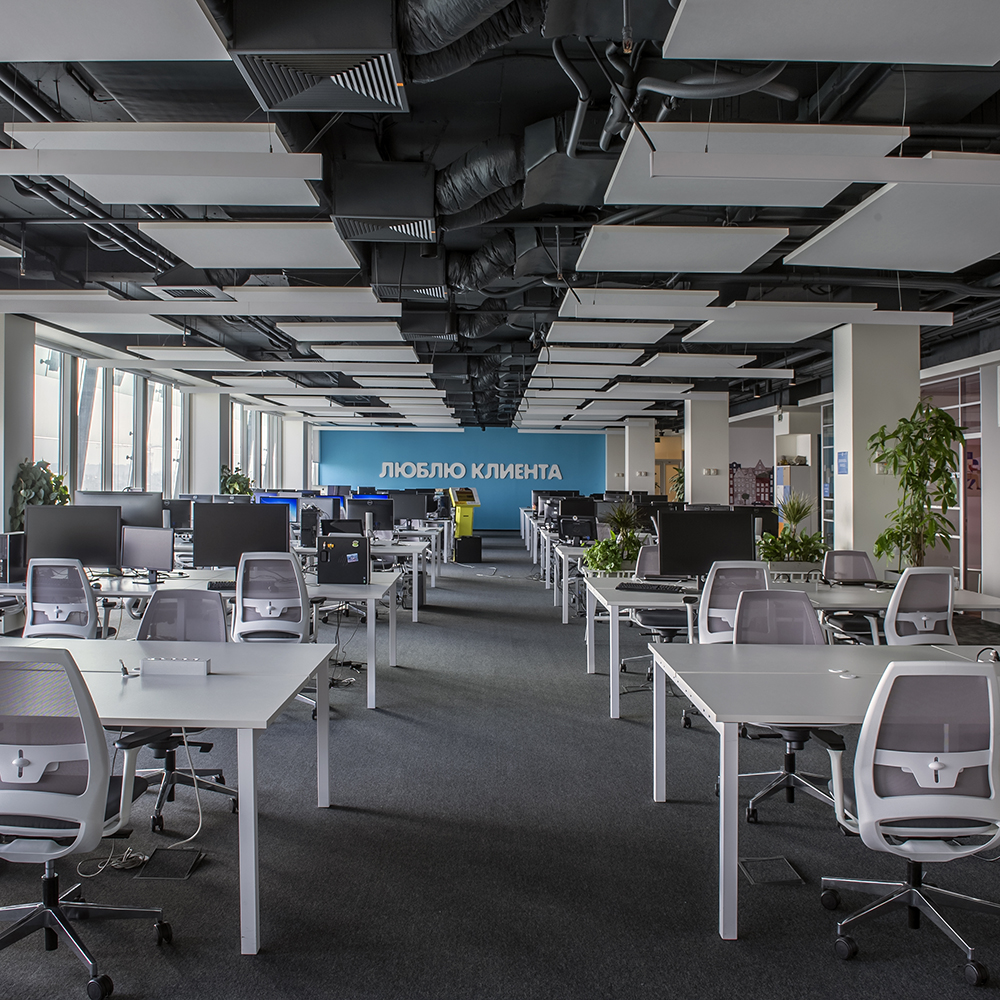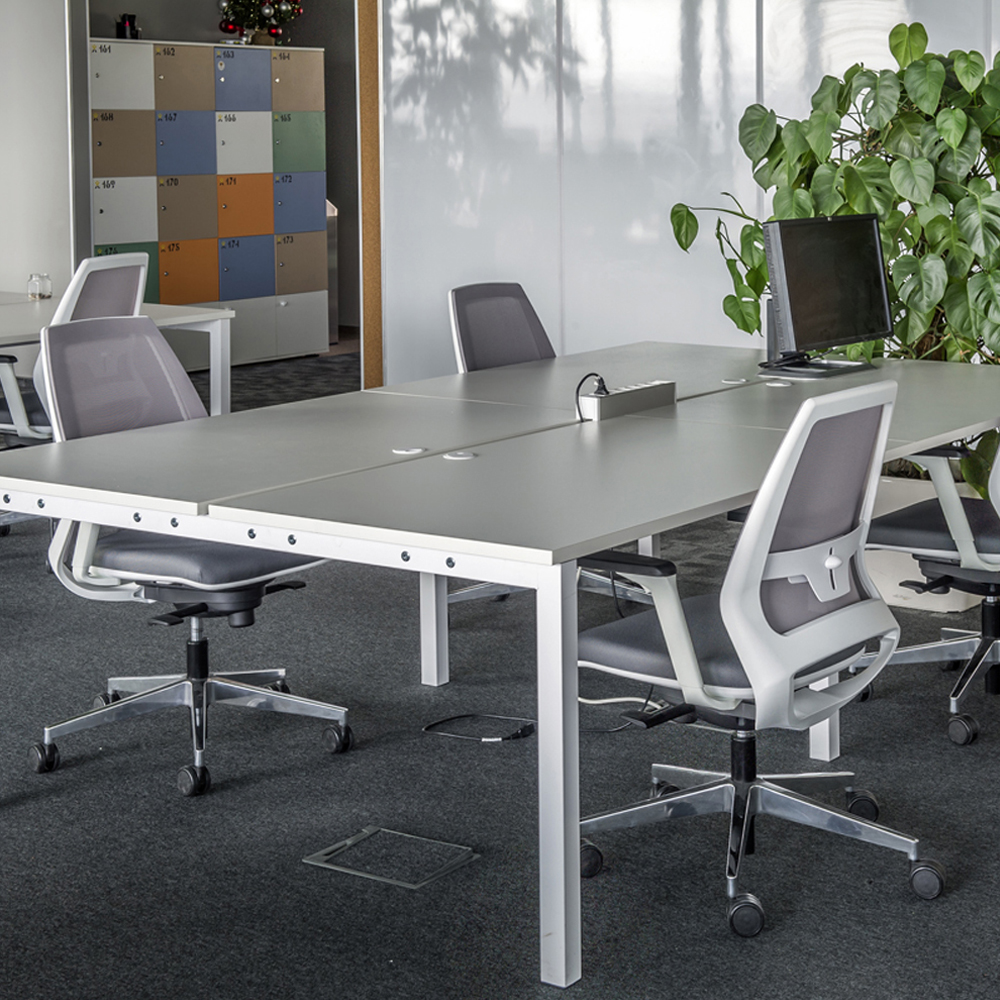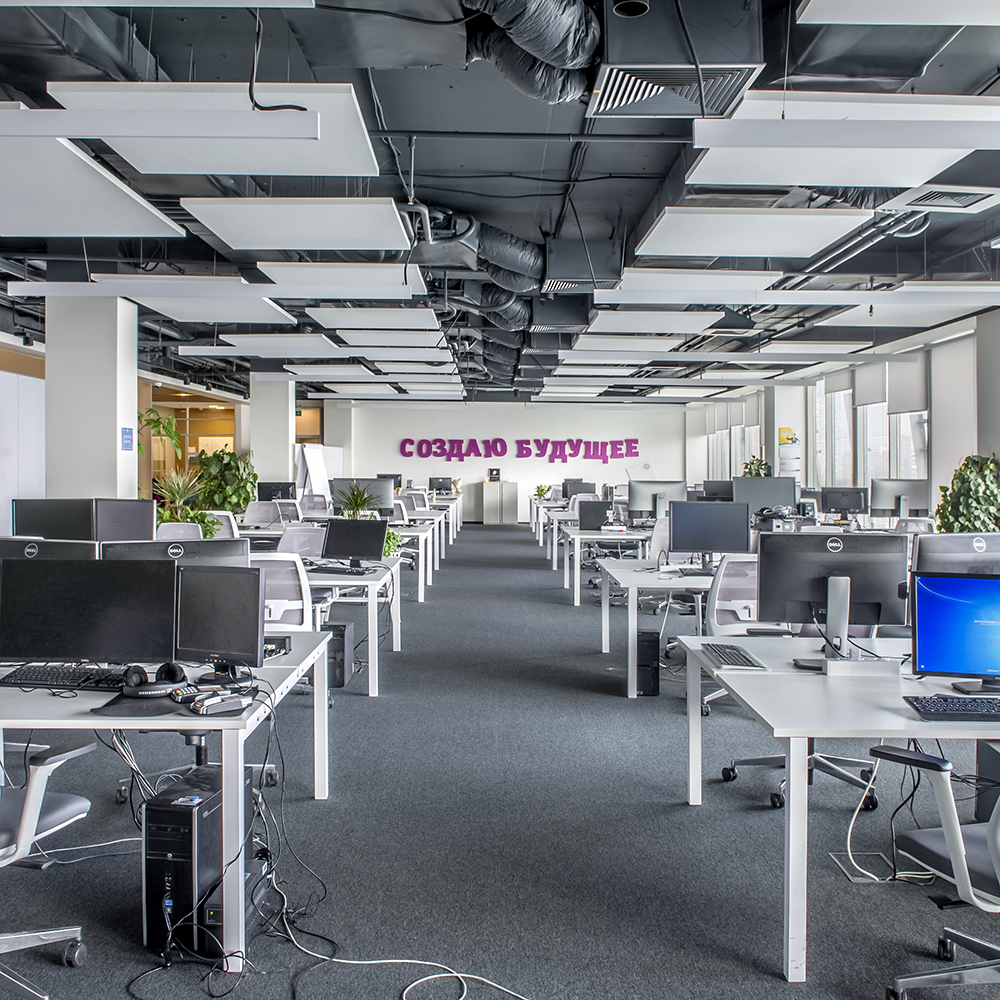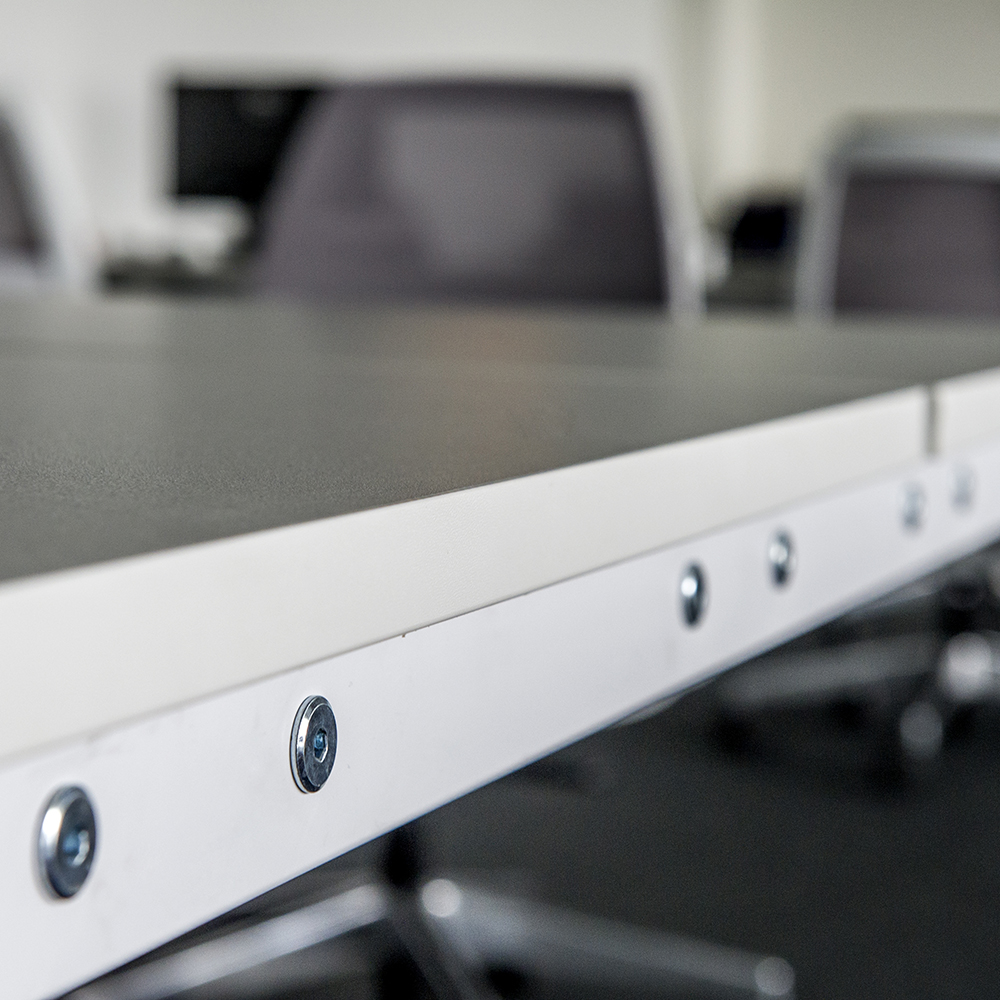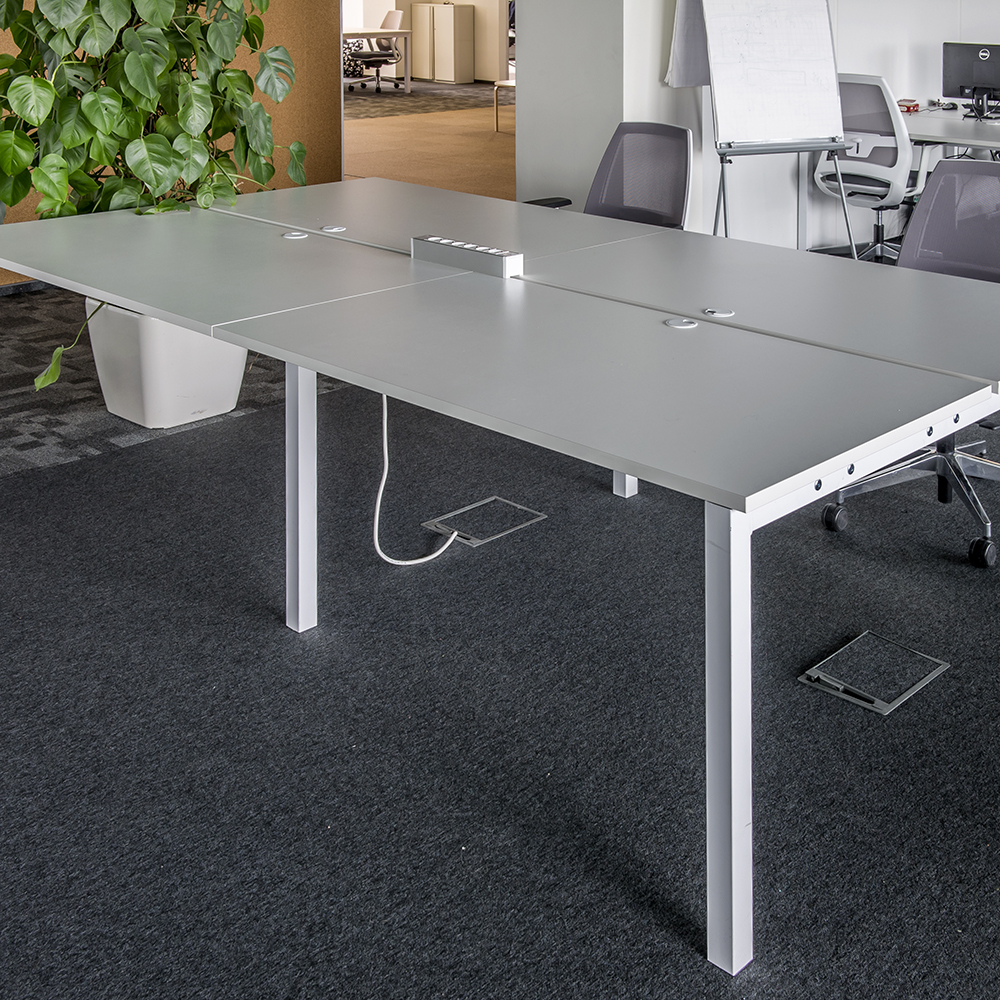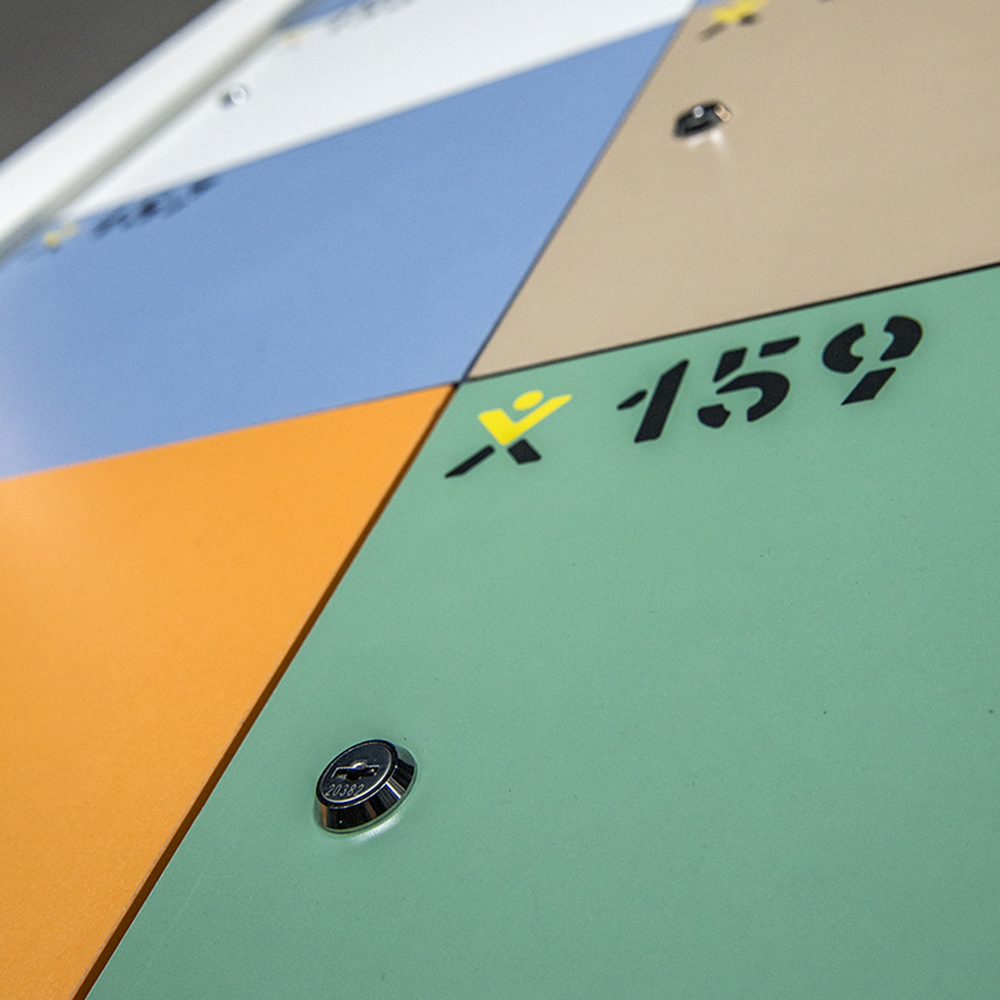 MTS
MTS is one of the largest mobile operators in the Russian Federation and the nearest foreign countries. It entrusted Fabricant with arranging dozens of its Russian offices in Moscow and its Region, and also the central part of the country.
We fully equip each of these salons: we produce furniture for cash desks and check-in counters and make showcases where smartphones are exhibited.
In addition, each good shop just needs ​​stands for accessories, chairs for visitors, chairs for operators and managers.
We conduct all delivery and instalation work on time.
Touch Point
Sometimes customers go to shopping centers for a very long time - for some, it takes all day. And while shopping they often want to sit down and relax! One comfortable furniture here will not be enough. Therefore, together with the English designers, we came up with something new.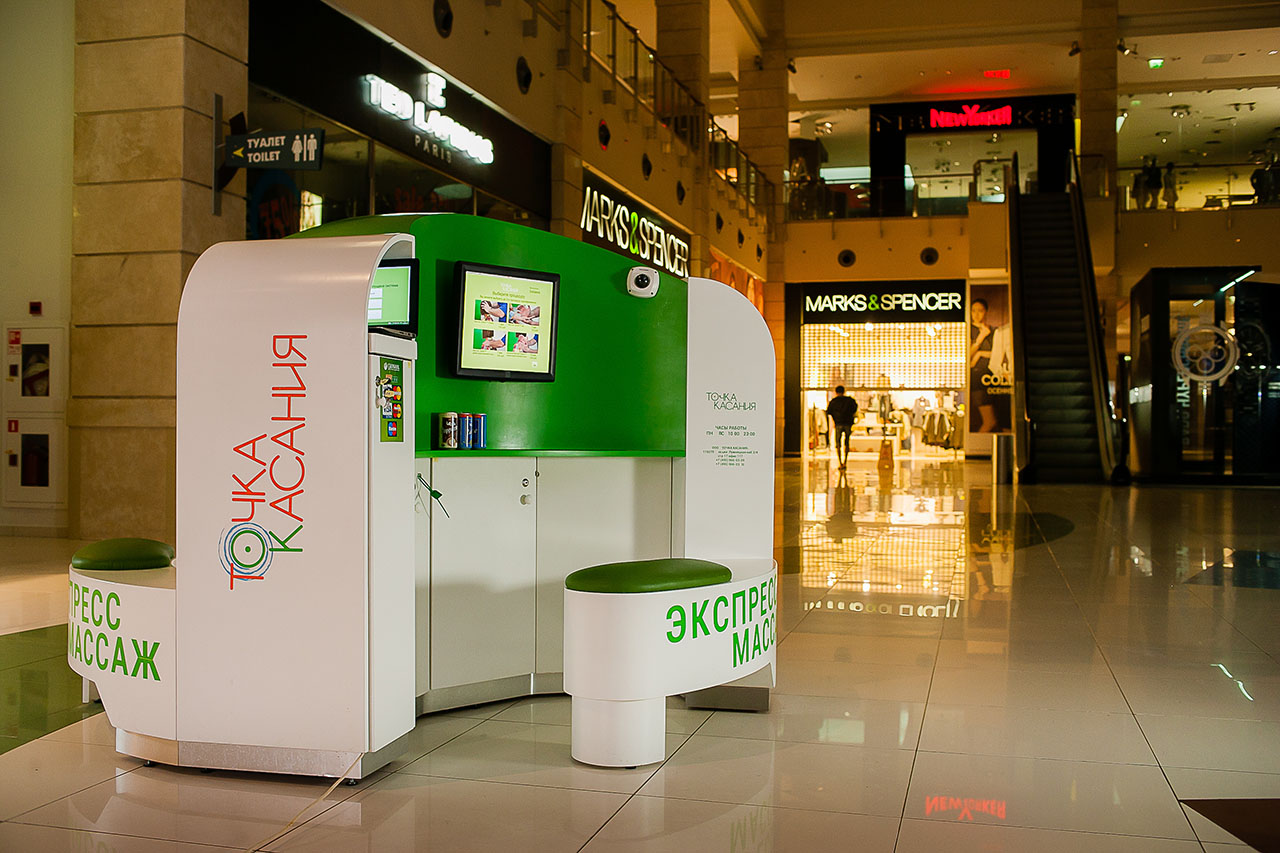 Fabrikant is ready to place entire massage complexes in the galleries of large shopping centers. They are mobile, compact, but at the same time includes everything you need.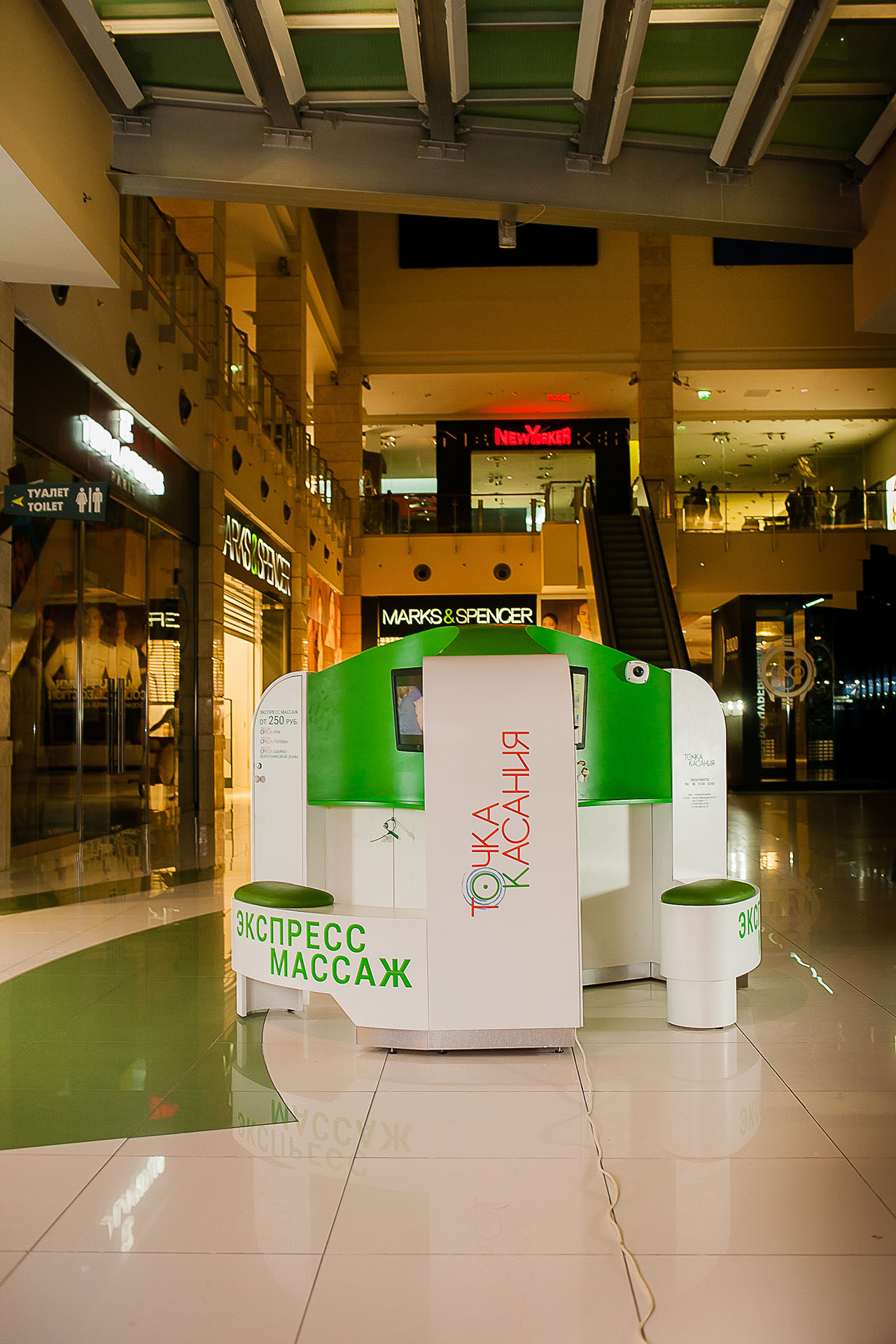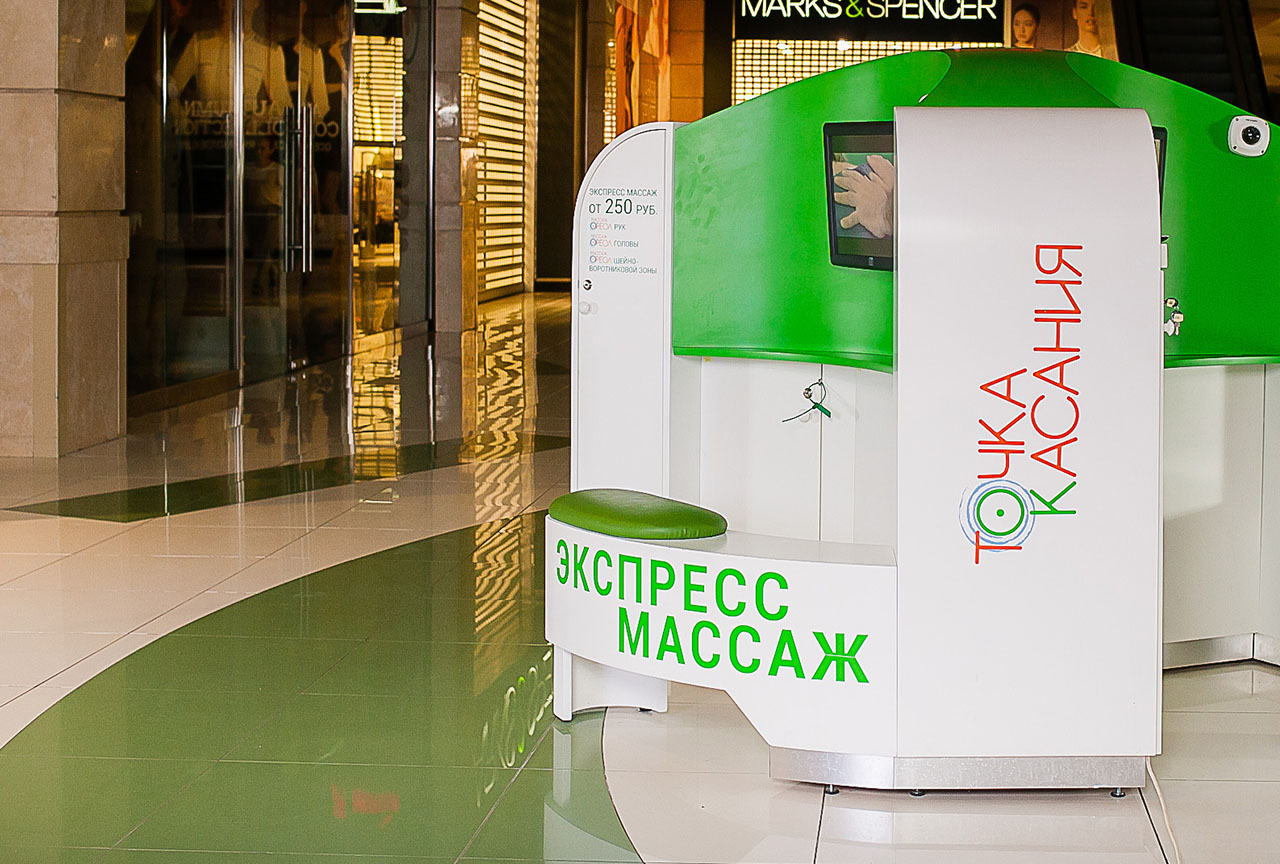 Everything that t is needed for the work of a massage therapist, is always at hand and placed into neat lockers. There is a computer to provide technical operations, and a large monitor is used to show commercials. All events are monitored by remote video cameras.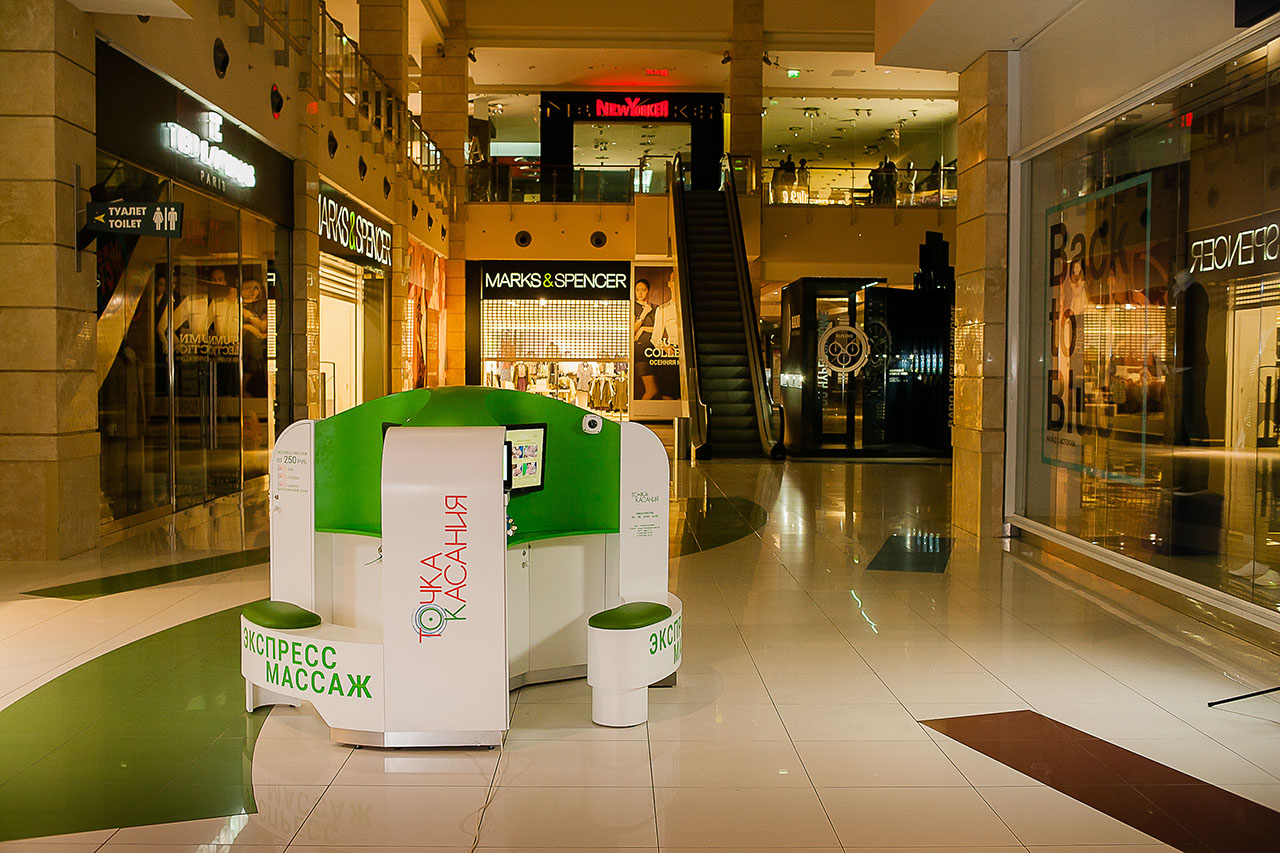 And of course, there is a special place available sit down with comfort, and if necessary, the customer has a change even lie down. The cabinets are equipped with soft inserts, and the whole structure looks light and aesthetically pleasing.